From Wetting Her Panties we have the lovely Kacie. We have had her before in Pissing In Her Denim Shorts and Knicker Wetting With Kacie and she is great. Today she is her yellow panties and desperate to pee, she is squatting down showing us her wonderful panty encased crotch she grabs her skirt and tries to pull it down. She is so desperate to pee that she gives up and then we get the first trickles of pee as she starts to pee in her panties.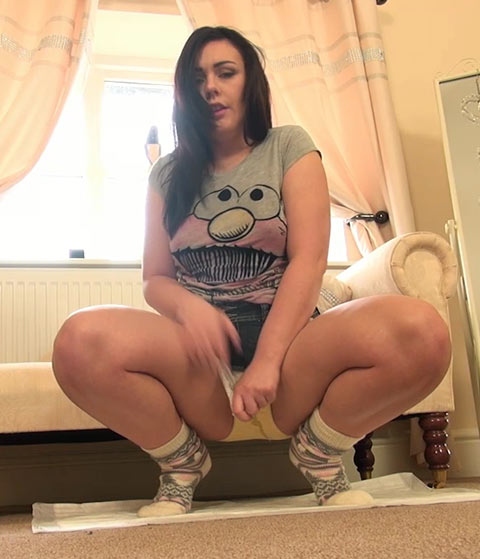 Kacie is peeing in her panties while squatting down we have a wonderful view of her panty covered crotch as her pee starts to overwhelm the fabric and flow out. As she keeps peeing, her panties start to go a little see through and we can make out her pink pissy pussy.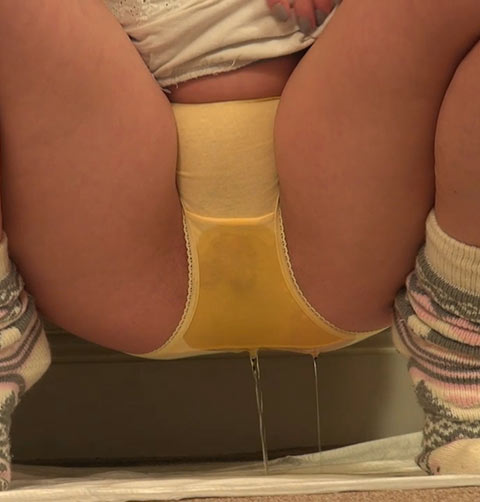 Kacie Is soaking her panties in piss as her pee flows out her wool socks are even getting wet. She finishes peeing and her piss soaked panties are clinging to her pussy it is a wonderful sight it is as if she is presenting her piss soaked crotch to us just imagine sitting in front of her with her warm piss soaked knickers asking to be touched. Super knicker wetting from Wetting Her Panties.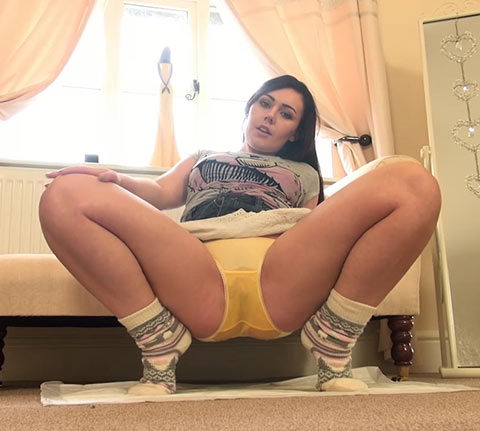 See Kacie Peeing Her Panties Here


Filed under: Knicker Wetting and Panty Pee and Peeing and Pissing and wettingherpanties
Posted on 04.10.15
Comments: 3 Comments


Tags: Kacie Wettingherpanties, Knicker Wetting, Panty Pee, Panty Peeing, Panty pissing, wetting, wettingherpanties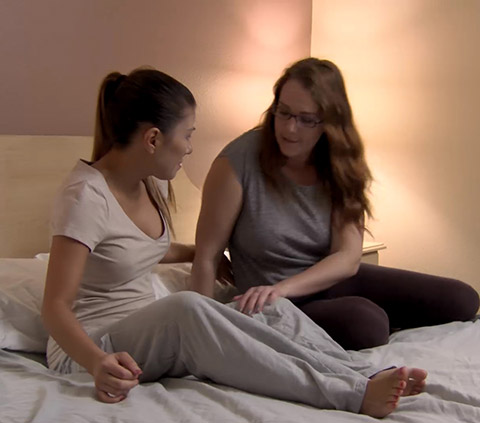 From HD Wetting we have the lovely Alisha and for the first time Sexy Nikko. So far Nikko has stared in a few wetting movies at HD Wetting but this is the first time we have her at Pissblog. Nikko and Alisha are in the hotel room and what a sweet couple they look. They are on the bed making out and they slowly strip off. Alisha is nude on the bed and Nikko is in her blue panties, she really has wonderful breasts too.
Nikko starts to lick Alisha's shaved vagina but as she does she is getting more and more desperate to pee. She grabs her crotch through her blue panties trying to hold her pee is so she can give Alisha a wonderful orgasm. She is getting to desperate to pee and then while still holding her panties she starts to pee. Her blue knickers go dark and she has pee running over her hand.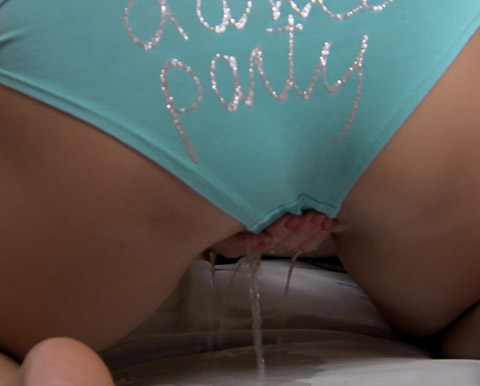 Nikko is peeing in her panties but this doesn't stop her licking Alisha. As Nikko is peeing she is still trying to make Alisha cum. She keeps peeing her panties and piss is soaking into the sheets and running under Alisha this must be making her more turned on. Nikko has pee rivers running down her legs and is looking so sexy. She finishes peeing in her panties, they are soaked and the bed is too. Nikko keeps liking Alisha's pussy until she cums and then kneels on the bed and we get to see her wet little knickers. Great lesbian panty peeing from HD Wetting

See Nikko Peeing Her Knickers Here





Filed under: HD Wetting and Knicker Wetting and Lesbians Peeing and Panty Pee and Peeing and Pissing and Pissing In Bed
Posted on 03.16.15
Comments: 1 Comment


Tags: Alisha HD Wetting, Knicker Wetting, Lesbians Peeing, Nikko HD Wetting, Panty Pee, Panty Peeing, Pissing In Bed, Topless Panty Pee, wetting
Real Wetting brings us this great pantyhose peeing with Beatrice. We have had the sexy Beatrice in the past in Beatrice Peeing In Her Denim Shorts and Peeing In Her Panties From Real Wetting. Today she is dressed in a shirt short skirt and thick pantyhose. She is doing her work and is getting more and more desperate to pee she really doesn't want to get up and go to the bathroom as she needs to finish what she is doing.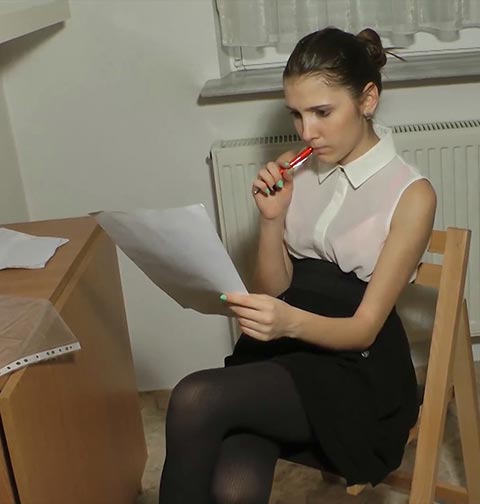 Beatrice is desperate to pee, as she sits there she opens her pantyhose encased legs until they are spread wide and the thick nylon is pulled tight against her crotch. We can see her mauve panties beneath her pantyhose and then she lets out a little squirt of pee her pantyhose go a little darker and then she starts to pee more.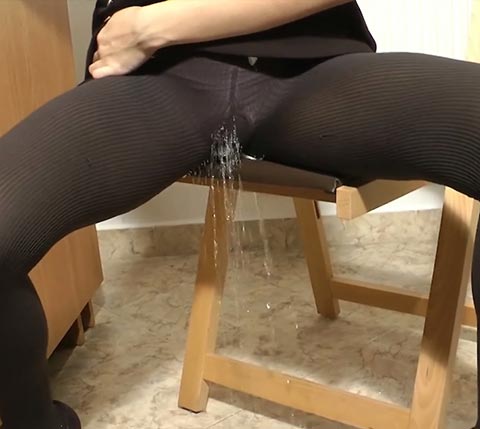 Beatrice is pissing in her pantyhose. Her pee has started out as a slow stream but is now spraying through her pantyhose and panties. It as if a sprinkler has been turned on, it is a wonderful sight. We get such a great view of her peeing crotch and she has pee splashing all around her on the floor. There is something wonderful about thick pantyhose as they are soaked in piss, they soak so much up but the colour today kind of hides her pissy crotch. She finishes peeing and then pulls her piss soaked pantyhose down so we get to see her knickers soaked in piss too. Super sexy pantyhose peeing from Real Wetting.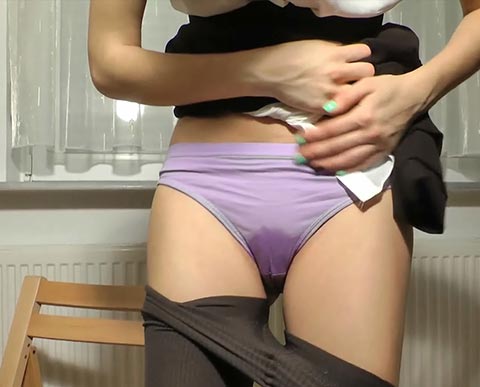 See Beatrice Pissing Her Pantyhose Here


Filed under: Babes Peeing and Desperation and Dress Peeing and Female Desperation and Knicker Wetting and Panty Pee and Pantyhose Pissing and Peeing and Pissing and Pissing In Skirt and Pissing In Tights and Real Wetting
Posted on 03.12.15
Comments: 5 Comments


Tags: Audrey's Wetting Site, Beatrice Real Wetting, Desperate To Pee, Female Desperation, Knicker Wetting, Panty Pee, pantyhose peeing, Pantyhose Pissing, Pissing In Skirt, Real Wetting, Skirt Peeing
From Ineed2pee we have there female desperation and wetting pictures. I do belive that Ineed2pee is the best female desperation website out there and that a lot is real is just wonderful.  Today we starts with Nikki Next a sweet new Ineed2pee model. Here is the story that goes with the pictures "This is indeed Nikki Nexts first ever panty wetting shoot & I was lucky enough to cross paths with her while she's still brand new to the modelling world. She's got a cute girl next door look to her yet can get fancied up with some makeup & a sexy dress. At first she was nervous about peeing her pants on camera & did get pee shy at first so we waited & waited while she downed a HUGE thing of water & other liquids. So this huge gusher waterfall of a wetting was REAL. I witnessed her drinking a lot of liquids & at the end of it, she did have fun!. Super real female desperation and wetting. See Nikkii Next Panty Peeing Here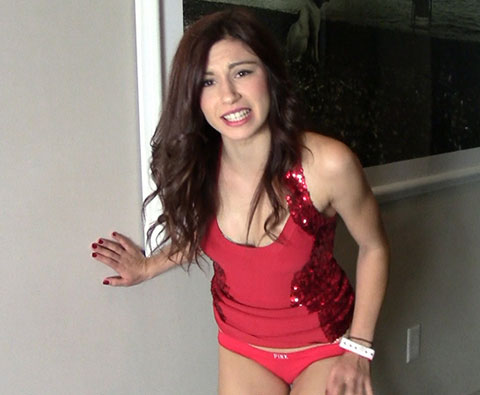 Next up we have Orias Bestat. The ineed2pee story goes. "Orias joins us once again after a couple years hiatus from wetting. She gives it another go but unfortunately it's not a huge stream even though she had drank a lot of water & we shot other scenes before this one. In the past she's been traditionally pee shy but this time she started peeing right away although the stream was really small"   A small pee but still a super sexy sight having her in her pissy wet shorts. See Orias Bestat peeing her shorts here.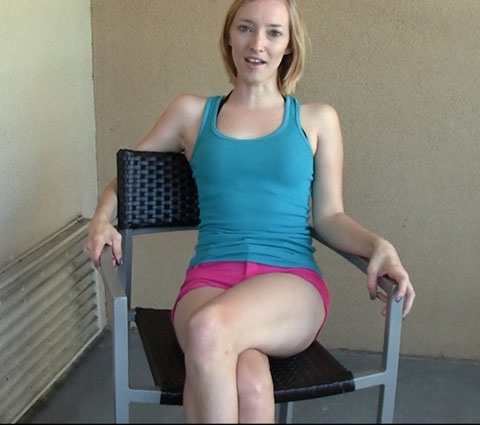 Last up we have Kymberly Jane we have had her once before in Female Desperation from Ineed2pee today she is dressed in her yoga outfit and is busting to pee she has been holding on waiting to finish but her clothes are just to tight and she finds that her bladder gives in and she starts to pee in her yoga outfit her pee is cascading down her leggings and soaking into her yoga mat this is a wonderful wetting See Kymberly Jane Yoga Peeing Here


Filed under: Desperation and Female Desperation and Ineed2pee and Knicker Wetting and Panty Pee and Peeing and Pissing and Pissing In Leggings and Pissing In Shorts
Posted on 03.05.15
Comments: 2 Comments


Tags: Desperate To Pee, Female Desperation, Ineed2pee, Ineed2pee Kimberly, Knicker Wetting, Nikki Next Ineed2pee, Orias Bestat Ineed2pee, Panty Pee, Panty Peeing, Pissing In Leggings, Pissing Leggings, wetting, Yoga Pants Pee
From Wetting Her Panties we have the wonderful Charlotte. We have had this lovely lady peeing for us in the past and if you have missed the posts check out Charlotte Peeing In Her Panties, Outdoor Knicker Wetting With Charlotte, Peeing In Leggings With Charlotte Wetting Her Panties With Charlotte and Panty Peeing With Charlotte. Today we have her desperate and sitting in a chair, she is wearing a tight shirt and black skirt and is looking sexy as ever.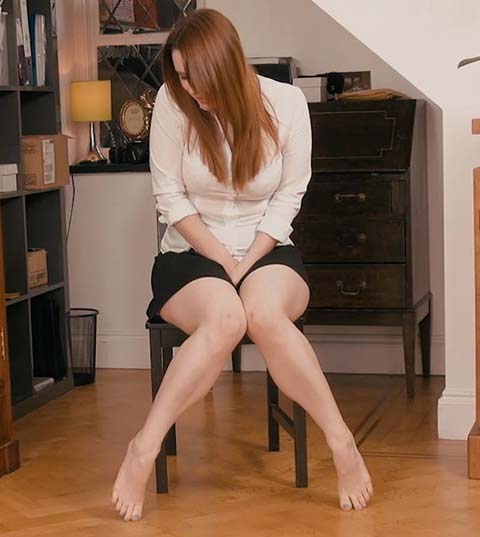 Charlotte is desperate to pee she has her hands jammed between her legs and she is holding on. I always love the look on her face when she is this desperate to pee. She stands up and lifts her skirt so we can see her red panties. She still has her legs pressed tightly together and then she grabs her crotch again but it is to late.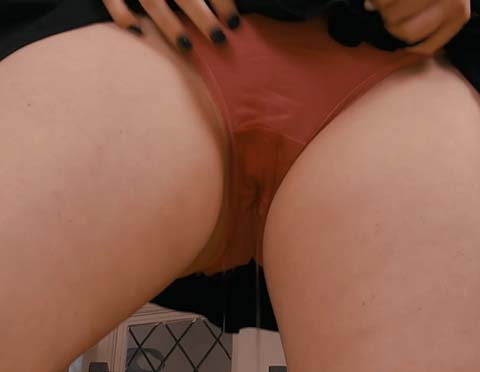 Charlotte has started to pee in her panties and the fabric is going a darker red. She hasn't moved her hand so she is peeing in her panties and all over her hand, she must be loving the wonderful warmth as her pee soaks into her panties. She keeps peeing her knickers and pee is streaming down her legs she is making herself a wonderful wet mess. Charlotte finishes peeing in her panties and then sits down to show us her piss wet crotch such a wonderful panty peeing from Wetting Her Panties.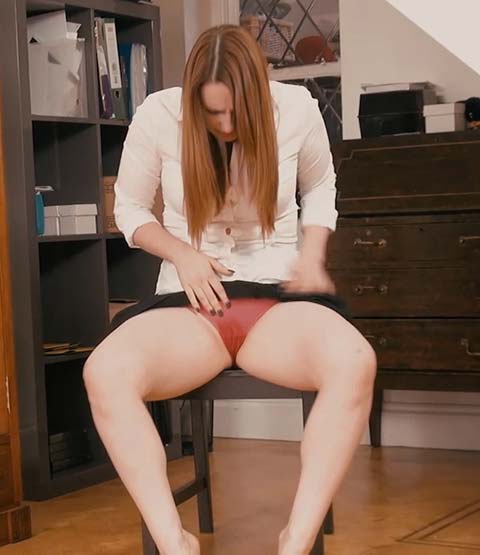 See Charlotte Peeing Her Panties Here

Visit Wetting Her Panties Click Here


Filed under: Desperation and Female Desperation and Knicker Wetting and Panty Pee and Peeing and Pissing and Pissing In Skirt and wettingherpanties
Posted on 02.26.15
Comments: 1 Comment


Tags: Charlotte Wetting Her Panties, Desperate To Pee, Female Desperation, Knicker Wetting, Panty Pee, Panty Peeing, Skirt Peeing, wettingherpanties