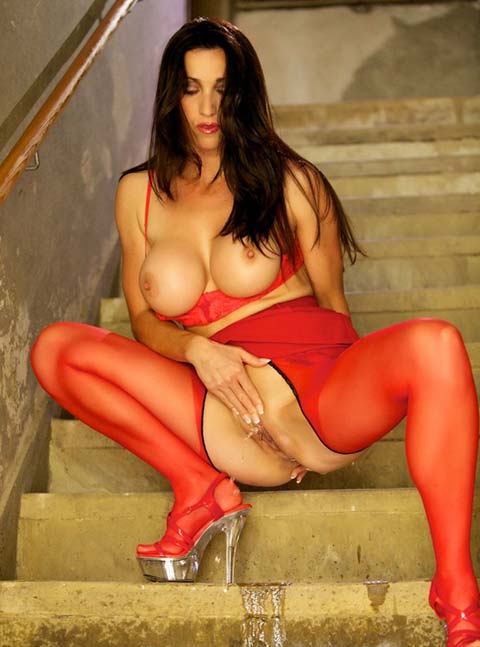 Its been a long time since we have a post featuring the sexy Miss Hybrid. Miss Hybrid Really is one sexy woman and to see her pee is just wonderful it is just a pity that peeing is a small focus to her wonderful website. First up we have her in her red lingerie on the stairs we have had the same location in Miss Hybrid Peeing Again. Today to start she poses and shows off her lovely shaved pussy, she stands there and starts to piss her piss stream is golden and her pussy has a wonderful sparkle as she is pissing. By the time she finishes peeing the stairs are soaked. See Miss Hybrid Peeing On The Stairs Here.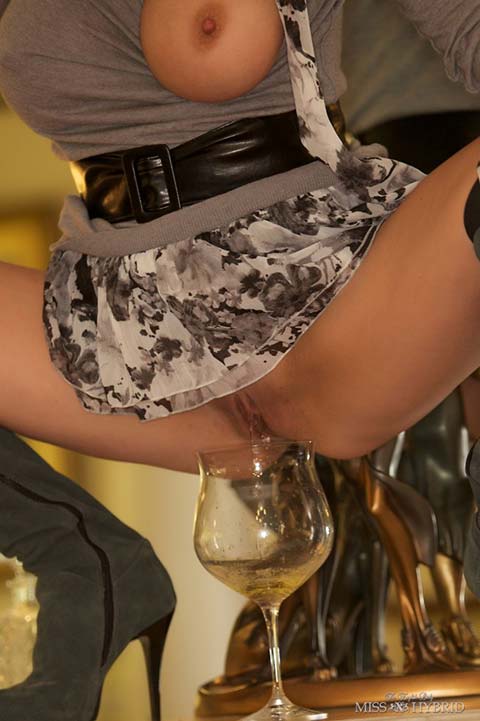 Next up we have her inside and posing in a short skirt, she bends over and flashes her panties she really is being cheeky. She strips her panties off and flashes her pussy and then when we are thirsty she squats over a glass and starts to pee. Her pee is lovely and golden and I bet some would love to drink her golden nectar. See Miss Hybrid Filling A Glass With Pee Here.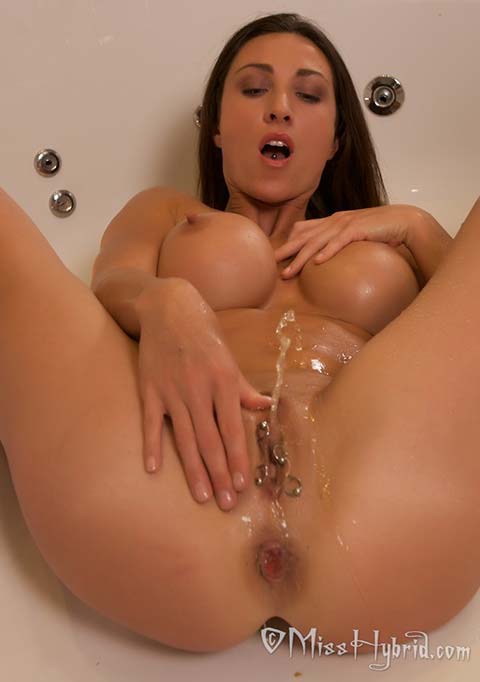 Last up we have Miss Hybrid in the bath and who wouldn't want to play with her in the bathroom she really does look so playful and her breasts are wonderful. After giving us a strip show she holds her crotch, squats down in the bath and releases her bladder. Her piss sprays out and splashes in the bath and on herself, her beautifully tanned body is glistening in her piss, what a wonderful position she is in. See Miss Hybrid Peeing In The Bath Here.
Visit Miss Hybrid's Website Here




Filed under: Miss Hybrid and Peeing and Pissing
Posted on 08.30.14
Comments: 6 Comments


Tags: Lingerie Pee, Miss Hybrid, Peeing Pictures, Pissing, Pissing In Bath, Pissing In Glass
It has been a long time since we had a post with Miss Hybrid it has been such a shame as she is one sexy lady. If you missed the previous ones check out Miss Hybrid Pissing and Miss Hybrid Peeing Again. In today's set she is dressed in a jumper and some tight Jodhpurs. Miss Hybrid is outdoors and looing playful she poses and then lifts her jumper up to show us her wonderful breasts she really is one lovey lady.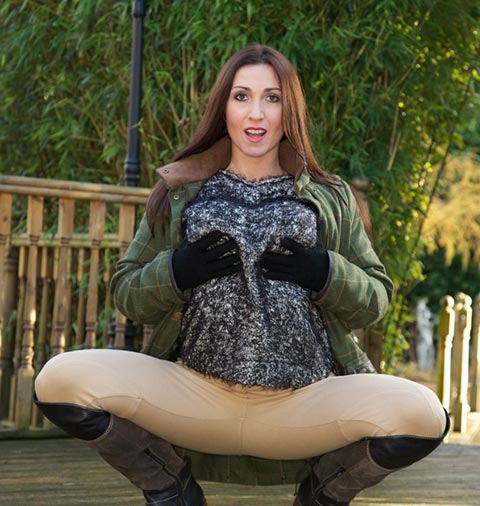 Miss Hybrid is squatting down her big breast is still on show and then she starts to pee in her pants. You can see that her bladder is bulging and her pee starts to slowly soak into the fabric. Just look at the big piss stream as she released her bladder the sound of her piss splashing on the ground would be wonderful.

She keeps pissing in her pants the fabric is getting more and more soaked and as she finishes peeing in her jodhpurs they are fully soaked and dripping. She stays squatting and shows off her dripping pants what a sight it would be to come across Miss Hybrid squatting in her piss soaked pants. She turns around and starts to piss again and then when she has fully emptied her bladder she poses in her piss soaked Jodhpurs. A wonderful pants peeing with Miss Hybrid


Filed under: Babes Peeing and Miss Hybrid and Outdoor Pissing and Peeing and Pissing and Pissing In Pants and Pissing Outdoor
Posted on 03.31.14
Comments: 4 Comments


Tags: Jodhpurs Pee, Miss Hybrid, Outdoor Pissing, pants peeing, Peeing Pants, Pissing In Pants, Riding Pants Pee
The last post with Miss Hybrid went down so well that it is time for another. We were so lucky to have her come and visit PissBlog and to think she is such a naughty lady is wonderful. We start off today with her in her pantyhose outdoors, she really is one stunning lady, just look at her with her tight dress and black pantyhose. She lifts up her pantyhose and spreads her legs and we get to hope that in this gallery that she is going to start to pee in her pantyhose but unfortunately we don't get the golden fluid cascading through the nylon stockings instead she pulls them down and starts to pee. Sexy outdoor peeing which you can see here.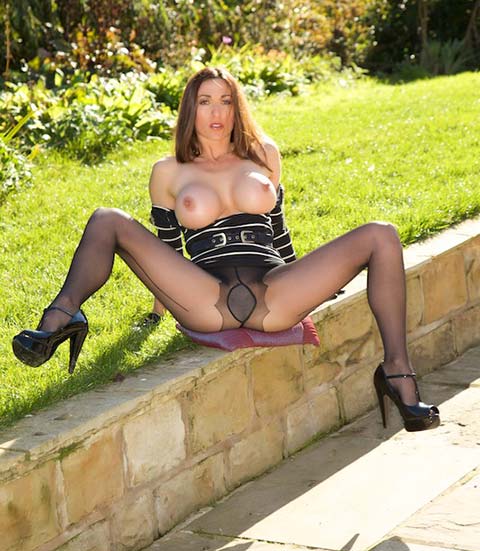 Next up from Miss Hybrid we have her peeing in the sea. The story for this shoot goes "Here I am cavorting on a stunning sunny beach, 1000's of miles from home, making the sea a little more salty. I drove 20km on a track to get to this quiet place. Late in the day I drove back to the hotel, washed the sand off and out before going to eat, in a local restaurant. I sat next to a couple, who had bizarrely been to the very same beach, the same day. Not only that, the photographs the husband had taken of me, showed that they were the couple who came and watched, from a short distance, while I was cavorting. Oh and the other thing, they only live 2 miles from me in England!" Just imagine how sexy it would have been to be the couple watching as Miss Hybrid plays and then pissed in the water watching as her pee splashed into the water and ran down her legs. See her pee in the sea here.

Last up we have her pissing on the stairs. Miss Hybrid is in latex on the stairs she poses and then lifts up her latex dress and starts to piss. Her piss is flowing out of her pussy and splashing on the stairs. Imagine the wonderful sounds that there would be in his pissing scene. See the stairs being pissed on here.


Filed under: Miss Hybrid and Outdoor Pissing and Peeing and Pissing and Pissing In Skirt
Posted on 11.22.13
Comments: 11 Comments


Tags: Beach Pee, Miss Hybrid, Outdoor Pissing, Peeing At The Beach, Pissing On Stairs, Pissing Outdoors, Pissing Pussy, shaved pussy peeing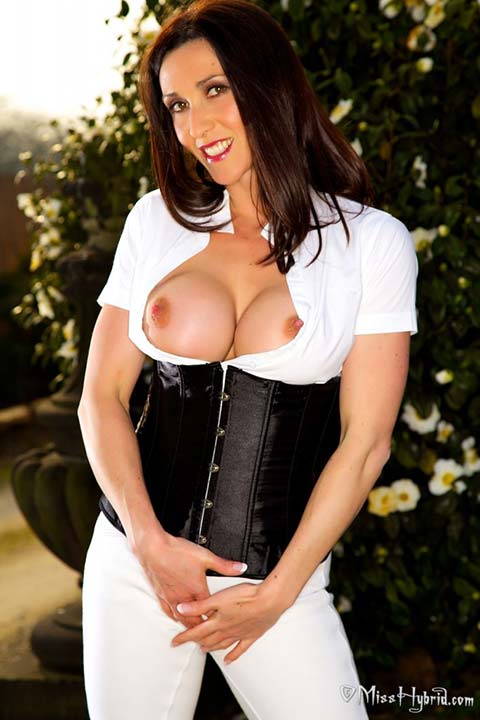 I came across a new site well a new site to me Miss Hybrid. Why I have not seen this before i don't know but she is pretty hot. We start with her in a riding outfit. The story goes "I have no interest at all in riding naughty horses. Naughty human stallions are my preference, the training of which, is a regular activity in my stables. As I am not riding horses I can steer clear of ordinary riding boots and instead don these high heeled thigh boots. I hope you enjoy these photographs of me having some fun outdoors and getting a little wet. "It is great when she pulls her riding pants down and starts to piss on the ground. It would have been better if she was pissing through her pants but a sexy pissing pussy is always nice. See The Pissing Pictures Here.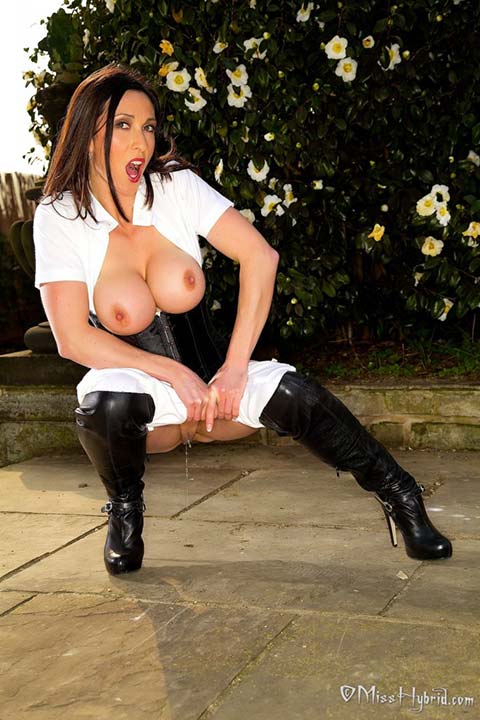 Next up we have Miss Hybrid in some pantyhose play. The story goes "Feeling playful I decide to perform a pussy walk outdoors. I start off demurely dressed in a velvet two piece and end up in just seamed pantyhose and leather thigh boots. After stripping off until I am just in pantyhose I starts to piss on the ground." This is a hot pantyhose pissing to see the piss flowing through the dark nylon and splash on the floor is so sexy. See the pantyhose Pissing Here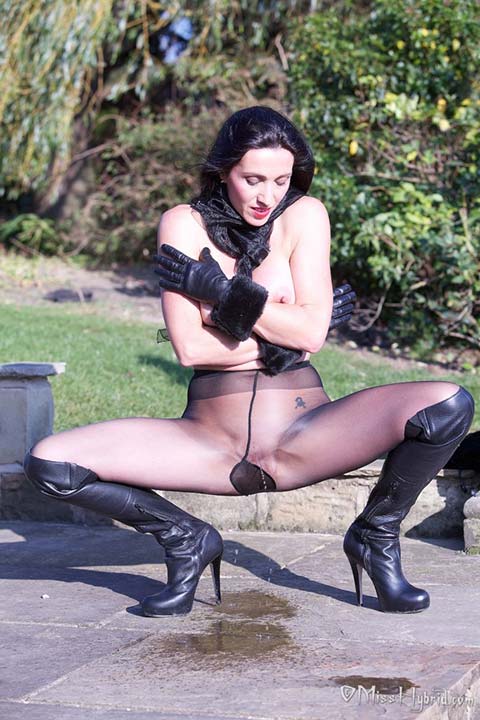 Filed under: Babes Peeing and Miss Hybrid and Outdoor Pissing and Peeing and Pissing
Posted on 11.06.13
Comments: 13 Comments


Tags: pantyhose peeing, Pantyhose Pissing, Pissing Pussy, Riding Pants Pee, shaved pussy peeing