From Wetting Her Panties we have the wonderful Carmel Coxxx. Carmel Coxxx is in yellow panties and a lose top with no bra underneath. She is in her bedroom and desperate to pee, she is grabbing her crotch and as she does her small breasts are jiggling around. She grabs her crotch again and then squats down on the floor. Her yellow panties are tightly encasing her pussy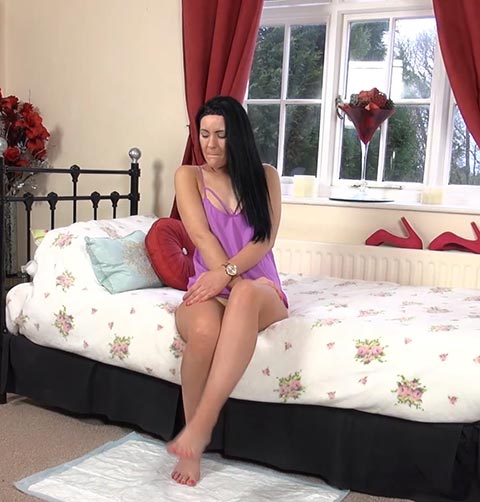 She is squatting on the ground and she lets the first drips of pee flow. As the piss soaks into her panties she rubs her crotch. Her pee patch is slowly growing and she really is enjoying herself as she pees in her panties and rubs her pissy panties again.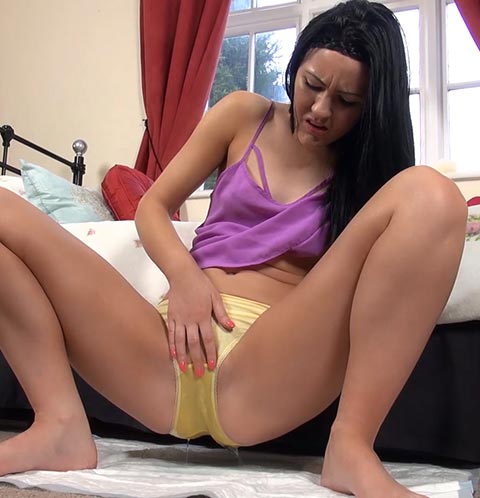 She is now soaking her yellow panties in piss. The piss is exploding out and we can just make out her pissy pussy. She keeps on pissing and then when she finishes she spreads her legs wide and rubs her breasts. She is wonderfully turned on after pissing in her panties. The outline of her pussy is showing and she looks so content sitting in her piss puddle. A wonderful panty pissing from Wetting Her Panties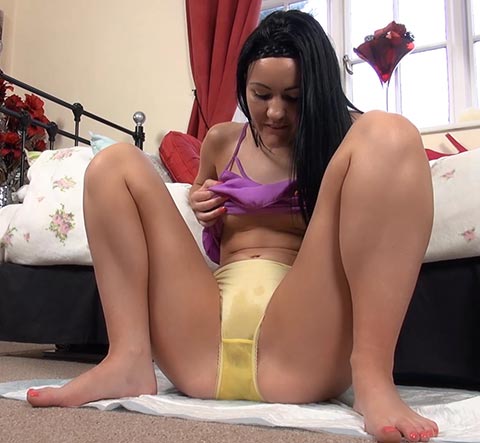 See Carmel Coxxx Panty pissing here


Filed under: Knicker Wetting and Panty Pee and Peeing and Pissing and wettingherpanties
Posted on 06.24.16
Comments: 1 Comment


Tags: Carmel Coxxx Wetting Her Panties, Knicker Wetting, pants peeing, Panty Pee, Panty Peeing, wetting, wettingherpanties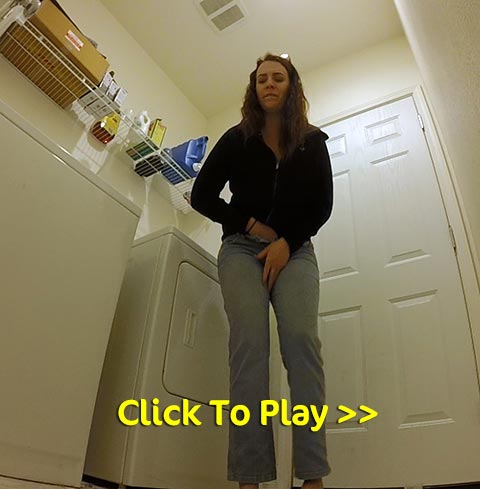 From HD Wetting we have the lovely Alisha. She walks into the laundry and starts to so some work. She has closed the door and as she has finished putting the dryer on she goes to leave and finds that the doors are locked. She is dressed in jeans and she should be happy that they are not to tight pressing into her bladder. She tries the doors again but they are still locked, she starts to fidget with desperation.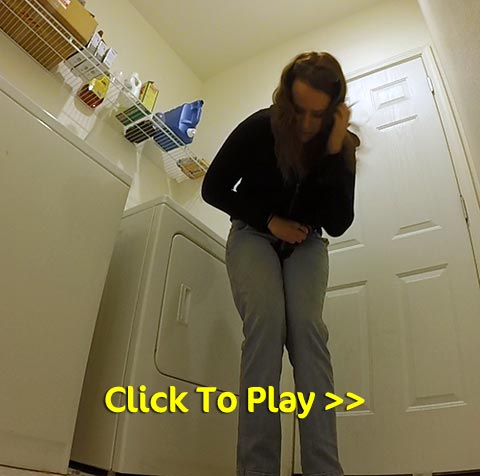 Alisha sits on the floor and holds her crotch, she is getting more and more desperate to pee. Her feet start to fidget and then she gets back up. She is getting more and more uncomfortable. She grabs her crotch again and starts to do the pee pee dance. Just look how hard she is holding her crotch it is as if she is trying to push her pee back up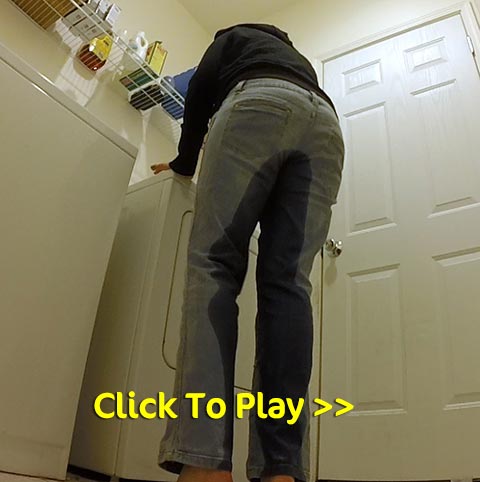 Alisha is to desperate and as she grabs her crotch she loses control and starts to pee in her jeans the pee patch grows and it soaks into the denim. She manages to stop the flow and she is now holding on as best as she can. There is another wave of pain and her bladder releases and she starts to pee hard. Her jeans are now getting soaked and we can see the lovely pee rivers as they flow down her legs. She keeps peeing in her jeans and a lovely big pool of piss grows at her feet. Now empty she pulls off her piss soaked jeans and we get to see her pissy pussy. A great female desperation and wetting movie from HD Wetting

See Alisha Desperate and Peeing Here


Filed under: Desperation and Female Desperation and HD Wetting and Jeans Peeing and Jeans Pissing and Peeing and Pissing and Pissing In Pants and Pissing Movies
Posted on 06.20.16
Comments: None


Tags: Alisha HD Wetting, Desperate To Pee, Female Desperation, HD Wetting, Jeans Pee, Jeans Peeing, Peeing Pants, Pissing In Pants, Pissing Movie, wetting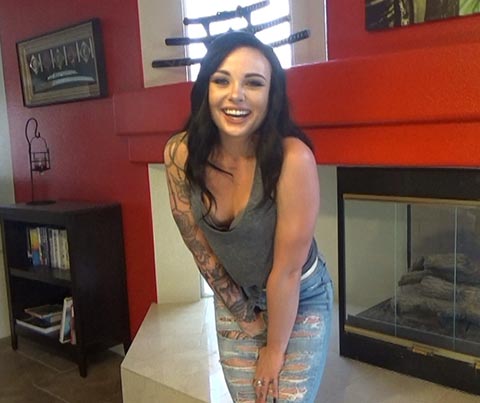 From Ineed2pee we have the wonderful Chloe Carter. We have had this hottie once before in Ineed2pee Female Desperation & Pants Peeing Today she is in skin tight jeans and very desperate to pee. She has drunk so much water that her bladder is nearly exploding but being Ineed2pee we know that she is going to have to hold on a little longer. She grabs her crotch and holds on till she just can't cope any longer, she turns around and starts to pee in her jeans.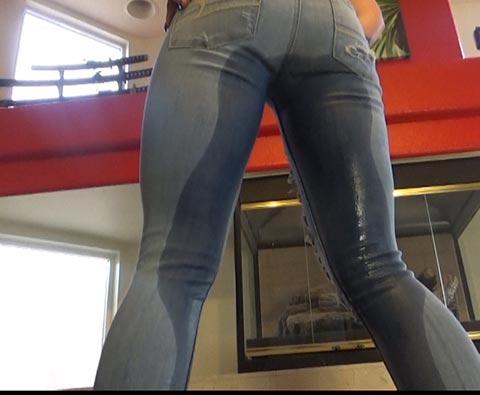 The story from Ineed2pee about this scene goes like this "I really am the 2nd person/studio to shoot the lovely amateur Chloe Carter on video, for real. She didn't do super well for my other fetish stuff that involved a lot of talking but she killed it when it comes to looking sexy & peeing her pants. I mean this wetting was pretty epic with the amount of pee she was holding in and it got all over everything! She does need a little bit of prompting to talk but part of that is due to shyness. Hopefully she comes back to Vegas eventually!"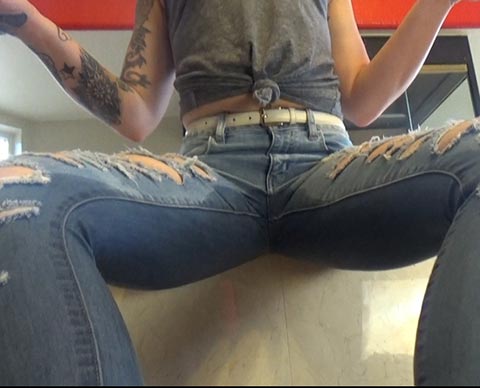 Chloe has started to pee in her skin tight jeans, she has piss streaming down her legs and her bum is getting the wonderful shinny denim look. I do love seeing denim being pissed in it looks so sexy when it is soaked. She keeps on peeing it is soaking her shoes and overflowing  out all over the floor. When she finishes peeing she has left a big wet pee puddle and she is soaked. She sits down in her piss soaked jeans and spreads her legs what a great shot of her wet jeans. A super sexy female desperation and wetting withe Chloe Carter from Ineed2pee


See Chloe Carter Desperate And Peeing Here

Visit Ineed2pee Click Here


Filed under: Desperation and Female Desperation and Ineed2pee and Jeans Peeing and Jeans Pissing and Peeing and Pissing and Pissing In Pants
Posted on 06.12.16
Comments: 1 Comment


Tags: Chloe Ineed2pee, Desperate To Pee, Female Desperation, Ineed2pee, Jeans Pee, pants peeing, Peeing Pants, Pissing In Pants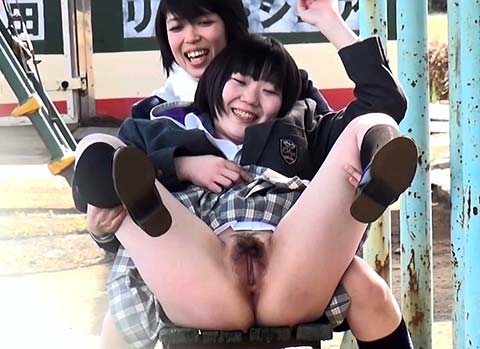 From Piss Japan we have some more school girl pissing. If you have missed out on some of the previous posts check out Asians Playing With Piss Asians Outdoors And Pissing and Japanese Panty Peeing. Today we are out in the playground with two lovely ladies. They are having a chat as we spy on them with the voyeur piss camera. We change angles and they both take their panties off they are about to have some kinky piss fun.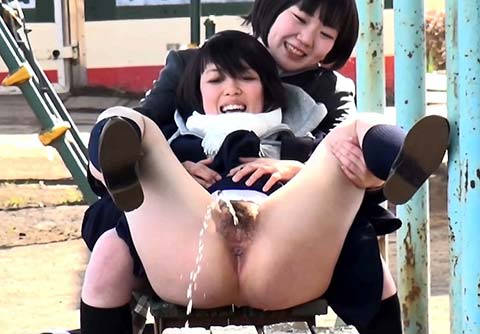 One of the Japanese ladies sits on the bench with her legs spread wide showing her hairy pussy. She is leaning against her friend and then her friend pulls her back a little more, her pussy is now in a perfect view of the camera.

She is spread wide and with her friend egging her on she starts to pee. Her pee explodes out of her pussy in a wonderful arch. The light glistens against the warm drops as they splash on her floor. Her hairy pussy is even getting little pee drips in the hair. Imagine walking through the park and seeing this Asian piss sprinkler what a great sight it would be

See The Outdoor Asian Pee Play


Filed under: Asian Pissing and Caught Pissing and Hairy Pussy Pissing and Japanese Pissing and Movies and Outdoor Pissing and Pee Asian and Peeing and PissJapanTv and Pissing and Pissing Movies and Pissing Outdoor and Voyeur Peeing
Posted on 06.04.16
Comments: 1 Comment


Tags: Asian Peeing, Asian Pissing, Hairy Pussy Pissing, Japanese Peeing, Outdoor Pissing, Pee Asian, Pissing Movie, Pissing Movies, Pissing Outdoors, Pissing Pussy, Voyeur Peeing, Voyeur Pissing
From Vipissy we have three great lesbian peeing sets. We start off with Anabelle and Bree Haze. The story from Vipissy goes like this "While doing some home improvements, Anabelle receives an unexpected visit from her girlfriend, Bree Haze. Bree is feeling very horny and starts to undress Anabelle, before she catches Anabelle's golden piss in a giant goblet. These girls share a taste of these juices, and pour it all over themselves. Getting even more turned on, the pair share some intimate pussy licking action and golden shower fun. Grabbing hold of a strap-on, Bree enjoys getting her pussy filled then they switch, finishing off with another taste of pee!" A great golden lesbian piss party. See Anabelle And Bree Haze peeing Here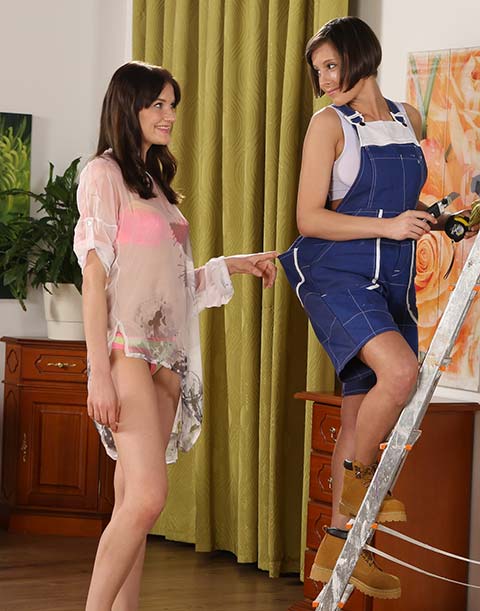 Next up we have Dafne and Naomi. The story from Vipissy goes like this "Hot blonde Naomi and her dark haired friend Daphne are in the bedroom and Naomi starts to massage her girlfriend's feet. Soon, she is pissing over Daphne's back and these two horny girls kiss. They swap positions and Daphne sprays her golden juices over Naomi's white tank top, turning it see-through. Pissing into a goblet, the pair taste their piss and after some pussy licking and fingering, they get out a black dildo and magic wand vibrator to tease each other with during even more piss play!" Two great lesbians licking and drinking piss. See Dafne and Naomi Peeing Here

Last up we have Barbe and Doroty. These two lesbians start of dry but then the lesbian pee action begins they lick each other's pussies and then drink piss. They get so turned on that out comes a double dildo which they play with together. After having orgasm after orgasm there is more pee to play with. A wonderful lesbian scene. See Barbe and Doroty Peeing Here


Filed under: Babes Peeing and Drinking Piss and Lesbians Peeing and Peeing and Pissed On and Pissing and ViPissy
Posted on 05.24.16
Comments: 1 Comment


Tags: Anabelle Vipissy, Barbe Vipissy, Bree Haze Vipissy, Dafne Vipissy, Doroty Vipissy, Lesbians Peeing, Naomi Vipissy, Peeing Pictures, Piss Drinking, ViPissy