Today we have three female desperation and wetting sets from Ineed2pee. We starts off with Miss Jasmine the story from Ineed2pee goes like this "I had the pleasure of shooting with Miss Jasmine again when she rolled into Vegas for a family trip! She's a very busty & sexy MILF who has a nice bladder capacity & who doesn't overact either. She is tied up & interrogated but she sticks to her claims that she doesn't know anything. Her bladder is getting fuller & fuller & she already needs to pee so badly! Her hands & feet are bound so she can't even grab her crotch or try to stop the flow and a huge gusher of hot pee comes out through her skintight jeggings! She's wetting herself uncontrollably in big waves now, the yellow liquid soaking the nice chair seats & all over the carpet below. She even gets some pee on her nice leather boots too! Great behind the scenes where she peels off her pissy soaked pants & shows her sexy lacy underwear." I is a great female desperation and wetting from this hottie once again. See Miss Jasmine Here.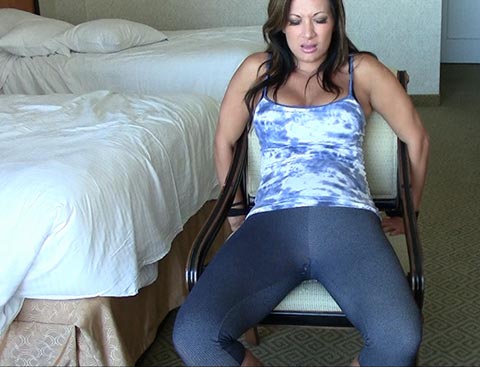 Next up we have Kenna Valentina wetting the bed. The ineed2pee story goes "It's been quite a while since a good bedwetting scene, for a number of reasons. Sometimes it's a hit & miss with the fans & the models too. Sometimes the girls have a hard time peeing in the lying down position, even if they need to pee real badly, but you don't know it until you are shooting the scene & trying. Then, when they do pee, sometimes it just pools around their butt area & doesn't really show up well as it's coming out. IE. you can't see the stream of pee shooting out, so it's only when they stand up you can see the damage. It almost seems like a wasted pee at that point. So Kenna & I decided to give it a shot today & it worked out really nicely! Lots of natural sunlight is important in a bedwetting shoot, as well as thin pants to show the pee coming out nicely. Hope you enjoy it & the lovely sexy Kenna! I wished Kenna lived closer to me but she's all the way in Tampa so I only get to connect with her once a year. Why are all the cutest models on the east coast?" See Kenna bedwetting Here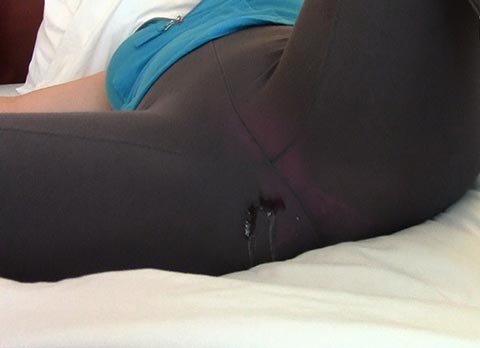 Last up we have Envii a little hottie. The story goes "Envii is totally brand new to this so you won't be seeing her on any other wetting site! She is a lovely young Mediterranean PERSIAN girl with light brown skin. She's outside enjoying the sun, wearing a very tight spandex lycra one piece swimsuit & has a very full bladder already. She's squirming & trying to hold her pee while telling you of her desperation. She's crossing her legs & doing the pee pee dance while sitting on the patio chair. She gets up & gives you a nice squirming shot of her holding herself before sitting down & wetting her swimsuit a bit onto the chair! IT's a nice sized leak! She stands up & starts wetting her swimsuit since she can't hold it any longer! It's streaming out her tight spandex crotch & down the back of her bare legs." See the photos here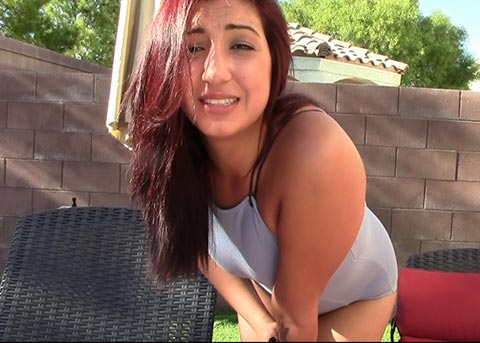 Filed under: Desperation and Female Desperation and Ineed2pee and Peeing and Pissing and Pissing In Bed and Pissing In Leggings and Pissing In Pants and Swimsuit Peeing
Posted on 10.01.14
Comments: 4 Comments


Tags: Bed Wetting, Bedwetting, Desperate To Pee, Envii Ineed2pee, Female Desperation, Ineed2pee Kenna, Jasmine Ineed2pee, Pissing In Bed, Pissing Leggings, Swimsuit Pee, Wetting The Bed
From Real Wetting we have a lovely bikini wetting set of pictures. Bikini peeing is one of the more rare sights that we see, I'm not sure why but it is always nice to see a hot lady pissing in her bikini. We have had some previous bikini pissing from Real Wetting with Peeing In Her Bikini From Real wetting, Peeing In Her Bikini and Peeing In Her Swimsuit At The Beach. Today it is Natalie, she starts off sunbathing and enjoying the warmth as the sun penetrates her skin but she soon feels the urge to pee.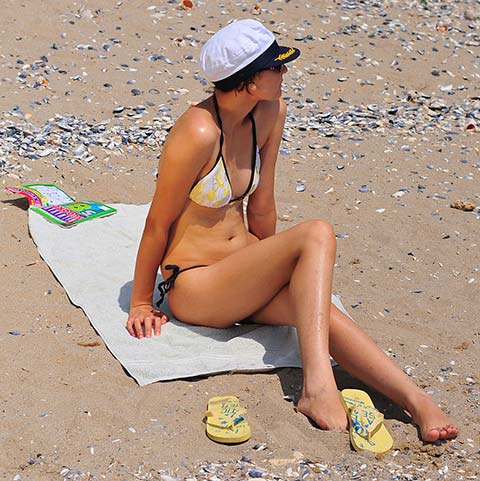 Natalie feels the urge to pee, she sits up looks around and on finding that there is no one else around she stands in her bikini and the tries to hold her bladder a little longer. Natalie really is a wonderful female desperation and wetting hottie she really loves holding on till she explodes. Being on the beach she sees no reason to pee in the sea as there is no one around so standing on the sand she releases a little squirt of pee into her bikini.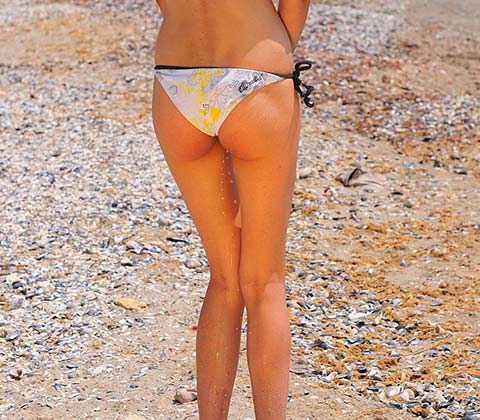 Her pee starts to flood out of her bikini bottoms and run down her legs just imagine the wonderful temperature difference as her legs are getting soaked. She turns around and keeps peeing, her bikini bottoms are making her pee stream into a lovely waterfall and she has pee and sand splashing over her feet this is a wonderful bikini wetting from Real Wetting.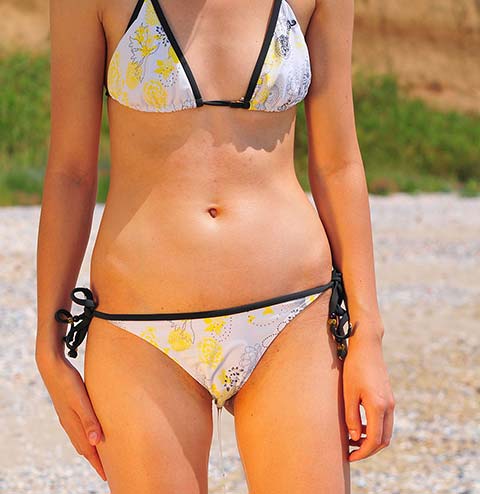 See Natalie Peeing Her Bikini Here

Read a Real Wetting Porn Site Review Here


Filed under: Desperation and Female Desperation and Peeing and Pissing and Real Wetting and Swimsuit Peeing
Posted on 08.21.14
Comments: 5 Comments


Tags: Bikini Peeing, Desperate To Pee, Female Desperation, Natalie Realwetting, Real Wetting, Swimsuit Pee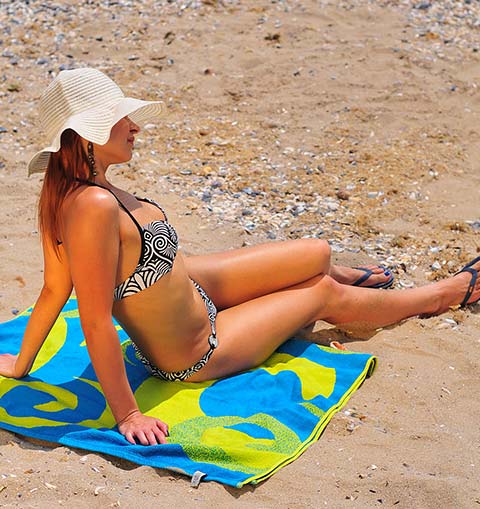 Real Wetting brings us these wonderful Bikini photos staring the lovely Dominika. Bikini wetting seems to be the elusive scenario at most peeing sites so it is great when we get one. We have had two swimsuits wettings from Real Wetting in the past Peeing In Her Swimsuit At The Beach and Peeing In Her Bikini. We start off with Dominika lying on the beach enjoying the sun. There is something so sexy seeing a hot chock in a bikini with a full bladder and here we can see Dominika with her bladder bulging.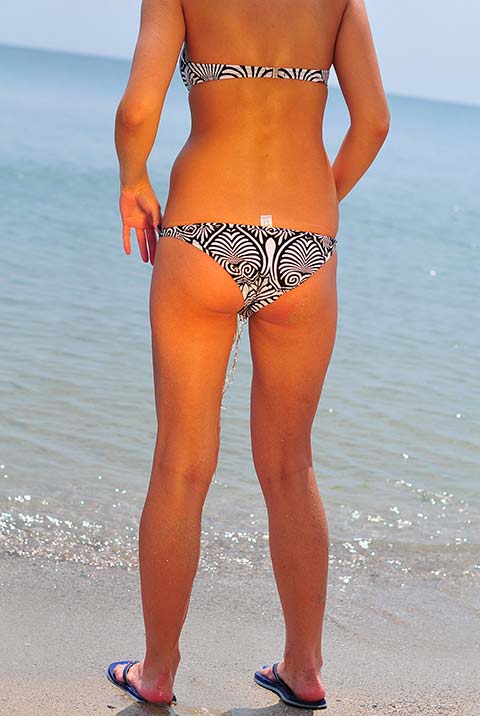 Dominika is looking hot in her swimsuit and she has got to the stage that she needs to pee, she stands up and walks down to the sea edge, she stands there and then as we are all waiting with anticipation she starts to pee in her bikini. What a wonderful stream as it starts her golden fluid is catching in the sun and sparkling as it flows through her Bikini.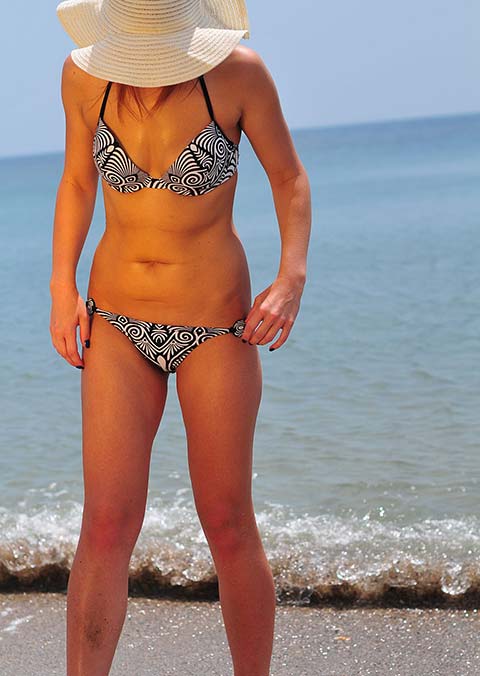 Dominika Is peeing in her bikini on the beach her piss is soaking her bikini bottoms and splashing on the sand, she has pee running down her legs and is making a wonderful mess.  She keeps peeing in her swimsuit her piss stops splashing on the sand and is now running down her legs and soaking her feet a lovely sight of piss soaked tanned legs. She finishes peeing and her bikini is dripping, she turns around and while we can't see the pee stain it is wonderful to know looking at the crotch of her bikini it is still dripping hot piss. A sexy bikini wetting from Real Wetting.

See Dominika Peeing In Her Bikini Here


Filed under: Outdoor Pissing and Peeing and Pissing and Pissing Outdoor and Real Wetting and Swimsuit Peeing
Posted on 10.17.13
Comments: None


Tags: Beach Pee, Bikini Peeing, Dominika Real Wetting, Peeing At The Beach, Real Wetting, Swimsuit Pee
From Real Wetting we have the lovely Alice. We have had some great real wetting movies and pictures with her in the past. If you have missed them check out all of her posts here. Today she is at the beach in her bikini. It is so rare to have bikini wettings we have only had few and you can check them out in the swimsuit peeing category. Alice is on the beach having a walk looking around for shells when she feels the urge to pee. She keeps on holding while walking around enjoying the feeling as her bladder gets more and more desperate. I do love it when we see Alice desperate to pee.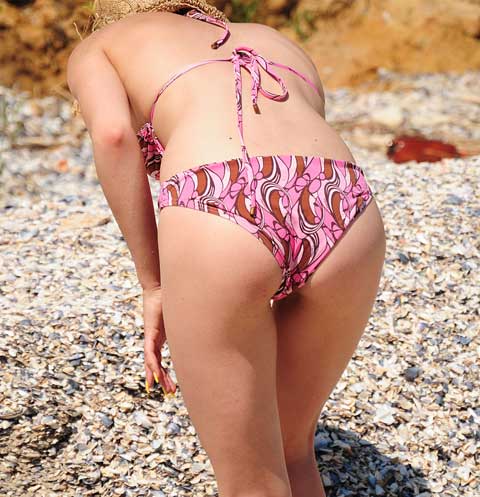 Alice is on the beach in her swimsuit her is desperate to pee, she looks around there is no one around, as she stand on the sand she starts to pee in her bikini. She really is such a natural wetter as she starts to pee her piss  starts to soak into her bikini and then splashes on the beach. Her legs are getting little pee dribbles and the aroma of her warm pee would be so lovely.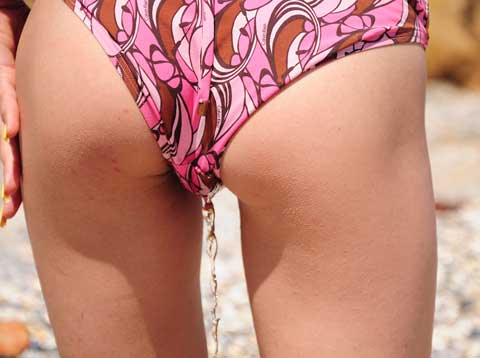 She is peeing in her bikini, it is splashing on the ground and running down her legs, she really is one hot woman who enjoys wetting. She finishes peeing in her bikini and wipes her crotch with her hand enjoying the wetness no doubt. Such a neutral wetter she has finished peeing in her bikini and then felt her wet crotch and without a care in the world looks out to sea. A super sexy bikini wetting from Real Wetting.
See Alice Peeing In Her Bikini


Filed under: Audreys Wetting Site and Babes Peeing and Outdoor Pissing and Peeing and Pissing Outdoor and Real Wetting and Swimsuit Peeing
Posted on 01.22.13
Comments: 2 Comments


Tags: Alice Realwetting, Audrey's Wetting Site, Bikini Peeing, Outdoor Pissing, Real Wetting, Swimsuit Pee
From Needapee we have the lovely Rebekah Dee. She is on the beach reading a book and desperate to pee. We have has photos from this Needapee movie before in Rebekah Dee From Needapee Pissing and today we have the peeing movie. She seems to have been doing a lot of public beach peeing in this bikini check out Sneaky Beach Peeing With Rebekah Dee and Rebekah Dee Pissing On The Stairs he two movies that we have shown when she has been wearing it. Today we join the action around 5 minutes into the movie. She has been reading her book topless on the beach just look at her nipples they look hard, Rebekah Dee really does get turned on when she is desperate to pee, just watch Rebekah Dee Pissing In The Swamp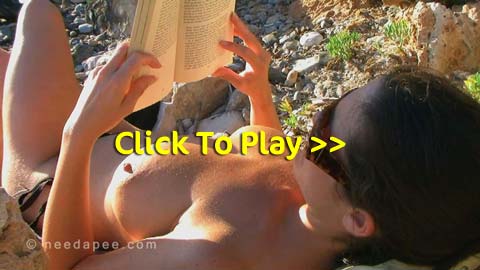 She is getting to desperate to pee there is only so long that she can hold on and Rebekah has got to her limit she uncrosses her legs and holds her crotch with her hand, the legs get crossed again she really is taking the desperation to the limit. She opens her legs again and is still holding her crotch tightly, its time she just can't holds on. She looks around to see there in no one watching and then pulls down her bikini, what a great sight she is on a beach showing her lovely pussy.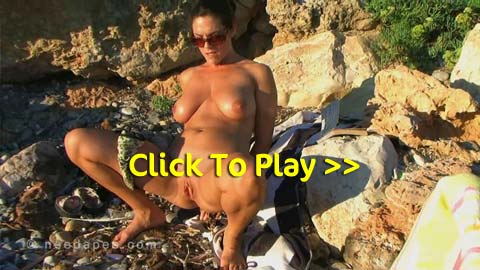 Rebekah Dee from Needapee is just to desperate to hold on she has pulled her bikini down and has her pussy on show. She creeps forward and then opens her pussy lips, just look how lovely and pink they are. She lets go of them leans back and you can see her full bladder and then she starts to pee. What a lovely shot her pussy is open and she is shooting pee on to the beach. She finishes peeing and her pussy is all wet and messy, she flicks it a couple of time to get the remaining drips off and then she stands up. A wonderful beach peeing movie starring Rebekah Dee from Needapee.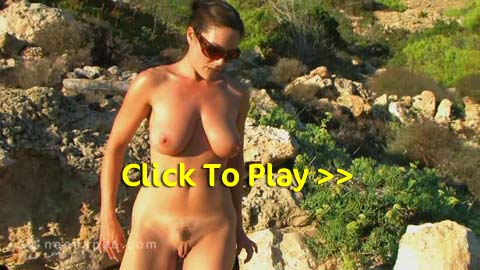 See Rebekah Dee Peeing On The Beach


Filed under: Babes Peeing and Movies and Needapee and Outdoor Pissing and Peeing and Pissing and Pissing Movies and Pissing Outdoor and Pissing Videos and Public Pissing and Rebekah Dee and Swimsuit Peeing
Posted on 06.04.12
Comments: 2 Comments


Tags: Bikini Peeing, Desperate To Pee, Needapee, Outdoor Pissing, Pissing In Public, Pissing Movie, Pissing Outdoors, Rebekah Dee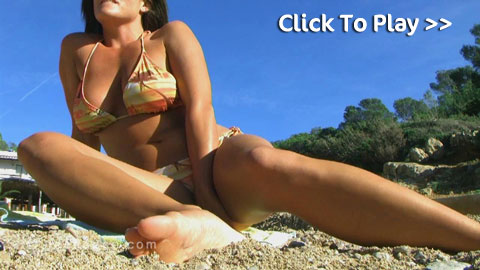 Here we have a great Needapee movie with the lovely Rebekah Dee. This time she is on the beach and desperate to pee you can even see her bulging bladder. She is on a public beach and people are around this is just the situation that Rebekah seems to love and I for one love watching her sneaky peeing antics. This is one hot sneaky peeing movie. She sits back and opens her legs. And when i first saw this Needapee movie I thought she was going to be peeing in her bikini but I was happily wrong.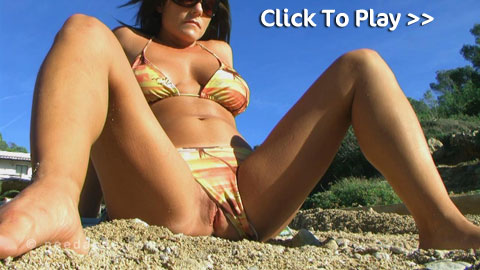 Rebekah moves her bathing suit to one side and we get the first sight of her lovely vagina just exposed enough. While her vagina is on show she starts to dig a little hole a beach toilet for her pee stream to land in. There is no one looking so she starts to pee on the beach. What a sexy pee stream she really is one sexy armature pee model and here we have her peeing on a public beach and she is so relaxed doing it. You can see she is getting some pee running down her ass crack too the sand will be sticking to it just wonderful.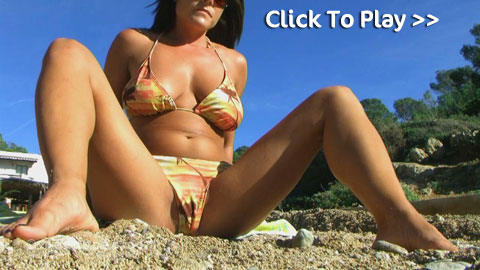 She finishes peeing and no one has caught her she is not going to wipe her pee drips of her pussy she is going to sun dry her pissy pussy. What a site she is sitting in the sun with her glistening pussy on show while it dries exposed on the beach. I wish I had been on the beach that day what a sight it would have been. Rebekah Dee from Needapee one very sexy pissing model doing her sneaky beach pee.

See the Needapee Sneaky Beach Peeing Movie Here


Filed under: Movies and Needapee and Outdoor Pissing and Peeing and Pissing and Pissing Movies and Pissing Videos and Public Pissing and Rebekah Dee and Swimsuit Peeing
Posted on 09.23.10
Comments: 9 Comments


Tags: Beach Pee, Bikini Peeing, Needapee, Outdoor Pissing, Pissing Movie, Rebekah Dee