Ineed2pee has some great female desperation and wetting and today we have two picture sets and a repost of an old movie in the new player. To start off we have Candle Boxxx the story goes "It's great watching Candle struggle so primly as she tries to maintain her composure & talk to the customers when she really needs to pee so badly! She does an awesome squirmy pee pee dance before we close up onto her face as it starts leaking out! Ooops, I didn't mean "leak" I really meant GUSH out. It's like a huge waterfall as it comes out through her white panties & sheer pantyhose and she stands there motionless to stop it! I love how embarrassed she is at the end after her boss catches her trying to mop up her dripping pissy legs with a paper towel." I love her expressions when she gets so desperate and I am glad that she keeps appearing at Ineed2pee. See desperate Candle Boxx dressed as a secretary and desperate to pee Click Here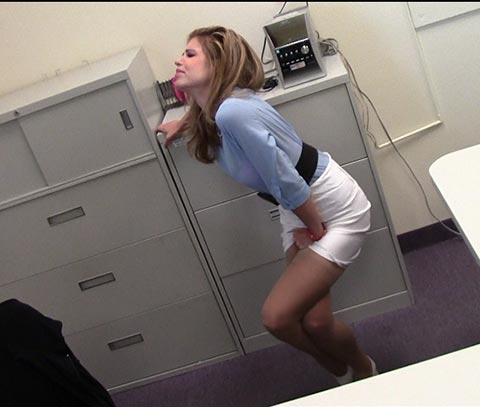 Next up we have Gianna she is dressed in tight jeans and is so desperate to pee, look how she is clenching her hands, she is trying to hold on as long as she can. She gets to desperate and her pee starts to flow out, her jeans go dark instantly and she even floods her boots. Its s a wonderful female desperation and jeans wetting. See Gianna desperate and peeing her jeans Click Here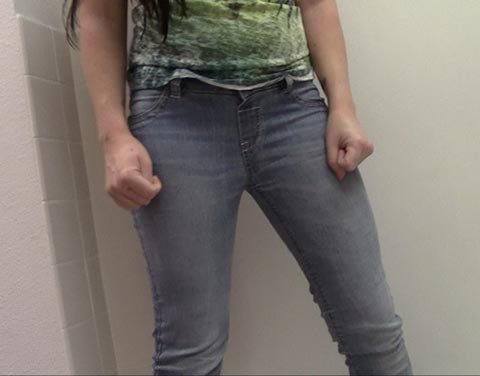 Last up we have Dragonlily desperate to pee tied up in her kitchen while we have had this movie previously it really is a great female desperation movie. She is just so desperate to pee she clenches her legs and tries to hold on as long as she can and then her bladder gives in and she pees herself, super sexy stuff from Ineed2pee. See Dragonlily bound and desperate to pee Click Here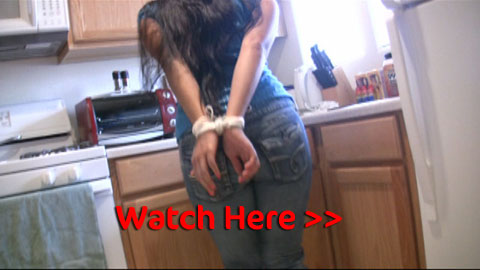 Filed under: Desperation and Dress Peeing and Female Desperation and Ineed2pee and Jeans Peeing and Jeans Pissing and Knicker Wetting and Movies and Pantyhose Pissing and Peeing and Pissing and Pissing In Skirt and Pissing Movies
Posted on 08.15.14
Comments: 1 Comment


Tags: Candle Box Ineed2pee, Desperate To Pee, Female Desperation, Gianna Ineed2pee, Ineed2pee, ineed2pee Dragonlily, Jeans Pee, Jeans Peeing, pantyhose peeing, Pissing Movie, Skirt Peeing
From Real Wetting we have the wonderful Sara she is outdoors in her jeans and desperate to pee. We have had some great wettings with Sara in the past and if you have missed them check out Sara Peeing In Her Shorts outdoors, Peeing In Her Dark Blue Pantyhose, Sara Peeing In Her Pants and Jeans Peeing With Antonia And Sara. Today she is in tight jeans and desperate top pee she really is one sexy lady when she is desperate to pee.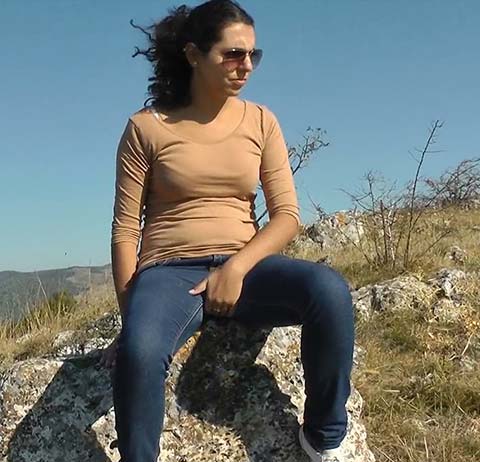 Sara is walking around in the hills enjoying the view, she finds some rocks and sits down. While she is sitting looking at the view with a light breeze blowing she feels the pressure of her bladder increasing. She needs to pee and as we have seen before Sara doesn't need a toilet to relieve herself, she is quite happy to pee in her pants. She grabs her crotch and then with her denim encased legs open stats to pee.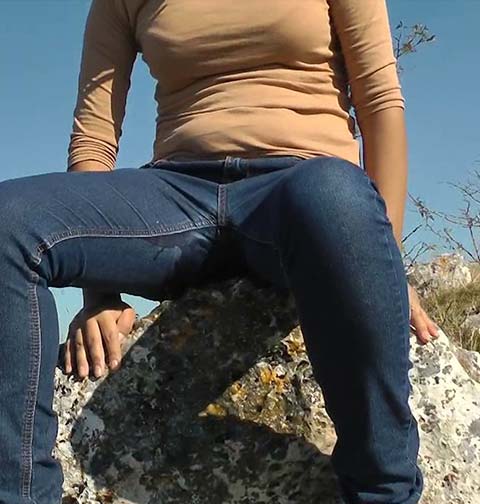 Sara has started to pee, her pee is soaking into the fabric giving a dark pee spot, now she has started there is no stopping and she fully releases. Her piss flows out soaking her jeans and the rocks she is sitting on. She finishes peeing, stands up and shows off her big pee stain . Another super jeans wetting from Real Wetting.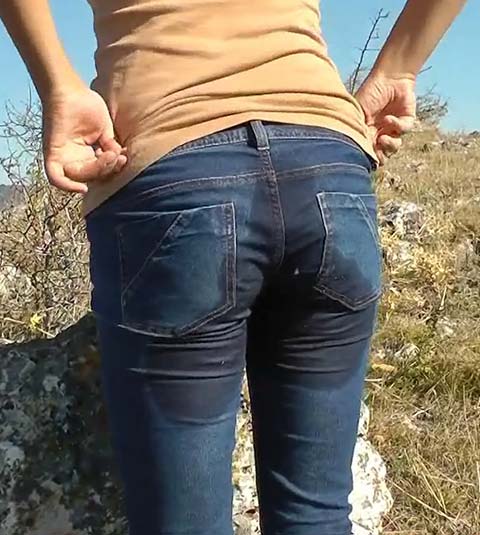 See Sara Peeing in Her Jeans Here


Filed under: Jeans Peeing and Jeans Pissing and Outdoor Pissing and Peeing and Pissing and Pissing In Pants and Real Wetting
Posted on 05.29.14
Comments: 1 Comment


Tags: Audrey's Wetting Site, Jeans Pee, Jeans Peeing, Outdoor Pissing, pants peeing, Real Wetting, Sara Real Wetting
From Ineed2pee we have a mix for today. I have always felt that the Ineed2pee pictures really don't show the wonderful female desperation and interactions with the camera in the lead up to the wetting so today we have Ineed2poee trailer 29 as well as some wonderful wetting pictures. We starts off with Natalie Storm, she is one hot model and at Ineed2pee we have had her before in Peeing In Shiny Spandex Leggings where she fully floods her spandex leggings. Today she is in her jeans and desperate to pee, she has been holding on and on and her bladder is about to burst she stands there and starts to pee. Her pee explodes into her jeans and runs down her legs giving a great pee stain as it goes. She finishes peeing in her jeans and is standing there soaked and looking so sexy see Natalie peeing in her jeans HERE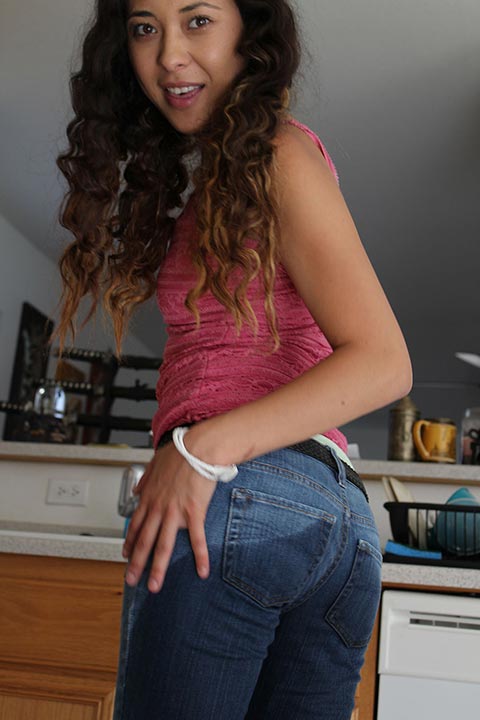 Next up we have Kenna Valentina. Kenna is dressed in her jogging pants. She has been bouncing around and the motions are making her more and more desperate to pee she stops and then tries to starts to walk again, she is just to desperate to pee and she starts to pee. There is a wonderful hiss as she loses control and then her pee flows into her jogging pants. This is one wonderful Ineed2pee jogging pants pee .I just love looking at Kenna's voluptuous ass as there is pee flowing around it. See Kenna peeing her jogging pants Here.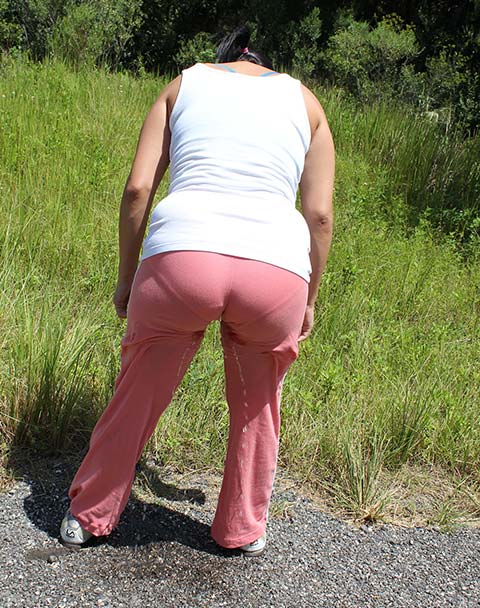 Last up we have the Ineed2pee movie trailer I know some of you hate seeing a trailer but this has wonderful female desperation, great interactions with the camera and wonderful wettings. Check it out and enjoy what Ineed2pee has to offer. See the Ineed2pee trailer Here.


Filed under: Desperation and Female Desperation and Ineed2pee and Jeans Peeing and Jeans Pissing and Movies and Outdoor Pissing and Peeing and Pissing and Pissing In Leggings
Posted on 04.09.14
Comments: 2 Comments


Tags: Desperate To Pee, Female Desperation, Ineed2pee, Ineed2pee Kenna, Jeans Pee, Knicker Wetting, Natalie Storm Ineed2pee, pants peeing, Pissing Movie, Tracksuit Pants Peeing, wetting
From Wetting Her Panties we have the wonderful Charlotte. Charlotte is one of my favorite wetting models at Wetting Her Panties she is just so beautiful when she is peeing. We have had some great posts with her in the past check out Peeing in Her Blue Jeans Charlotte Peeing In Her Panties Outdoor Knicker Wetting With Charlotte and Peeing In Leggings With Charlotte. Today she is in her tight denim jeans and is desperate to pee we can see that her bladder is bulging and she grabs her crotch to hold it.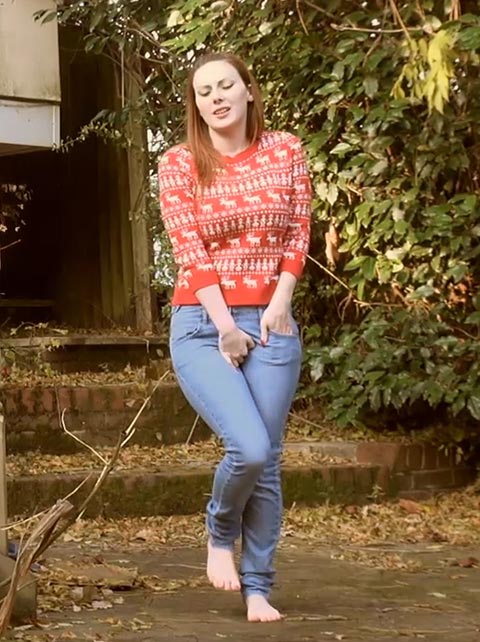 Charlotte is desperate to pee, she is in her tight jeans and has such a sexy look as she grabs her crotch and rubs her bladder she is about to burst. She has her hand in her crotch and starts to pee the crotch of her jeans goes dark and then she takes her hand away and starts to pee more, she turns around and we can see that her jeans are getting nice and wet.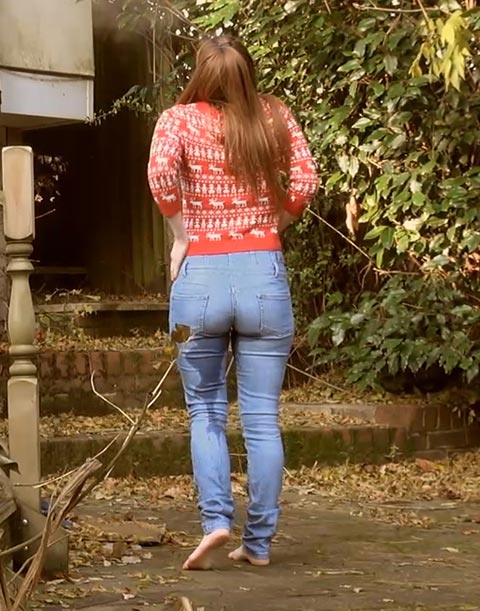 Charlotte is peeing in her jeans, her jeans are going dark blue and when she turns around she pees more and the denim gets the wonderful wet shimmer. She keeps on peeing and her bare feet are getting wet with her pee too. She finishes peeing in her jeans and then pulls her piss soaked jeans down to show us her wet knickers. I do love seeing Charlotte desperate and peeing she is such a naughty girl.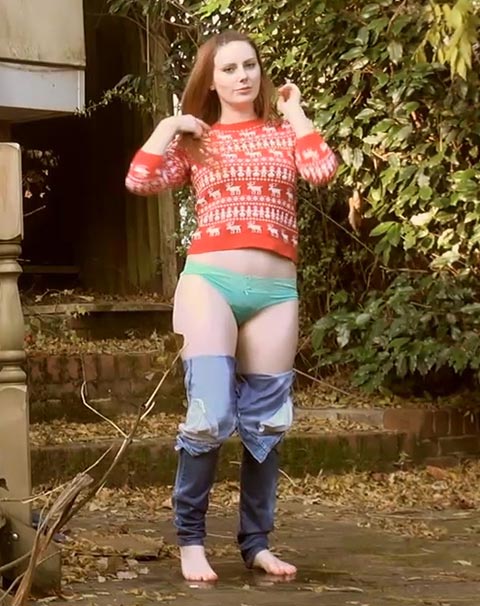 See Charlotte Peeing In Her Jeans Here


Filed under: Babes Peeing and Desperation and Female Desperation and Jeans Peeing and Jeans Pissing and Peeing and Pissing and Pissing In Pants and wettingherpanties
Posted on 03.17.14
Comments: 3 Comments


Tags: Charlotte Wetting Her Panties, Desperate To Pee, Female Desperation, Jeans Pee, Jeans Peeing, Outdoor Pissing, Pissing In Pants, wettingherpanties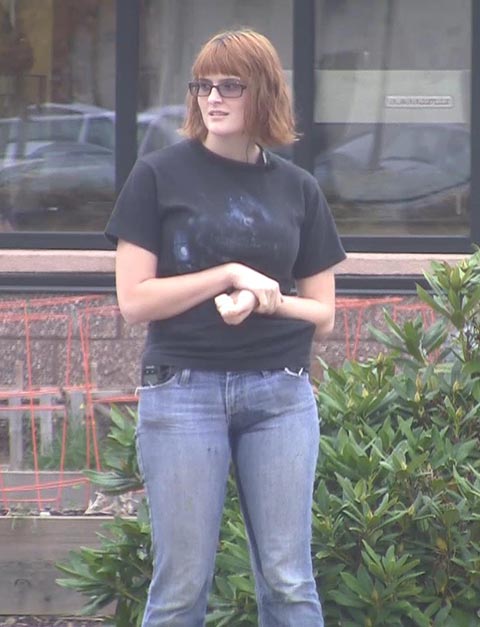 From HD Wetting we have the lovely Alisha, Sosha and Haydee peeing in there jeans. HD wetting is getting risky with their jeans peeing movies with Sosha. In the last post Outdoor Jeans Peeing From HD Wetting we had Sosha peeing on a street, today we start with her once again peeing on a street but it is much busier and exposed. Sosha is on the street she walks across the road and stands in front of the coffee shop and then pees in her jeans. We can see her piss start to soak into her jeans and spread across her crotch till it starts to run down her legs the denim is soaked in piss and Sosha is exposed to all. She finishes peeing in her jeans and then walks back across the road. I do love a good public jeans peeing. On a side note to these pictures HD Wetting has a new model Carly and watching her first movie where she talks about her pee fetish it seems that she and Sosha are intimate together off camera and have been having some hot pee fun. I hope that we get some great lesbian peeing with them both. See Sosha Peeing In Her Jeans Here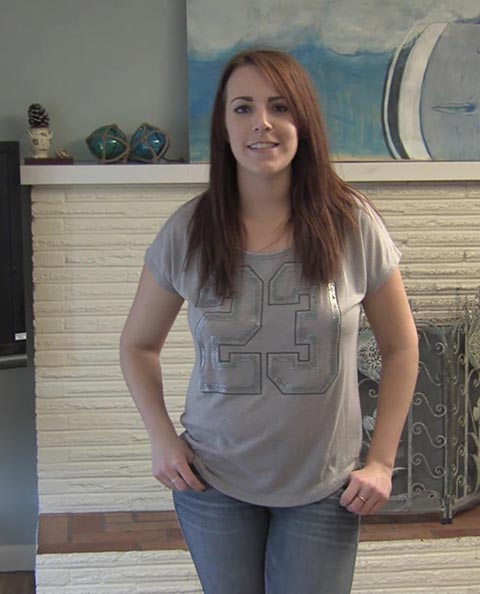 Next up we have Alisha. Alisha is in her jeans and talking to the camera she stands and starts to pee. She really is soaking he jeans and her pee is flooding sown her denim encased legs. Her crotch has the best pee stain in it too. She finishes peeing in her jeans and pulls down her piss soaked jeans we even get to see her wet pissy pussy in this shoot. See Alisha Peeing In Jeans Here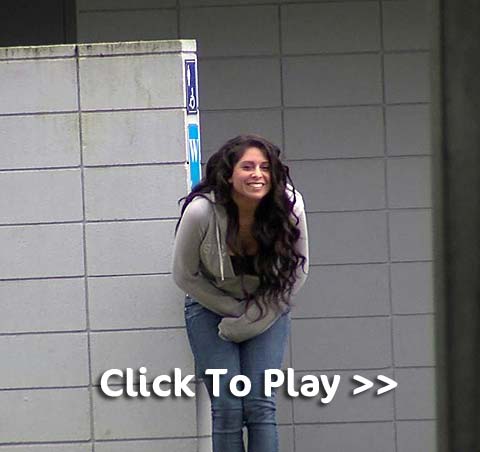 Last up we have Haydee. We have had this super sexy jeans peeing movie with Haydee before but after seeing the two previous jeans wettings I really couldn't resist to post this again, in my opinion it is one of the best pants peeing movies that HD Wetting has. There is something so great in how nervous she is and then when she starts peeing her jeans it is a full on piss and they are soaked. Watching her run back to the car she is looking so cute and sexy. Enjoy Haydee peeing in her jeans here.


Filed under: HD Wetting and Jeans Peeing and Jeans Pissing and Movies and Outdoor Pissing and Peeing and Pissing and Pissing In Pants and Pissing Movies and Public Pissing
Posted on 12.03.13
Comments: 1 Comment


Tags: Alisha HD Wetting, Haydee HD Wetting, HD Wetting, Jeans Pee, Knicker Wetting, Pissing Outdoors, Sosha HD Wetting