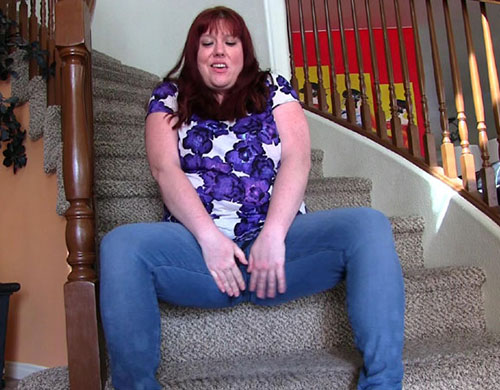 From Ineed2pee we have the lovely Elizabeth James Pissing In Her Jeans. This is her first time pissing in her pants on cam. She has drunk a lot of water and is so desperate to pee. Her jeans are tight against her bulging bladder and she is struggling to hold on. She sits on the stairs and then stands, she can't hold on and starts to pee in her jeans.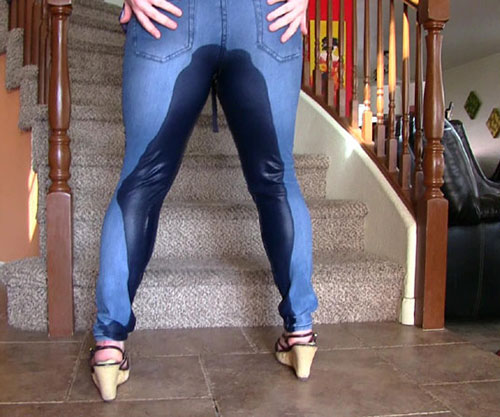 The story from Ineed2pee goes like this "Elizabeth is a friend that was in town & was down for some fun desperation & wetting, 1st time ever!! So I gave her a challenge… let's wait til she's downed a TON of water, then give her tight jeans and give her a challenge… see if you can make it 10 whole minutes and not wet yourself! Lots of nice real stories accompany the hilarious behind the scenes as you get to know Elizabeth and her bathroom accidents! Lots of cute pee pee dancing and hard crotch grabbing as she tries to keep her pink cotton panties, tight jeans and wedge heels dry from urine before it all cascades out"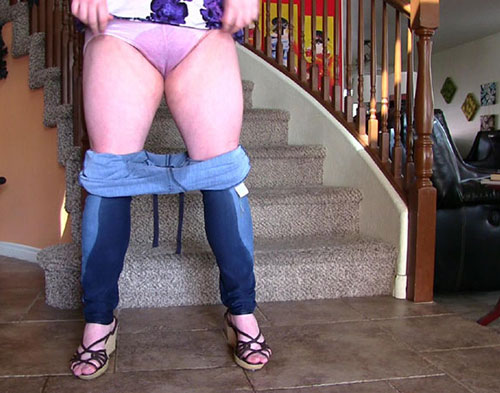 Elizabeth James Is peeing in her jeans, the piss is flooding out and soaking her. The denim starts to grip tighter against her skin and there is a wonderful pee shimmer. She is soaking everything. Her pee keeps flowing and her feet are soaked too. When she is empty she stops peeing her jeans they are dripping and she pulls them down to show us her piss soaked panties. A great 1st pee from Elizabeth James at Ineed2pee.