From Ineed2pee we have the very sex Cheyenne Jewel desperate and pissing in her skin tight jeans. We have had this hottie in the past and if you have missed some of her wonderful peeing endeavours check out Pissing Her Jeans At The Farm, Tipsy And Desperate To Pee from Ineed2pee and Pissing In A Spandex One Piece Today she is in the car and desperate to pee. She is struggling to hold her pee in when they come across a abandoned house she struggles to the door so desperate to pee.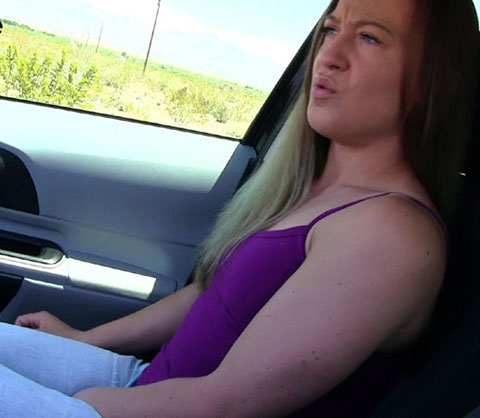 The story from Ineed2pee goes like this "What hotter way to get lost than to have a very desperate to pee Cheyenne Jewel in the car with you as you're stuck in the middle of nowhere with no gas station in sight! She's wearing a classic fit, boot cut light blue denim jeans which show off her curvy butt just perfectly. She's squirming, wiggling and grabbing her crotch tightly in her seat while frantically trying to figure out what to do!? She finally can't handle it and gets out of the car to stumble over to an abandoned house to find a toilet but the bathroom has been trashed!"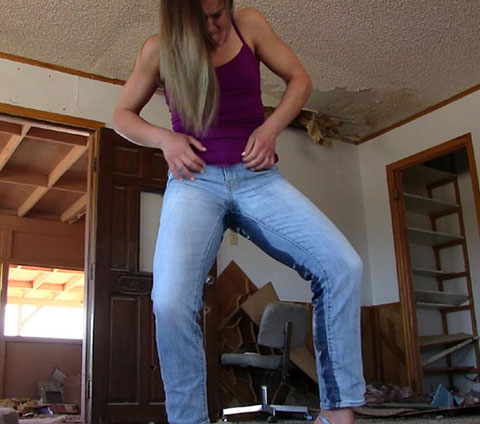 She is so desperate there is no toilet she is getting more and more frantic. She stands still and then she starts to lose control. She starts to piss in her jeans. She has pee running down her legs and the light denim is sowing her pee rivers off so well. She has fully soaked herself in piss and her feet are dripping wet too. She can't get back in the car in her piss soaked jeans so she pulls them off and we get to see her piss soaked panties too. A super jeans wetting from Ineed2pee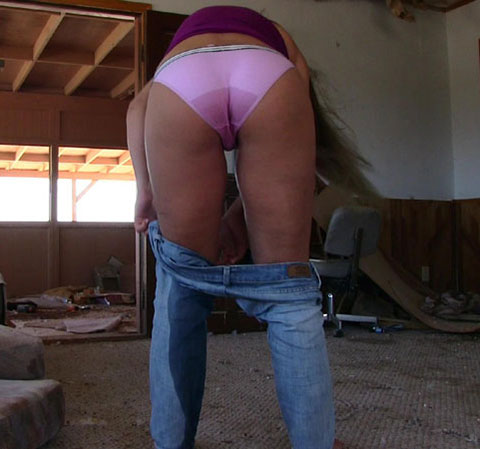 See Cheyenne Jewel Pissing In Her Jeans Here

Filed under: Babes Peeing and Desperation and Female Desperation and Ineed2pee and Jeans Peeing and Jeans Pissing and Peeing and Pissing and Pissing In Pants and Pissing Pictures
Posted on 07.21.18
Comments: 4 Comments


Tags: Desperate To Pee, Female Desperation, Ineed2pee, Ineed2pee Cheyenne Jewel, Jeans Pee, Jeans Peeing, Pissing In Pants, wetting
Aston Wilde from Wetting Her Panties joins us today in a straight up panty piss. There is something so sexy about a planned panty piss over the toilet. We join Aston as she is sitting on the toilet in her tight panties. She is one sexy model and if you have missed some of her previous pissing posts you can check all of them out Here She is sitting on the toilet, her bladder is bulging and her panties are tight. She opens her legs and lets the first drips of piss out.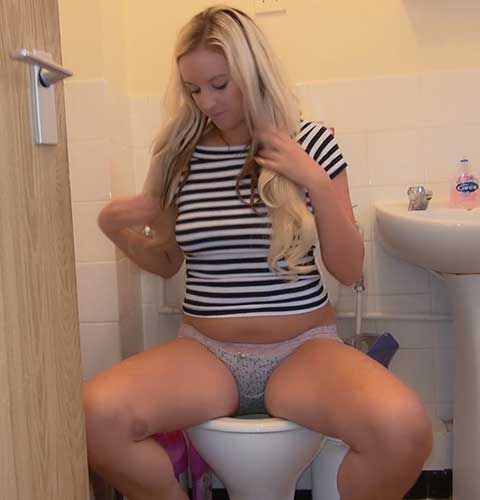 Her panties are starting to get damp as she pisses. As she does she stands up a little allowing the piss to stream through the fabric there are great piss streams flowing through her panties.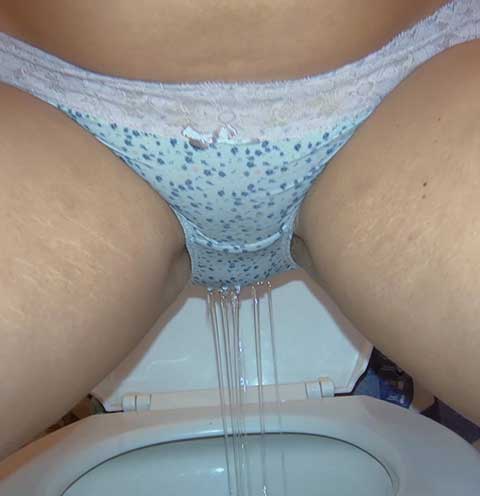 She keeps on pissing in her panties and as the cotton gets saturated it starts to cling tighter to her pussy. She really is giving her panties a good soaking. She finishes pissing, her bladder is less pronounced and she has piss soaked panties clinging to her pissy pussy. She stands up and bends over and we get a wonderful shot of her bottom dripping in piss. Super sexy panty peeing from Wetting Her Panties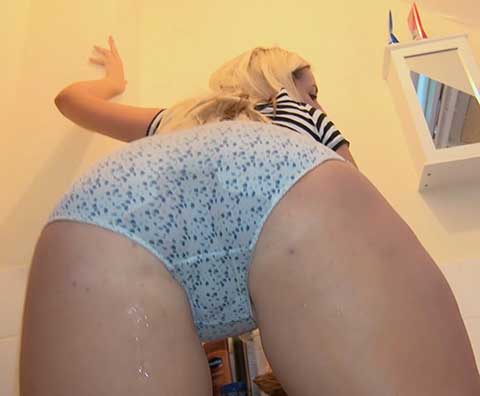 See Aston Wilde Pissing In Her Panties Here


Filed under: Babes Peeing and Knicker Wetting and Panty Pee and Peeing and Pissing and Pissing Pictures and wettingherpanties
Posted on 06.27.18
Comments: 4 Comments


Tags: Aston WettingHerPanties, Knicker Wetting, Panty Pee, Panty Peeing, Peeing Pictures, Pissing Panty, wetting, wettingherpanties
From Vipissy We have these two wonderful lesbians Oprah & Puppy. We have previously had these two in some great lesbian pissing scenes. You can see Oprah's previous endeavours with Sexy Lesbians Pissing And Playing  and Lesbian Peeing Movies And Pictures. Puppy's very wet past lesbian piss scenes, Vipissy Blonde Lesbian Peeing  Blonde lesbians Peeing and Three Lesbians Peeing Vipissy . Today they are together for the first time for some wonderful and wet piss action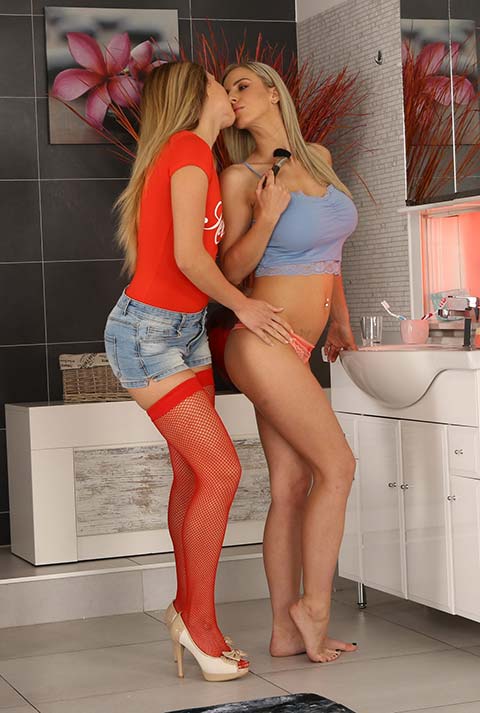 Oprah is in the bathroom putting on makeup when Puppy walks in. She sees Opera and they start to kiss. What a beautiful sight these two lesbians are. In no time they starts to piss and kiss and they are soaked in warm pee.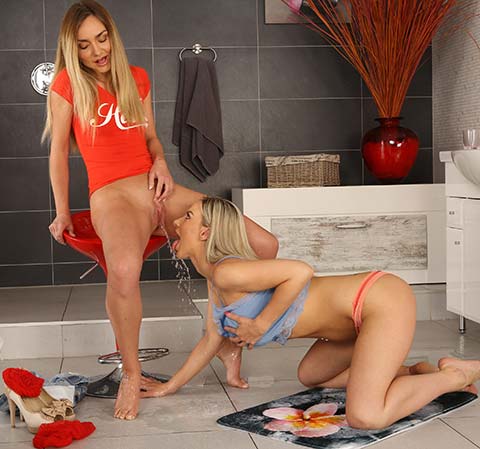 They are soaked and so horny. The piss keeps on flowing they are licking and sucking, their hair is soaked and the makeup is running. They keep pissing and making out till they are cumming over and over again. This is one wonderful wet lesbian piss movie from Vipissy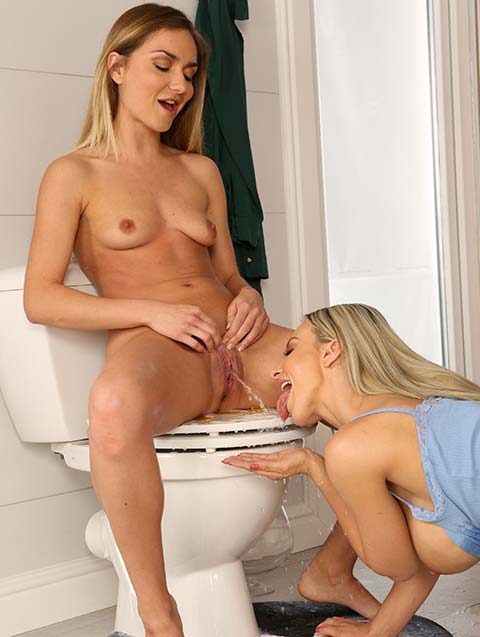 See Oprah & Puppy Pissing Here


Filed under: Babes Peeing and Drinking Piss and Lesbians Peeing and Movies and Peeing and Pissed On and Pissing and Pissing Movies and Pissing Videos and ViPissy
Posted on 06.12.18
Comments: 3 Comments


Tags: Lesbian Pissing Video, Lesbians Peeing, Oprah Vipissy, Peeing Movies, Piss Drinking, Pissing Movie, Puppy Vipissy, ViPissy, Vipissy Movie
From Real Wetting we have the wonderful Ruby. She is in bed and desperate to pee. She has tight polkadot panties on and she starts to tease us by lifting her skirt up and then down. She is getting more and more desperate to pee. She gets on her knees and opens her legs wide and with her teddy pulled up she starts to pee in her panties
Ruby has started to pee in her panties on the bed the cotton panties are tight against her pussy and when the pee start to flow it is soaking into her panties and then pooling on the bed. Her panties are getting so soaked in piss and so is the bed.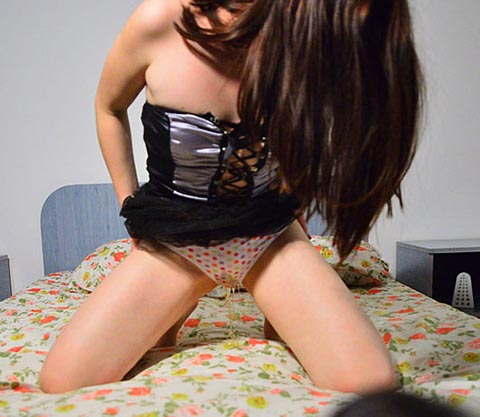 She keeps on pissing in her panties till she is empty and now with the bed soaked in piss she lies back her piss soaked panties are on show and she has a pissy camel toe too. When she rolls over we can see that her peed in panties are clinging to her puffy pussy. A sexy deliberate panty pee on the bed.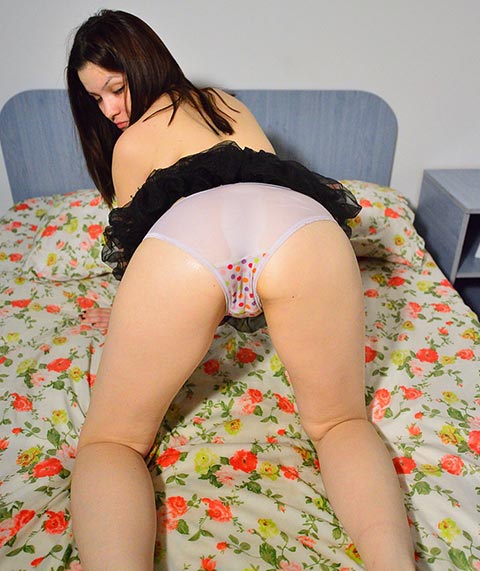 See Ruby Pissing Her Panties Here

Filed under: Audreys Wetting Site and Babes Peeing and Bed Wetting and Knicker Wetting and Panty Pee and Peeing and Pissing and Pissing In Bed and Pissing Pictures and Real Wetting
Posted on 05.27.18
Comments: 1 Comment


Tags: Audrey's Wetting Site, Bed Wetting, Knicker Wetting, Panty Pee, Panty Peeing, Peeing Pictures, Pissing In Bed, Pissing Panty, Real Wetting, Ruby Real Wetting, wetting, Wetting The Bed