From Wet and Pissy we have there great peeing photosets again. Wet and pissy have brought us some great movies and photos in the past and if you have missed some of them check out Peeing Around The House, Carla Cox From Wet And Pissy, Kattie Gold Pissing From Wet and Pissy, and Whitney Conroy Making A Piss Movie. Today we start off with Adele the story from Wet and Pissy goes "Gorgeous raven haired Adele steps into the walk in shower and lets water drizzle down her tanned, toned body. She massages her tits in soapy bubbles before running her hands all over herself and starts to get turned on. Rubbing her pussy, Adele masturbates as she catches her golden piss in a vase. This horny babe pours the contents over her body and into her mouth, swallowing her juices and even soaks her hair! Diving onto the floor, she rolls around in her piss puddle before getting hold of a double ended glass dildo and practicing her blowjob techniques on it. Toying her pussy, she sprays pee over the shower floor, making herself orgasm before rinsing off and teasing us with her curvy ass" lovely pissing from a sexy brunette. See Adele Peeing Here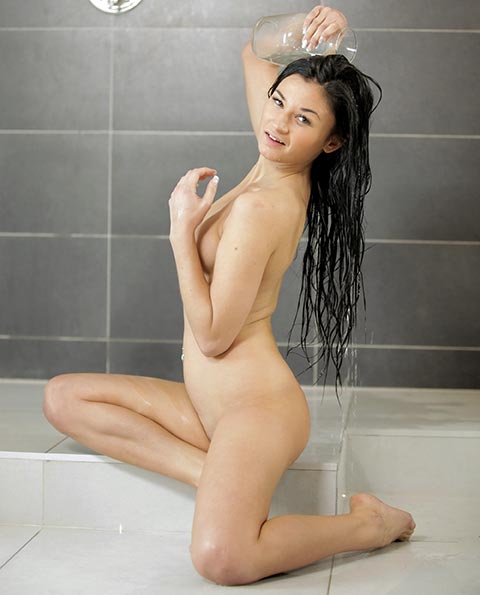 Next up we have Antonia. The story goes "Antonia's studies are cut short as the pigtailed babe puts her book down and her body becomes a bigger interest than the stale book she is trying to read. She soaks her polka-dotted knickers, relieving herself right through them. She saturates them with her pee and then wrings them over her body. Unable to squeeze anything out of them, she proceeds to sucking on them. She moves on to the square seat, where it's bright white colour reveals the honey coloured goodness stored within her body. An excellent view is captured as she pees into a watering pot held beneath her body. Antonia gets wetter and wetter, masturbation peeing. By the end of her playtime, her makeup is running off of her face." See Antonia Peeing Here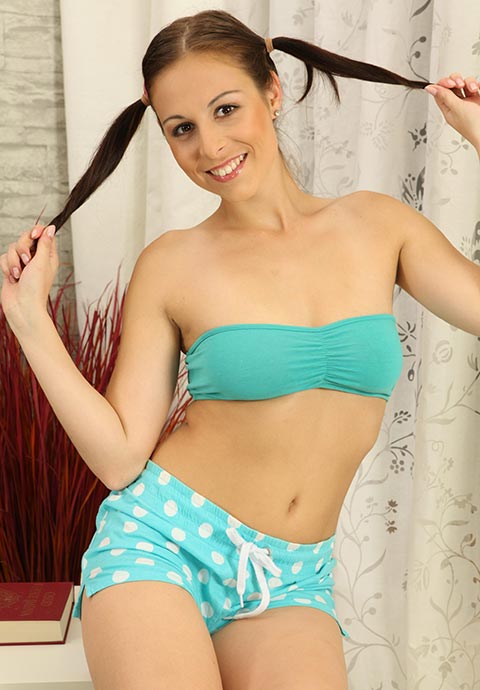 last up is Brittany Bardot and her black dildos the Wet and Pissy story goes "Introducing Brittany Bardot, a gorgeous blonde MILF who knows exactly what she wants. They say when a women turns 30, she becomes a hell of a lot more experimental when it comes to sex and Brittany is no exception. Dressed in black lingerie and stockings, she looks seductive as she poses on the leather sofa. Her panties have a zipped up crotch which she soon unzips to reveal her spread pussy lips. After stripping down to her stockings, Brittany pisses into a small glass vase and pipettes her golden juices over her natural tits and into her mouth. She uses a speculum to spread her pussy wide open ready for the monster black dildo she has planned. She pisses into her own mouth and then uses the brutal dildo on her tight ass while shoving another one into her twat!" just lovely mature pissing. See Brittany Peeing Here.


Filed under: Babes Peeing and Drinking Piss and Peeing and Pissing and Self Pissing and Wet And Pissy
Posted on 03.19.15
Comments: None


Tags: Adele Wet and Pissy, Antonia Wet and Pissy, Brittany Bardot Wet and Pissy, Piss Drinking, soaked in piss, solo pee play, Wet And Pissy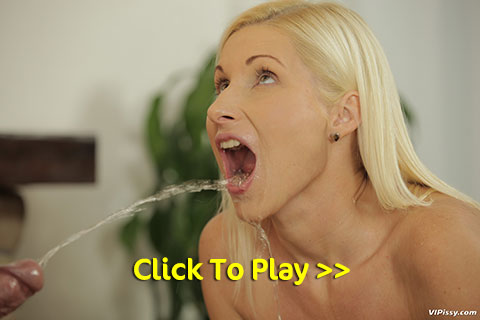 From Vipissy we have three movies with sexy couples peeing. We have had lots and lots of lesbian peeing from Vipissy but not so much with males and females. If you love lesbian peeing check out Very Wet Lesbian Pissing Vipissy Lesbians Peeing Lesbian Pissing Threesome Vipissy and Sexy Lesbian Pissing From VIPissy. but if you want to see some warm and wet couple action here we are. We start off todays Vipissy peeing feast with the lovely Vanessa Hell. Vipissy has this written about the movie "Blonde goddess Vanessa Hell has been giving her boyfriend dirty thoughts all morning and he's ready for some action. When Vanessa leaves the room, her man quickly dumps out her tea and replaces it with a mug full of his fresh piss. It doesn't take long for Vanessa to realize that the fluid she's gulping down is not the herbal beverage she thought. Pleasantly surprised, Vanessa accepts the not-so-subtle hint and pulls her hot pink thong aside to fill her lover's mug with her own aromatic juices. After swallowing down more of the tangy concoction, Vanessa drops to her knees and begins sucking her boyfriend's cock, luring another stream of golden pee out with her lips and tongue. The liquid showers the blonde's face as she fills her mouth and spits it back out onto the erect human fountain. After slurping up puddles of piss from the coffee table, Vanessa bends over for a deep fuck in her cum craving pussy. Plenty more golden showers and carnal pleasures are in store before the naughty piss vixen is completely satisfied. Never before did Vanessa realize just how sexy and erotic an unbridled exchange of hot urine could be and now she's absolutely hooked." it is great to see Vanessa Hell get soaked in pee and the pounded her blonde hair really does suit being soaked in pee. See Vanessa Hell Peeing Here.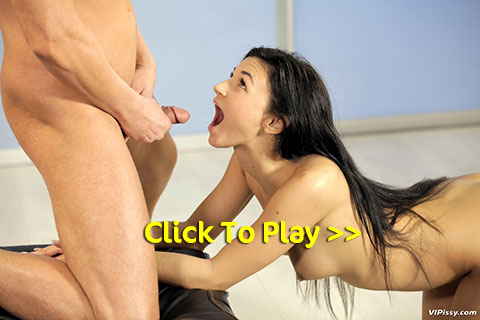 Next up we have Adele. The Vipissy story goes "Eager little Adele comes in from the cold weather to find her boyfriend lounging about the house. She is little for words, and her flirtatious nature takes over, peeing into a glass in front of her boyfriend. Adele is the girl that goes out of her way to please her man, letting him lay back as she gives him some outstanding attention until he gets on his feet to give something back. He helps Adele keep her legs up high as she pees into the air. After some peeing from him and some more dick sucking by Adele, she finds herself alone, peeing solo before slipping back into her sweat pants as she leaves the room." I just love how much she is enjoying the piss, she drinks it down and then has some great pissing sex. See Adel Peeing Here.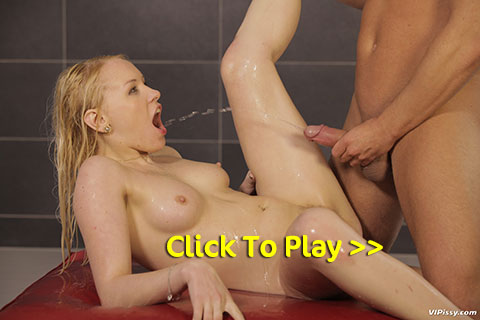 Last up we have Lola Taylor. Vipissy has said this about the movie "Little Lola Taylor has a big appetite for cock. There's less peeing from our female starlet here than her male companion, but this leaves a lot of room for her oral abilities. She is the first to pee, and unfastening her velcroed one piece lingerie reveals a well maintained patch of beautiful blond pubes. Soon she is on her knees, taking on a formidable amount of piss into her mouth. She lets her partner finish peeing and then begins her unflinching assault on his dick. There's a brief moment of separation and then the ensemble continues. Lola rests upon the red seat, again taking piss into her mouth, but this time clearly swallowing on several occasions. Lola presses on her own peeing, spreading her legs as she showers her partner. She takes another dose of oral cock- now from above- proceeds to riding her partner, and pauses to take a sexy piss on him from her dominant position. Lola is still going strong before finally relaxing on the seat to pee into a wine glass." Super pissing action from a little hottie. See Lola Taylor Peeing Here


Filed under: Babes Peeing and Drinking Piss and Movies and Peeing and Pissed On and Pissing and Pissing In Vagina and Pissing Movies and ViPissy
Posted on 03.02.15
Comments: 1 Comment


Tags: Adel Vipissy, Lola Taylor Vipissy, Peeing Movies, Piss Drinking, Pissing Movie, Pissing Movies, Pissing Pussy, Vanessa Hell Vipissy, ViPissy, Vipissy Movie
From Wet And Pissy we have three great pissing picture sets. We start off with the Wonderful Elis Gilbert. The story from Wet And Pissy goes like this "Gorgeous brunette teen Elis loves taking selfies and is in the lounge in leggings and a tank top. Feeling experimental she takes topless pics to send to her admirers and starts to feel turned on. She pees through the crotch of her leggings, turning them slightly see-through and once she has stripped out of them she rubs the damp fabric over her delicate pussy. Elis masturbates then pisses once more, catching her golden juices in a glass. She pours the contents over her head and dives into the puddle of pee formed on the leather sofa. Gaping her pussy wide open, this cute teen pees again and licks up her juices before moving onto a glass dildo." See the wonderful and wet photos here.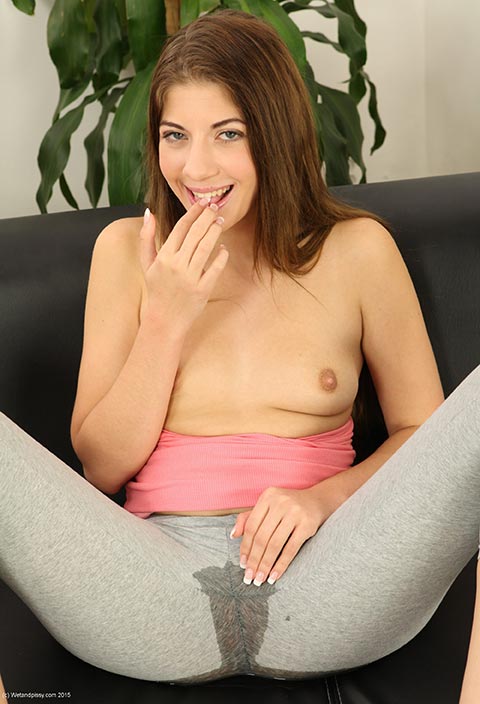 Next up we have Leona the Wet And Pissy Story goes "Leona is in the lounge in denim hotpants and pees through her crotch instantly. She pulls down her hotpants, puts them on the chair and pisses again through her panties over a glass chair. She dives into her puddle and tastes her piss as she licks it up and plays with it. Getting completely naked, Leona dips her hair in the pissy puddle and covers herself in her juices. She moves onto the sofa, and pumps her pussy while peeing and filling the tube with golden liquid. Eager to pleasure herself, she toys a glass dildo and pees again into a jug, She continues to toy her pussy and squirt all over the floor. Finally, Leona lays on the floor, and fires her own piss directly into her mouth!" super sexy pissing with a super sexy lady. See Leona peeing here.

Last up we have Lera Baleri. "Big boobed Lera made such an impression on Wet and Puffy that we knew she would be perfect for Wet and Pissy and sure enough we were spot on. Dressed in tiny shorts, Lera pisses her crotch, leaving a nice juicy wet spot on show. She takes them off and pisses all over the floor and again into a glass bowl. Pouring her golden juices over her big tits and into a cocktail glass, busty Lera tastes her nectar. Now she is covered in her own piss and toys her pussy with a dildo to get herself off." See her pissing here.

Visit Wet And Pissy Click Here





Filed under: Babes Peeing and Drinking Piss and Peeing and Pissing and Pissing In Leggings and Pissing In Shorts and Wet And Pissy
Posted on 02.19.15
Comments: 1 Comment


Tags: Elis Gilbert Wet And Pissy, Leona Wet And Pissy, Lera Baleri Wet And Pissy, Piss Drinking, Pissing In Leggings, Shorts Pissing, Wet And Pissy
From Vipissy we have another wonderful threesome lesbian scene. We have already had Lesbian Pissing Threesome Vipissy which was hot and very wet and now we have the wonderful Whitney Conroy, Candi Peach and Puppy. These three are real hotties and we are so lucky to see them. We start off with Candi and Puppy sitting around waiting for Whitney, they are in tight jeans and then Puppy stands and starts to piss in her jeans. Her pee runs down her legs making a wonderful piss stain this is a great way to start the pissing orgy.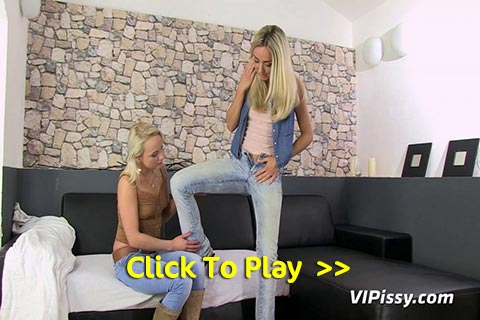 The story from VIPissy goes like this "What do you get when you put three hot blondes, all hungry to explore their love of pee, into a room together? One seriously hot pissing video! Life-long friends Whitney, Candi, and Puppy all discovered their mutual passion during a night of drinking and swapping secrets, and they've been playing together ever since. This morning, while waiting for Whitney to arrive, Candi and Puppy admire each other's tight jeans. As sexy as these new jeans are, something's missing… and Puppy knows exactly what that "something" is. Standing in front of her friend, Puppy spreads her legs and relaxes her bladder, letting the warm fluid soak through the fabric of her form-fitting pants and spread all the way down the legs. Only after she has completely wet through her jeans does Puppy peel them off so she can release another massive stream of piss all over Candi's pants. The naughty girlfriends are getting busy with each other's soaked twats when Whitney finally arrives, and of course the newcomer isn't about to let her own pants remain dry! Once all three horny hotties are stripped completely naked, they fill up a large glass bowl with more of their favourite liquid and take turns rinsing their beautiful blonde hair in it. With the aroma of fresh urine now filling the air, the girls are hungry for more. Outcome the sex toys and now the real pissing fun begins!"

This is a super-hot lesbian peeing scene. Three ladies peeing is always better than two and to see them enjoying the piss play so much is just wonderful. I just love that we end up with three blond beauties with the hair dripping and bodies glistening in pee. This is a wonderful piss movie.

See The Lesbian Pee Movie Click Here


Filed under: Babes Peeing and Drinking Piss and Jeans Peeing and Jeans Pissing and Lesbians Peeing and Movies and Peeing and Pissing and Pissing Movies and ViPissy
Posted on 02.11.15
Comments: 4 Comments


Tags: Candi Peach Vipissy, Jeans Pee, Jeans Peeing, Lesbians Peeing, Piss Drinking, Piss Movie, Pissing Movie, Puppy Vipissy, ViPissy, Vipissy Movie, Whitney Conroy Vipissy
From Wet and Pissy we have three great picture sets Wet and pissy really is a great solo female wet wonderland. We starts with Nataly Wet and Pissy has written this about the scene "Nataly looks like an innocent school girl. After she pees through her skirt, she makes us believe she is a naughty school girl. Once she rests on the sofa, the real Nataly reveals herself – pulling up her skirt and lifting up her feet in the air to pee. She's not wearing any panties and her feet are fitted with a pair of high heel shoes. Nataly goes all the way, right away. She pumps out a series of squirts, wetting her face, her blouse, and her leg as she exhales excitedly. There's no limit to what she can do when it comes to peeing. She pees on the see-through chair from a standing position and then from a sitting position, directing her aim upwards against the back of the chair. She gives us more of this spontaneous behaviour, lifting her feet up into the air as she remains seated. Nataly pees two more times for us with her legs up in the air and one last time standing over a three tiered glass fountain." Super sexy and super wet see Nataly pissing Here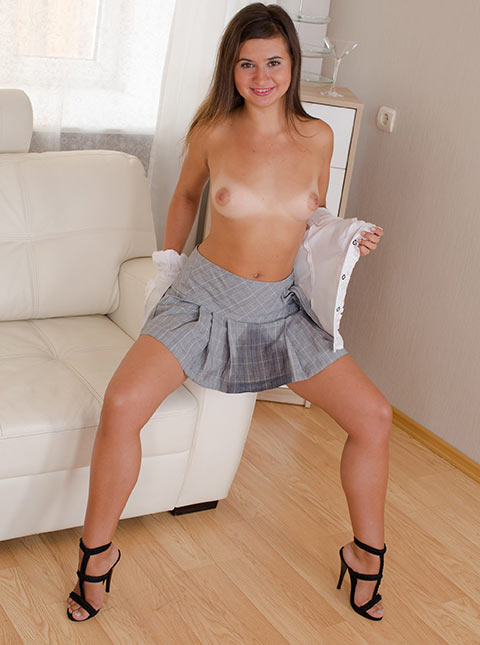 Next up we have Kira Queen. The story goes "Kira recently made her debut on Wet and Puffy and she was so popular we had to get her in for a watersports scene with Wet and Pissy. She decided to wear sexy white lingerie to contrast her jet black hair along with white sheer pantyhose. Kira pissed through her pantyhose and played with her golden juices using her feet. Soon, her sheer pantyhose became even more see through from the delicious piss. Pulling them down, she laid back and peed all over her stomach before catching her juices in a jug while releasing yet another piss. She decided to taste her yellow liquid before pouring it all over her big tits. Kira was so turned on that she had to finish herself off with a glass dildo." See Kira Queen Pissing Here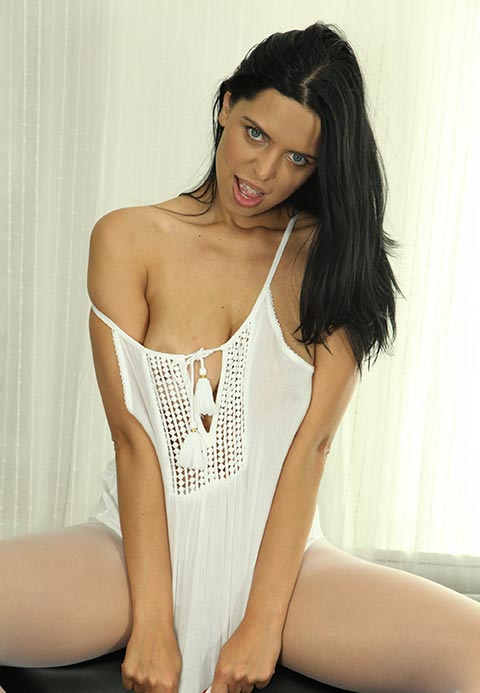 Last for today from Wet And Pissy we have Lara. "Lara is a hot babe with legs that go on for miles and she looks simply divine in denim hotpants and a little blouse. She pees through her hotpants on the sofa before taking off her skimpy outfit and catching another stream of piss in a glass bowl. She enjoys dipping her feet into her golden liquid and tastes he juices as she licks her toes. Lara even puts on socks to soak up her piss before squeezing it out over her slender body. Using a speculum, she gapes her pussy wide and pisses into a glass, tasting her goodness and finishes herself off by toying her pussy with a sex toy." See Lara pissing here.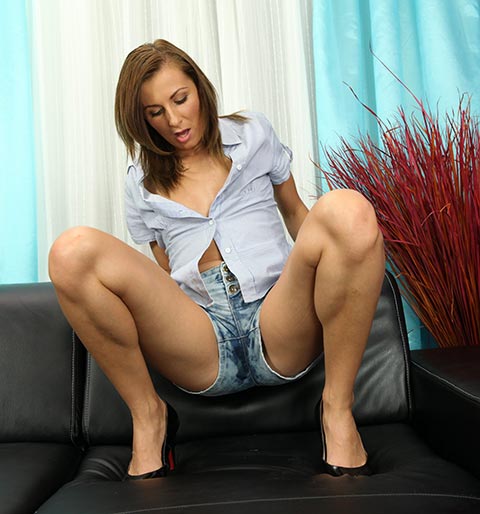 Visit Wet And Pissy Click Here


Filed under: Babes Peeing and Drinking Piss and Peeing and Pissing and Self Pissing and Wet And Pissy
Posted on 01.24.15
Comments: 2 Comments


Tags: Kira Queen Wet And Pissy, Lara Braun Wet And Pissy, Nataly Wet And Pissy, Piss Drinking, Pissing On Herself, Wet And Pissy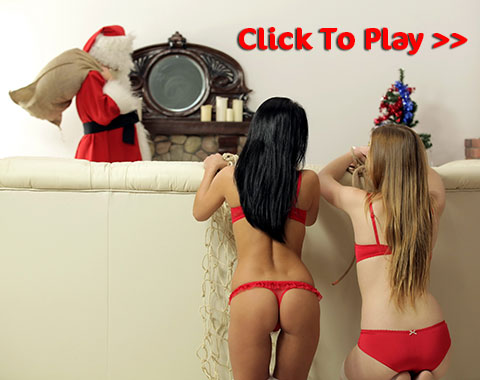 Merry Christmas to all. Today we have a great Christmas present from Vipissy. Vipissy has brought us some great pissing scenes over the last year and If you have missed some of them check out Lesbian Pissing Threesome Vipissy Antonia Sainz From Vipissy Threesome Pissing Play From Vipissy and Sexy Vipissy Lesbians Teens Peeing Today Vipissy brings us a Christmas special, we have Santa and two hot ladies Alexis Crystal and Lexi Dona. Alexis Crystal and Lexi Dona are dressed in their lingerie and waiting for Santa to arrive as soon as he does they get a net capture him and the pissing fun begins.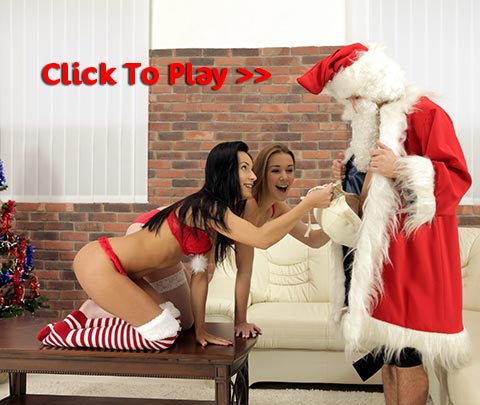 The story from Vipissy goes "Suspicions are on the rise as people begin to realize that Santa never showed up for Christmas. What could possibly have happened that would keep him away on his very favourite day all year? Lexi and Alexis – that's what happened. These young lovers have concocted a scheme to get Santa all to themselves this year and they have big plans for him. After snaring him in a net, the devious girls begin to devour his excited cock with their mouths, passing it back and forth like a lollipop. Santa soon finds himself stripped from his fuzzy red apparel and on the receiving end of fresh showers of golden piss. But he's not complaining! No… he wants his turn! After fucking both naughty babes from behind, St. Nick releases a river of piss so big that it looks like he's been holding it in all year. Alexis and Lexi are drenched in golden holiday cheer and loving every second of it. Christmas Eve comes and goes and still the jolly saint is so wrapped up in the dripping wet threesome that he's completely forgotten about all of the gifts waiting to be delivered. He's too busy making sure every hole gets filled with hard cock and hot pee. Oh well… there's always next year, right?"

Who wouldn't want to be Santa enjoying this hot threesome with Alexis Crystal and Lexi Dona? Vipissy have done it again with a wonderful threesome pissing scene there is something great seeing everyone enjoying getting themselves soaked in warm piss and I do love the lesbian pissing action. Merry Christmas to all.

See Santa Getting Soaked In Piss Here


Filed under: Babes Peeing and Drinking Piss and Movies and Peeing and Pissed On and Pissing and Pissing Movies and ViPissy
Posted on 12.25.14
Comments: 1 Comment


Tags: Alexis Crystal Vipissy, Lesbians Peeing, Lexi Dona Vipissy, Peeing Movies, Piss Drinking, Piss Movie, Pissing Movie, Threesome Piss, Vipissy Movie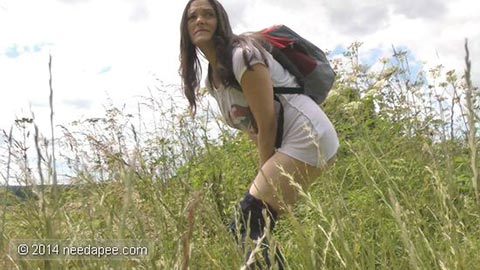 From Needapee we have three sets of photos, unfortunately they are small in size but anything from Rebekah Dee is great and if you have missed out on all her past pissing antics check out the Needapee category here. First up we have her peeing in a field. Rebekah Dee has written this about the set "it's a lovely summer's day and I'm out to do a little exploring, although not necessarily geographical exploration. I'm in the mood to explore my pee fetish today, I feel like taking a chance with a risk of being caught as I drop my panties in an open field with the long summer grass brushing against my legs as I take a satisfying pee. Lots of low reverse angle action in this scene for you to enjoy." See the field piss here.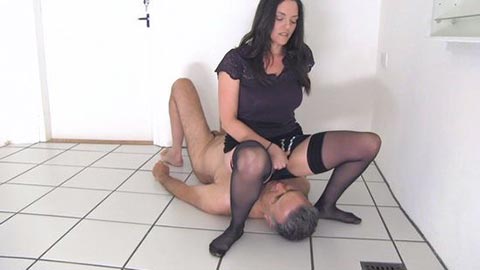 Next up we have her and her slave there is something very sexy seeing her dominate and here we have her squatting down and peeing in the mouth of her slave I bet some would love to be drinking her golden liquid. See her peeing on a slave here.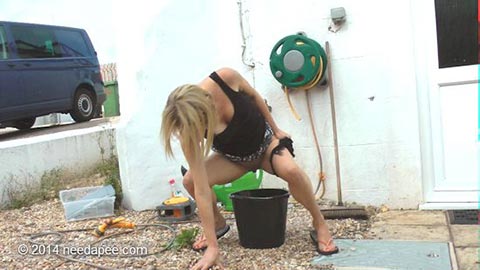 last up we have Sophia desperate and peeing. The story goes "Who is that tall leggy blonde busting to pee, it's debut girl Goddess Sophia! This is her first time peeing on camera and as you'll see she isn't shy. I caught up with Sophia on a video shoot recently and after chatting to her I soon persuaded her that you guys would love to see her looking vulnerable and awkward as she pees. So I kept her waiting and longer than planned so that she was really desperate and it worked because once Sophia starts she gushes a torrent!" See Sophia peeing here.


Filed under: Drinking Piss and Needapee and Outdoor Pissing and Peeing and Pissing and Pissing Outdoor
Posted on 12.19.14
Comments: 1 Comment


Tags: bucket pee, Needapee, Outdoor Pissing, Piss Drinking, Pissing Outdoors, Rebekah Dee
From Wet and Pissy we have three photo sets. Wet and Pissy have brought us some wonderful peeing scenes in the past and if you have missed some of them check out Peeing Around The House Carla Cox From Wet And Pissy Wet And Pissy Hairy Pussy Pissing and Whitney Conroy Making A Piss Movie. Today we start off with the wonderful Dido Angel. The Wet and Pissy story goes "One of the hottest girls to ever land on Wet and Pissy makes her long awaited return. There's not much that Dido Angel needs to do – her looks are more than enough to get our fantasies spinning out of control – but that just isn't her style. She shows off her curvaceous body, sultry legs, and impeccable smile. She pees through her pink shorts standing with her legs wide open. Once fully nude, she pees with her legs spread apart and into the air. From a side view on top of the table, she pees in a sexy position into a vase. Lola is not a spraying girl, but one that possesses an almost perfectly tuned instrument that releases a pure and elegant stream. After riding a dildo, she sprays it down from a kneeling position. Super sexy pissing. See Dido Angel peeing here.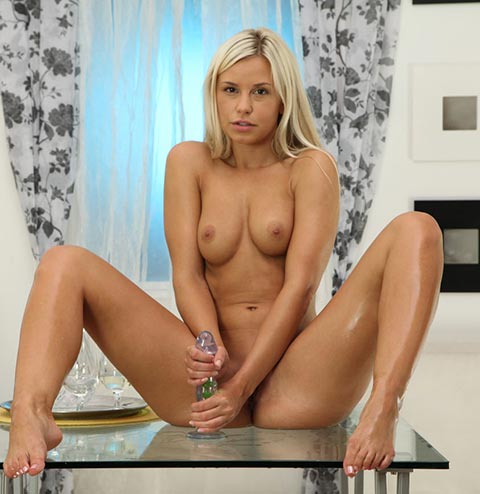 Next up Wet and Pissy brings us Sicilia. The story At Wet And Pissy goes "Sicilia is a stunning blonde who wanted to delve in her first attempt at piss play. She looked nervous as she started her scene with Wet and Pissy and posed in a plaid shirt and blue panties. Immediately, Sicilia wet her panties while hovering her tight ass over a glass bowl. She poured the golden juices over her tits and into her mouth before sitting in the remaining puddle on the table. Moving to the sofa, Sicilia pisses onto the floor and again on the table top and each time she relieves herself she gets hornier and hornier. She gets really into piss play by firing numerous streams of piss across the room and into her bowl, before pouring the whole lot into her mouth." It is a wonderful wet experience. See Sicilia Peeing Here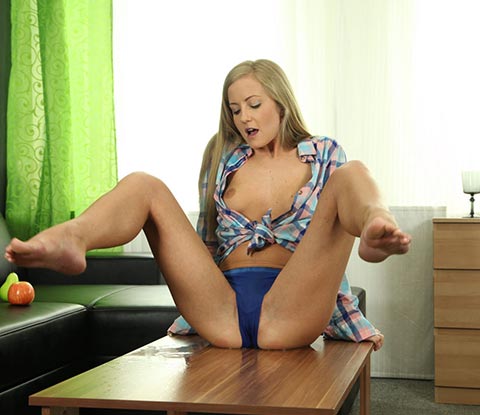 Last up we have the sexy Gitti returning. Over at wet and pissy this is what is written about these wonderful pissing pictures "Gitti looks sensual in a blue tank top and miniskirt and lifts up her skirt to show that she isn't wearing any panties. She places a bowl on the floor and pisses directly into it, catching her golden nectar then dips her skirt into her juices before drizzling them down herself and over her pretty face. Taking off her high heels, Gitti pees into them and tastes her own piss, letting it run down her gorgeous figure. By now, she is completely naked and stretches her pussy wide, releasing another stream of piss onto the floor. She finishes herself off with a banana shaped sex toy and pees as she cums into a glass, again tasting her juices and pouring it all over her head." just wonderful and don't forget all these photo sets have full length piss movies at Wet And Pissy. See Gitti peeing here.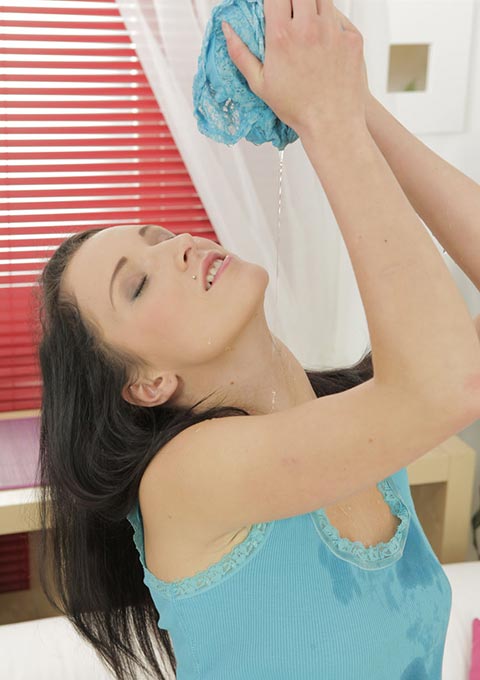 Filed under: Babes Peeing and Dress Peeing and Drinking Piss and Peeing and Pissing and Self Pissing and Wet And Pissy
Posted on 11.24.14
Comments: 2 Comments


Tags: Dido Angel, Dido Angel Wet and Pissy, Gitti, Gitti Wet and Pissy, Piss Drinking, Pissing On Herself, shaved pussy peeing, Sicilia Wet And Pissy, Wet And Pissy
From Vipissy We have a wonderful lesbian pissing threesome. Vipissy is just getting better and better we have had some great lesbian pissing and also hot couple peeing scenes but todays Vipissy lesbian update is spectacular we get three of the hottest Vipissy models Paula Shy, Lena Love and Noleta. Paula Shy aka Christy Charming is my favorite Vipissy models she does it all, lesbian piss, threesome pee and when she is drinking down piss she loves it. If you have misses the previous posts with Paula Shy, check out Sexy Lesbian Peeing From Vipissy and Vipissy Pissing Movies Today it is a piss weekend there are three scenes and they are hot and very wet.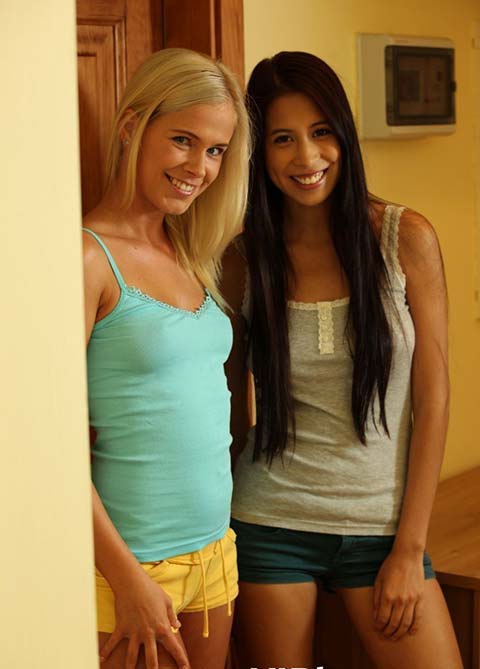 Vipissy has written this about the pissing lesbian threesome "When pretty blonde Noleta brings home gorgeous brunette Paula for a long weekend of sexual pleasures, roommate Lena can't help but be a little bit jealous. The two girlfriends head straight to Noleta's room and don't waste a second in getting the fun started. Lena, feeling left out, follows the couple to the door and begins a little pleasure-fest of her own, fantasizing about what's happening behind closed doors while she gives her own pussy the attention it craves. She doesn't have to wait long to find out. Noleta and Paula discover the naughty blonde roommate sitting in a puddle of her own pee and immediately invite her to join them. In this house, there's no such thing as "three's a crowd"! A third piss-loving hottie just means more of their favorite golden fluid, and with three whole days to fill… these girls will need all the fresh piss they can get! There is no shortage of the precious nectar as the lovers engage in any activity that comes to mind… as long as it involves piss! Abundant golden showers, pee shooting contests, samplings of the aromatic beverage, and of course orgasms aplenty fill the three-day weekend, leaving all three girls feeling a little bit sad that it has to end, but unable to remove the pee-tinged smiles glued to their beautiful faces."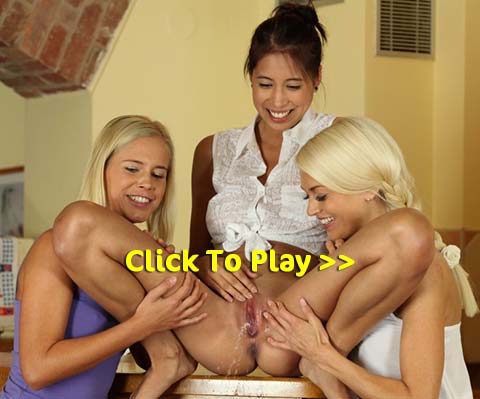 This is a super-hot piss movie and the pissing pictures and trailer we have are great. The full Vipissy movie is 55 minutes and is hot and very wet. There is something so wonderful seeing three hot ladies glistening in piss and then licking each other until they cum and piss more it is just so sexy. This is a lesbian peeing not to miss out on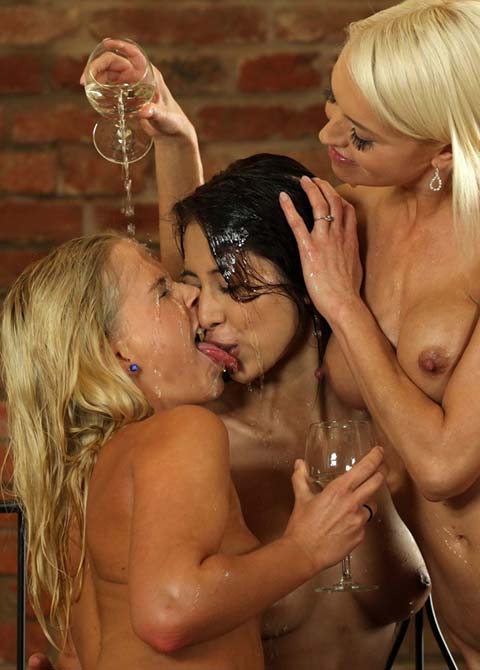 See The First Lesbian Pissing Set

Watch The Lesbian Piss Weekend Movie

See The Second Lesbian Pissing Set


Filed under: Babes Peeing and Drinking Piss and Lesbians Peeing and Movies and Peeing and Pissing and Pissing Movies and ViPissy
Posted on 11.12.14
Comments: 5 Comments


Tags: Lena Love, Lena Love Vipissy, Lesbians Peeing, Noleta, Noleta Vipissy, Nude Peeing, Paula Shy Vipissy, Pissing Movie, ViPissy, Vipissy Movie