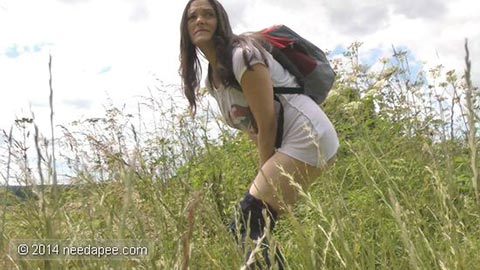 From Needapee we have three sets of photos, unfortunately they are small in size but anything from Rebekah Dee is great and if you have missed out on all her past pissing antics check out the Needapee category here. First up we have her peeing in a field. Rebekah Dee has written this about the set "it's a lovely summer's day and I'm out to do a little exploring, although not necessarily geographical exploration. I'm in the mood to explore my pee fetish today, I feel like taking a chance with a risk of being caught as I drop my panties in an open field with the long summer grass brushing against my legs as I take a satisfying pee. Lots of low reverse angle action in this scene for you to enjoy." See the field piss here.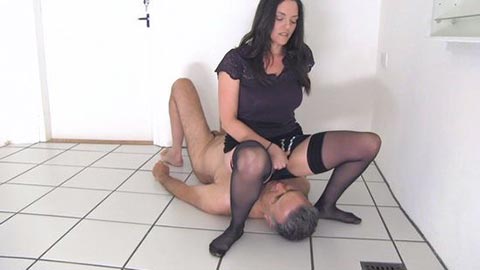 Next up we have her and her slave there is something very sexy seeing her dominate and here we have her squatting down and peeing in the mouth of her slave I bet some would love to be drinking her golden liquid. See her peeing on a slave here.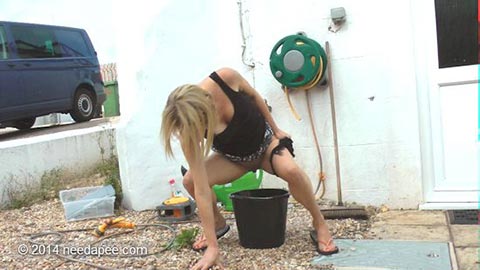 last up we have Sophia desperate and peeing. The story goes "Who is that tall leggy blonde busting to pee, it's debut girl Goddess Sophia! This is her first time peeing on camera and as you'll see she isn't shy. I caught up with Sophia on a video shoot recently and after chatting to her I soon persuaded her that you guys would love to see her looking vulnerable and awkward as she pees. So I kept her waiting and longer than planned so that she was really desperate and it worked because once Sophia starts she gushes a torrent!" See Sophia peeing here.


Filed under: Drinking Piss and Needapee and Outdoor Pissing and Peeing and Pissing and Pissing Outdoor
Posted on 12.19.14
Comments: None


Tags: bucket pee, Needapee, Outdoor Pissing, Piss Drinking, Pissing Outdoors, Rebekah Dee
From Wet and Pissy we have three photo sets. Wet and Pissy have brought us some wonderful peeing scenes in the past and if you have missed some of them check out Peeing Around The House Carla Cox From Wet And Pissy Wet And Pissy Hairy Pussy Pissing and Whitney Conroy Making A Piss Movie. Today we start off with the wonderful Dido Angel. The Wet and Pissy story goes "One of the hottest girls to ever land on Wet and Pissy makes her long awaited return. There's not much that Dido Angel needs to do – her looks are more than enough to get our fantasies spinning out of control – but that just isn't her style. She shows off her curvaceous body, sultry legs, and impeccable smile. She pees through her pink shorts standing with her legs wide open. Once fully nude, she pees with her legs spread apart and into the air. From a side view on top of the table, she pees in a sexy position into a vase. Lola is not a spraying girl, but one that possesses an almost perfectly tuned instrument that releases a pure and elegant stream. After riding a dildo, she sprays it down from a kneeling position. Super sexy pissing. See Dido Angel peeing here.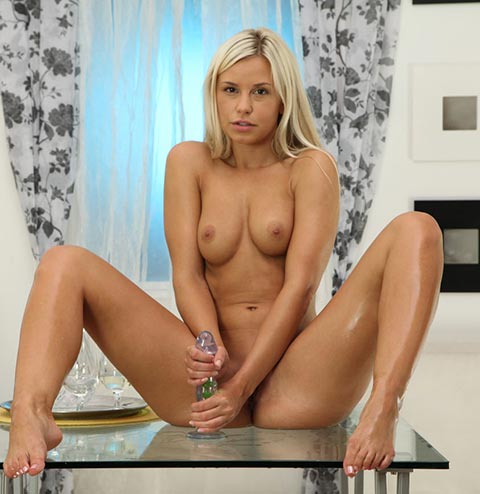 Next up Wet and Pissy brings us Sicilia. The story At Wet And Pissy goes "Sicilia is a stunning blonde who wanted to delve in her first attempt at piss play. She looked nervous as she started her scene with Wet and Pissy and posed in a plaid shirt and blue panties. Immediately, Sicilia wet her panties while hovering her tight ass over a glass bowl. She poured the golden juices over her tits and into her mouth before sitting in the remaining puddle on the table. Moving to the sofa, Sicilia pisses onto the floor and again on the table top and each time she relieves herself she gets hornier and hornier. She gets really into piss play by firing numerous streams of piss across the room and into her bowl, before pouring the whole lot into her mouth." It is a wonderful wet experience. See Sicilia Peeing Here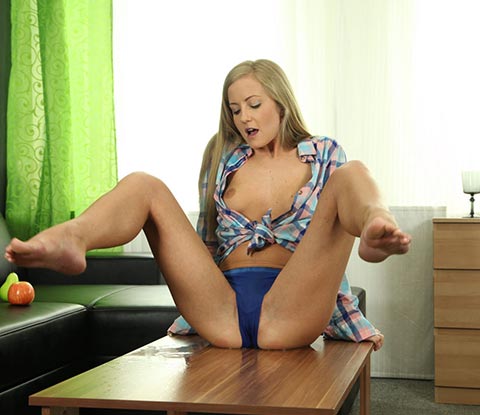 Last up we have the sexy Gitti returning. Over at wet and pissy this is what is written about these wonderful pissing pictures "Gitti looks sensual in a blue tank top and miniskirt and lifts up her skirt to show that she isn't wearing any panties. She places a bowl on the floor and pisses directly into it, catching her golden nectar then dips her skirt into her juices before drizzling them down herself and over her pretty face. Taking off her high heels, Gitti pees into them and tastes her own piss, letting it run down her gorgeous figure. By now, she is completely naked and stretches her pussy wide, releasing another stream of piss onto the floor. She finishes herself off with a banana shaped sex toy and pees as she cums into a glass, again tasting her juices and pouring it all over her head." just wonderful and don't forget all these photo sets have full length piss movies at Wet And Pissy. See Gitti peeing here.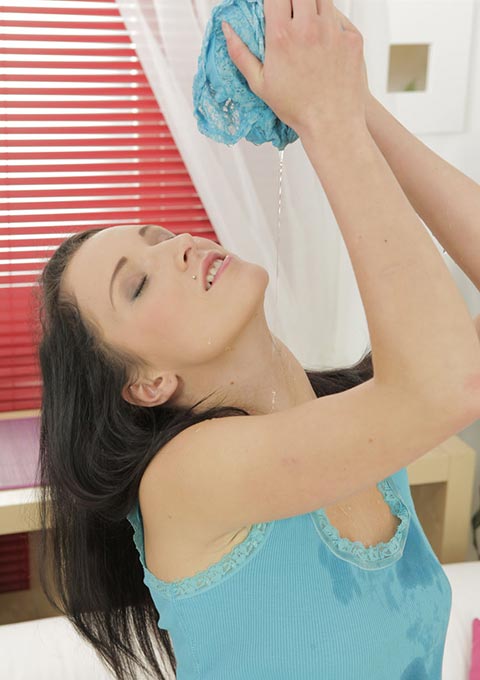 Filed under: Babes Peeing and Dress Peeing and Drinking Piss and Peeing and Pissing and Self Pissing and Wet And Pissy
Posted on 11.24.14
Comments: 2 Comments


Tags: Dido Angel, Dido Angel Wet and Pissy, Gitti, Gitti Wet and Pissy, Piss Drinking, Pissing On Herself, shaved pussy peeing, Sicilia Wet And Pissy, Wet And Pissy
From Vipissy We have a wonderful lesbian pissing threesome. Vipissy is just getting better and better we have had some great lesbian pissing and also hot couple peeing scenes but todays Vipissy lesbian update is spectacular we get three of the hottest Vipissy models Paula Shy, Lena Love and Noleta. Paula Shy aka Christy Charming is my favorite Vipissy models she does it all, lesbian piss, threesome pee and when she is drinking down piss she loves it. If you have misses the previous posts with Paula Shy, check out Sexy Lesbian Peeing From Vipissy and Vipissy Pissing Movies Today it is a piss weekend there are three scenes and they are hot and very wet.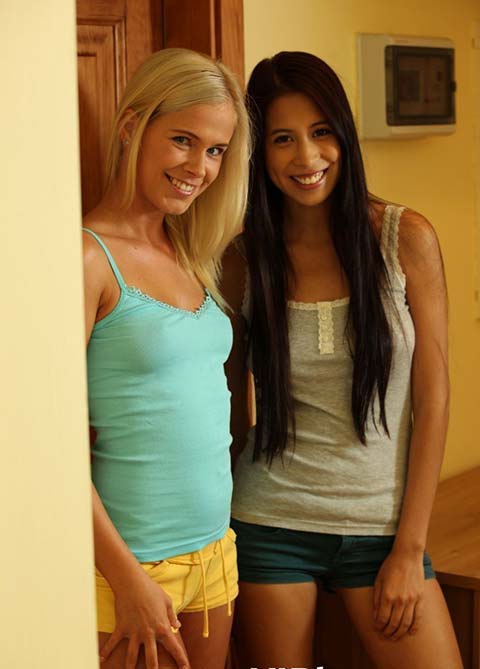 Vipissy has written this about the pissing lesbian threesome "When pretty blonde Noleta brings home gorgeous brunette Paula for a long weekend of sexual pleasures, roommate Lena can't help but be a little bit jealous. The two girlfriends head straight to Noleta's room and don't waste a second in getting the fun started. Lena, feeling left out, follows the couple to the door and begins a little pleasure-fest of her own, fantasizing about what's happening behind closed doors while she gives her own pussy the attention it craves. She doesn't have to wait long to find out. Noleta and Paula discover the naughty blonde roommate sitting in a puddle of her own pee and immediately invite her to join them. In this house, there's no such thing as "three's a crowd"! A third piss-loving hottie just means more of their favorite golden fluid, and with three whole days to fill… these girls will need all the fresh piss they can get! There is no shortage of the precious nectar as the lovers engage in any activity that comes to mind… as long as it involves piss! Abundant golden showers, pee shooting contests, samplings of the aromatic beverage, and of course orgasms aplenty fill the three-day weekend, leaving all three girls feeling a little bit sad that it has to end, but unable to remove the pee-tinged smiles glued to their beautiful faces."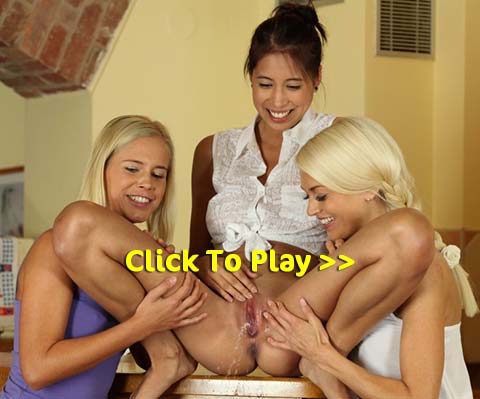 This is a super-hot piss movie and the pissing pictures and trailer we have are great. The full Vipissy movie is 55 minutes and is hot and very wet. There is something so wonderful seeing three hot ladies glistening in piss and then licking each other until they cum and piss more it is just so sexy. This is a lesbian peeing not to miss out on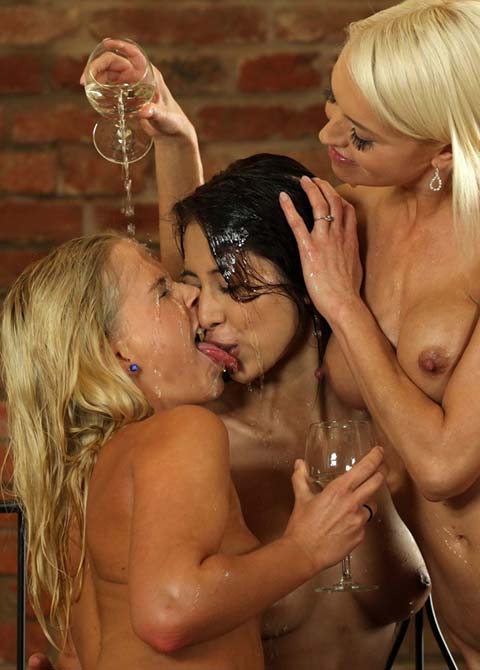 See The First Lesbian Pissing Set

Watch The Lesbian Piss Weekend Movie

See The Second Lesbian Pissing Set


Filed under: Babes Peeing and Drinking Piss and Lesbians Peeing and Movies and Peeing and Pissing and Pissing Movies and ViPissy
Posted on 11.12.14
Comments: 3 Comments


Tags: Lena Love, Lena Love Vipissy, Lesbians Peeing, Noleta, Noleta Vipissy, Nude Peeing, Paula Shy Vipissy, Pissing Movie, ViPissy, Vipissy Movie
Vipissy brings us the very sexy Antonia Sainz in this couple peeing pictures and movie. Vipissy is great not only are there hot lesbian scenes there is also wonderful couple scenes. If you have missed some of the great Vipissy posts that we have had check out Threesome Pissing Play From Vipissy, Vipissy Pissing Movies, Sexy Lesbian Peeing From Vipissy and Vipissy Lesbian Pee Movie. Today it is a wet couple pissing scene and it is hot.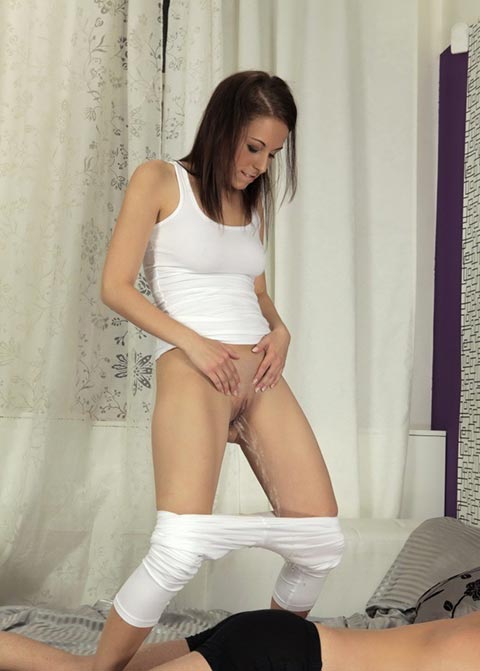 The Vipissy story goes "20 year old Antonia has always had a fascination with pee. Until recently though, she's never allowed herself the pleasure of indulging that fantasy with another. And lately she just can't keep the idea out of her mind. Antonia has decided that today is the day she is going to make her ultimate fantasy come true. As she wakes up snuggled next to her boyfriend, Antonia is overwhelmed with cravings she can no longer deny. With her lover still in deep slumber on the bed, the naughty vixen pulls down her body-hugging pants, spreads her bald pussy lips, and releases a stream of warm urine all over the sleeping man. Stirring from his nap, Antonia's boyfriend still hasn't registered what just happened, so the horny brunette decides to take things a step further. Kneeling on the bed beside him, Antonia slowly runs her tongue across his dripping skin, savoring the taste of her own golden nectar. Fully awake now and fully aroused, her lover is hot and ready to play. But first, Antonia delivers another gift – another fountain of pee all over the throbbing cock. Only once his dick is completely doused in glistening golden liquid does Antonia wrap her lips around it and suck it all down, fresh piss and all. After all this time spent waiting for the opportunity to turn her fantasy into reality, Antonia isn't even close to being ready to stop now. Get a hot POV look at all of the naughty things this pee-hungry babe has in mind as she makes her dream come true." See these hot pissing pictures click here.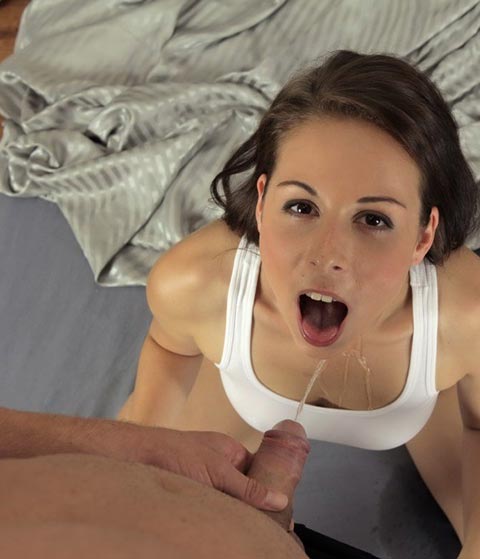 Super-hot pissing and drinking pee, she looks so sexy with piss flowing down her body. Vipissy have once again captured a hottie loving getting soaked and playing in pee. and to finish off we have the hot pissing movie that goes with the peeing pictures. See the Vipissy Movie Here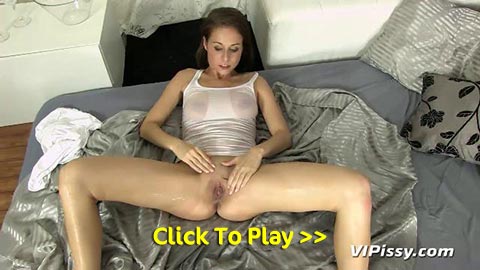 See The Peeing Pictures Here

See The Pissing Movie Here


Filed under: Drinking Piss and Movies and Peeing and Pissed On and Pissing and Pissing In Bed and Pissing Movies and Self Pissing and ViPissy
Posted on 10.19.14
Comments: 1 Comment


Tags: Antonia Sainz Vipissy, Piss Drinking, Pissing Movie, ViPissy, Vipissy Movie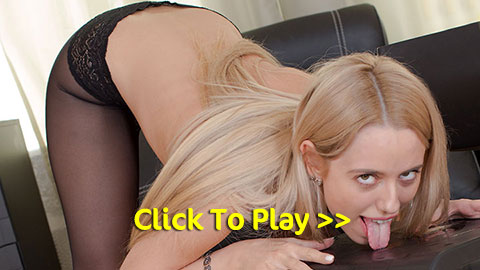 Its been a while since we have had some pissing movies from Wet and Pissy so here we have three short pissing movies. We starts off with Alina Bell. The story goes "Ready for a sexy blonde who happens to be into piss play? Alina is a new face to Wet and Pissy and looks extremely gorgeous in her little secretarial outfit. Black skirt, white blouse, seamed pantyhose and heels. What more could you want? Alina loves to tease and uses her feminine charms to seduce the camera. She starts to undress and show off her small but perfect tits. Now, in just her pantyhose, she bends over a chair and pisses onto it. She laps up her own warm golden juices before peeling off her pissy pantyhose and toying her pussy with a glass dildo. Alina brings herself off and immediately needs another pee. She pours a stream into a goblet, tastes it and drizzles it over her sexy, naked body. " A lovely blonde hottie peeing and playing with her warm Piss. See Alina Pissing Here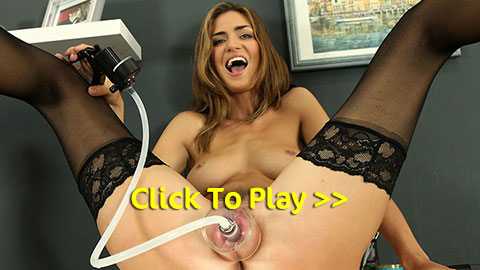 Next up we have Charlotte. The story from Wet And Pissy goes "Charlotte's role as a sexy secretary fits like a glove. Being finished with her duties, her work area becomes her play area for the rest of the day. The action unfolds on top of the table after Charlotte pulls her panties down to her shoes while sitting down. Her knees are spread apart for maximum exposure as she pees onto the table, wetting her dropped panties. She has a smile that never quits, using it effortlessly and genuinely at the same time. Eventually, a vase finds it's way below her as she gets on her knees, towering above it to pee again. Starting from a full body view, the camera is zoomed in as Charlotte relieves herself into the vase. She's far from finished, peeing while probing herself with a pump and later with one foot on the floor and her other leg straddled on the table." super sexy pissing with Charlotte if only she was my secretary. See Charlotte Pissing Here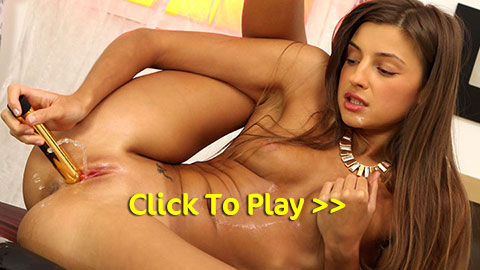 The last Wet And Pissy movie for today stars Russian hottie Melena. "Her sexy smile, big brown eyes, and long hair have made her one of the hottest and most desired up-and-comers in the biz. Just a few days shy of her birthday, Melena makes a splash on Wet and Pissy. She hastily removes her panties, flinging them towards the camera before her first pee. Soon her punk spiked shoes and bra are discarded along with her fishnet stockings, leaving her with only her golden necklace. Melena turns around for us, spreading her feet apart, as she stands over the bowl on the floor. She has a delay in her second pee, but it's nothing a little finesse from her finger couldn't take care of. Dipping her feet into the bowl, Melena shows off her flexibility by licking her feet and sucking on her toes. Spraying down a mirror, she intimately licks it down when she is done. Dampening her hair in the process, we take the opportunity to focus on her elegant facial features. Pluralizing pee, Melena asks if we enjoy watching her and tells us how she loves it." She looks so wonderful soaked in her own piss. See her pissing movie Click Here

Visit Wet And Pissy Click Here


Filed under: Babes Peeing and Drinking Piss and Movies and Peeing and Pissing and Pissing Movies and Self Pissing and Wet And Pissy
Posted on 10.10.14
Comments: 2 Comments


Tags: Alina Bell Wet And Pissy, Charlotte Wet And Pissy, Melena Wet And Pissy, nude pissing, Pissing On Herself, Pissing Pussy, shaved pussy peeing, Wet And Pissy
From Vipissy we have a hot threesome pissing. I think Vipissy is getting better and better by the week and this movie is wonderful. We start off with Alexis Crystal and Lollypop in some wonderful lesbian action. Lollypop is great and you can see her in the last Vipissy lesbian post we have had Sexy Vipissy Lesbians Teens Peeing These two really do enjoy each other's body and soak themselves in each other's piss, their is soaked clothes pissy pussy licking and pee drinking they look so wonderful dripping in piss.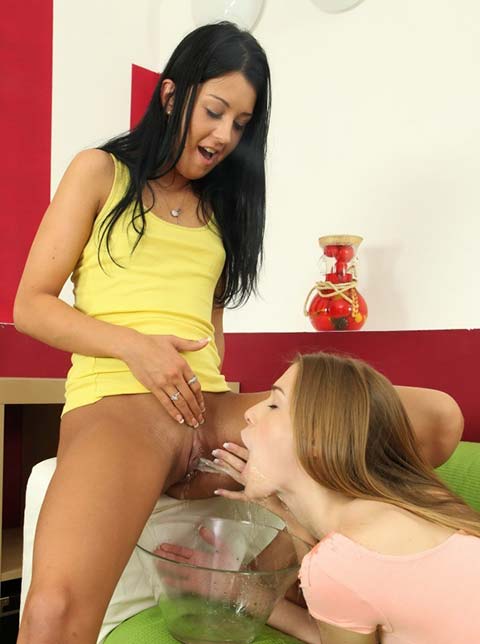 The story from Vipissy goes "Best friends Lollypop and Alexis share a fetish for hot piss and golden showers. They often indulge in some wet and kinky action together. Knowing they have the house to themselves for a while, the dirty duo get right to it, exchanging pee-tinged kisses and gulping down rivers of fresh piss straight from the source. Alexis' boyfriend is due home shortly and he's excited to join the naughty girlfriends for the first time. He has always wondered what it would feel like to pee right into a hungry mouth, and of course he's fantasized for a long time about how Lolly's lips would feel wrapped around his cock. He's about to find out the answer to both of his questions. As soon as he arrives home, both girls drop to their knees and take turns catching his golden nectar with their waiting mouths. Dripping with a mixture of everybody's tangy piss, Lolly and Alexis make a gorgeous pussy stack that no guy can resist. Both horny babes get their fill of hard cock pounding their pee-soaked twats and are once again feeling the urge to relieve their full bladders. No inch of bare skin is safe from their streams of hot piss. Cum and urine flow in this steamy threesome until all three are happily exhausted and glistening with golden pee."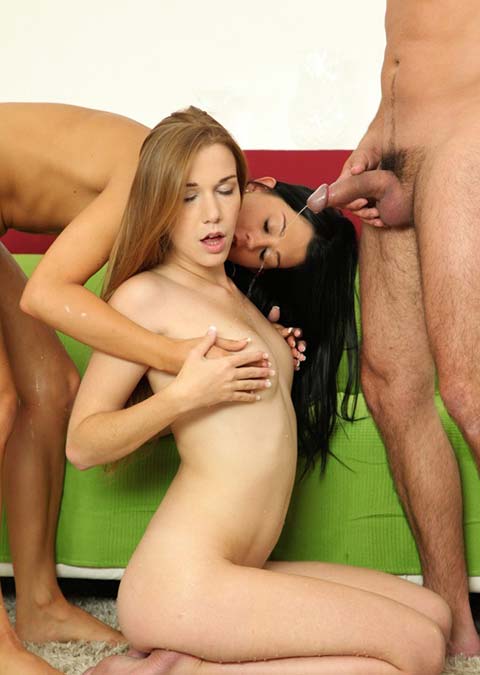 They finish there lesbian pee make out and then the threesome action really stats. They kneel down and drink some piss and then the sex starts, there is fucking and pissing and licking this Vipissy peeing movie has it all. Let's hope we have Alexis Crystal and lollypop back for some more pissing action they really do get into it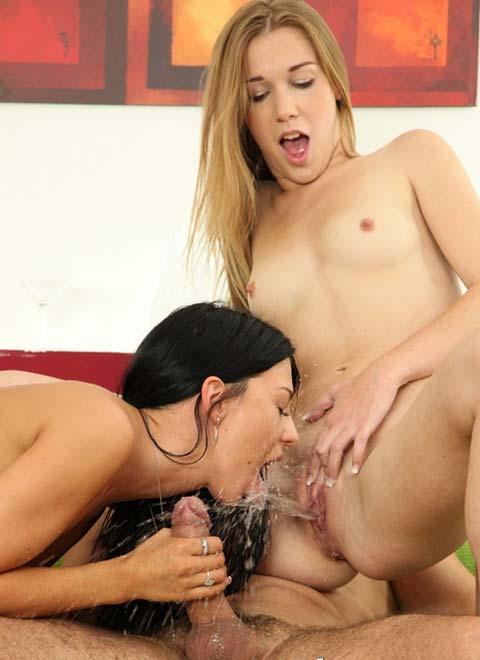 See The Threesome Pissing Movie Here

Read a Vipissy Pornsite Review


Filed under: Babes Peeing and Drinking Piss and Lesbians Peeing and Movies and Peeing and Pissed On and Pissing and Pissing In Vagina and Pissing Movies and ViPissy
Posted on 09.03.14
Comments: 4 Comments


Tags: Alexis Crystal Vipissy, Lesbians Peeing, Lollypop Vipissy, Piss Drinking, Piss Movie, Pissing Movie, Pissing Movies, Pissing Pussy, shaved pussy peeing, Threesome Piss, ViPissy, Vipissy Movie
From Vipissy we have this wonderful lesbian pissing scene. Vipissy have brought us some wonderful lesbian pissing in the past, if you have missed them check out Lesbian Pissing Movies Lesbian Pee Play From Vipissy Hot Lesbian Pee From Vipissy And one of my favourites Sexy Lesbian Peeing From Vipissy. Today we have Leila Smith and Lollypop, they are both sexy hotties in their own right but together it is wonderful.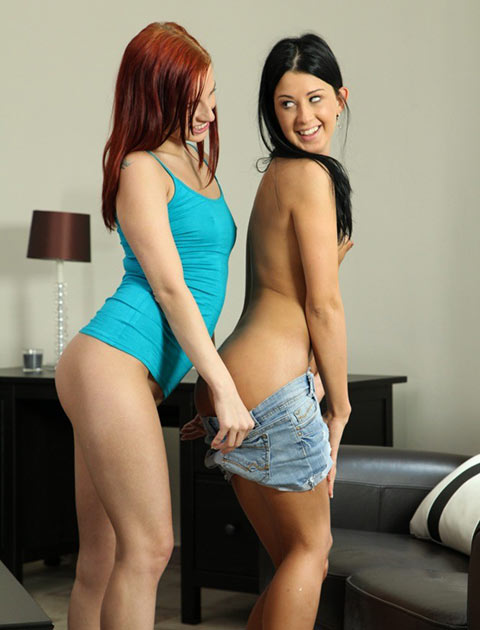 The story from Vipissy about this lesbian piss scene goes like this "Girlfriends Leila and Lollypop don't have a lot in common but they do share a love for hot piss. Red headed Leila knows she isn't going to get any complaints when she peels off her shorts and lets a golden stream flow all over her friend's bare legs. Lolly then strips off and stands with her bare pussy positioned directly in front of Leila's mouth. As the rush of nectar begins to flow, Leila opens her lips to catch it on her tongue, delighting in the sensation as it trickles down her chin and onto her cloth-covered tits. The pair take turns licking pee-soaked pussy before pulling out a big double-headed dildo. The naughty duo keeps right on going until both girls are fully fucked, completely satisfied, and soaked with golden pee.

This is a wonderful lesbian pissing scene from Vipissy there two have so much fun as they are pissing and being pissed on the finish off so soaked in pee its beautiful. Two hot lesbians peeing and drinking piss what more could we ask for.

See The Lesbian Peeing Pictures

Watch The Lesbian Pissing Movie


Filed under: Babes Peeing and Drinking Piss and Lesbians Peeing and Movies and Peeing and Pissed On and Pissing and Pissing Movies and ViPissy
Posted on 08.01.14
Comments: 6 Comments


Tags: Leila Smith Vipissy, Lesbians Peeing, Lollypop Vipissy, Piss Drinking, Pissing Movie, Red Head Pissing, shaved pussy peeing, ViPissy
From Sindrive we have some pissing pictures and trailer movie. This is the first time that we have featured Sindrive. It is a new website and covers a lot of fetishes peeing include. Today's pictures have some panty peeing it also has some lesbian pissing so a mix for all. We starts off with three school girls outside and smoking they are having a great time till there teacher catches them and then the lesbian peeing fun begins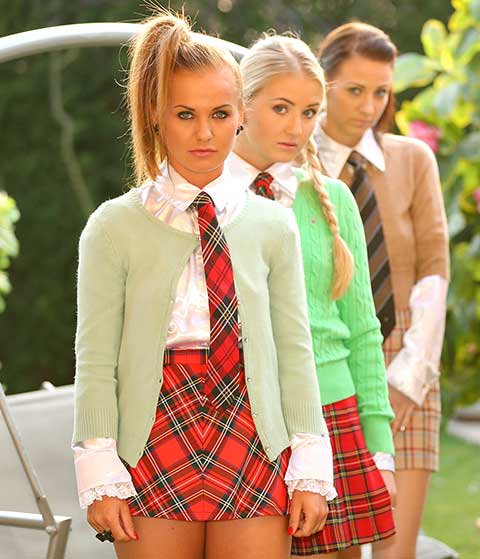 The story from Sin Drive goes like this "Cutie babe schoolgirls Nathaly Cherie, Bella Baby, and Cayla Lyons thought they could just sneak out o class and smoke some cigs out in the schoolyard, but when high class hottie of a teacher Lena Love catches them in the act she has to do her teacherly duty and punish these naughty girls! Of course, with her tits already practically hanging out of her satin blouse you have to know she's up to something, some way to make this blatant breaking of the rules right, and as soon as she has them in her private quarters the lesbo golden shower power is on! These schoolgirls are getting pissed on and trained in all things golden shower, and by the time they're done everyone is soaked, clothes are ripped, pussies are satisfied, and they've learned the most valuable lesson they ever will – that piss action rules!"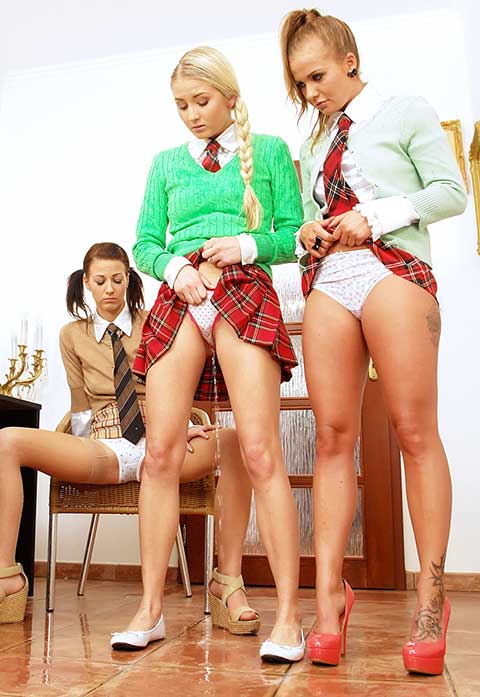 These are wonderful school girl peeing photos and trailer movie is great, not only do we have a wonderful panty pee we get some great lesbian pissing too. I just love how sexy these pissing ladies are and there is something wonderful about seeing their clothes wet with pee and clinging to their bodies.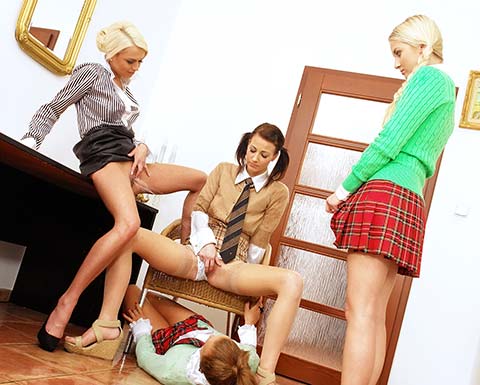 See The Naughty School Girls Peeing


Filed under: Babes Peeing and Drinking Piss and Knicker Wetting and Lesbians Peeing and Movies and Panty Pee and Peeing and Pissing and Pissing In Skirt and Pissing Movies and Sin Drive
Posted on 07.18.14
Comments: 3 Comments


Tags: Bella Baby, Cayla Lyons, Knicker Wetting, Lena Love, Lesbians Peeing, Nathaly Cherie, Panty Peeing, Peeing In Dress, Pissing Movie, school girl, school girl panty peeing, school girl peeing, Skirt Peeing
From VIPissy we have some more great pissing movies. We have had the pictures and short pissing trailers of a couple of them but now we have longer, bigger and better. We start off with Whitney Conroy and Paula Shy aka Christy Charming. We have had the pictures in Sexy Lesbian Peeing From Vipissy but today we get to see more. This has to be one of my favourite lesbian pissing movies, these two love piss they drink it suck it and well just get soaked. Wet hot nude lesbians what more could you ask for in a lesbian pissing movie. See Whitney and Paula in the lesbian pee movie here.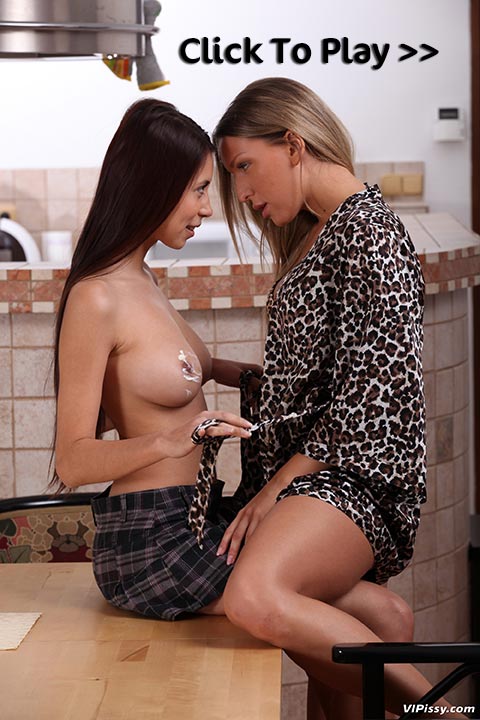 Next up we have Zena Little. We haven't had the photos or movie here before and it is a shame, this is one hot couple piss. Zena is one sexy lady and this is a great piss movie Zena starts out reading a book, her boyfriend comes over and starts to pee on her. He soaks her top and then she starts to drink his piss. After finishing her piss, he licks her out while she pisses on herself and then well it turns into a very wet hardcore pissing movie. She loves piss and has such a good time in this couple piss movie. See Zena Little's Pissing Movie Here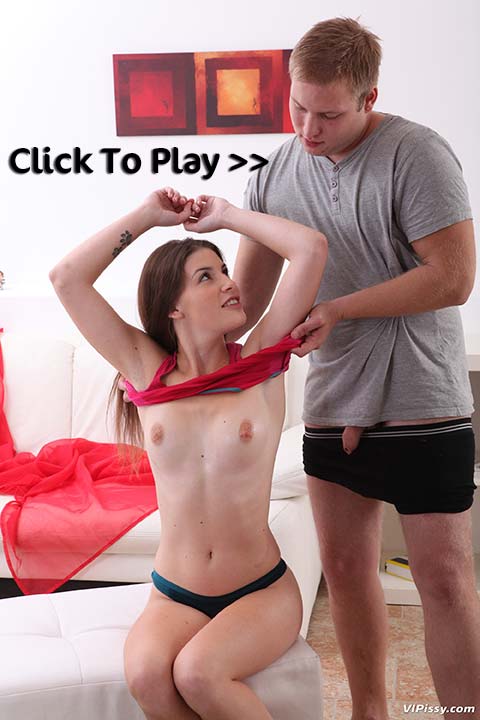 Last up we have hairy lesbian piss. We had the pictures and trailer in Lesbians Peeing from Vipissy and now we have the lesbian pissing movie. Once again this is one hot lesbian pee with the added bonus of a hairy pussy. There is something wonderful about seeing pee drops caught in the bush and in this pissing movie Loreen is all to happy to lick them off. Once again these two love piss and the movie is one wet and hot experience. See the hairy lesbian pee movie here.


Filed under: Babes Peeing and Drinking Piss and Hairy Pussy Pissing and Lesbians Peeing and Movies and Peeing and Pissed On and Pissing and Pissing In Vagina and Pissing Movies and Self Pissing and ViPissy
Posted on 06.28.14
Comments: 1 Comment


Tags: Beth Vipissy, Hairy Pussy Pissing, Lesbians Peeing, Loreen Vipissy, Paula Shy Vipissy, Piss Drinking, Pissing Movie, Pissing Movies, ViPissy, Vipissy Movie, Whitney Conroy Vipissy, Zena Little Vipissy
Today we have three lesbian peeing movies from Vipissy. While we have had some wonderful photos and short trailers before today we have three five minute ones. Vipissy really is one great website I have only posted lesbian pissing from there but for those interested they also have lots of couple peeing movies too. Today to start our lesbian peeing feast we have Bella Baby and Terry. The story from Vipissy goes "Bella Baby and Terry have found a new use for Saran wrap! Check out this hot soaking video. The wrap is so tight around her pussy that the piss flow is struggling to find an escape. Finally it makes it way out the side and Terry catches it in her hand. She can't stand the wait and starts to rip the wrap off her lesbian lover. Terry soaks her panties as well and lets the piss fall all over Bella Baby. They can't get enough of each other's piss soaked pussies and begin to fill each other up and enjoy the taste of every last drop. These sexy vixens will not leave a dry spot in the house when they are done. They bathe and fuck in the urine covered area making sure to bathe in all the glorious pissing action till they are completely satisfied and soaking wet. This pissing video will leave you wanting more!" See Bella and Terry in there lesbian peeing action here.
Next up from Vipissy is Nicole and Kattie, what could be better than a redhead lesbian pissing. The Vipissy story goes "Nicole and Katty love trying new things in their relationship. They decided tonight would be a good night to play with a little piss. They saw it once on a site and decided it would be exciting to try. They get a few props, a bowl, some ice, a few toys. Anything they could think of to make it fun. They start with the ice and bowl. The urge to pee starts almost immediately and Nicole stands up and uses the bowl to catch her piss. Katty plays with it through her panties, letting it run down her warm. Nicole is quick to lick it up. They are so turned on now. They begin kissing playing around, pouting piss all over and lapping it up. They explore every inch of each other's body and make sure to taste the urine in every crack. Katty spreads herself open and invite Nicole to piss inside her. You don't want to miss Nicole sucking it out of her tight wet pussy. Soon they bust out the toys and really get the juices flowing. Check out the flow of piss then erupts from their tight twats in this amazing piss video." See Nicole and Kattie Here.
Lastley we have Gitti and Sissy they start off in there  lingerie and no sooner are they naked and pissing on each other a wonderfully wet lesbian movie. See Gitti and Sissy in wet lesbian pee action here.


Filed under: Babes Peeing and Drinking Piss and Lesbians Peeing and Movies and Peeing and Pissed On and Pissing and Pissing In Vagina and Pissing Movies and ViPissy
Posted on 06.01.14
Comments: 2 Comments


Tags: Bella Baby Vipissy, Gitti, Gitti Vipissy, Kattie Gold Vipissy, Lesbians Peeing, Nicole Vice Vipissy, Peeing Movies, Piss Drinking, Piss Movie, Pissing Movie, Sissy Vipissy, Terry Vipissy, ViPissy, Vipissy Movie