From HD Diapers we have the very sexy Alisha. We have had her in diapers with Niko in the past in Wet Diaper Lesbian Piss Play but today she is all alone in the lounge with a full bladder. She has tight leggings over the diapers and stats to pose for us, she plays around a little more and then pulls her leggings down to show her white diapers.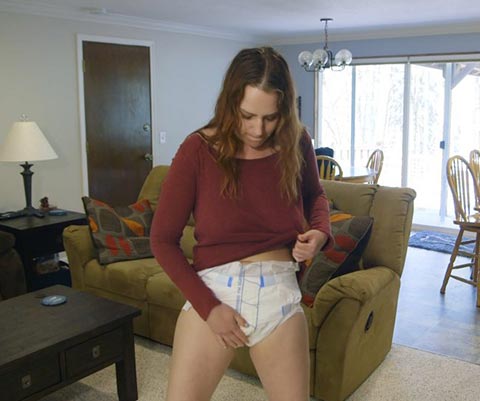 The story from HD Wetting goes like this "Under her dark blue leggings, Alisha has a secret- She is wearing a thick, tabbed, adult diaper.  We join Alisha in her living room.  She is wearing a long sleeved shirt and dark blue leggings.  Under her leggings, she tells us, she is wearing a diaper.  The camera zooms in for a close up as she pushes on the diaper, showing how thick the padding is under her tight leggings. To prove that she is actually wearing a diaper, she takes off the leggings, revealing the tabbed diaper underneath.  Once her leggings are off, she intentionally pees in the diaper.  We can clearly see in the video as the diaper fills up, changing colour as she pees herself. After she is done peeing in her diaper, she shows it off a bit for the camera.  Then, she takes it off, holding up so that we can appreciate just how soaking wet it is.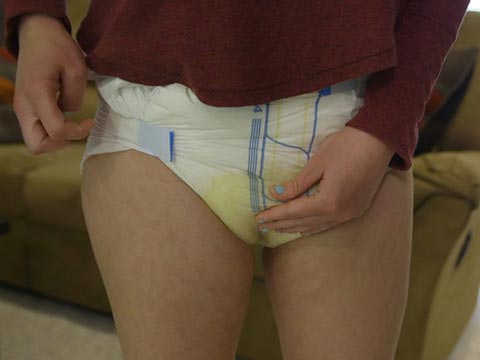 She stands there and starts to pee, her pee slowly flows into the diaper and as it does it starts to puff out. Her Diaper is filling in warm pee and starting to go yellow. She keeps on peeing and her diaper is getting more and more squishy. When she finishes peeing in her diaper she pushes it against her pussy and I bet the warmth is making her horny. She stands and undoes it and we get to see her pissy pussy too. A nice diaper pee from HD Wetting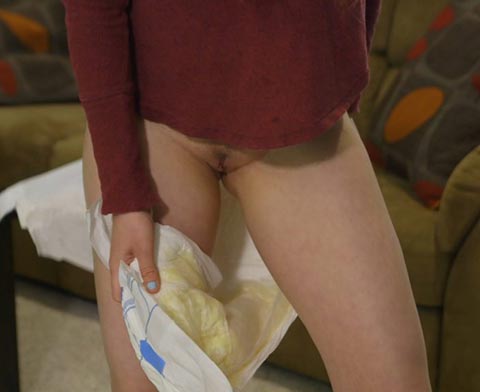 See Alisha Pee In Her Diaper Here


Filed under: Diaper Pissing and HD Diapers and Peeing and Pissing and Pissing Pictures
Posted on 07.03.17
Comments: 2 Comments


Tags: Alisha HD Diapers, Diaper Wetting, HD Diapers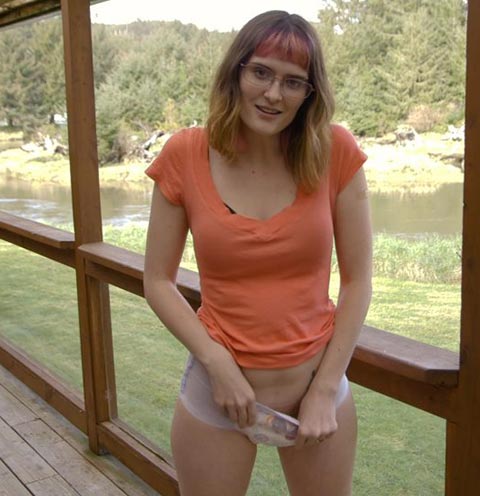 From HD Diapers we have the wonderful Sosha she is outdoors wearing a diaper and has a very full bladder. If you have missed some of the posts from HD Diapers check out Peeing In Diapers From HD Wetting and Wet Diaper Lesbian Piss Play Today Sosha is standing there and telling us how she likes to wet. She holds on a little longer and then she is busting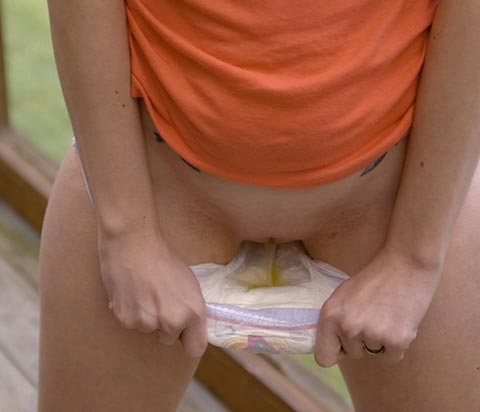 Sosha is full and her bladder is ready to explode. She pulls her diaper open a little and we get to see her shaved pussy encased in her warm diaper and she starts to pee. Her piss sprays out and starts to soak into the diaper.

She is pissing in her diaper, her yellow pee stream is looking great and her diaper is getting more and more soggy. There is a wonderful yellow puddle and then when she finishes peeing she pulls the now soaked diaper up again. The warm wet feeling must be great and I bet she is nearly having a orgasm standing there in her piss soaked diaper.

See Sosha Peeing Her Diaper Here


Filed under: Diaper Pissing and HD Diapers and Peeing and Pissing and Pissing Pictures
Posted on 04.17.17
Comments: 2 Comments


Tags: Diaper Wetting, HD Diapers, Sosha HD Diapers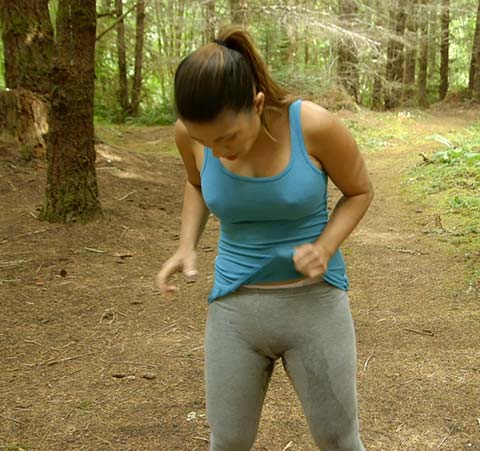 Something a little different today, we have some diaper pissing from HD Diapers. I'm not sure if anyone enjoys this but I think seeing a hot lady with a piss soaked diaper is quite sexy and today we have the lovely Nikko making three pissy messes for us. Let me know if you would like to see more diaper pissing in the future. We start off with Nikko in the forest, she has leggings and a diaper underneath. She looks turned on her nipples are hard and with her leggings pulled up we can't really make out that she is wearing a diaper. As she is standing in the forest she pulls her leggings down a little and we can see her diapers. She pulls them back up and then as she is standing there she starts to pee. The diaper starts to fill up and then it starts to overflow, not only is she peeing in her diaper but she has pee running down her leggings. The diaper is filling more and we can now see it under her leggings as it starts to sag with the weight but it is overflowing too and she is soaking her leggings too. When she finishes peeing she pulls down her leggings and we can see that her diaper is full of piss and her leggings are soaked. See Nikko Peeing Her Diapers And Leggings Here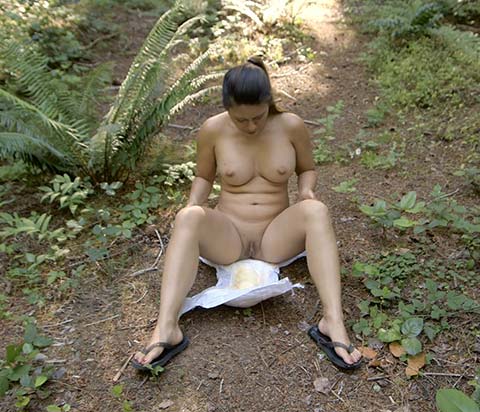 Next up we have Nikko still in the forest but naked except for her diaper, she really does look great with her breasts and hard nipples on show with her standing in her diaper. As she stands she starts to pee. Her diaper starts to get damp and fill and she keeps on peeing till it is all warm and squishy. She is so turned on now that still in her piss soaked diaper she sits on the ground and starts to masturbate. She plays with herself till she is cumming and then still sitting there she undoes her diaper and shows us her pissy mess too. See Nikko pissing and masturbating in a diaper here.

Last up Nikko is back at home in orange pants with a diaper on underneath, she really needs to pee and as she hops around she starts to let go. She is peeing in her diaper but her stream is to strong she has piss exploding out of her diaper and it is running down her legs. The piss marks in her orange pants is wonderful and she even has piss pooling at her feet. She finishes pissing herself and pulls her orange pants down to show us her piss soaked diapers too. See Nikko peeing in pants and diapers here





Filed under: Diaper Pissing and HD Diapers and Peeing and Pissing and Pissing Pictures
Posted on 01.03.17
Comments: 2 Comments


Tags: Diaper Wetting, HD Diapers, Nikko HD Diapers
Ineed2pee brings us some wonderful female desperation and wetting for today We start off with new model Nixon as the story from Ineed2pee goes "she has a really cool timeless pinup look to her. She's from German decent & had a very very full bladder before we started! She has a coy way of talking to the camera like you could be right there & conveyed her pee desperation in a fun and slightly exaggerated way! Lots of different positions & sexy talking before she loses bladder control! Perfect wetting with lots of glistening of the denim as she pees herself… making it super shiny. It all goes into her high PVC patent heels too & makes a huge puddle on the floor. Great jeans wetting video & cute behind the scenes where you get to meet the new girl!" See Nixon desperate and peeing here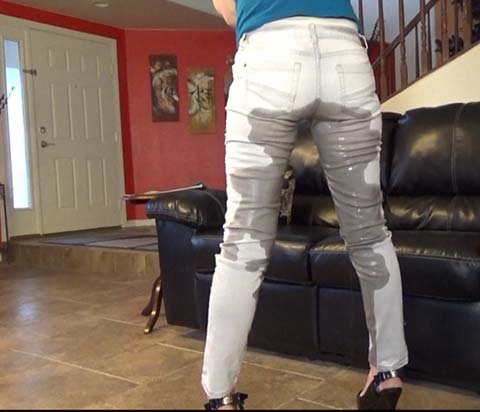 Next up we have the lovely Whitney she is in tight jeans and locked out and boy is she desperate to pee. We have lots of crotch grabbing and she then does the pee pee dance till she can't hold on and loses control and starts to pee in her jeans. As she is peeing she has piss flowing down her legs and even soaking her shoes. When she finishes pissing herself she shows off her piss soaked panties too. A great female desperation and wetting from here. See Whitney desperate and peeing in her jeans here

Last up we have a older preview movie with the wonderful Kenna. She starts off locked out in jeans and is so desperate to pee. She jiggles around and her wonderful breasts are bouncing till she just can't hold on and pisses in her jeans. We then have her dressed as wonder woman and we have had the desperation and wetting photos for this before in Wonder Women Desperate And Peeing. It is great to watch her struggle till her bladder gets the better of her and she pees herself. See Kenna Desperate And Peeing Here


Filed under: Desperation and Diaper Pissing and Ineed2pee and Jeans Peeing and Jeans Pissing and Movies and Peeing and Pissing and Pissing In Pants and Pissing Movies and Pissing Videos
Posted on 03.28.16
Comments: 1 Comment


Tags: Desperate To Pee, Female Desperation, Ineed2pee, Ineed2pee Kenna, Ineed2pee Whitney, Jeans Pee, Jeans Peeing, Nixon Ineed2pee, pants peeing, Pissing Movie, wetting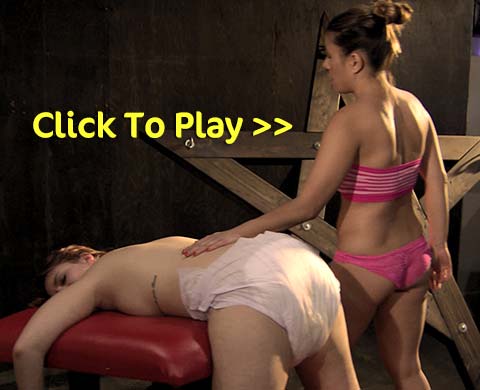 From HD Diapers we have something a little different some wet diaper spanking.  Staring Alisha and Nikko who we have had from HD Wetting. If you have missed some of their lesbian wetting check out some of these posts, Pissing On Nikko, Alisha And Nikko From HD Wetting, Pants Peeing By The River and Alisha And Nikko Bondage Pee Movie Today HD Diapers has some fun for us Alisha is bent over and bound in her diaper she has pissed in them and we can see the big damp patch. Nikko is not to impressed that she has peed in her diaper.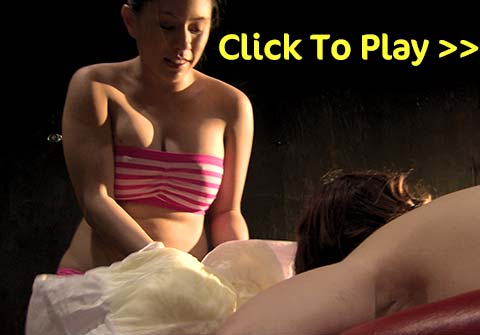 Alisha starts to make excuses why her diaper is soaked in pee but Nikko doesn't believe her and starts to undo it. When she has undone the wet diaper she takes it off and shows Alisha the pissy mess. Nikko loves being in the dominant role and is telling Alisha to smell her pee Alisha doesn't want to of course.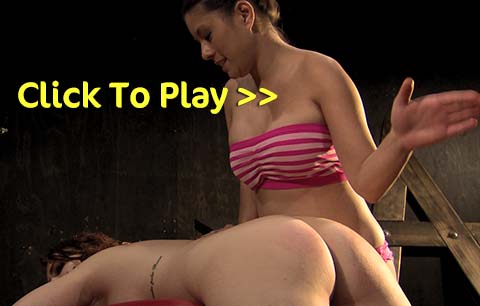 Nikko then throws the piss soaked diaper on Alisha's back and then wipes her pee all over her. She then starts to spank Alisha on her bare bottom. This is great fun to watch and then Nikko spanks Alisha some more till she has red marks on her bottom. It's a pity that we didn't get to see Alisha peeing in the diaper but it is great to see Nikko having so much fun tormenting Alisha.

See The Diaper Spanking Movie Here


Filed under: Diaper Pissing and HD Diapers and Movies and Peeing and Pissing and Pissing Movies and Pissing Videos and Strange
Posted on 02.01.16
Comments: None


Tags: Alisha HD Diapers, Diaper Movie, Diaper Wetting, HD Diapers, Nikko HD Diapers
I came across this pissing story in my travels I hope you enjoy it….
At the age of twenty, I went to visit a friend, Jenny, who was at college. She had a lovely two-bed roomed flat close to the university and I was really looking forward to my weekend away. Little did I know that the weekend's discoveries would change my life.
During the first day of my stay, Jenny and I played squash. During the game I could not help but notice that when Jenny bent over to take a low shot in front of me her short tennis skirt rode up slightly to reveal her knickers. Her bottom seemed a little plumper than I remembered from school days and her frilly tennis knickers with their pink nylon fabric seemed almost like baby pants! I thought it best not to comment and we finished the game, waiting until we returned to the flat that evening to change.
That evening we settled down to a good old chat and inevitably ended up drinking far too much. I barely remembered going to bed, but in the middle of the night woke up in a half sleep wanting a pee. My next recollection was the following morning when I gradually woke to realise Jenny was standing by my bed with a cup of tea. As I moved to murmur good morning to Jenny I realised that the bed was soaked beneath me. My face reddened as I confessed, 'I'm so sorry, but I think I've ruined your bed, I must have had an accident during the night.'
Pulling back the bedclothes, the bed was extremely wet, but Jenny did not seem too concerned, saying, 'You've not changed your old habits, then,' referring to the accidents I used to have as a teenager. Jenny continued, 'I must admit that I wondered if you still suffered with little accidents so I took the precaution of putting a plastic cover on the mattress.' As she said this, she drew back the wet sheet to reveal a large white towelling square and the waterproof sheet beneath I had to confess to Jenny that my intermittent incontinence had become more common recently. in fact, it had got to the stage where I was now wetting my knickers during the day on occasions. We chatted for some time and eventually I summoned up the courage to tell Jenny the truth, saying, 'Actually, I think the problem is that I enjoy my wetting.'
While we had been talking in the bedroom, Jenny's dressing gown had fallen open. As I happened to look down, I could clearly see the vee of her crotch and you can imagine my surprise when I saw the clear plastic of her incontinence pants. There were drop-lets of moisture on the inside and what looked like thick towelling knickers within which were obviously wet with her pee. Noticing my rather obvious stare Jenny said, 'Yes it's true. I have a similar problem, too.' There was rather a lot of embarrassment and I decided to beat a hasty retreat to the bathroom to get showered.
As I walked across the hall to the bedroom to get dressed, Jenny emerged from her room, saying, 'Look, I know you may be embarrassed but there's no need. I've left you some things out on your bed that you might like to try.' My heart leaped into my mouth with excitement and apprehension at the same time. Neatly laid out on the bed were a pair of thick terry towelling knickers and a pair of transparent waterproof pants. I could feel my pussy moisten as I lay on the bed and pulled on the towelling knickers.
Standing in front of the full-length mirror, I slipped one foot and then the other into the plastic panties, pulling them up and smoothing them over my curving buttocks and taking care to ensure that the towelling was tucked in around the legs. It was at this stage that I realised that I had been yearning for the security and comfort offered by returning to baby pants, where if I did need a pee in public I would not get into trouble.
During the day that followed, neither of us referred to the events of the morning, As for myself, I found that whilst I was ashamed of my growing need for the protection of plastic knickers I was also excited at the thought of someone finding out what lay beneath my skirt. I still felt too embarrassed to question Jenny about her knicker-wetting problem.
That night, I went to the loo for a pee. Pulling down my plastic panties, I realised that my pants were soaked in urine. It was time to go to bed and Jenny cheerfully commented, 'I don't think it would be wise to risk you wetting the bed again tonight. Would you mind awfully if we took some precautions?'
As I followed her to my bedroom she said, 'I've made the bed up with the waterproof mattress cover again, but you will be more comfortable if you wear these.' Jenny went to a drawer and pulled out a large terry towelling nappy, two large safety pins and another pair of the transparent plastic pants. Spellbound by what was happening, I obeyed Jenny's instructions. She watched as I self-consciously lifted the hem of my dress, revealing my transparent plastic knickers. As Jenny looked at my crotch she could clearly see the darker area of the white towelling knickers soaked with my piss. 'My word, you have been a naughty girl,' remarked Jenny. 'Let me help you finish undressing.'
I lay on the bed and Jenny skilfully unclipped my lacy half-cup bra. My nipples betrayed the excitement that was beginning to make my pussy ache with desire as Jenny slid my saturated incontinence panties down my legs. I am sure that she gasped a little as she saw my almost hairless cunt for the first time, the outer lips engorged and open with desire. She folded the nappy into a triangle and asked me to raise my bottom, slipping it under me and neatly pinning it in place at the front. My mind was racing, but I decided to let her continue. Jenny smiled at me in an almost maternal fashion as she unfolded the plastic panties, obviously enjoying the process of my regression to baby-hood. With me now dressed, Jenny concluded, 'Your waterproof pants and nappy should keep you comfortable until morning. Why don't you come through to my room in a few minutes and we'll have a nightcap?'
A few minutes later, I wandered self-consciously into Jenny's room with a bottle of cider and two glasses, feeling aware of the bulge of my nappy under the tee-shirt I wore at night. Jenny was sitting up in bed, finishing the remains of the lager we had had earlier. She smiled, saying, 'Come on. Don't be embarrassed. Come and sit here with me.'
After a few more drinks we both began to relax, but I could not help fidgeting when I realised I desperately needed to pee but did not know how to refasten the nappy Jenny had dressed me in earlier. I had to confess to her,' Jenny, I'm so desperate for a pee, I think it may be too late!' She replied with a growing passion in her voice, 'It's okay. Just relax and pee in your nappy. That's why you're wearing it.' I had no choice and, with my cheeks blushing, I started to pee into my nappy, whilst sitting on Jenny's duvet on her bed. The stream of urine gushed for almost half a minute, flooding around my sopping pussy and around my buttocks. Jenny was staring at my exposed PVC panty crotch, watching as my pee flooded into my incontinence knickers; my nappy being unable to cope with the volume. As I moved, small spurts of pee escaped from the elasticised leg bands of my plastic knickers, soaking the duvet. To my astonishment, Jenny smiled at me, 'You're all right. I have a PVC cover on it, and my mattress, too. 'Saying this, she pushed back the duvet. She looked absolutely fantastic wearing a transparent sheer white baby-doll nightie pushed upwards by her firm, full tits. It scarcely concealed Jenny's secret of her underwear – a terry towelling nappy and plastic panties identical to the ones she had dressed me in. Sitting next to her, I watched as Jenny dimmed the light and lay back on the bed saying, 'I thought you might be a little surprised when you found out my secret passion for babywear.'
We kissed deeply, our tongues darting in and out and on to each other's swollen nipples. My hands roamed over Jenny's curving plastic-covered bottom. Sitting up facing each other, she extended her finger and hooked it around the leg elastic of my baby pants. The remaining build-up of pee in my panty crotch flooded out on to the mattress and soaked into the towel which covered the waterproof sheet beneath. I almost came on the spot with the excitement of not caring if you wet on the bed or duvet coupled with the effect Jenny's finger was having as it worked in and out of my hole and flicked my clit.

Jenny's sheer nightie was beginning to stick to her as the bed became wetter, and this seemed to excite her even more. Jenny then knelt up on the bed in front of me, and as she sucked on my hardened nipples I could hear a gushing sound. She straightened up, slowly raising the front of her baby-doll, saying, 'What a filthy girl I am. I'm pissing in my knickers.' Her waterproof pants were distended between her legs where her pee continued to flood through her nappy. Having soaked the thick terry towelling to capacity, and now collecting in the transparent crotch of her baby pants. I could not resist running my hand over the sheer smooth PVC which felt hot from Jenny's urine as it sloshed about. Like a cat that had just got the cream, she grinned wickedly, and lowered her bottom on to the bed. As I watched, her piss-filled plastic bulged as the liquid was put under pressure, but Jenny just lay back on to the pillows. Her pee flooded on to the sheet and duvet out of the waistband of her incontinence panties. Jenny turned to reach into the bedside drawer, her gossamer nightie now soaked in pee; producing a beautifully-sculpted double-ended dildo, she started to pull down the front of my baby pants. I knew I needed fucking, my hand sliding inside my saturated nappy and rubbing at my hungry cunt.

Jenny got me to kneel up again in front of her, now with the duvet beneath my knees for comfort. She unpinned both sides of my nappy and let it drop, slowly resting the plastic cock against my opening pussy lips and then pushing it home. It was at this stage that I had my first orgasm of the evening. As Jenny continued to fuck me I said to her, 'I'm sorry, Jenny, I need to pee again.' She replied, 'Just does it!' Kneeling astride me, she slid the dildo in and out of my cunt and I relaxed my bladder. My pee spurted out in a stream, bouncing noisily off the front of her waterproof panties. She pulled down the front of her knickers so that the hot jet of my urine added to the saturation of her own nappy. Whilst my bulging bladder was still discharging, she slid between my open legs. With her mouth open she licked at my quivering cunt, bringing me to another climax. Her face, hair and baby-doll nightie were saturated with my pee and love juice.

It was clear that neither of us could contain ourselves any longer. Jenny drew forward beneath me and pulled her plastic pants and nappy to one side. With an almighty gasp, she pushed the end of the dildo up her cunt and pulled me down on to the other end. That night, we lost count of our orgasms, but I shall certainly never forget my first experience of wearing nappies as an adult.


Filed under: Bed Wetting and Diaper Pissing and Lesbians Peeing and Piss Stories
Posted on 05.31.08
Comments: 6 Comments

Who needs a dishwasher when you can have this in your kitchen? A perfect pissing spray just put a couple of plates in the pee stream and the plates can be washed in piss. It's a lovely piss stream i just wish we could see her face getting pissed on too
I know the photo below is not strictly pee but bound in diapers is close and the picture is lovely so I just had to add it. If only she was peeing in her diapers. Oh well enjoy the piss

Filed under: Diaper Pissing and Peeing and Pissing and Self Pissing
Posted on 06.08.07
Comments: 5 Comments