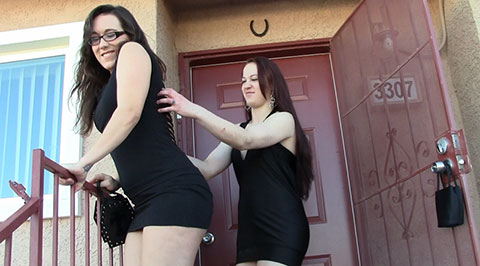 Ineed2pee brings us this female desperation and wetting update. Ineed2pee have had some great double female desperation and wettings over their time. It's been a shame that we don't get them more regularly. Some of the past ones have included Shorts Peeing From Desperation, Female Desperation And Wetting From Ineed2pee, Jeans And Panty Peeing From Ineed2pee and Female Desperation With Tights & Jeans Wetting. Today we have Sinn Sage & Cheyenne Jewel they are tipsy and dressed in short skirts they look so sexy and desperate and then Cheyenne starts to tickle Sinn Sage and she starts to pee in her panties.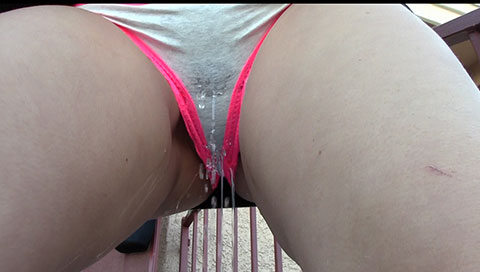 Ineed2pee has written this about the scene "I know it's been a while since we had a good two girl wetting scene so who better than the lovely G/G pornstar Sinn Sage & fetish model Cheyenne Jewel, both tipsy in their tiny little black dresses. Do you love Sinn's cute panties with the pink trim! I can definitely promise that the future scenes will have a lot more cute, frilly, colourful panties & not just the old boring white full backs you've seen the last few years. Still in cotton to show off the pee stain but we definitely need some brighter colours, that's for sure. It was a fairly busy intersection out front since it's a 4 way stop so you can hear the noise. Yes, quite a few men were staring out their car windows at these two lovelies grabbing their crotches & wetting their panties. The boots were super soaked with pee too! "

See The Female Desperation And Wetting Click Here


Filed under: Desperation and Dress Peeing and Female Desperation and Hidden Toilet Cam and Ineed2pee and Knicker Wetting and Outdoor Pissing and page3girlspeeing and Panty Pee and Peeing and Pissing and Pissing In Skirt and Pissing In Tights
Posted on 02.08.15
Comments: 2 Comments


Tags: Desperate To Pee, Female Desperation, Ineed2pee, Ineed2pee Cheyenne Jewel, Knicker Wetting, Outdoor Pissing, Panty Pee, Panty Peeing, Pissing In Skirt, Sinn Sage Ineed2pee, Skirt Peeing
From yellow stories comes this hot piss movie its called farm girl loves piss
The story goes the buxom farm girl begins by sucking off the farmhand and gets a shot of piss all over her tits. More farmhands join in, and now she has three cocks to work over and get flooded in their piss streams. She gets her pussy pounded and drenched in piss.
Enjoy These Pissing Videos From Yellow Stories Just click The Pictures


Filed under: Drinking Piss and page3girlspeeing and Yellow Stories
Posted on 08.13.08
Comments: 1 Comment

I'm not sure if these are real pants pissing pictures. If they are it would look like it made them very horny especially the blonde. She looks like she wants to rub her hot piss all over her body. Desperation this is not. All I can say is these peeing pictures look hot and the expressions on the ladies faces as they are standing in there pissed in pants are wonderful. If they are not real its a great shame but I am going to believe that this is real pants wetting for now. I am sure there are videos of this hot peeing scene in the members areas of page3girlspeeing so if any one has joined the site and seen please let us know real or not



Filed under: Babes Peeing and page3girlspeeing and Peeing and Pissing and Pissing In Pants
Posted on 09.22.07
Comments: 4 Comments

This is from Page3girlspeeing there is no desperation here, this chick is quite happy to let her piss squirt out. I love how her pussy is smooth and she shamelessly spreads wide to piss but look at the mess she's making the piss is running all over her vagina and running down to her ass crack. I'm sure some out there would like to lick the piss off her pussy or get a golden shower from her. Personally i just like looking at how messy he pussy is with the piss running all over it I love the look of a pissy wet pussy
Enjoy The Pissing Off The Table


Filed under: Outdoor Pissing and page3girlspeeing and Peeing and Pissing
Posted on 08.25.07
Comments: 1 Comment

This is quite a nice Peeing Set I found. This little hottie is outdoors naked and squirting a stream of piss. She has nice hard nipples too so whether it was cold outdoors or which I hope is the case standing and spraying pee has made her hot.
Enjoy this hottie pissing


Filed under: Outdoor Pissing and page3girlspeeing and Peeing
Posted on 07.07.07
Comments: None

This is a great set as the lady pissing is so cute and graceful. What is there to do when playing tennis and needing to pee? Well of course lift the skirt and let the piss stream into the grass. The three of these chicks are hot and I have seen them all pissing in different sets.
Enjoy This Tennis Lady Pissing


Filed under: Outdoor Pissing and page3girlspeeing and Peeing and Pissing
Posted on 06.12.07
Comments: None