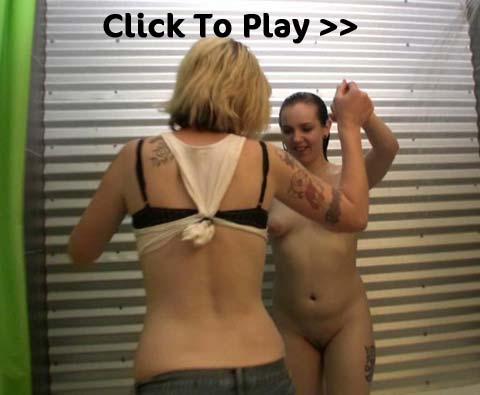 Merry Christmas to all, for today from HD Wetting we have some great lesbian peeing action. We start off with a jeans peeing and lesbian make out movie from my favorite couple from HD Wetting Mikki and Sammy. In the past we have had some great HD Wetting movies with these two, check out Jeans Peeing From HD Wetting, Sammy Tickled Till She Pees, Lesbian Panty Peeing From HD Wetting, and Panty Peeing Movies From HD Wetting. In today's movie we have Mikki taking a shower, Sammy comes in to the bathroom  and asks to join Sammy. Mikki tells her to pee in her pants and she can. Mikki stands there and starts to pee in her jeans her pee runs down her leg and soaks into the denim, one whole leg is soaked and glistening in pee, she ends up standing in her pee puddle too. Sammy is not finished with Mikki yet and makes her get in the shower in her peed in jeans. Once in the show Sammy starts to strip Mikki of her soaked clothes until she is naked and then they starts to make out. This really is hot they look so great together and really do get into it; it's a shame that they both seem to have finished peeing at HD Wetting for the time being. See Mikki Peeing In Her Jeans Here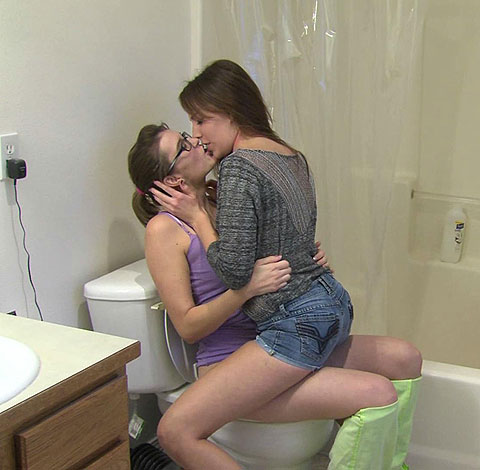 To follow on from Sammy and Mikki we have Sosha and Alisha, I just love how these two are together, Alisha started off shy but no more and Sosha really does have a great time in her peeing movies. In these HD Wetting pictures Sosha is on the toilet when Alisha comes in to the bathroom in her tight denim shorts and sits on Sosha's lap and starts to kiss her. They are getting hot and heavy and then Alisha starts to pee in her shorts while still sitting on Sosha. Her pee runs through her shorts and onto Sosha as it trickles into the toilet. Alisha peeing in her shorts on Sosha only seems to make them hotter and the kick up the tempo of there make out. See Alisha peeing in her shorts here.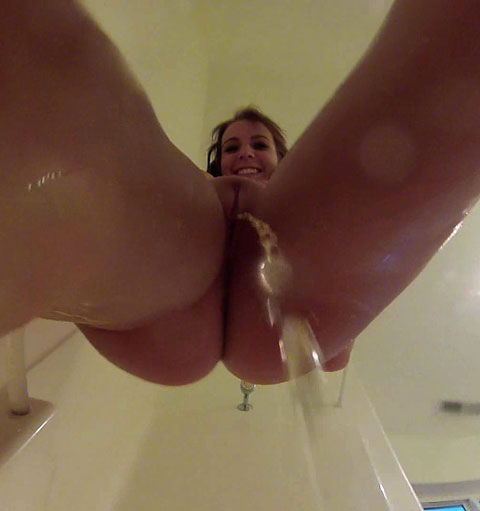 The last HD Wetting picture set stars Sosha and Alisha again. Sosha gets into the bath fully clothed and Alisha joins her. Sosha's top goes a little see through and then they strip each other of there soaked clothes. We get to see Sosha's wonderful breasts and then after they are both naked. Alisha stands up and pees on Sosha we get a great shot of Alisha's pussy as it is peeing on what seems to be us but it is really Sosha, this is a hot bath peeing movie and the pictured don't really do it justice. See Alisha peeing on Sosha here


Filed under: Babes Peeing and HD Wetting and Jeans Peeing and Jeans Pissing and Lesbians Peeing and Movies and Peeing and Pissed On and Pissing and Pissing In Pants and Pissing In Shorts and Pissing Movies
Posted on 12.25.12
Comments: 7 Comments


Tags: Alisha HD Wetting, HD Wetting, Jeans Pee, Jeans Peeing, Lesbians Peeing, Mikki HD Wetting, pants peeing, Pissing In Shorts, Pissing Movie, Pissing Pussy, Sammy HD Wetting, Sosha HD Wetting
From House Of Taboo comes this great lesbian peeing movie. We haven't has a House Of Taboo post for quite a while and hope everyone will enjoy it. We start this pissing movie off and her lesbian mistress is releasing her from her restraints I guess that she doesn't want them to get wet with piss. Look at how hard the slaves nipples are she really is enjoying this and I bet she knows that she is about to be pissed on too. Her mistress takes her position and is ready.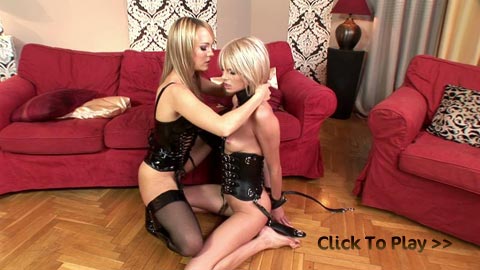 She starts to pee on her lesbian slave look at how sexy this is as piss is just splashing over the slave, lesbian peeing what more could one want well? I guess you could have lesbian panty peeing and hopefully I can find that another day. She keeps peeing on her lesbian slaves stomach and look at how soaked she is getting she is sitting in the warm pee puddle too.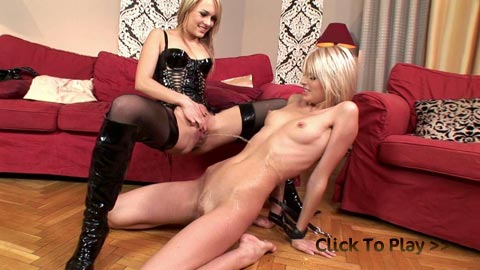 She finishes pissing and her lesbian slave is just soaked in pee. The slave still looks so turned on her nipples are still hard she has loved being peed on and I bet she is eagerly awaiting her next job. With no toilet paper around her mistress makes her suck her pissy pussy dry such great lesbian peeing and a dirty mess to. I hope you enjoy this House Of Taboo movie and enjoy watching the lesbian being pissed on. House of Taboo really do have some great pissing movies.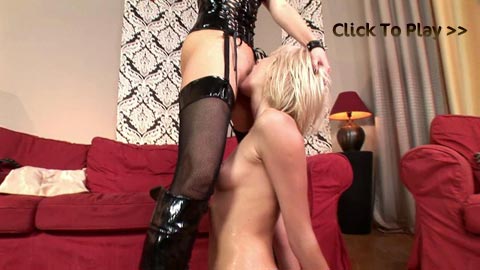 Filed under: Babes Peeing and Drinking Piss and House Of Taboo and Lesbians Peeing and Movies and Peeing and Pissed On and Pissing and Pissing Movies
Posted on 11.20.10
Comments: 3 Comments


Tags: House Of Taboo, Lesbian Slave, Lesbians Peeing, Pissing Movie
These great panty peeing movies comes from HD Wetting. We haven't had a post from them before and I have to admit I have only just found the website but am I glad I did. HD Wetting is one hot peeing website and if like me you haven't seen it before you should. They have over 200 movies in the member's area so you will be busy.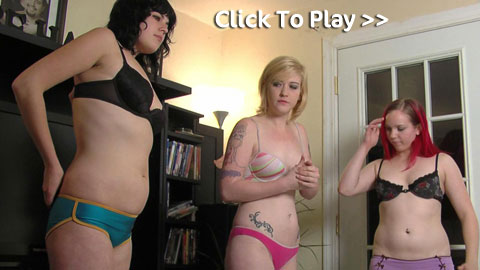 The first knicker wetting movie has three of the HD Wetting ladies they are in their bras and panties and playing twister. These HD Wetting girls are really sexy and as they get instructions to move their legs and arms onto different colors the movie just gets sexier this is a great situation to be viewing, three chicks in their underwear playing Twister.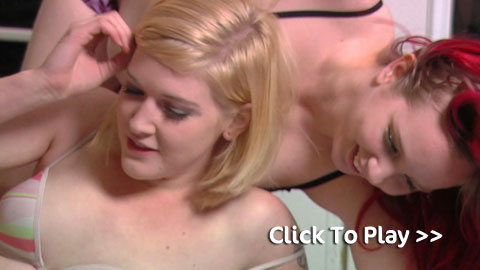 They are all twisted and struggling and then the need to pee comes the first panties are pissed in and what a great angle I just love it when you see knicker and I have to say I don't think there is a better angle for a panty pee. The second panty pee in this HD Wetting movie is just as good if not better.  It has Sammy peeing in her purple panties over Mikki this is great, Mikki is getting soaked with Sammy's pee her bra is dripping and pee is running all over her body. This really is one hot panty peeing movie.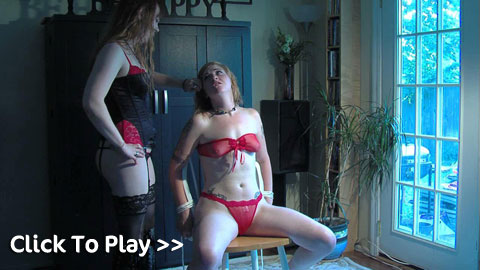 The next HD Wetting movie I have stars Sammy and Mikki. Sammy has Mikki tied up in a chair, she is in her see through bra and panties and looks so hot. Sammy looks pretty sexy dressed up too. Sammy starts to tickle Mikki till she is cant hold on any longer and she starts peeing in her panties, what a lovely panty pee it is you can see the force as it squirts out of her aching bladder and onto the seat. She is then forced to sit in her piss puddle and wet knickers while Sammy sits on her and pees in her panties and on to her. Can you get any sexier than this HD Wetting movie?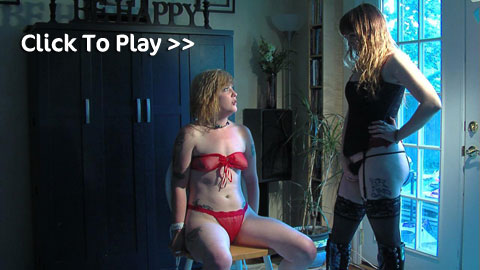 Watch The Panty Peeing Playing Twister Movie Here

Watch The Bound Panty Pee Movie Here


Filed under: Babes Peeing and HD Wetting and Knicker Wetting and Movies and Panty Pee and Peeing and Pissed On and Pissing and Pissing Movies
Posted on 10.06.10
Comments: None


Tags: Ginger HD Wetting, HD Wetting, Knicker Wetting, Mikki HD Wetting, Panty Pee, Panty Peeing, Pissing Movie, Sammy HD Wetting
Well pissing doesn't get better than this. In my opinion pissing.com just seems to be getting better and better and here we have two pages of pissing movies and peeing pictures from pissing.com
The page has a wonderful pissing movie in a class room one poor student needs to go to the bathroom but isn't allowed so she ends up pissing in her panties at her desk after that it is a wonderful display of lesbian pissing, lovely pussies spurting hot pee brilliant
——————————————————
The second pissing movie from pissing. com really needs no explanation its called Puppy Girl Calico pissing herself and taught a lesson and it really is a dirty but hot pissing movie well worth watching
See these Pissing.com Movies Here
Movie 1 Movie 2


Filed under: Drinking Piss and Lesbians Peeing and Movies and Peeing and Pissed On and Pissing and Pissing Movies and Pissing.com
Posted on 04.09.09
Comments: None


Tags: Lesbians Peeing, Pissing Movies, Pissing.com
Here we have a brand new website called pissing.com and wow it really does look hot I have found three pissing movies from pissing.com for us and wow is all I can say
This first pissing movie from pissing.com is a really wet and messy one we have it start with this hottie pissing in her panties and she soaks them piss is rubbed all over her body by two lesbians and then this movie moves to piss drinking, lesbian pissing, pissing on panties and it is just awesome she gets so soaked in piss that her singlet and panties go see through I can say is this is very very hot pissing action
Click Here To See The pissing Movie
The second pissing movie we have from pissing.com has one hot Asian and she loves piss she has a pierced lip so you know she is one that will love the piss and she does it gets wet and very messy and she ends up just dripping in hot pee
The last pissing movie is just dirty she really is one horny and dirty chick and she just wants the hot piss on her and when it hits she gets so turned on you have to wonder if she is going to cum on the spot this really is a must see
See All These Movies At Pissing.Com In High Rez


Filed under: Babes Peeing and Knicker Wetting and Lesbians Peeing and Movies and Panty Pee and Peeing and Pissed On and Pissing and Pissing Movies and Pissing.com
Posted on 11.12.08
Comments: None


Tags: m Panty Peeing, Pissing Movies, Pissing.com
I was looking over needapee to see what was happening and WOW i saw that there is a movie with Rebekah & Jess called I Soak Jess so i had to share some of the video grabs of this scene. I havent seen the full movie but these scene grabs make me hot.
The story goes like this I have a feeling you guys are gonna go nuts about this 27 minute video! Jess UK and I are chatting about our past pee adventures. She reveals that she'd love to have a girl pee on her and further it is something she wants to try. I love to experiment too and so I'm only to happy to oblige. First though Jess accidentally wets her tight blue jeans, imagine the scene once I've pee'd on her too!
Looking at the pictures it looks like it has everything Female desperation from Rebekah look how she is crotch grabbing. Jess is also getting in on the female desperation action and grabbing her crotch too. It looks like they get more desperate to pee and then poor jess pisses in her jeans desperation for to long and a slow pee trickle in her pants.
What makes this so hot is the female desperation but also for me the last picture where Rebekah is slowly releasing her bursting bladder on Jess's white top wonderful pissing action

You Can See The Video Clicking Here
Enjoy All The Hot Piss Action At Needapee


Filed under: Babes Peeing and Desperation and Jeans Peeing and Needapee and Peeing and Pissed On and Pissing and Pissing In Pants
Posted on 01.13.08
Comments: 1 Comment

A couple of pissing movie from kinky housewife
In the first piss movie she slowly strips off then spreads herself and lets her stream of piss. A nice pissing movie from knikyhousewife
The second piss movie from kinkyhousewife is of her getting her pussy pissed on. I always like seeing pussies being pissed on and her we are she strips off spreads wide and gets pissed on
Kinky housewife is brought to us by the same people who did cheatingxxxwife. This is a truly amateur site intimate filming and action from people who love Watersports. Kinkyhousewife is well worth checking out even if just the trial membership to see this hot new amateur pissing movie site
Click here to see this hot new pee site


Filed under: Kinkyhousewife and Movies and Peeing and Pissed On and Pissing and Pissing In Vagina
Posted on 01.11.08
Comments: 1 Comment