Today we have three female desperation and wetting sets from Ineed2pee. We starts off with Miss Jasmine the story from Ineed2pee goes like this "I had the pleasure of shooting with Miss Jasmine again when she rolled into Vegas for a family trip! She's a very busty & sexy MILF who has a nice bladder capacity & who doesn't overact either. She is tied up & interrogated but she sticks to her claims that she doesn't know anything. Her bladder is getting fuller & fuller & she already needs to pee so badly! Her hands & feet are bound so she can't even grab her crotch or try to stop the flow and a huge gusher of hot pee comes out through her skintight jeggings! She's wetting herself uncontrollably in big waves now, the yellow liquid soaking the nice chair seats & all over the carpet below. She even gets some pee on her nice leather boots too! Great behind the scenes where she peels off her pissy soaked pants & shows her sexy lacy underwear." I is a great female desperation and wetting from this hottie once again. See Miss Jasmine Here.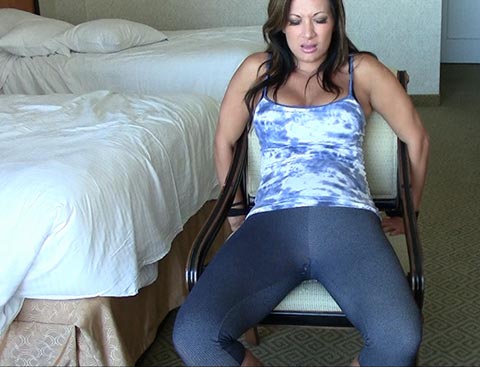 Next up we have Kenna Valentina wetting the bed. The ineed2pee story goes "It's been quite a while since a good bedwetting scene, for a number of reasons. Sometimes it's a hit & miss with the fans & the models too. Sometimes the girls have a hard time peeing in the lying down position, even if they need to pee real badly, but you don't know it until you are shooting the scene & trying. Then, when they do pee, sometimes it just pools around their butt area & doesn't really show up well as it's coming out. IE. you can't see the stream of pee shooting out, so it's only when they stand up you can see the damage. It almost seems like a wasted pee at that point. So Kenna & I decided to give it a shot today & it worked out really nicely! Lots of natural sunlight is important in a bedwetting shoot, as well as thin pants to show the pee coming out nicely. Hope you enjoy it & the lovely sexy Kenna! I wished Kenna lived closer to me but she's all the way in Tampa so I only get to connect with her once a year. Why are all the cutest models on the east coast?" See Kenna bedwetting Here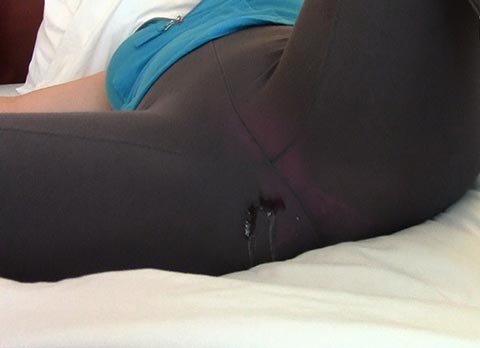 Last up we have Envii a little hottie. The story goes "Envii is totally brand new to this so you won't be seeing her on any other wetting site! She is a lovely young Mediterranean PERSIAN girl with light brown skin. She's outside enjoying the sun, wearing a very tight spandex lycra one piece swimsuit & has a very full bladder already. She's squirming & trying to hold her pee while telling you of her desperation. She's crossing her legs & doing the pee pee dance while sitting on the patio chair. She gets up & gives you a nice squirming shot of her holding herself before sitting down & wetting her swimsuit a bit onto the chair! IT's a nice sized leak! She stands up & starts wetting her swimsuit since she can't hold it any longer! It's streaming out her tight spandex crotch & down the back of her bare legs." See the photos here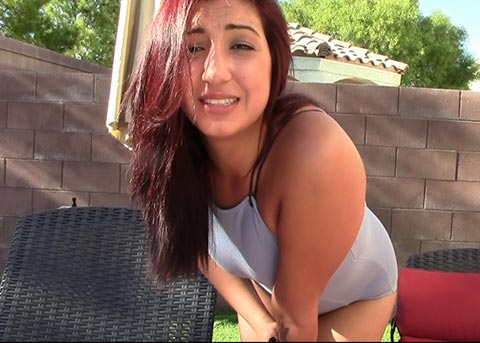 Filed under: Desperation and Female Desperation and Ineed2pee and Peeing and Pissing and Pissing In Bed and Pissing In Leggings and Pissing In Pants and Swimsuit Peeing
Posted on 10.01.14
Comments: 2 Comments


Tags: Bed Wetting, Bedwetting, Desperate To Pee, Envii Ineed2pee, Female Desperation, Ineed2pee Kenna, Jasmine Ineed2pee, Pissing In Bed, Pissing Leggings, Swimsuit Pee, Wetting The Bed
From Vipissy we have some great lesbian peeing once again. Vipissy really does have the best lesbian pissing scenes out there and if you have missed some of them from the past check out Sexy Vipissy Lesbians Teens Peeing, Vipissy Pissing Movies, Lesbian Pissing Movies and Lesbians Peeing In The Bathroom. Today we have Bailey and Carrie and these two are so sexy.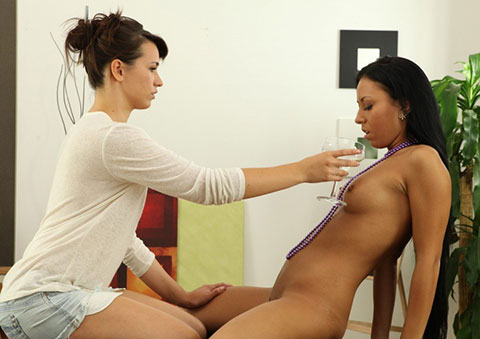 The story from Vipissy goes like this "Pretty young Carrie is focusing intently on the beautiful model lying naked in front of her, trying to get every detail of her soft curves as she sketches her latest art assignment. She can't keep her mind from wandering as her eyes soak in the delicate lines of soft skin. Carrie decides she needs to take a more hands-on approach. As she runs her fingertips over Bailey's soft skin, it's impossible not to notice the nude model beginning to wiggle with pleasure. Bailey announces that she needs to pee before they proceed any further, and without hesitation she grabs a glass vase and empties her bladder into it, not batting an eye as Carrie watches, enthralled. Then she hands the vase to Carrie and lies back down on the table, glancing suggestively over her shoulder at the younger art student. Carrie begins to drizzle the warm urine over Bailey arched back, captivated by the puddles forming and unable to keep her fingers from trailing through them. Realizing that Carrie is brand new to pee play, Bailey is happy to take the reins, leading her new protégé on a pee-filled adventure of a lifetime. The rest of the afternoon is spent with the young lovers exploring each other's bodies and exchanging hot piss in ways that the innocent young Carrie never even knew existed before she discovered her beautiful and sensual new muse."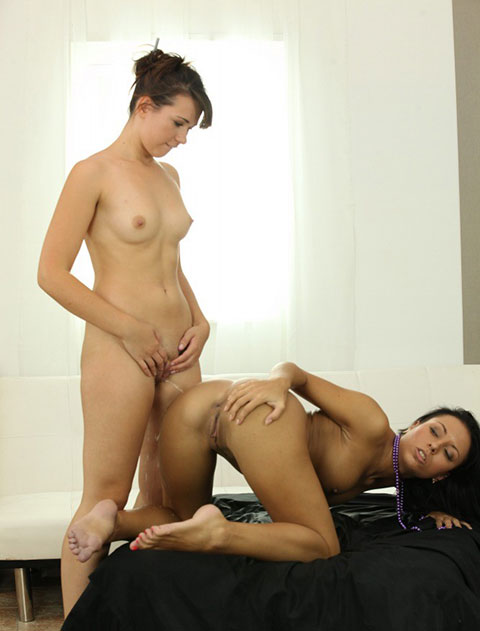 To finish we have the lesbian peeing movie starring these two hotties. Once again this is one sexy and wet Vipissy scene. The two hotties get themselves dripping in each other's pee. Vipissy really know how to find lesbians who love pissing and drinking pee. Just watch them they are loving the warm wetness.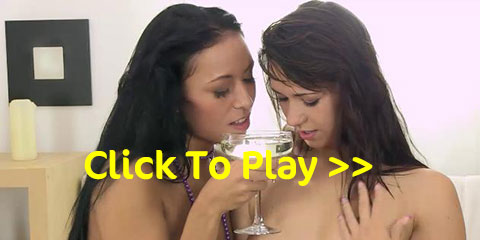 See the Lesbian Pissing movie here.

See The Lesbian Peeing Pictures Here

Read a Vipissy Pornsite Review Click Here





Filed under: Babes Peeing and Lesbians Peeing and Movies and Peeing and Pissing and Pissing Movies and ViPissy
Posted on 09.24.14
Comments: 7 Comments


Tags: Bailey Vipissy, Carrie Vipissy, Lesbians Peeing, Nude Peeing, Piss Drinking, Pissing Movie, Pissing Movies, ViPissy, Vipissy Movie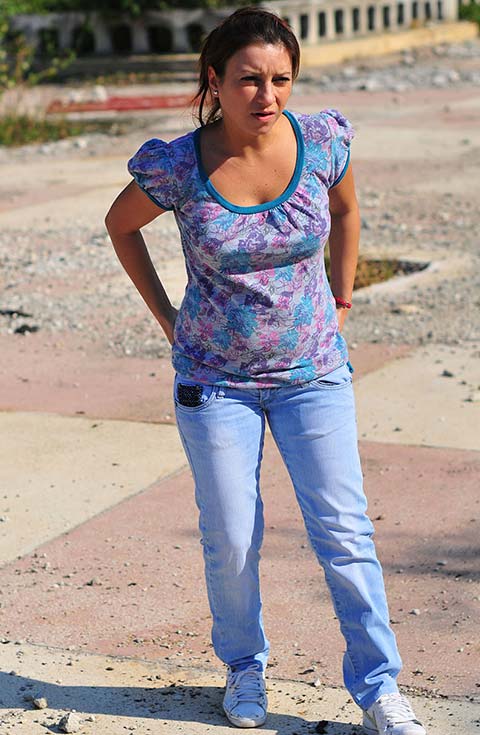 From Real Wetting we have the lovely Dee. We have had some great posts with her in the past and if you have missed them check out Dee Female Desperation And Peeing Dee Peeing In Lycra Pants Bed Shorts And Pantyhose Peeing Dee Female Desperation In Leggings and Dee From Real Wetting Peeing In Her Jeans. Today she is in jeans and looking as sexy as ever.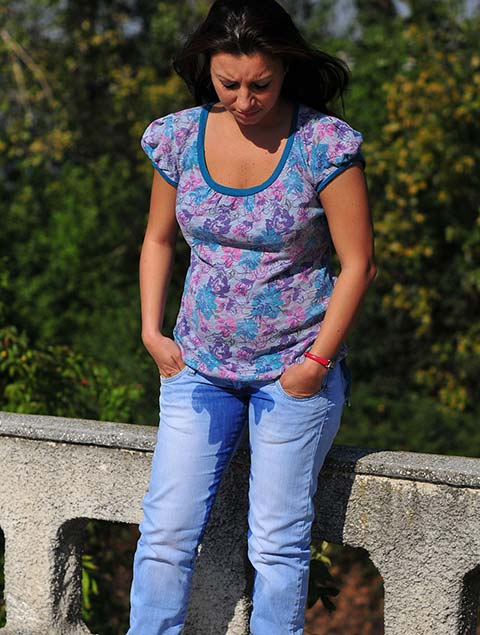 Dee is in her jeans and outdoors she needs to pee she sits on a ledge and waits. When her bladder is nice and full she stands up and starts to pee in her jeans. Her denim jeans are the perfect color, as she is peeing the fabric is going dark and the contrast is great we can see exactly as her pee stain expands in her jeans.

Dee Is Pissing in her jeans, her pee is running down her legs and the denim is soaking it nicely, her shoes are getting soaked too. I bet she has pissy wet feet as well. She is such a wonderful wetter, just the look she has with her hands in her pockets as she pisses is wonderful. She finishes peeing and then sits down in her piss soaked jeans what a wonderful woman Dee from Real Wetting is.



Filed under: Jeans Peeing and Jeans Pissing and Outdoor Pissing and Peeing and Pissing and Pissing In Pants and Real Wetting
Posted on 09.13.14
Comments: 1 Comment


Tags: Audrey's Wetting Site, Dee Real Wetting, Jeans Pee, Jeans Peeing, pants peeing, Pissing In Pants, Real Wetting
From Ineed2pee We have three female desperation and wetting sets. Ineed2pee have to be the female desperation masters the girls get so desperate to pee and when they can't hold on any longer they have no choice than to pee themselves. First up today we have Tori Bell. Tori is looking lovely and in her tight leggings well we know we are in for some great female desperation and wetting action. This is one of Ineed2pee's great scenarios where the desperate model talks to us. Tori is telling us how much water she has drunk and how desperate she is. She keeps on talking saying her tights are so tight against her bladder and that she can't hold on and then she starts to pee, her piss literally spurts out in waves as her balder releases. Her piss is soaking to her leggings and running down her legs and soaking into her boots. She finishes peeing from desperation and then pulls her piss soaked leggings down to show her pissy wet panties. Great female desperation and wetting.  See Tori Desperate And Peeing Here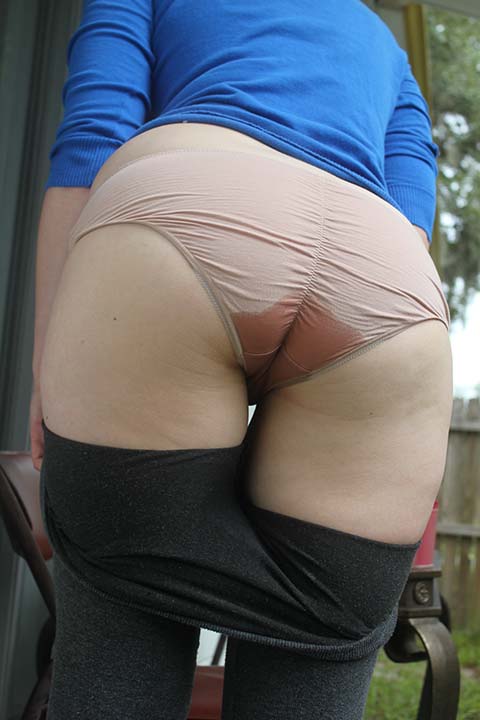 Next up we have Miss Jasmine Pissing her Skin tight Jeans. The story from Ineed21pee goes like this "Well I was lucky enough to work with the lovely gorgeous Eurasian model Miss Jasmine from Vancouver a couple months ago. You may remember her wetting her tight spandex outside video. Now she gets to tease you with her bursting bladder & sexy lil butt wiggles in close up action inside your hotel room! What a lucky guy you are to have this sexy girl squirming & seeing those super duper skin tight jeans get soaking wet. I like that you can actually hear it trickling through nice & loudly as she wets herself in great relief!" It is a great female desperation and jeans wetting scene and her piss soaked jeans look so beautiful. See Miss Jasmine Desperate And Peeing Here.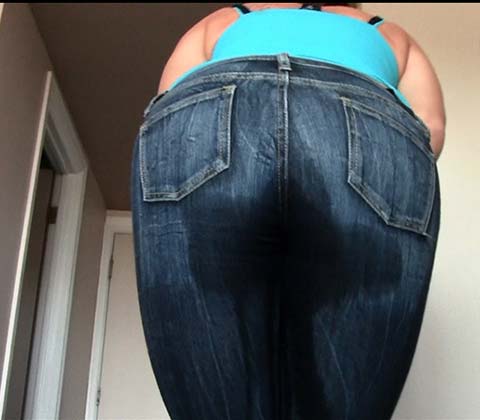 Last up we have Ginger And Monica in a holding contest. It is a pity Ineed2pee don't have more of these holding contests it is great to watch how desperate they become before losing control and soaking themselves. Today is no different Ginger And Monica  are in tight pants and jeans and they hold on getting more and more desperate until one loses control and after the dam is broking there is no point for the other to hold on so she pees two. Super pants peeing. See Ginger And Monica Desperate And Peeing Here.


Filed under: Desperation and Female Desperation and Ineed2pee and Jeans Peeing and Jeans Pissing and Peeing and Pissing and Pissing In Leggings and Pissing In Pants
Posted on 09.09.14
Comments: 2 Comments


Tags: Desperate To Pee, Female Desperation, Ginger Ineed2pee, Ineed2pee, Ineed2pee Tori, Jasmine Ineed2pee, Jeans Pee, Jeans Peeing, Monica Jade Ineed2pee, wetting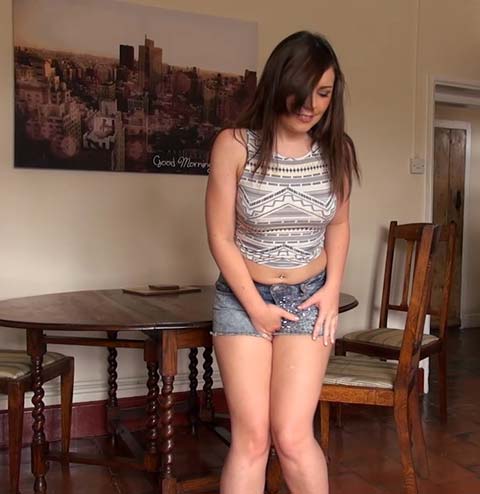 From Wetting Her Panties we have the lovely Kacie. This is the first time we have had her, I thought it was best that we featured someone other than my favourite Wetting Her Panties model Charlotte. You can still see the wonderful Charlotte in posts tagged Charlotte Wetting Her Panties Here. Kacie is in her tight denim shorts and desperate to pee, her waist band is pressing into her bladder and she grabs her crotch trying to hold on longer. She is to desperate to pee and the first drips of pee flow into her shorts.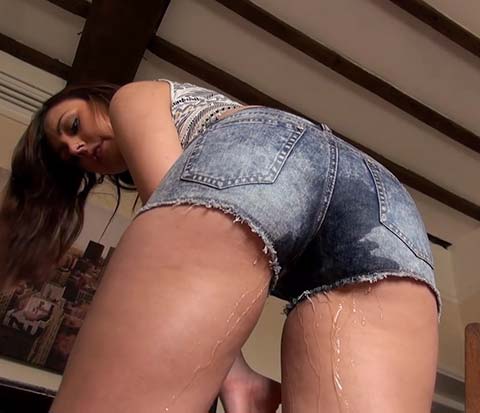 Kacie has started to pee in her shorts, she turns around and we can see her bottom and the rivers of piss that are exploding through the sides of her shorts. The pee is running down her legs and splashing on the floor. This is a great shorts wetting, the tight shorts are really making her pee explode out the sides she is one wet mess.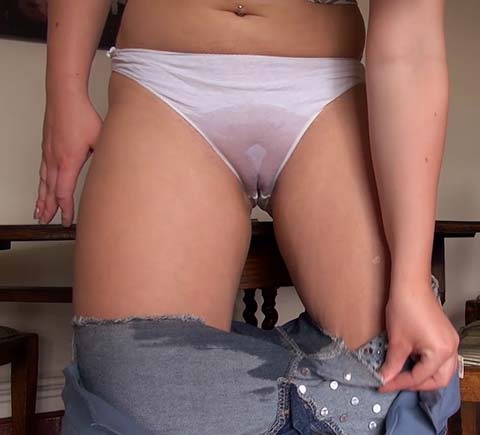 Kacie keeps on peeing in her shorts and they are soaked her legs are wet and glistening. She turns back around and we can see that her crotch is soaked too. She pulls down her now piss soaked shorts and we can see that she is wearing white panties that have gone see through we can just make out her pissy pussy. I do love it when we get see through pissed in panties.

See Kacie Peeing In Her Shorts Here

Read A Wettingherpanties Pornsite Review

Visit Wettingherpanties Click Here


Filed under: Desperation and Female Desperation and Peeing and Pissing and Pissing In Shorts and wettingherpanties
Posted on 09.06.14
Comments: 5 Comments


Tags: Kacie Wettingherpanties, shorts peeing, Shorts Pissing, Wet Panties, wetting, wettingherpanties
From Vipissy we have a hot threesome pissing. I think Vipissy is getting better and better by the week and this movie is wonderful. We start off with Alexis Crystal and Lollypop in some wonderful lesbian action. Lollypop is great and you can see her in the last Vipissy lesbian post we have had Sexy Vipissy Lesbians Teens Peeing These two really do enjoy each other's body and soak themselves in each other's piss, their is soaked clothes pissy pussy licking and pee drinking they look so wonderful dripping in piss.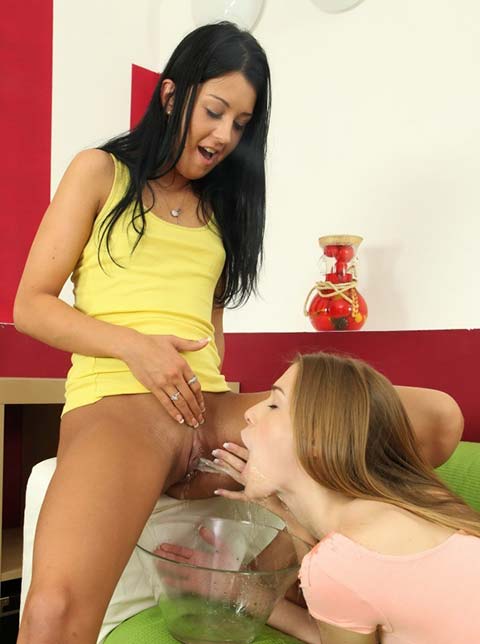 The story from Vipissy goes "Best friends Lollypop and Alexis share a fetish for hot piss and golden showers. They often indulge in some wet and kinky action together. Knowing they have the house to themselves for a while, the dirty duo get right to it, exchanging pee-tinged kisses and gulping down rivers of fresh piss straight from the source. Alexis' boyfriend is due home shortly and he's excited to join the naughty girlfriends for the first time. He has always wondered what it would feel like to pee right into a hungry mouth, and of course he's fantasized for a long time about how Lolly's lips would feel wrapped around his cock. He's about to find out the answer to both of his questions. As soon as he arrives home, both girls drop to their knees and take turns catching his golden nectar with their waiting mouths. Dripping with a mixture of everybody's tangy piss, Lolly and Alexis make a gorgeous pussy stack that no guy can resist. Both horny babes get their fill of hard cock pounding their pee-soaked twats and are once again feeling the urge to relieve their full bladders. No inch of bare skin is safe from their streams of hot piss. Cum and urine flow in this steamy threesome until all three are happily exhausted and glistening with golden pee."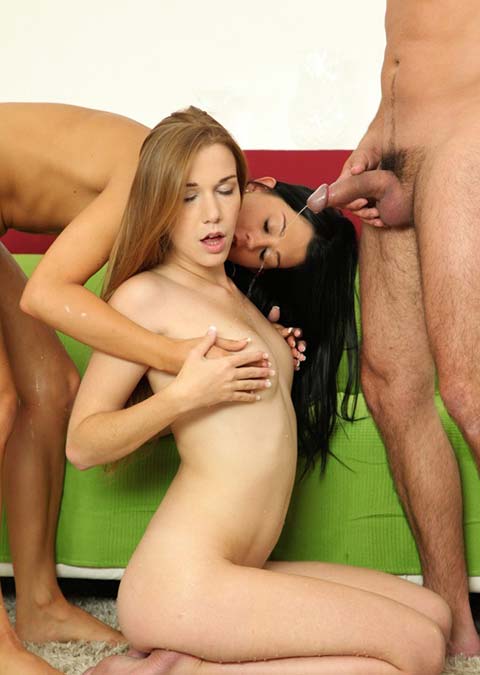 They finish there lesbian pee make out and then the threesome action really stats. They kneel down and drink some piss and then the sex starts, there is fucking and pissing and licking this Vipissy peeing movie has it all. Let's hope we have Alexis Crystal and lollypop back for some more pissing action they really do get into it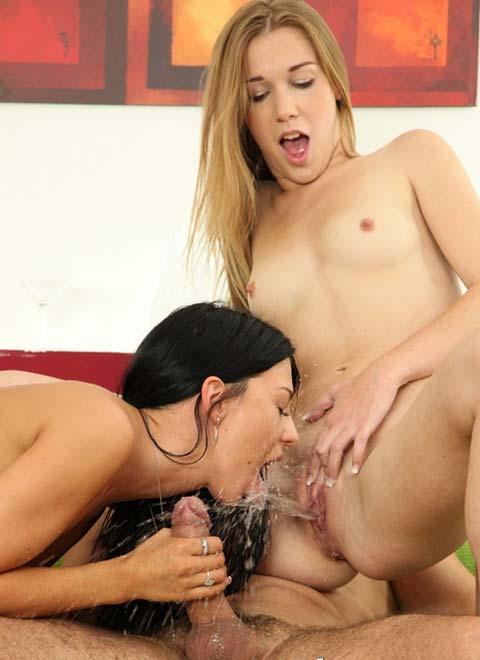 See The Threesome Pissing Movie Here

Read a Vipissy Pornsite Review


Filed under: Babes Peeing and Drinking Piss and Lesbians Peeing and Movies and Peeing and Pissed On and Pissing and Pissing In Vagina and Pissing Movies and ViPissy
Posted on 09.03.14
Comments: 3 Comments


Tags: Alexis Crystal Vipissy, Lesbians Peeing, Lollypop Vipissy, Piss Drinking, Piss Movie, Pissing Movie, Pissing Movies, Pissing Pussy, shaved pussy peeing, Threesome Piss, ViPissy, Vipissy Movie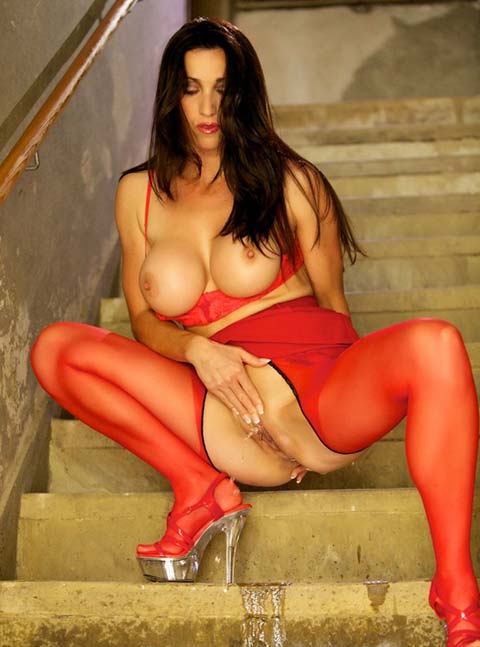 Its been a long time since we have a post featuring the sexy Miss Hybrid. Miss Hybrid Really is one sexy woman and to see her pee is just wonderful it is just a pity that peeing is a small focus to her wonderful website. First up we have her in her red lingerie on the stairs we have had the same location in Miss Hybrid Peeing Again. Today to start she poses and shows off her lovely shaved pussy, she stands there and starts to piss her piss stream is golden and her pussy has a wonderful sparkle as she is pissing. By the time she finishes peeing the stairs are soaked. See Miss Hybrid Peeing On The Stairs Here.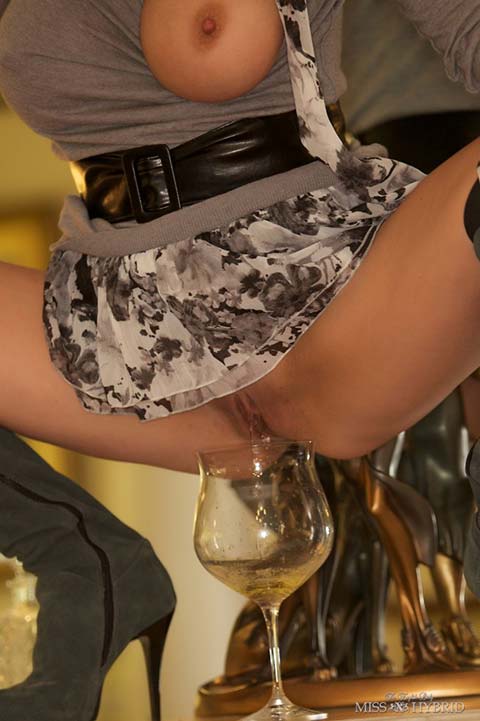 Next up we have her inside and posing in a short skirt, she bends over and flashes her panties she really is being cheeky. She strips her panties off and flashes her pussy and then when we are thirsty she squats over a glass and starts to pee. Her pee is lovely and golden and I bet some would love to drink her golden nectar. See Miss Hybrid Filling A Glass With Pee Here.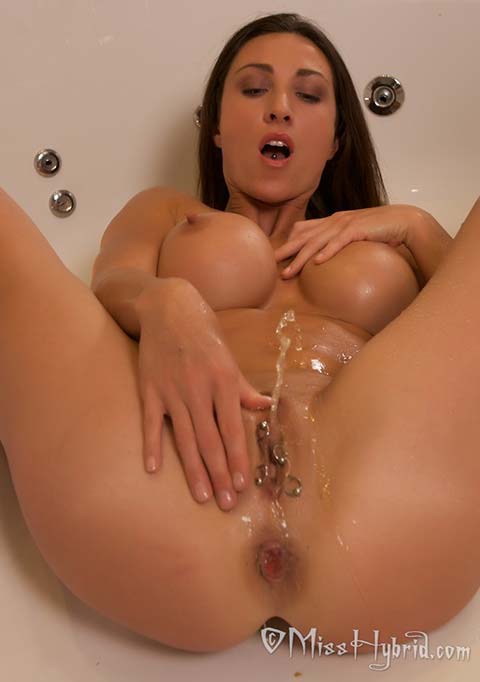 Last up we have Miss Hybrid in the bath and who wouldn't want to play with her in the bathroom she really does look so playful and her breasts are wonderful. After giving us a strip show she holds her crotch, squats down in the bath and releases her bladder. Her piss sprays out and splashes in the bath and on herself, her beautifully tanned body is glistening in her piss, what a wonderful position she is in. See Miss Hybrid Peeing In The Bath Here.
Visit Miss Hybrid's Website Here




Filed under: Miss Hybrid and Peeing and Pissing
Posted on 08.30.14
Comments: 3 Comments


Tags: Lingerie Pee, Miss Hybrid, Peeing Pictures, Pissing, Pissing In Bath, Pissing In Glass