It's been ages since we have had the wonderful Rebekah Dee from Needapee. She really is one of my all-time favourite pissing ladies and if you have missed some of her peeing antics check out Needapee Pissing Movies, Outdoor Peeing With Rebekah Dee, Rebekah Dee Peeing From Needapee, and Peeing With Rebekah Dee from Needapee Today she is in the street and desperate to pee. We know that she loves a sneaky pee and today is no different. She is dressed a single and a short skirt so we know that we are going to be in for a pissing treat. She is desperate to pee and holding her crotch as she veers off the street and finds a little alleyway.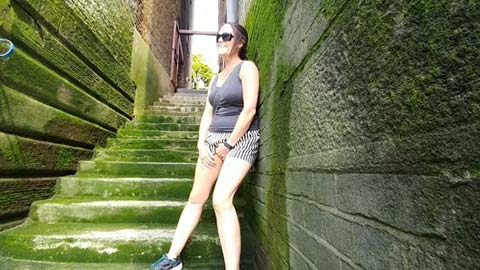 We are following her as she is desperately walking down the alleyway, there is no one around and she keeps walking till she finds some secluded stairs that are leading down to the river. She holds her crotch again we can see that she is loving the full bladder feeling and then she lifts her skirt up and pulls her panties to the side.

She is exposed out here, if there was a boat going by they would see her exposed pussy. Standing there with her panties pulled to the side she starts to pee. Her piss explodes from her pussy and it starts to splash on the ground, how wonderful is this she is out in public having a sneaky pee by the river. As the piss splashes on the ground her shoes will be getting little piss drips on them. When she finishes pissing she lets her panties move back across and her skirt comes down. I bet her panties have a little damp pee patch too. Once again another wonderful public piss from Rebekah Dee of Needapee.

See Rebekah Dee Pissing By The River


Filed under: Babes Peeing and Desperation and Dress Peeing and Female Desperation and Needapee and Outdoor Pissing and Peeing and Pissing and Pissing In Skirt and Pissing Outdoor and Public Pissing and Rebekah Dee
Posted on 10.22.16
Comments: 1 Comment


Tags: Female Desperation, Needapee, Outdoor Pissing, Peeing By River, Pissing Outdoor, Pissing Outdoors, Rebekah Dee, Skirt Peeing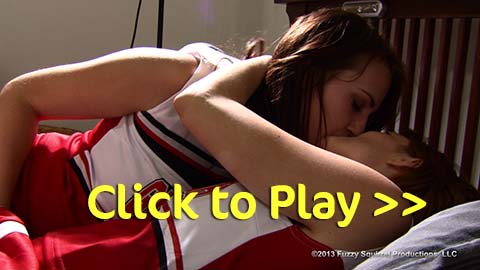 From HD Wetting we have a great lesbian cheerleader wetting movie starring Sosha and Alisha. They have come home from cheerleading practice and are horny. They get in bed still in their uniforms and start to make out. They are kissing passionately and then Alisha needs to pee, she has been holding on all through practice waiting for this moment. She lifts her skirt to expose her grey panties and we can see her bladder is bulging she really needs to pee.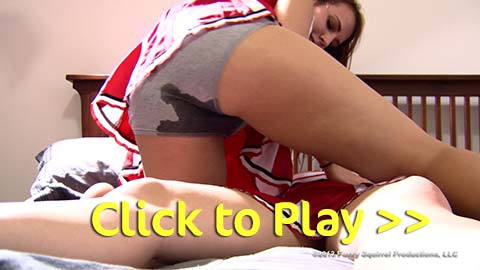 She has lifted her skirt and with her panties on show she moves so she is above Sosha. They are both so horny and then Alisha starts to pee into her panties all over Sosha. The grey of her panties goes dark and the warm pee soaks into the fabric. Sosha's cheerleading skirt is getting soaked. Alisha moves so she is now kneeling over Sosha and she is still pissing what a wonderful sight.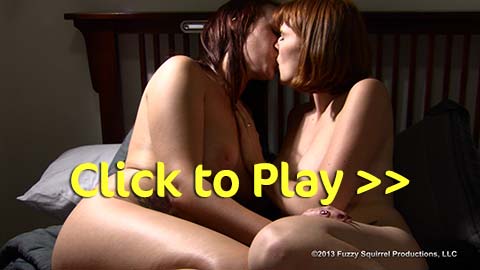 Alisha finishes peeing on Sosha and is so turned on. Sosha is pissy wet and the bed under her is damp too. They starts to inspect their wet uniforms and then strip them off showing us there pissy bodies. Now there is no stopping them, they are so horny after their piss play that they start to kiss and make out again. A super lesbian cheerleader panty peeing movie.

See Alisha And Sosha Cheerleader Panty Pee


Filed under: Dress Peeing and HD Wetting and Knicker Wetting and Lesbians Peeing and Movies and Peeing and Pissing and Pissing In Bed and Pissing In Skirt and Pissing Movies
Posted on 10.19.16
Comments: None


Tags: Alisha HD Wetting, Cheerleader Peeing, HD Wetting, HD Wetting Movie, Lesbians Peeing, Pissing In Bed, Pissing In Skirt, Skirt Peeing, Sosha HD Wetting, Uniform pee
From Vipissy We have three wonderful lesbian peeing sets. Vipissy really is the best pissing site for hot lesbian peeing action. We have had some dripping wet posts before with Dido Angel & Alexa Tomas Lesbian Pissing Antonia Sainz & Morgan Lesbian Pee Vipissy Blond Lesbian Pissing Vipissy and Very Wet Lesbian Pissing. Today we start off with the lovely Sweet Cat and Violette. These two blonds are dressed in sexy lingerie and they start to kiss and play with some wiped cream and then the pissing starts. Violette starts to pee on Sweet Cat's body and the cream is mixing with the warm pee making a wonderful mess. She then licks her pussy and all the pee from it. It is now time for Sweet Cat to pee on Violette and she soaks her while she is still wearing her lingerie, it is dripping wet when the piss flow stops. we then get to watch as they lick each other to orgasm and then Sweet Cat drinks piss from Violette's pussy. A super wet lesbian scene. See Sweet Cat and Violette Pissing Here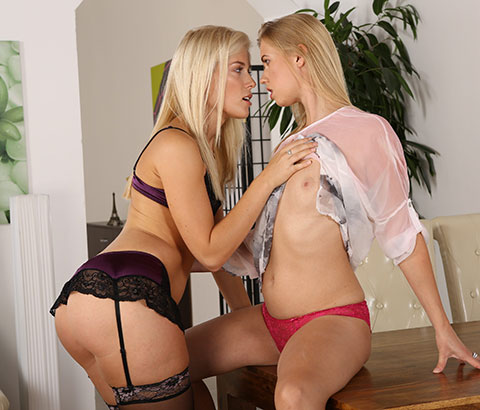 Next up we have Dafne & Oprah. They are playing chees and then Dafne exposes her pussy and pisses on the board oprah licks up the piss like a good girl and the wonderful lesbian piss fun starts. Oprah then pisses all over Dafne they then have some hot pissy pussy licking till it is time for some more piss drinking. This really is a wonderful wet lesbian scene. See Dafne & Oprah peeing here.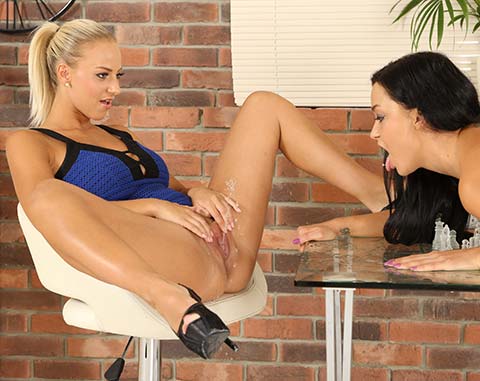 Last up we have Foxie T and Morgan in cosplay outfits  Mogan is dressed as a swat officer and has cat woman Foxie T arrested. Instead of taking her to jail she has been taken to the bedroom where she is pissed on. She is soaked in piss and her catwoman costume is soaked Morgan now horny drinks Foxies piss and they lick and play till they are both soaked in the warm nectar. This really is a fun Lesbian Cosplay pissing. See Foxie T and Morgan Pissing Here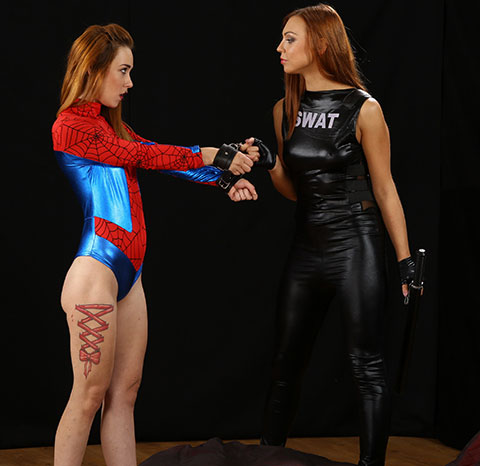 Filed under: Drinking Piss and Lesbians Peeing and Peeing and Pissed On and Pissing and ViPissy
Posted on 10.16.16
Comments: 1 Comment


Tags: Cosplay Pissing, Dafne Vipissy, Foxie T Vipissy, Lesbians Peeing, Morgan Vipissy, Oprah Vipissy, Piss Drinking, Pissing Pussy, Sweet Cat Vipissy, Violette Vipissy, ViPissy, Vipissy Pictures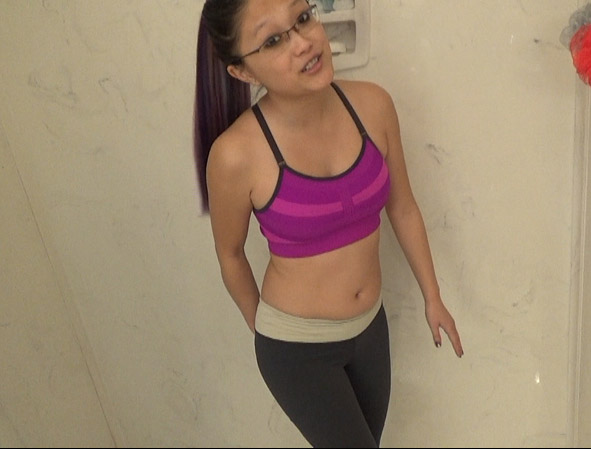 From Ineed2pee we have the wonderful Little Mina. We have had this little hottie in Lil Mina Peeing In Hooters Outfit where she was so cute and desperate. Today she is in leggings and a croptop and so desperate to pee. She has been holding on for ages and has gotten into the shower clothed. She starts to tease us and grabs her crotch, she is so desperate to pee just look at her face she is in pure agony. She holds on a little longer and then the first drips of pee starts to appear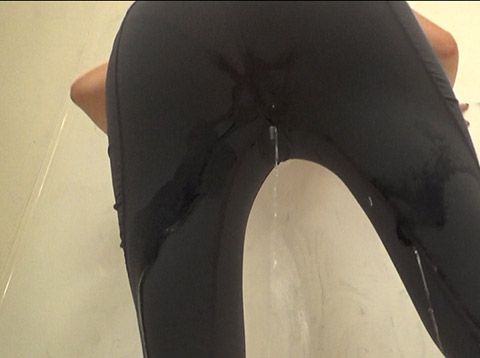 The story from Ineed2pee goes like this "Little Mina is back in this sexy, holding on purpose video where she teases you in her Victoria's Secret PINK panties and very tight Lululemon running tights. She's also wearing thick legwarmers & Adidas tennis shoes as she's holding her VERY bursting bladder. She barely held it for even 4 minutes before she's leaking uncontrollably into her panties & tights… what a HUGE gusher. You can even hear the hissing as she loses all bladder control & soaks her pants, legwarmers & sneakers with her knees knocked together! What a relief… there's a ridiculous amount of pee all over everything after she's finished wetting herself. "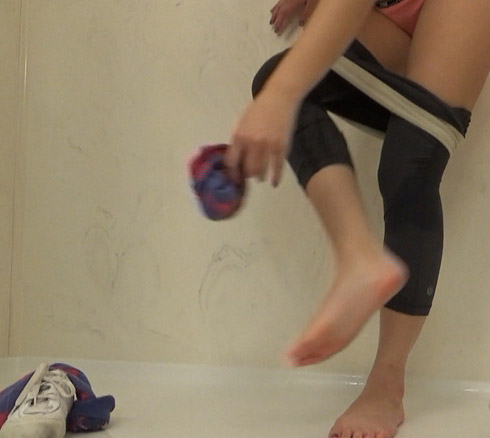 She has started to pee and it is flowing into her leggings making her crotch damp and then it starts to run down her legs. Her leggings are getting soaked and have little pee rivers in them and then her piss flow increases. She is so little but she has one big bladder. Her piss is cascading down her leggings soaking into her legwarmers and then soaking into her shoes. She is soaked when she finishes peeing herself. A super sexy female desperation and wetting
See Little Mina Desperate And Peeing Here

Filed under: Desperation and Female Desperation and Ineed2pee and Peeing and Pissing and Pissing In Leggings
Posted on 10.13.16
Comments: None


Tags: Desperate To Pee, Female Desperation, Ineed2pee, Ineed2pee Pictures, Lil Mina Ineed2pee, Pissing In Leggings, Pissing Leggings
From Real Wetting we have the lovely Claudia. She has just arrived home from work and she is desperate to pee. We have had this hottie in the past in Swimsuit Peeing From Real Wetting and Claudia Peeing In Her Shiny Tights Today she is in tight jeans and looking so sexy. She is walking up the path and grabs her crotch she really needs to pee. She hurries a little and gets to the door, she is now busting.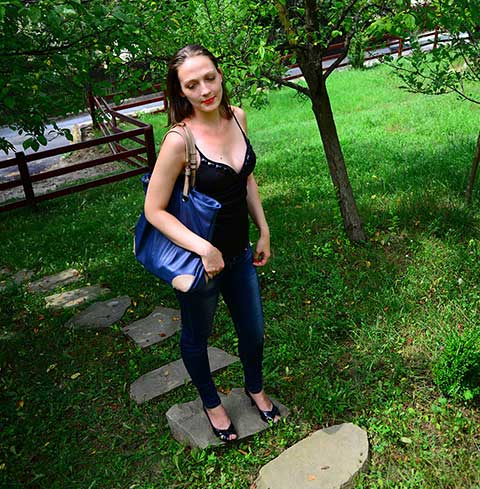 Claudia grabs her crotch and then looks in her bag for her keys she needs to pee now. She keeps looking but they are not there she squeezes her legs tighter together and then grabs her crotch. She is not going to be able to hold on. The waist band of her jeans is pressing into her bladder. She really is struggling and then it happens she loses control and starts to pee in her jeans.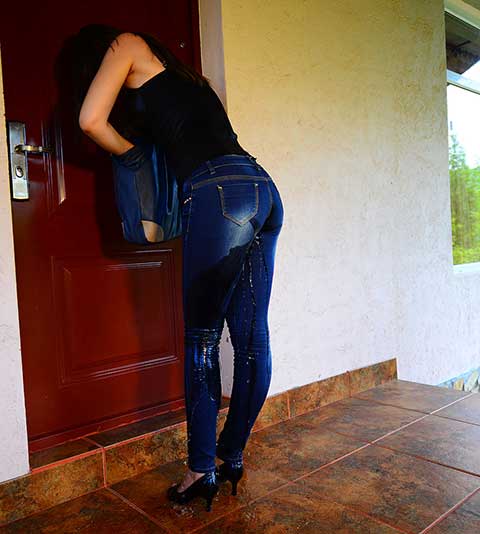 Claudia is peeing in her jeans, her piss is exploding through the denim and spraying everywhere. She has pee running down her legs and it is soaking into her shoes too. As she is peeing in her jeans the denim is getting the wonderful shiny look she really is one hot pissy mess. She finishes peeing in her jeans and as she stands there dripping she undoes them pulls them down and we get to see her piss soaked panties too. A super jeans wetting from Real Wetting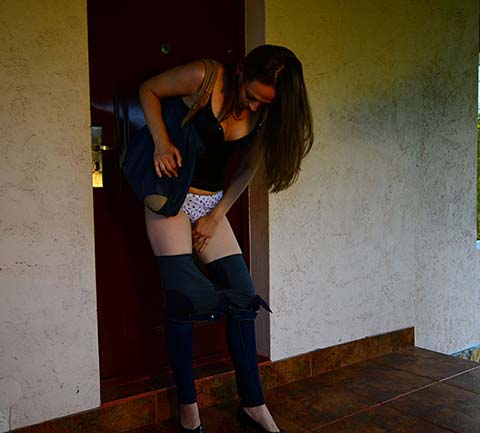 See Claudia Peeing In Here Jeans Here


Filed under: Audrey's Wetting Site and Desperation and Female Desperation and Jeans Peeing and Jeans Pissing and Peeing and Pissing and Pissing In Pants and Real Wetting
Posted on 10.10.16
Comments: 2 Comments


Tags: Audrey's Wetting Site, Claudia Real Wetting, Desperate To Pee, Female Desperation, Jeans Pee, Jeans Peeing, Pissing In Pants, Real Wetting, wetting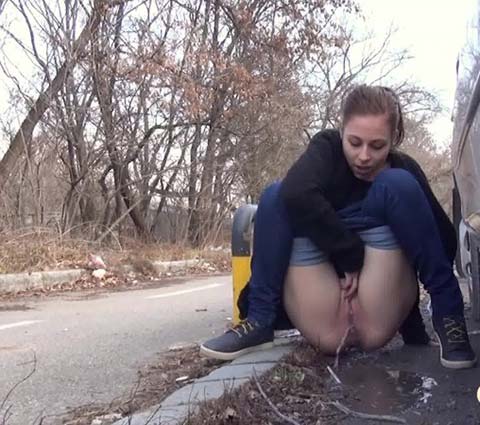 From Got2Pee we have the wonderful Antonia in three outdoor pissing scenes. We start off with her on the road and desperate to pee. She is such a cheeky girl and when she gets to the side of the car she undoes her jeans pulls them down and spreads her legs wide. We are getting a wonderful view of her pussy and then she starts to pee. Her pee is spraying out of her pussy and splashing everywhere. When she finishes pissing outdoors she shakes herself and then pulls her jeans up again. I bet there are little damp pee patches. See Antonia Peeing By the Car Here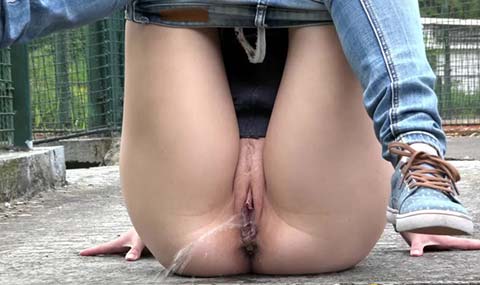 Next up we have Antonia on a path with some steps she walks to the top of them and then stops and looks around, she sees that no one is watching, she pulls her jeans and panties down. Antonia then lefts her legs up giving us a spectacular view of her shaved pussy. Staying like this she stars to piss. Her pee shoots out of her pussy and splashes all over the steps. She finishes pissing and has pee dripping of her bum and then she pulls some toilet paper out and wipes up all her pee drips. There will be no wet jeans today. See Antonia Peeing Off The Stairs Here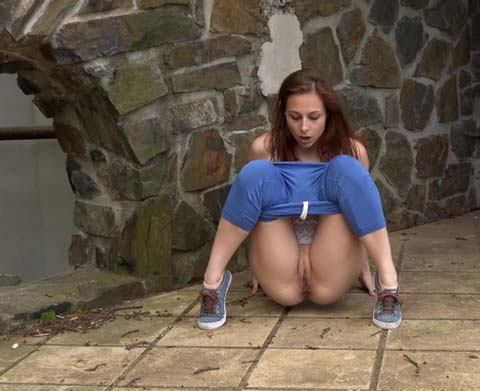 Last up we have Antonia on a path, she is desperate to pee and holding her crotch. She finds a quiet place pulls her leggings down and starts to pee. This must be such a great relive for her bulging bladder. She finishes pissing and wipes her pussy and then runs off. See Antonia Peeing Here


Filed under: Babes Peeing and Caught Pissing and Got2Pee and Outdoor Pissing and Peeing and Pissing and Pissing Movies and Pissing Outdoor
Posted on 10.06.16
Comments: 2 Comments


Tags: Antonia Sainz Got2Pee, Caught Peeing, Caught Pissing, Got2pee Movie, Outdoor Pissing, Pissing Movie, Pissing Outdoor, Pissing Outdoors, shaved pussy peeing, Sneaky Pee
A quick little piss story I came across


I stopped suddenly and brought you to a halt beside me. You look at me knowingly with a quirk of a grin lifting your lips. "What's the matter, sweetheart?"

I look at you and glance around. You know very well what the matter is, and we both know it. I glance around again and lick my lips a bit nervously. You had been plying me with delicious cold lemonade all day. They had been so refreshing that I had gladly drank down glass after glass. "I have to pee!" I whisper exaggeratedly.

However, only the whisper was exaggerated. My need to go pee that had been just an annoying urge, was now an overly full bladder. I looked around again. We were in the middle of a park with no washrooms in sight. I realize immediately that this had been your intention all along. I look back at you and sure enough you are full on smiling now.

"This isn't a joke! I really need to pee!" I lick my lips and search in vain for even an outhouse. We have been in this park many times and I know very well there is no washrooms of any form. There are a few people in the park in the distance. Some walking hand in hand like we had been doing. Others walking their dogs. Of course some joggers with earphones in their ears.

"I suppose you don't feel you can hold it until we get home?" You ask tauntingly. I don't look at you, but I shake my head side to side. I am trying to think of a plan.

Turns out I need not waste my efforts since you take my hand more firmly and begin to lead me off toward the trees. Each step is slightly excruciating as my full bladder bounces. You lead me into the trees a little ways. It feels sheltered. We had had sex many times in such areas. Close enough to others to be naughty, but hidden enough to be discreet.

You stop in a small clearing where there is actually a patch of soft grass. "You can go pee here."

I hold my nose up indignantly. You love when I am a bit haughty, and we both know it. "I have jeans on." I gestured to my stone washed jeans that hug my hips and ass perfectly. I look at you expectantly, as if you could suddenly make a full washroom complete with soap and hot water magically appear.

"Take them off." It sounds simple enough.

"I have no way to clean myself…" I pause. "After." My voice rings with annoyance. As if I am too good for the patch of grass you have brought me too.

"Let me handle that. Be a good girl and take your jeans and panties off." The command is soft, but a command nonetheless.

I shoot you a cross look, but comply, actually rather hastily since I am almost certain I am about to pee my pants. I chuck off the jeans and toss them over some bushes; my panties quickly follow. I stand in front of you naked from the waist down. You lick your lips like predator. Your eyes trail down my body. I feel my clit twitch in response, but my mind is already racing. How do I do this without getting a lot of pee on myself?

"If you hold my hands I guess I can squat." I say. My eyes round when you shake your head no. "Then what?" I ask.

"On your hands and knees. Spread your knees as much as possible and then kind of squat a little. The ground will quickly absorb your pee."

My jaw drops at your instructions, but there is no time to complain. I really need to pee and don't want it trickling down my legs. I get down into the position you have instructed, with my bum facing you. I feel a little slutty, and actually more than a little turned on. I glance over my shoulder to see you watching me intently. "Are you going to watch?"

"You bet I am."

I have no time to even pretend to care and slowly begin to release my pee. It falls between my legs to the grass beneath me. However, I suddenly staunch the flow in shock as your tongue slides over my tight little back entrance. I look back over my shoulder. You are on your hands and knees behind me now. In my urgent need to pee I hadn't even heard you move.

"Keep peeing." You instruct .

"I can't!" I protest.

"Yes you can. Be a good little slut and keep peeing."

My bladder is still quite full. I force myself to relax and sure enough the pee begins to flow again, but your tongue also returns to my asshole. Finally, after what feels like forever the pee stops and my bladder contracts several times after being emptied. I actually groan with relief and pleasure.

"Okay, so how do I clean myself now?"

You don't answer with words, but instead stand up and then lift me up as well. Pressing your body close to my back you bodily walk me to a tree. You press me to the tree and have me bend a little bringing my feet back from the tree. You tell me to spread my legs nice and wide. I know I look like a whore.

Quickly you are on your knees again and sliding your tongue up my thigh capturing small trickles of pee. I can see where this is going and my stomach flutters with excitement. You catch all the little droplets and then move your mouth to my wet pussy. You thoroughly lick me there, and I know I am more than clean.

Soon, I am panting and moaning. My breathing is heavy and fast. Your tongue is working rapidly over my swollen sensitive clit. I know I am going to cum. I push down onto your face as my nails clutch into the bark of the tree. A low keening moan escapes from me as my body, so tightly coiled, releases and sweeps me up in an incredible climax that leaves me feeling both weak and breathless.

When I turn, you are standing. I have to use the tree to support myself, but you hold me as well. "That..was…incredible." I mumble.

"I thought you were too good to pee in the woods?" You taunt.

"I am." I say in my most princess like tone. "I want to pleasure you." I look up at your sexy hooded eyes. I can see your need for release as well, but you shake your head.

"Not yet." You tell me.

We pull ourselves together and I put back on my panties and jeans. My knees feel a bit wobbly. Hand in hand we return to the path in the park and walk a ways more. Finally we come to another thicket of trees and brush. You stop and I look at you.

"I have to go." You explain. We both smile and head for the trees.

Once in the privacy of the trees you tell me to take off my jeans and panties. "Why? I don't need to pee again."

"Be a good girl and do as you are told." You growl sexily as you tug off your pants and boxers. I decide to do as I am told.

I watch you as you look around. Finally seeing something of interest you take my hand and lead me to a large rock. You sit me on it and spread my legs nice and wide. I am soaked there with pussy juice. You fingers me a little and then place those fingers into my mouth. Sucking my own essence from your fingers I look up at you.

You straighten your stance and take your mostly soft, but still long, cock in hand and aim in between my legs. My eyes round. You're not going to? You wouldn't? Sure enough, a hot stream of your pee shoots from your cock and directly between my legs. Who said men couldn't aim? I feel your hot pee running down over my pussy and down the rock I am sitting on. The jet like stream hits my clit and I gasp at the pleasure of it. When you stop I look up at you with big eyes. I had liked it. We can both see that.

"Clean me." You say.

I move off the rock and we step a few feet away to some soft ground. I kneel down, not caring about the wetness between my legs. I take your cock in my mouth and suck it softly. I can taste your urine and I decide I don't mind it at all. Then, much to my shock you release just a very little bit of pee into my mouth. My eyes round in surprise. You look at me intently. I can almost read your mind. What will she do now?

Feeling bold, I take my mouth off your cock without spilling any of the pee in my mouth. Looking you in the eye I swallow it. I stand and you take my face in your strong hands and we kiss. We share the salty taste of ourselves. We both delight in our naughtiness.


Filed under: Piss Stories
Posted on 10.02.16
Comments: None


Tags: pee story, pissing story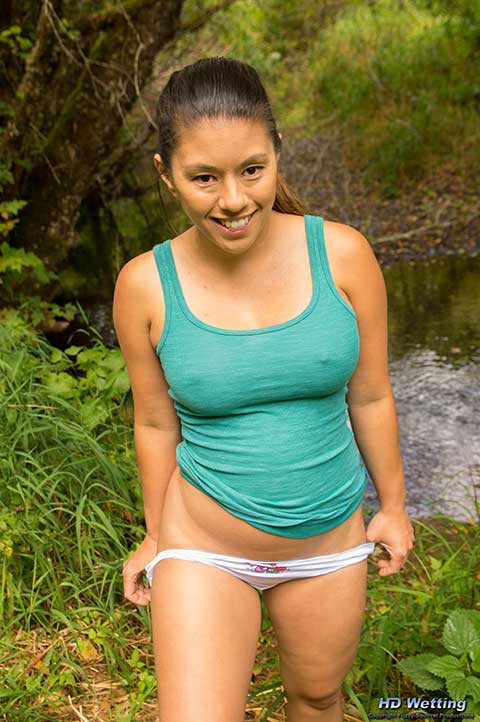 From HD Wetting we have the wonderful Nikko. We have had this hottie in the past with Peeing Fun From HD Wetting,  HD Wetting Jeans Peeing With Nikko,  Nikko Jeans And Shorts Peeing and Lesbian Peeing from HD Wetting Today we have some great photos with her. The first HD Wetting photos have her by a river, she needs to pee but is feeling a little playful so she teases and shows us her wonderful breasts. Then standing there in her hello kitty panties she starts to piss. She is pissing in her white panties and her pee is nice and yellow. It is flowing into her panties and then running down her legs. When she finishes peeing she pulls her piss soaked hello kitty panties forward and we get to see the soaking crotch of them and her pissy pussy.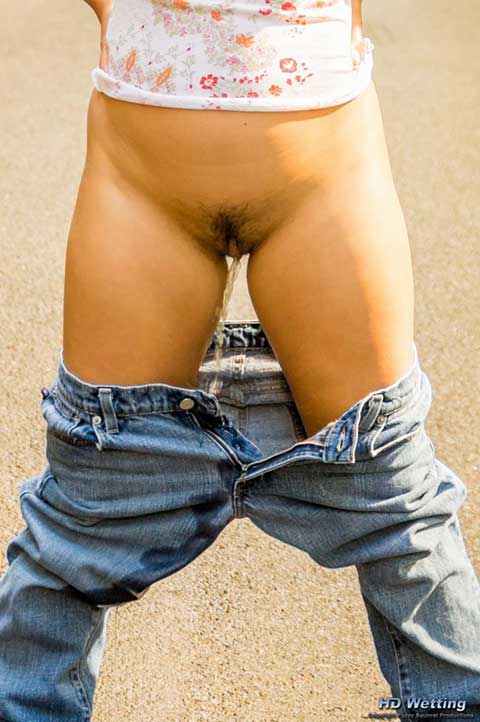 Next up Nikko is on a road in her jeans and she needs to pee. She could go to into the bushes and relieve herself but where would be the fun in that. She undoes her jeans and then pulls them down half way to expose her hairy pussy. Standing on the road she starts to piss, her piss explodes out of her vagina and hits her half pulled down jeans. The denim is starting to get soaked and then when she finishes pissing she pulls them back up and stands there in her piss soaked jeans showing us what a dirty girl she is.

Last up we have Nikki in her panties on the bed. She is topless and her bladder is bulging. She kneels down and in her panties and starts to pee. Her pee is soaking into her purple panties giving the crotch a wonderful dark look. Her pee is flowing through her panties onto her bed, what a mess she is making. When she finishes peeing into her panties she lies down in her piss puddle on the bed showing her wet pissy bottom.


Filed under: HD Wetting and Knicker Wetting and Outdoor Pissing and Panty Pee and Peeing and Pissing and Pissing In Bed and Pissing Outdoor
Posted on 09.29.16
Comments: None


Tags: HD Wetting, Knicker Wetting, Nikko HD Wetting, Outdoor Pissing, Panty Pee, Panty Peeing, Topless Panty Pee, wetting
Today we have something a little different from Piss Domination. It stars Bella Bathory as your wife. She stands above us and starts to talk she is teasing us. This is a great toilet slave feminization POV pee video and Bella look hot in her white underwear. She starts to talk and tease showing her breasts. She then pulls down her panties and sits on the toilet seat above us. She lets out a little piss and then stops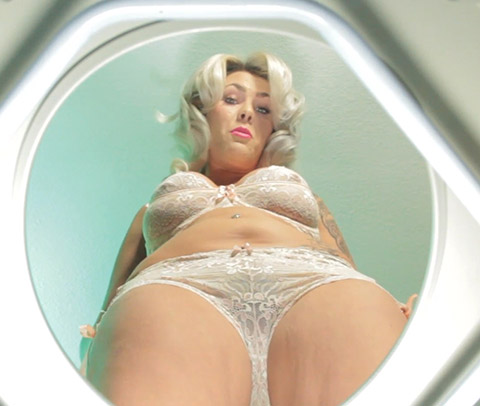 The story from Piss Domination goes like this "Look at you. This is what I come home to? I come home after a long day's work and see you going through my panty drawer. Did you put my pretty ruffly panties over your disgusting cock? Don't lie to me I watched you standing in front of the mirror, tucking your cock like a little fucking sissy bitch. I thought I married a man, but it turns out you're nothing but a sissy bitch. I think I'm just gonna make you my sissy toilet slave from now on, how does that sound?" Bella Bathory is amazing in this toilet slave feminization POV pee video"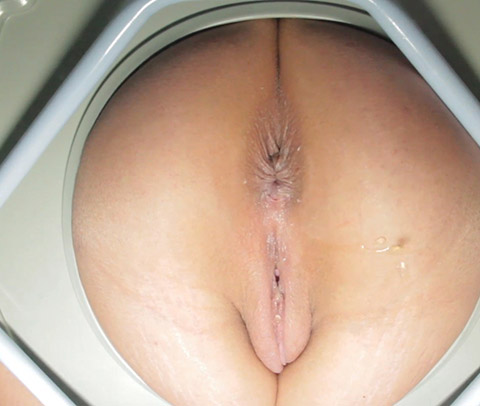 She is sitting on the toilet seat above us and starts to pee again. Her piss is golden and starts to splash down we are getting one amazing view of her pissing pussy it is getting all soppy. She finishes pissing and then stands up just look at her pissy pussy and then she turns around looking at us with her pussy above us. Super fun from Piss Domination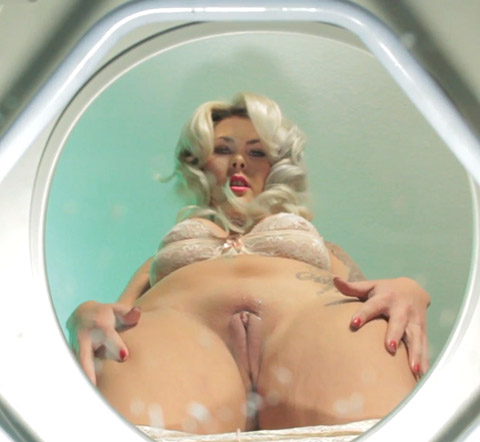 Filed under: Peeing and Piss Domination and Pissed On and Pissing
Posted on 09.26.16
Comments: None


Tags: Bella Bathory Piss Domination, Piss Domination, Pissed On, POV Toilet Play, shaved pussy peeing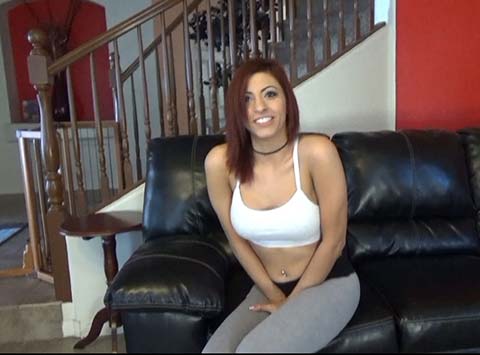 From Ineed2pee we have a new hottie Shavelle Love. This is her first ever wetting on camera so we are in for a real treat. She is in her leggings and real desperate to pee. The waist band of the leggings are pressing into her bladder and she is finding it hard to hold on she presses her hands between her legs trying to and then she presses her bladder before she turns around and starts to leak a little pee into her tight grey leggings. There is the start of a wonderful dark pee patch.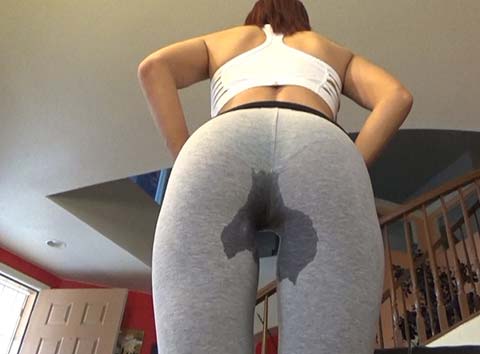 The story from Ineed2pee about this female desperation and wetting update goes like this "I got to shoot with Shavelle Love, a newbie pornstar & this is her first ever wetting! She really held a lot but got a little pee shy at the end, even though her bladder was bursting to the brink, so she was wetting in large spurts! It looks super good from the back… her pent up pee on the cotton yoga pants. She has the best pissy cameltoe ever! Even though her first wetting was a little spotty, stop & go, her NEXT wettings that I'll be uploading to the site are EPIC with lots of flowing piss into her panties & pants… like seriously hot!! So this is the very beginning of a soon to be famous wetter! Stay tuned…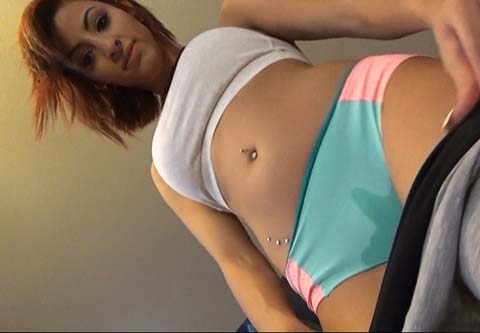 She has started to pee in her leggings and she lets out a big spurt of piss it explodes into her leggings and soaks into the tight fabric. The piss patch is growing and her leggings are now shining with piss. She lets out another spurt and has pee running down her legs soaking her feet. The piss is glistening in the light and when she turns around she has a dripping wet pissy camel toe. She then pulls her piss soaked leggings down and we can just make out her pissy pussy through the soaked fabric of her piss soaked panties. A great wetting and it will be wonderful to see more of her in the future

See Shavelle Love Peeing Herself Here


Filed under: Babes Peeing and Desperation and Female Desperation and Ineed2pee and Peeing and Pissing and Pissing In Leggings and Pissing In Tights
Posted on 09.22.16
Comments: 2 Comments


Tags: Desperate To Pee, Female Desperation, Ineed2pee, Piss Camel Toe, Pissing In Leggings, Pissing Leggings, Shavelle Love Ineed2pee, wetting