From HD Wetting we have the wonderful Alisha. We join her when she is outdoors with the woods behind her and busting for a pee, she is also horney. She starts to masturbate and finger herself. She is getting so carried away that she forgets how desperate to pee she is and she starts to pee. She is playing with herself and peeing. Her shorts start to drip piss and she starts to cum. When she finishes peeing she pulls her piss soaked shorts down and we can see her pissy pussy too. See Alisha Peeing In Her Shorts Here
Next up we have Alisha indoors and in her panties. She is indoors and her panties are tight against her pussy. As she stands there she starts to pee. The crotch of her panties goes dark and then a river of piss flows through. Her pee is splashing on the ground and soaking her feet too. When she finishes pissing in her panties she starts to rub her pissy crotch till she cums. See Alisha Pissing Her Panties Here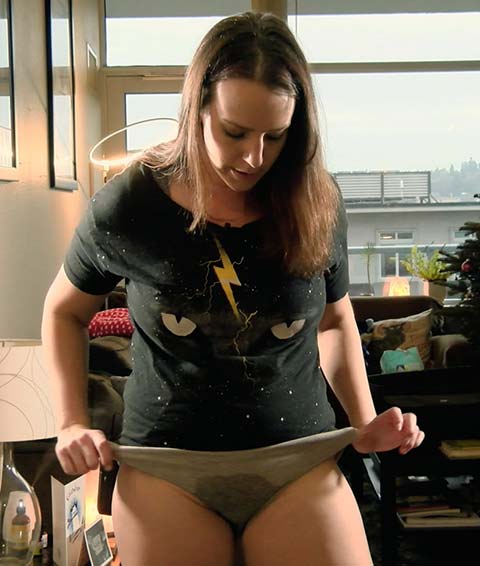 Last up we have Alisha in her jeans. Once again she is inside and her bladder is bursting. As she stands there she starts to pee. The denim instant ally goes dark and starts to shine. As she keeps peeing her legs are getting more and more pee drips and then she is soaking them and the denim is soaked. When she finishes peeing in her jeans she unzips them to show us her wet pissy panties too. See Alisha Peeing In Jeans Here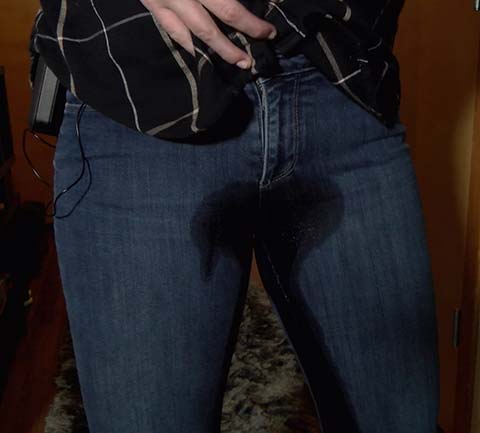 Filed under: HD Wetting and Jeans Peeing and Jeans Pissing and Knicker Wetting and Panty Pee and Peeing and Pissing and Pissing In Shorts and Pissing Pictures
Posted on 01.15.19
Comments: 3 Comments


Tags: Alisha HD Wetting, HD Wetting, Jeans Pee, Jeans Peeing, Knicker Wetting, Panty Pee, Panty Peeing, Peeing Pictures, Pissing In Shorts, wetting
From Real Wetting we have the wonderful Dee. We have had this wonderful wetter previously and if you have missed her check out Dee Peeing In Red Leggings. Dee Peeing In Her Shorts Waitress Desperate And Pissing Herself  and Dee From Real Wetting Jeans Pee. Today she is out rollerblading dressed in purple pantyhose with shorts over the top. She is desperate to pee but is going to hold on till she has finished as she is enjoying herself so much. You can see that she is desperate as she is not concentrating on what she is doing as much as she should be.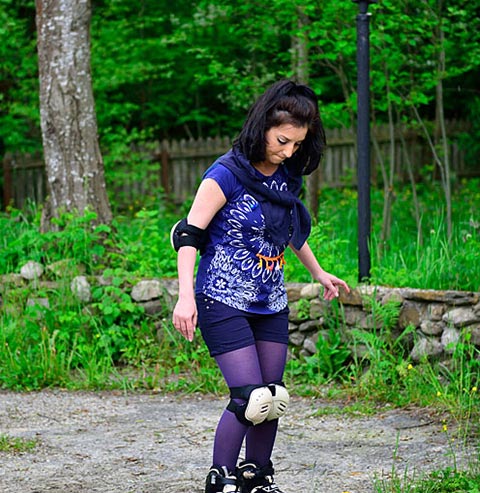 Dee glides around and she is getting more and more desperate. She has to stop and she leans over a little trying to hold her pee in. She starts to move again and then stops. Her bladder is protesting. She is so full of pee and then as she is bent over she starts to pee and we get to see the start of her pee flowing into her shorts and pantyhose there is the tell-tale dark patch.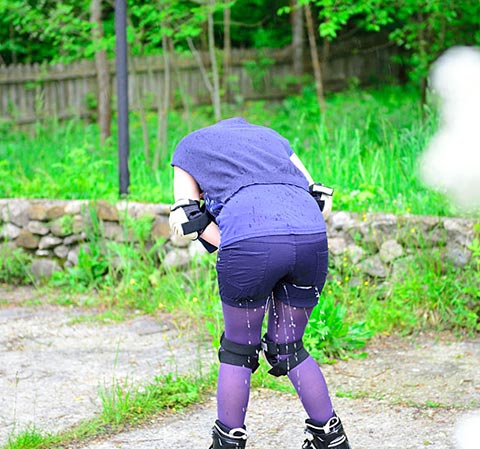 Dee has started to pee in her shorts and the fabric is going dark. The piss steam starts off slow and then erupts so she has piss spraying out and her pantyhose have rivers of piss running down her legs. Her kneepads are getting soaked and pee is even flowing into her rollerblades. What a mess she is making. When she finishes pissing, her shorts are soaked and her pantyhose have rivers of pee. What a sexy mess she is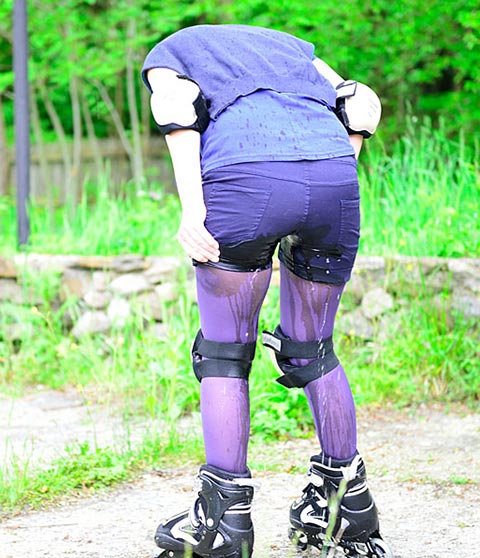 See Dee Peeing Her Shorts And Pantyhose Here


Filed under: Audreys Wetting Site and Babes Peeing and Desperation and Female Desperation and Outdoor Pissing and Pantyhose Pissing and Peeing and Pissing and Pissing In Shorts and Pissing Pictures and Real Wetting
Posted on 11.07.18
Comments: 2 Comments


Tags: Audrey's Wetting Site, Dee Real Wetting, Desperate To Pee, Female Desperation, pantyhose peeing, Pantyhose Pissing, Peeing Pictures, Pissing In Shorts, Real Wetting, shorts peeing, Shorts Pissing, wetting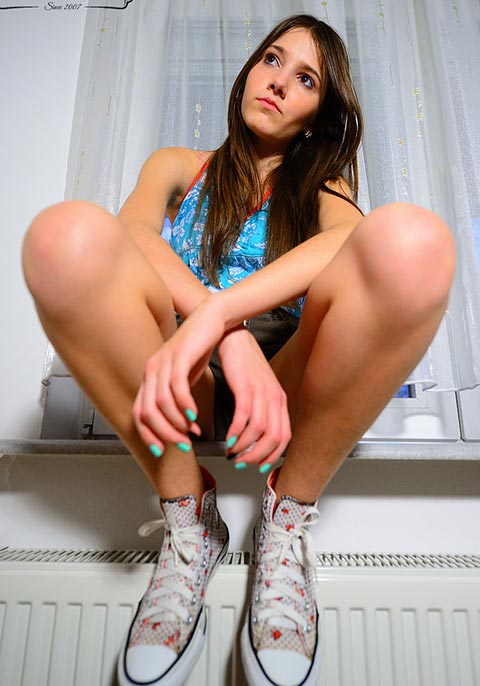 From Real Wetting we have the very cute Beatrice. We have had this hottie previously in Peeing In Pantyhose From Real Wetting – Peeing In Her Panties From Real Wetting – Beatrice Peeing In Her Denim Shorts and Pantyhose and Dress Pissing Real Wetting. Today she is in her shorts and sitting on the window sill. She is loving the feeling of her full bladder. She spreads her legs wide and the fabric of her shorts tighten against her pussy. She looks so sexy sitting with her legs wide open.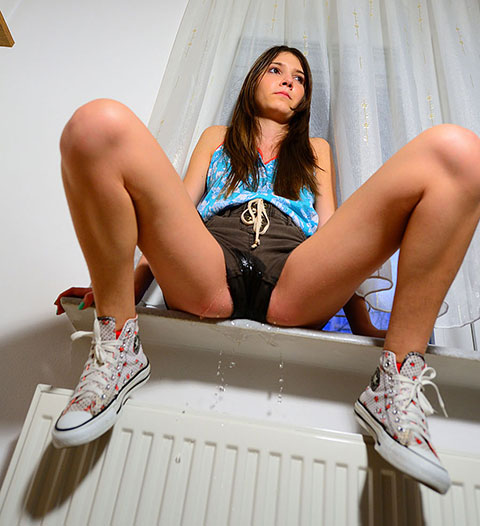 She is sitting on the window sill, her legs are wide open and then she starts to pee. As soon as she starts to piss her pee explodes out of her shorts and cascades onto the ground. The crotch of her shorts is going dark and her piss flood keeps on flowing.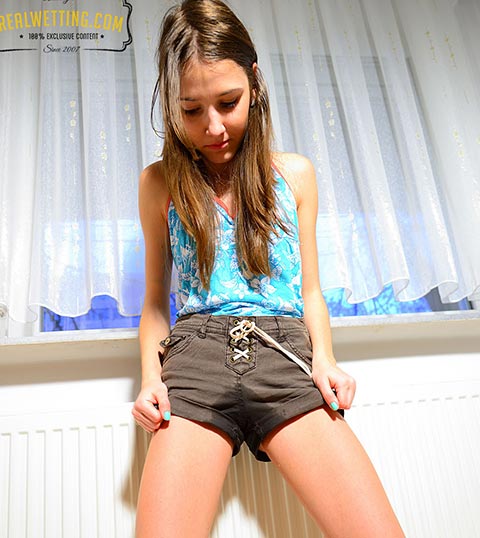 She is pissing so much and her shorts are getting soaked. There is so much piss that there is a lovely wet shimmer as it flows out. It is great looking up at her pissing in her shorts with pee drips falling down. When she finishes pissing herself she gets down from the window sill and stands showing off her piss soaked brown shorts. A super piss from Real Wetting.

See Beatrice Pissing In Her Shorts Here


Filed under: Audreys Wetting Site and Babes Peeing and Desperation and Female Desperation and Peeing and Pissing and Pissing In Shorts and Pissing Pictures and Real Wetting
Posted on 04.21.18
Comments: 2 Comments


Tags: Audrey's Wetting Site, Beatrice Real Wetting, Desperate To Pee, Female Desperation, Peeing Pictures, Pissing In Shorts, Real Wetting, shorts peeing, Shorts Pissing, wetting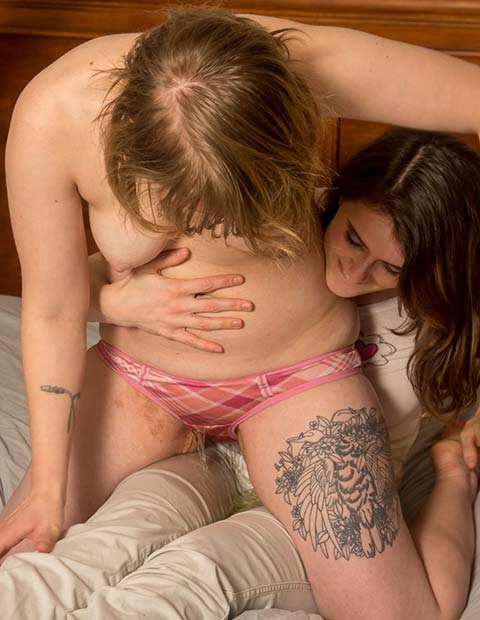 From HD Wetting we have new model Lyra. It's been a while since HD Wetting had a new model on the scene and Lyra looks like she is going to be fun. We start off with her and Sosha in the bed. Lyra is topless and in panties while Sosha is fully clothed. Lyra straddles Sosha and then she starts to pee in her panties. The pee explodes through the panties and starts to pool on Sosha's lap. The golden liquid grows and her panties are sopping, they kiss and when she finishes peeing her panties and they both look so turned on. See The Lesbian Panty Pee In Bed Here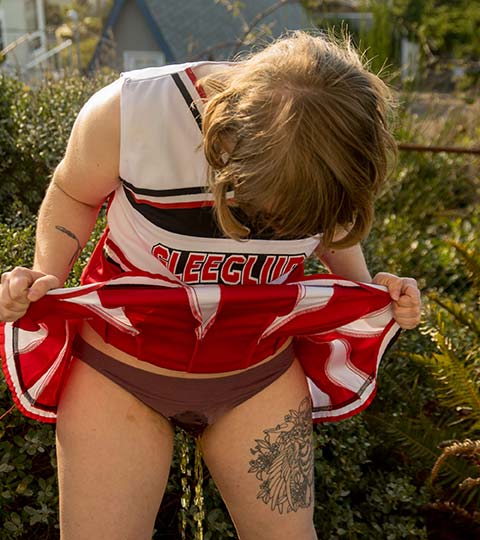 Next up Lyra is in a cheerleader uniform and desperate to pee. She has been holding for ages and then when her bladder is nearly bursting she lifts up her skirt and starts to pee. Her panties are instantly flooded and there is a great dark pee patch growing. Her pee stream gets stronger and piss is spraying everywhere. Her finishes peeing she stands there holding her skirt with her panties dripping. See Lyra Peeing In Her cheerleader Outfit Here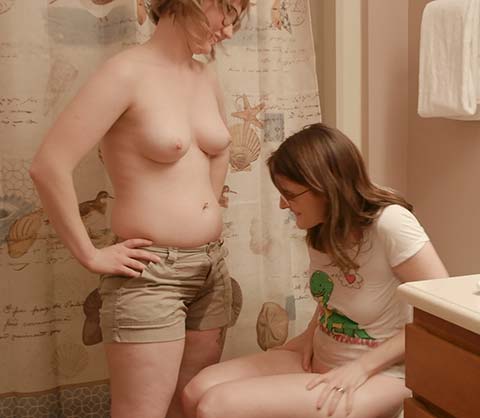 Last up we have Lyra and Sosha in the bathroom. Sosha is on the toilet when Lyra walks in. She needs to pee and is not going to wait, she straddles Sosha sitting on her lap and starts top pee in her shorts. She is soaking herself and also Sosha who is under her. The piss is splashing everywhere. When she finishes Sosha is so horny that she rips Lyras clothes off and they both starts to finger each other. See Lyra And Sosha Peeing Here


Filed under: Babes Peeing and HD Wetting and Knicker Wetting and Lesbians Peeing and Panty Pee and Peeing and Pissing and Pissing In Bed and Pissing In Shorts and Pissing In Skirt and Pissing Outdoor and Pissing Pictures
Posted on 02.26.18
Comments: 8 Comments


Tags: Cheerleader Peeing, Lesbians Peeing, Lyra HD Wetting, Panty Pee, Panty Peeing, Pissed On, Pissing In Shorts, Pissing In Skirt, Shorts Pissing, Skirt Peeing, Sosha HD Wetting, wetting