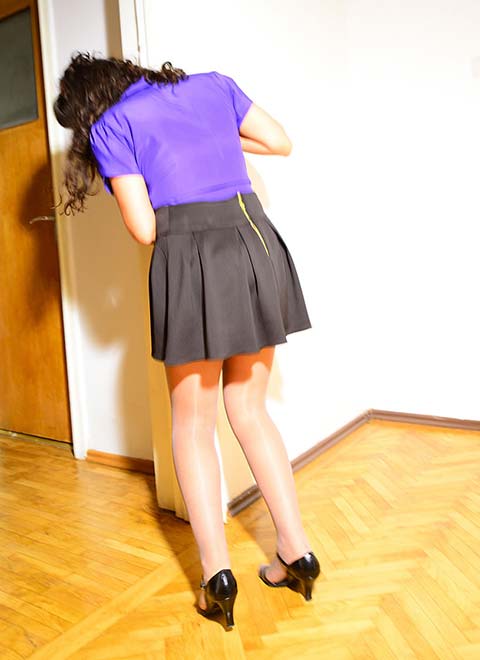 From Real Wetting we have the wonderful Sara and today she is wearing a skirt pantyhose and is drunk. If you have missed some of her previous super sexy wettings check out Sara Bound And Pissing In Her Pants where she floods her pants in piss. Sara Pissing In Her Jeans Outdoors she is out in her jeans sitting on a rock where she pees.  Sara Peeing In Her Pants where she floods her pants in piss till they are shining and one of my all time favourites, Sara Peeing In Her Jeans From Real Wetting. Today she has arrived home and is drunk she is in a short skirt and pantyhose desperate to pee. She is staggering around and is so desperate to pee that she is not going to make it to the bathroom in this state.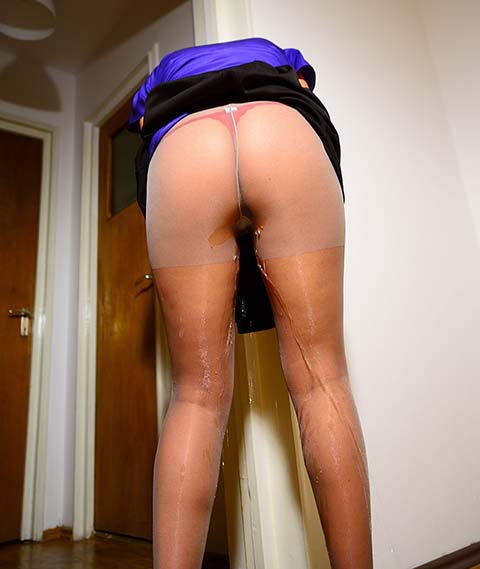 Sara is leaning against the wall and she has pulls her short skirt up so we get to see her shear pantyhose and G-string underneath. As she is standing their she starts to pee. Here pee flow starts slowly and she has a couple of little pee drips running down her inner leg. The nylon from the pantyhose is getting dark and then her bulging bladder releases more and her piss starts to flow down her legs and into her shoes. Her warm pee streams look wonderful as they cascade down her legs and then she manages to stop her flow.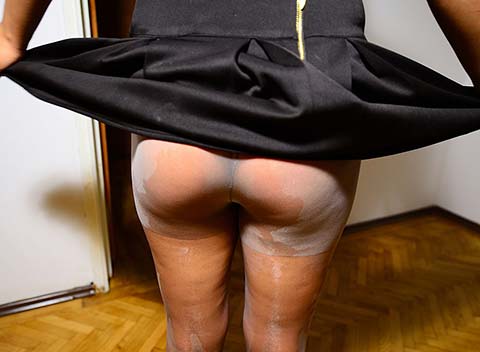 She is to drunk to stand but at least she has stopped her piss flow. She kneels down and starts to sit and then she can't hold on and starts to pee into her pantyhose again. The crotch of her panties and pantyhose is soaked and her piss is splashing on the floor, she is kneeling in her piss puddle. This is one great pantyhose pee she is soaked and her g string is dripping, she manages to stand up and then she lifts her skirt up again and we get to see how soaked in piss her bottom is. A really super sexy wetting.

See Sara Desperate And Pissing Here


Filed under: Audreys Wetting Site and Desperation and Dress Peeing and Female Desperation and Kinkyhousewife and Panty Pee and Pantyhose Pissing and Peeing and Pissing and Pissing In Skirt and Pissing Pictures and Real Wetting
Posted on 10.25.16
Comments: None


Tags: Audreys Wetting Site, Desperate To Pee, Female Desperation, Knicker Wetting, Panty Pee, Panty Peeing, Pissing In Skirt, Real Wetting, Sara Real Wetting, Skirt Peeing, wetting
From Wetting Her Panties we have two great knicker wetting movies. These are older movies but they are great and there is a whole series of them with Harmony at Wetting Her Panties. the first movie has the four of them in the bushes  they are having a great laugh and then Harmony lifts up her skirt and while she is being encouraged by her friends she starts to pee in her panties. She stops and turns around and with more panty peeing encouragement starts to knicker wet again her pee is flowing through the fabric and splashing on the leaves. See Harmony peeing in her panties here.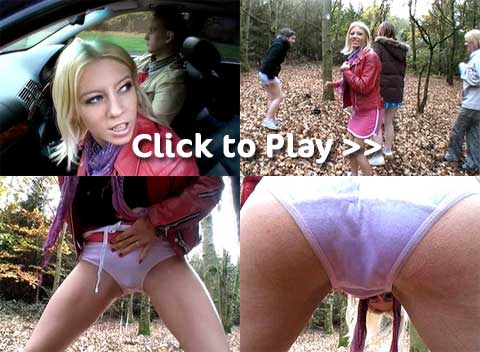 The next Knicker wetting movie stars Harmony again she is now in purple panties and sitting on a fence she starts to pee and her pee is flowing through her panties making the crotch dark and then running down her legs. Her friends are having such a great time as she is peeing in her panties outdoors. She finishes peeing and then her friend sitting beside her lifts her skirt and starts to pee in her pink panties too. this is a lovely panty pee  her panties are getting the lovely pee scene and are clinging to her pissy pussy she finishes peeing  gets off the fence and they walk off in there pee soaked panties. See the double panty pee here.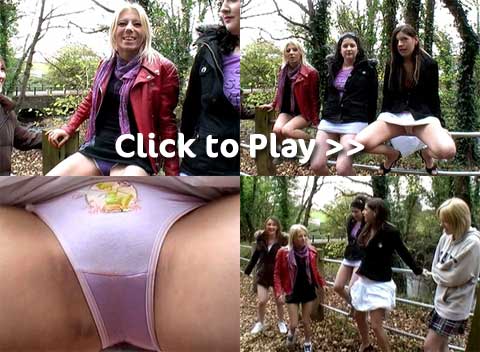 Last up is the latest wetting her Panties trailer movie. This is a great way to see all the latest wetting her panties movie that are on the website. Wetting her panties really is the best knicker wetting website out there. They still have their live webcam and the new design is great. See the Wetting Her Panties trailer here.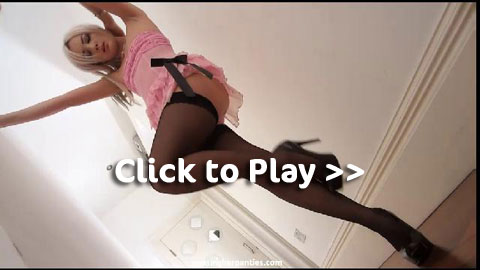 Filed under: Kinkyhousewife and Movies and Outdoor Pissing and Panty Pee and Peeing and Pissing and Pissing In Skirt and Pissing Movies and Pissing Videos and wettingherpanties
Posted on 05.05.13
Comments: 2 Comments


Tags: Harmony Wetting Her Panties, Knicker Wetting, Outdoor Pissing, Panty Peeing, Pissing Movie, Skirt Peeing, wetting, wettingherpanties
A couple of pissing movie from kinky housewife
In the first piss movie she slowly strips off then spreads herself and lets her stream of piss. A nice pissing movie from knikyhousewife
The second piss movie from kinkyhousewife is of her getting her pussy pissed on. I always like seeing pussies being pissed on and her we are she strips off spreads wide and gets pissed on
Kinky housewife is brought to us by the same people who did cheatingxxxwife. This is a truly amateur site intimate filming and action from people who love Watersports. Kinkyhousewife is well worth checking out even if just the trial membership to see this hot new amateur pissing movie site
Click here to see this hot new pee site


Filed under: Kinkyhousewife and Movies and Peeing and Pissed On and Pissing and Pissing In Vagina and Pissing Videos
Posted on 01.11.08
Comments: 1 Comment

I know I only posted the video from the new site kinkyhousewife a couple of days ago but I found this set of photos and had to share them. Anisha is in the bathroom with her legs spread wide and she is spraying a great stream of piss. She must have been desperate to pee as there is a lot of piss spraying out. Look how wet with piss her pussy becomes I really do love the look of a pussy soaked in piss and here she is the piss is dripping off her. It is as if she has been sprayed in piss by someone else but no it seems to be all her doing. She is really going to become a piss star if she keeps going like this. You can see more of her at her site Kinky housewife she has some free videos there too but I hope that I will be able to post some more pissing movies of her as she is one hot piss model


Filed under: Kinkyhousewife and Peeing and Pissing
Posted on 11.18.07
Comments: 1 Comment