From HD Wetting we have a wonderful lesbian peeing movie starring Sosha Alisha and Carly. We have had the photos of this wonderful lesbian panty pissing in Lesbian Panty Peeing on The Bed Today we are lucky enough to get to watch the full movie. This has to be one of the best lesbian panty pissing movies that we have had here. We start off with Sosha tied on the bed and topless. All she has on is her panties.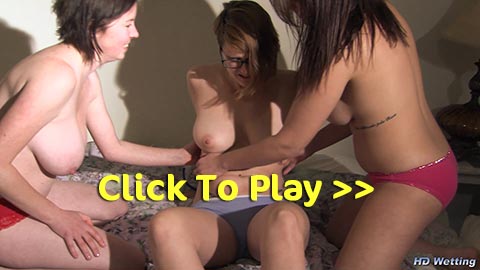 Sosha is on the bed and Alisha and Carly start to tickle her, she squirms and then squeals until she is pissing her blue panties. She keeps peeing until they are so soaked she is in a puddle of her piss. Her panties are shining and clinging to her pussy. No sooner than she has finishes pissing in her panties Alisha straddles her leg and starts to pee her panties over her leg. Sosha is now getting soaked in warm pee and the piss puddle is getting bigger and bigger.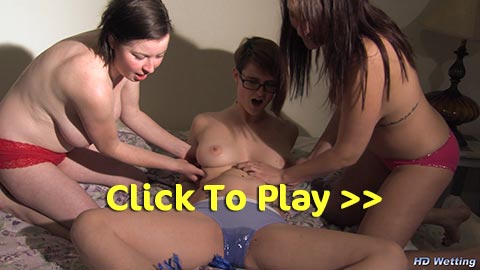 Alisha finishes pissing on Sosha and now it is Carly's turn she pisses through her panties over Sosha too. Sosha is now one pissy mess. Carly finishes pissing on Sosha and then they cut Sosha's piss soaked panties off. As soon as the panties come off we can see that Sosha's pussy is wet with piss and she is aroused Carly stars to lick and finger Sosha while Alisha licks her tits. This is wonderful threesome lesbian action. Alisha and Carly work on Sosha till she cums in her piss soaked bed. Could a lesbian panty pee get much better than this? Thank you HD Wetting.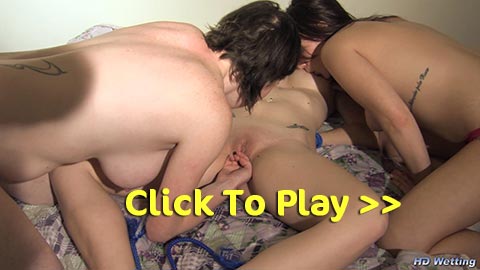 See The Lesbian Threesome Click Here