It's been ages since we have had the wonderful Rebekah Dee from Needapee. She really is one of my all-time favourite pissing ladies and if you have missed some of her peeing antics check out Needapee Pissing Movies, Outdoor Peeing With Rebekah Dee, Rebekah Dee Peeing From Needapee, and Peeing With Rebekah Dee from Needapee Today she is in the street and desperate to pee. We know that she loves a sneaky pee and today is no different. She is dressed a single and a short skirt so we know that we are going to be in for a pissing treat. She is desperate to pee and holding her crotch as she veers off the street and finds a little alleyway.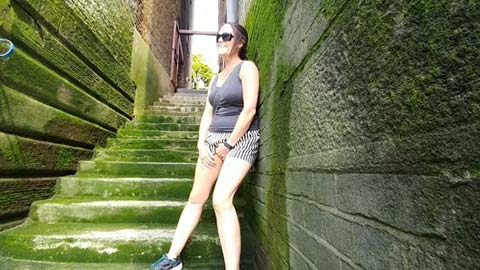 We are following her as she is desperately walking down the alleyway, there is no one around and she keeps walking till she finds some secluded stairs that are leading down to the river. She holds her crotch again we can see that she is loving the full bladder feeling and then she lifts her skirt up and pulls her panties to the side.
She is exposed out here, if there was a boat going by they would see her exposed pussy. Standing there with her panties pulled to the side she starts to pee. Her piss explodes from her pussy and it starts to splash on the ground, how wonderful is this she is out in public having a sneaky pee by the river. As the piss splashes on the ground her shoes will be getting little piss drips on them. When she finishes pissing she lets her panties move back across and her skirt comes down. I bet her panties have a little damp pee patch too. Once again another wonderful public piss from Rebekah Dee of Needapee.
See Rebekah Dee Pissing By The River