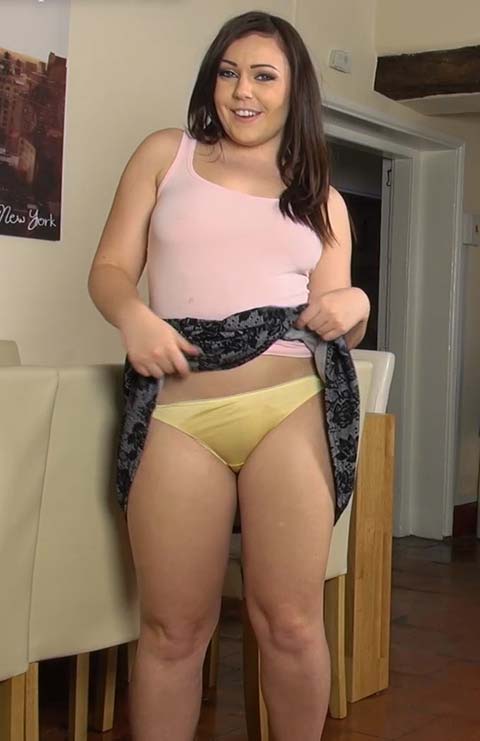 From Wetting Her Panties we have the wonderful Kacie. We have had some great posts with this hottie in the past and if you have missed them check out Pissing In Her Denim Shorts Knicker Wetting With Kacie Kacie From Wetting Her Panties Knicker Wetting and Kacie Peeing In Her Jeans. Today it is a little different she is in a skirt and a slightly see through top. When she lifts up her skirt to show her panties they are already wet. In the Wetting Her Panties movie she tells us that she was shopping and so desperate to pee that she lost control and peed in her knickers. She has kept her piss soaked panties on to give us a treat. You can make out the old damp pee patch in her panties and they are also giving her a great camel toe.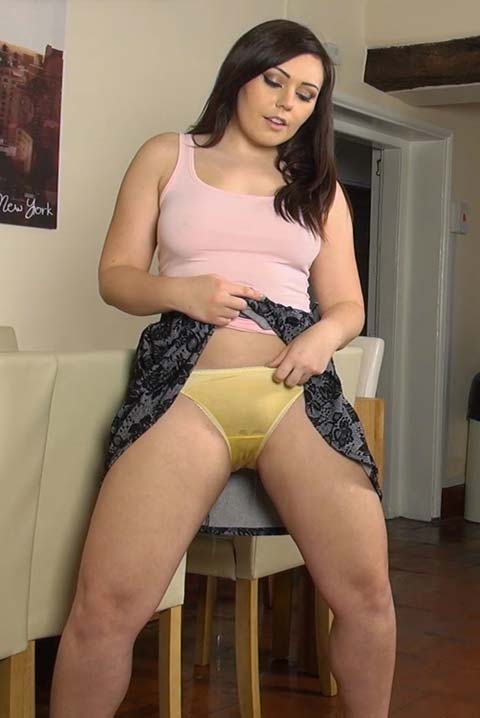 She stands there and then starts to pee. We get to see the first drips of pee soak into the cotton but the pee patch as she is peeing is not so pronounced as her panties are already wet. As her knickers are piss soaked as she is peeing her panties are already going a little see through and we can make out her pussy. The piss is running down her legs and she really does look she is enjoying herself as she pisses in her panties.

Kacie is really soaking her panties in piss and the cotton is getting more and more soaked. Her piss is splashing on the floor and pooling at her feet. Heer panties are now nearly fully soaked. She finishes peeing in her panties and they are dripping wet she turns around and leans over and what a wonderful sight. Her panties are clinging to her bottom what a kinky panty pisser. It's a pity we never get to see her pull her panties down to show us her pissy pussy. A great panty re wetting from Wetting Her Panties.

See Kacie Peeing Her Panties Here

Visit Wetting Her Panties Click Here


Filed under: Knicker Wetting and Panty Pee and Peeing and Pissing and Pissing In Skirt and wettingherpanties
Posted on 04.21.16
Comments: 1 Comment


Tags: Knicker Wetting, Panty Pee, Panty Peeing, Pissing Panty, Skirt Peeing, wetting, wettingherpanties
From Ineed2pee we have a great new model Chloe. I do love how Ineed2pee keeps finding new ladies that are happy to show how desperate they can get before peeing themselves. Chloe has arrived home and is desperate to pee. She tries to get into the bathroom but the door is locked, she is so desperate to pee she has her legs crossed tightly. She really is trying her best hard to hold on.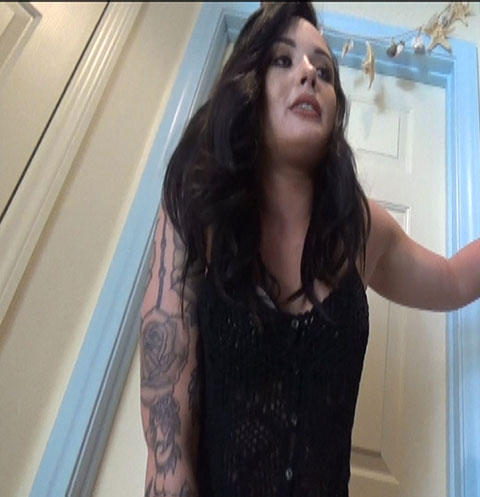 The story from Ineed2pee goes like this " I was happy to bump into brand new model from the East Coast named Chloe & this was literally her first shoot ever AND the first time wetting her pants! She's only 19 years old and such a cutie! She was a little shy on camera but had plenty to say & had a cute little pee pee dance. Once she started peeing it was a HUGE puddle that flowed under the door, which was hard to capture. Oh well. There's more to come with the lovely & shy Chloe soon!"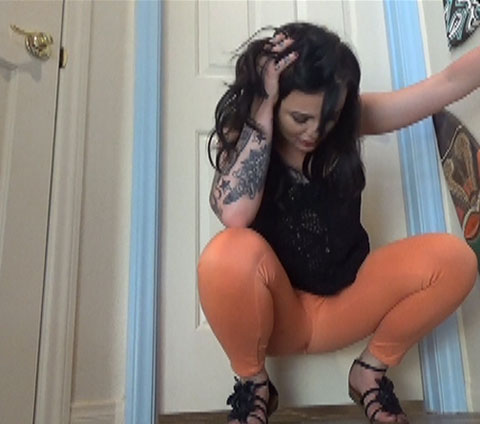 Chloe is just to desperate to hold on she squats down and starts to pee in her pants. Her piss is soaking into the fabric and pooling at her feet. She looks so sexy peeing herself with her tattoos on show. She finishes peeing and her pants are soaked she has a great big pee patch on her bum and then she pulls her pants down to show her white piss soaked panties. A great first wetting from this shy hottie.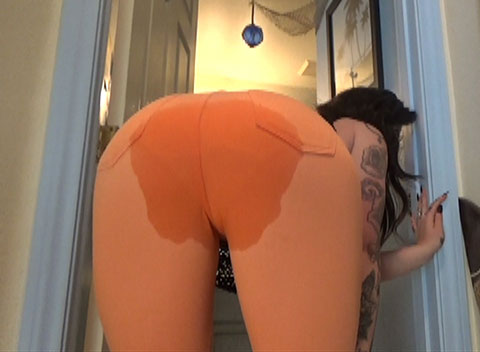 Filed under: Desperation and Female Desperation and Ineed2pee and Peeing and Pissing and Pissing In Pants
Posted on 04.18.16
Comments: 1 Comment


Tags: Chloe Ineed2pee, Desperate To Pee, Female Desperation, Ineed2pee, pants peeing, Peeing Pants, Pissing In Pants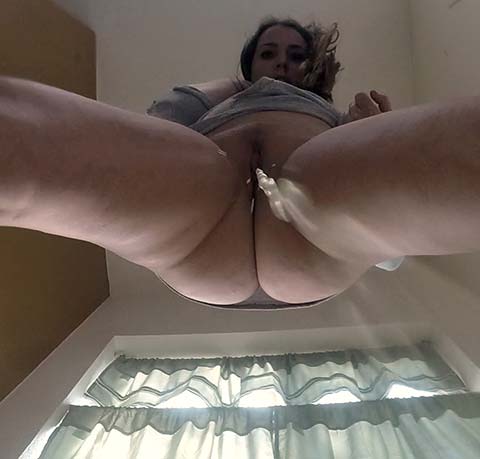 From HD Wetting we have three great peeing and wetting scenes from Alisha. We start off with Alisha inside with a camera and we can see that we are going to have fun. she places her camera on the floor and then pulls down her panties to expose her shaved pussy as she is standing there she starts to pee. The pee cascades from her pussy and splashes over the camera. It is great to look up at her pussy as she is pissing. She finishes pissing on the camera and then picks up the piss soaked camera it's a lot of fun and reminds me off when she was panty pissing over the camera in Panty Peeing From Above From HD Wetting. Im not sure if panty peeing or a naked pussy peeing is better in this position. See Alisha Pissing On The Camera Click Here.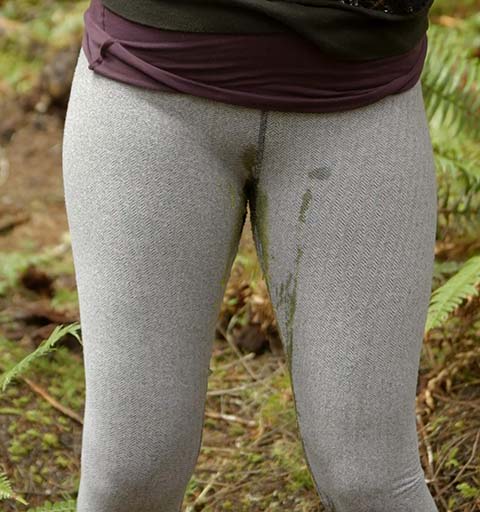 Next up we are in the woods and Alisha is out in the woods and playing around she is desperate to pee and has tight leggings on she holds on as long as she can and then starts to pee. She is peeing in her leggings in the woods, her pee starts to run down her legs making a lovely piss stream. The golden colour of her piss is wonderful and she is soaking wet when she finishes pissing herself. Standing there soaked in piss she feels so horny that she masturbates herself till she is cumming. See Alisha Piss Her Leggings Here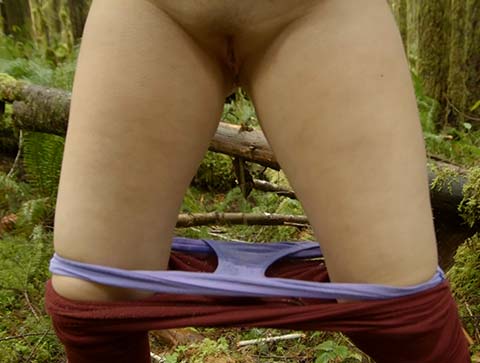 Last up we are in the woods again with Alisha. She needs to pee and there is no one around so she pulls her leggings and panties down to expose her pussy to the camera standing there she starts to piss. She is not squatting and she ends up pissing onto her panties. There is a great splashing sound and her panties get soaked. Her golden piss looks great against the leaves. She finishes pissing and then pulls her piss soaked panties and leggings up. Her pussy will be lovey and warm now. See Alisha Pissing On Panties Click Here.

Filed under: HD Wetting and Outdoor Pissing and Peeing and Pissing and Pissing In Leggings and Pissing Outdoor
Posted on 04.14.16
Comments: 1 Comment


Tags: Alisha HD Wetting, HD Wetting, Outdoor Pissing, Pissing In Leggings, Pissing Leggings, Pissing Pussy, shaved pussy peeing, wetting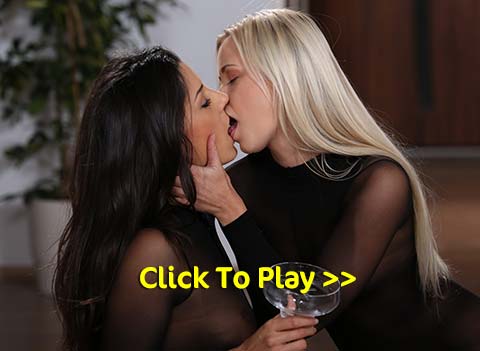 From Vipissy we have the sexy Dido Angel & Alexa Tomas and we are in for some great lesbian pee today. If you have missed some of the previous lesbian peeing posts from Vipissy check out Blonde Lesbians Pissing Vipissy, Lesbian Pissing From Vipissy ,Vipissy Peeing Lesbians and Three Lesbians Peeing Vipissy. Today Dido Angel & Alexa Tomas are dressed in crotchless bodystockings and look so hot, their shaved pussies being on show is a great look and then Dido Angel starts to pee. You can see the lesbian pee movie here.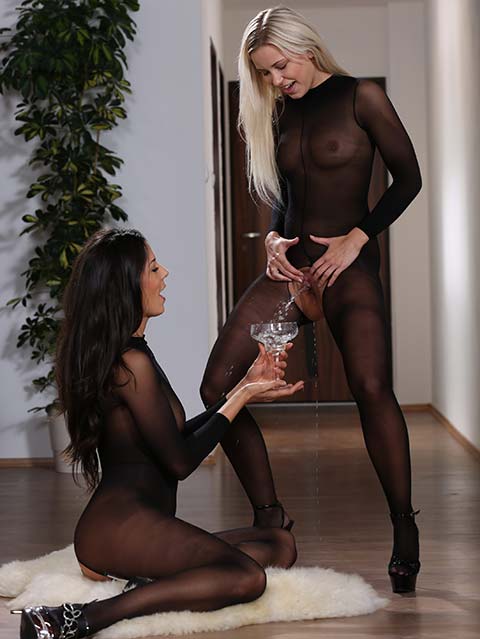 As Dido is peeing in the bodystocking filling a glass she had drips of piss running down her legs. She finishes pissing and then plays with Alexa and gets soaked in her piss. They are both now soaked in piss and their Bodystockings are dripping wet. They keep pissing and licking till they are dripping messes and then they strip off there pissy bodystockings and are nude and shining from piss.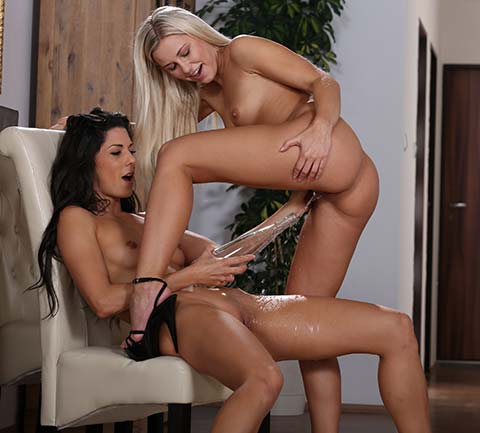 The Lesbian peeing Action doesn't stop here they are now nude and starts too play and piss on each other. This is great lesbian pissing Dido Angle has such a big piss stream and Alexa Tomas loves it as she gets more golden pee splashed over her body. They both end up with their makeup smeared, hair soaked in piss and very content. See The pictures of this lesbian piss encounter here.

See The Lesbian Piss Movie Click Here

View the Lesbian Pee Pictures Here


Filed under: Babes Peeing and Drinking Piss and Lesbians Peeing and Movies and Peeing and Pissed On and Pissing and Pissing Movies and Pissing in Bodysuit and ViPissy
Posted on 04.07.16
Comments: 1 Comment


Tags: Alexa Tomas Vipissy, Dido Angel Vipissy, Lesbians Peeing, Piss Drinking, Pissing Movie, shaved pussy peeing, ViPissy, Vipissy Movie
Ineed2pee brings us some wonderful female desperation and wetting for today We start off with new model Nixon as the story from Ineed2pee goes "she has a really cool timeless pinup look to her. She's from German decent & had a very very full bladder before we started! She has a coy way of talking to the camera like you could be right there & conveyed her pee desperation in a fun and slightly exaggerated way! Lots of different positions & sexy talking before she loses bladder control! Perfect wetting with lots of glistening of the denim as she pees herself… making it super shiny. It all goes into her high PVC patent heels too & makes a huge puddle on the floor. Great jeans wetting video & cute behind the scenes where you get to meet the new girl!" See Nixon desperate and peeing here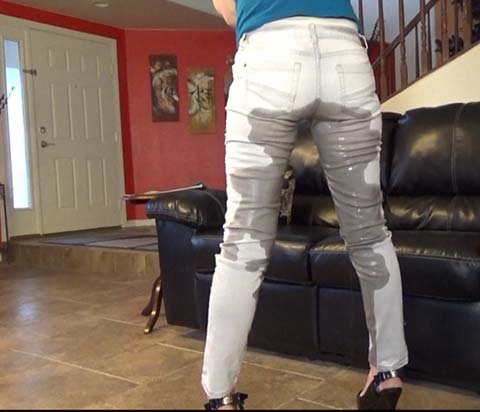 Next up we have the lovely Whitney she is in tight jeans and locked out and boy is she desperate to pee. We have lots of crotch grabbing and she then does the pee pee dance till she can't hold on and loses control and starts to pee in her jeans. As she is peeing she has piss flowing down her legs and even soaking her shoes. When she finishes pissing herself she shows off her piss soaked panties too. A great female desperation and wetting from here. See Whitney desperate and peeing in her jeans here

Last up we have a older preview movie with the wonderful Kenna. She starts off locked out in jeans and is so desperate to pee. She jiggles around and her wonderful breasts are bouncing till she just can't hold on and pisses in her jeans. We then have her dressed as wonder woman and we have had the desperation and wetting photos for this before in Wonder Women Desperate And Peeing. It is great to watch her struggle till her bladder gets the better of her and she pees herself. See Kenna Desperate And Peeing Here


Filed under: Desperation and Diaper Pissing and Ineed2pee and Jeans Peeing and Jeans Pissing and Movies and Peeing and Pissing and Pissing In Pants and Pissing Movies
Posted on 03.28.16
Comments: 1 Comment


Tags: Desperate To Pee, Female Desperation, Ineed2pee, Ineed2pee Kenna, Ineed2pee Whitney, Jeans Pee, Jeans Peeing, Nixon Ineed2pee, pants peeing, Pissing Movie, wetting