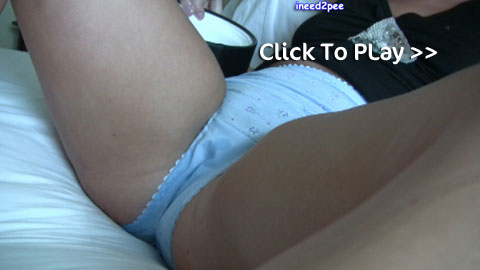 From Ineed2pee the female desperation and wetting masters we have three movies. We have had these posted in the past but as a lot of visitors will have missed them I thought that they deserved to be enjoyed again. They are also in the new player so all can watch them. We start off with a bed wetting staring Lily Anna who is sleeping in her blue knickers and Bella who is doing the hand in the water trick. She has placed Lily Anna's hand in the water and now we are watching and waiting to see what happens. We wait and watch and then her panties start to go a little dark and she is starting to pee. The light blue panties really do show the dark pee patch well, she is peeing in her panties and the bed is getting soaked. The back of her panties have a wonderful dark piss patch and then she gets up walks to the bathroom and pisses in her panties over the toilet. A wonderful bed wetting and panty pissing movie. See Lily Anna Peeing In The Bed Here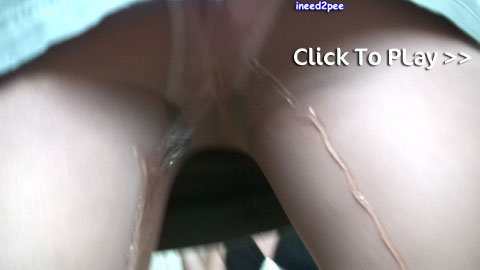 Next up we have the continuation of the bed wetting movie. Lily Anna is now sitting on the toilet after pissing in her panties, unfortunately for Bella she needs to pee and Lily Anna is not going to be cooperative she gets up and still in her piss soaked blue panties starts to tickle Bella. Bella can't hold on and starts to pee in her pantyhose and panties. Her piss is streaming down her legs and soaking into the carpet, she really has made a mess of herself. See Bella Pissing Her Panties Here.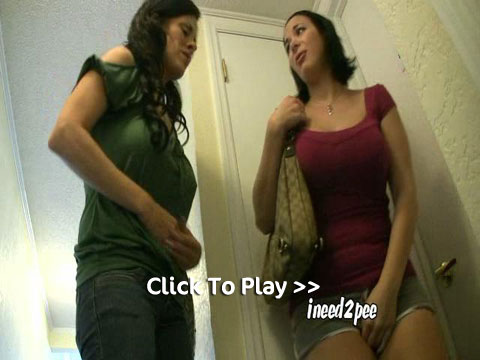 Last up from Ineed2pee we have the lovely Kenna and Arianna they are both desperate to pee Kenna is in sweat shorts and Arianna is in jeans. They are trying to hold on but Kenna cant. She starts to pee in her shorts and then she manages to clamp her bladder it must be hurting and then she just can't hold on any longer and her pee starts to run down her legs. The small flow gets bigger and bigger soaking her shorts and we can see the lovelyshine as it flows down her legs she has even soaked her feet. It is a super female desperation and shorts pee. See Kenna Desperate and peeing here.


Filed under: Desperation and Female Desperation and Ineed2pee and Knicker Wetting and Movies and Panty Pee and Peeing and Pissing and Pissing In Bed and Pissing In Shorts and Pissing In Skirt and Pissing Movies
Posted on 10.22.14
Comments: 2 Comments


Tags: Bedwetting, Bella Ineed2pee, Desperate To Pee, Female Desperation, Ineed2pee, ineed2pee Arianna, Ineed2pee Kenna, ineed2pee Lilyanna, Knicker Wetting, Panty Peeing, pantyhose peeing, Pissing In Bed, Pissing Movie, Skirt Peeing, Wetting The Bed
Vipissy brings us the very sexy Antonia Sainz in this couple peeing pictures and movie. Vipissy is great not only are there hot lesbian scenes there is also wonderful couple scenes. If you have missed some of the great Vipissy posts that we have had check out Threesome Pissing Play From Vipissy, Vipissy Pissing Movies, Sexy Lesbian Peeing From Vipissy and Vipissy Lesbian Pee Movie. Today it is a wet couple pissing scene and it is hot.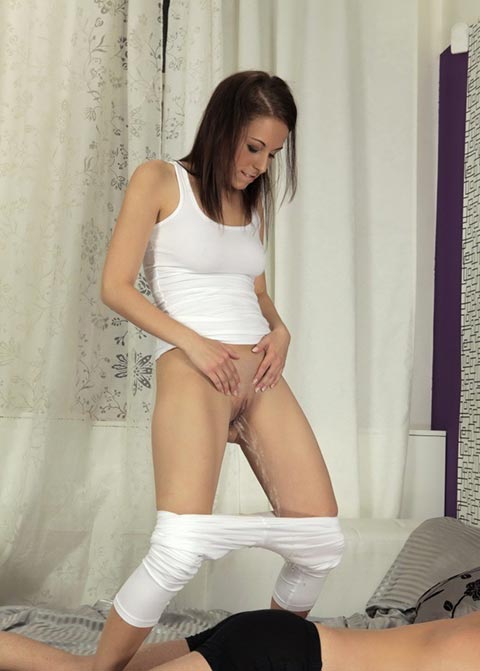 The Vipissy story goes "20 year old Antonia has always had a fascination with pee. Until recently though, she's never allowed herself the pleasure of indulging that fantasy with another. And lately she just can't keep the idea out of her mind. Antonia has decided that today is the day she is going to make her ultimate fantasy come true. As she wakes up snuggled next to her boyfriend, Antonia is overwhelmed with cravings she can no longer deny. With her lover still in deep slumber on the bed, the naughty vixen pulls down her body-hugging pants, spreads her bald pussy lips, and releases a stream of warm urine all over the sleeping man. Stirring from his nap, Antonia's boyfriend still hasn't registered what just happened, so the horny brunette decides to take things a step further. Kneeling on the bed beside him, Antonia slowly runs her tongue across his dripping skin, savoring the taste of her own golden nectar. Fully awake now and fully aroused, her lover is hot and ready to play. But first, Antonia delivers another gift – another fountain of pee all over the throbbing cock. Only once his dick is completely doused in glistening golden liquid does Antonia wrap her lips around it and suck it all down, fresh piss and all. After all this time spent waiting for the opportunity to turn her fantasy into reality, Antonia isn't even close to being ready to stop now. Get a hot POV look at all of the naughty things this pee-hungry babe has in mind as she makes her dream come true." See these hot pissing pictures click here.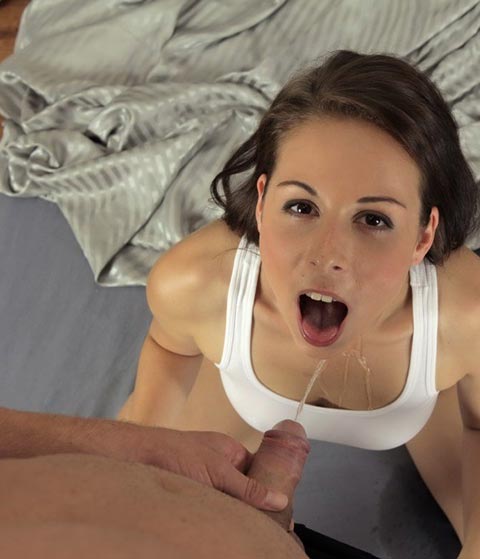 Super-hot pissing and drinking pee, she looks so sexy with piss flowing down her body. Vipissy have once again captured a hottie loving getting soaked and playing in pee. and to finish off we have the hot pissing movie that goes with the peeing pictures. See the Vipissy Movie Here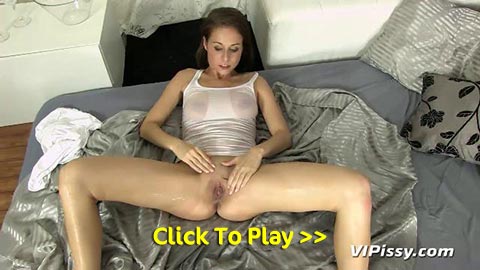 See The Peeing Pictures Here

See The Pissing Movie Here


Filed under: Drinking Piss and Movies and Peeing and Pissed On and Pissing and Pissing In Bed and Pissing Movies and Self Pissing and ViPissy
Posted on 10.19.14
Comments: 1 Comment


Tags: Antonia Sainz Vipissy, Piss Drinking, Pissing Movie, ViPissy, Vipissy Movie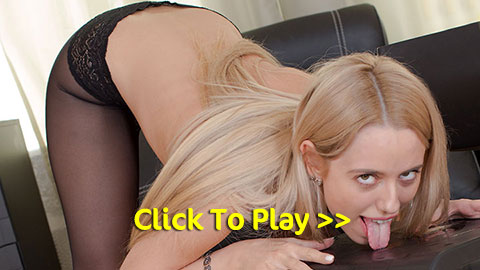 Its been a while since we have had some pissing movies from Wet and Pissy so here we have three short pissing movies. We starts off with Alina Bell. The story goes "Ready for a sexy blonde who happens to be into piss play? Alina is a new face to Wet and Pissy and looks extremely gorgeous in her little secretarial outfit. Black skirt, white blouse, seamed pantyhose and heels. What more could you want? Alina loves to tease and uses her feminine charms to seduce the camera. She starts to undress and show off her small but perfect tits. Now, in just her pantyhose, she bends over a chair and pisses onto it. She laps up her own warm golden juices before peeling off her pissy pantyhose and toying her pussy with a glass dildo. Alina brings herself off and immediately needs another pee. She pours a stream into a goblet, tastes it and drizzles it over her sexy, naked body. " A lovely blonde hottie peeing and playing with her warm Piss. See Alina Pissing Here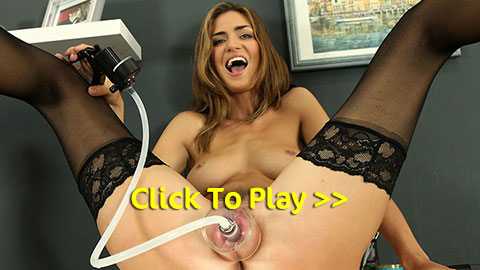 Next up we have Charlotte. The story from Wet And Pissy goes "Charlotte's role as a sexy secretary fits like a glove. Being finished with her duties, her work area becomes her play area for the rest of the day. The action unfolds on top of the table after Charlotte pulls her panties down to her shoes while sitting down. Her knees are spread apart for maximum exposure as she pees onto the table, wetting her dropped panties. She has a smile that never quits, using it effortlessly and genuinely at the same time. Eventually, a vase finds it's way below her as she gets on her knees, towering above it to pee again. Starting from a full body view, the camera is zoomed in as Charlotte relieves herself into the vase. She's far from finished, peeing while probing herself with a pump and later with one foot on the floor and her other leg straddled on the table." super sexy pissing with Charlotte if only she was my secretary. See Charlotte Pissing Here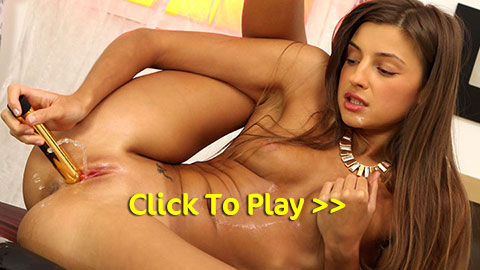 The last Wet And Pissy movie for today stars Russian hottie Melena. "Her sexy smile, big brown eyes, and long hair have made her one of the hottest and most desired up-and-comers in the biz. Just a few days shy of her birthday, Melena makes a splash on Wet and Pissy. She hastily removes her panties, flinging them towards the camera before her first pee. Soon her punk spiked shoes and bra are discarded along with her fishnet stockings, leaving her with only her golden necklace. Melena turns around for us, spreading her feet apart, as she stands over the bowl on the floor. She has a delay in her second pee, but it's nothing a little finesse from her finger couldn't take care of. Dipping her feet into the bowl, Melena shows off her flexibility by licking her feet and sucking on her toes. Spraying down a mirror, she intimately licks it down when she is done. Dampening her hair in the process, we take the opportunity to focus on her elegant facial features. Pluralizing pee, Melena asks if we enjoy watching her and tells us how she loves it." She looks so wonderful soaked in her own piss. See her pissing movie Click Here

Visit Wet And Pissy Click Here


Filed under: Babes Peeing and Drinking Piss and Movies and Peeing and Pissing and Pissing Movies and Self Pissing and Wet And Pissy
Posted on 10.10.14
Comments: 2 Comments


Tags: Alina Bell Wet And Pissy, Charlotte Wet And Pissy, Melena Wet And Pissy, nude pissing, Pissing On Herself, Pissing Pussy, shaved pussy peeing, Wet And Pissy
From Real Wetting we have the lovely Antonia in a panty pee scene. We have had some wonderful sets from Antonia and this is not the first panty pee that we have had with her she has had some great ones in the past. Check out Antonia From Real Wetting Peeing In Her Panties and Antonia Peeing Her Panties In The Tree If you want to see all the desperation and peeing posts we have had with Antonia Click Here. Today she is at a friend's house and desperate to pee, she doesn't want to go to the bathroom so decides to have some fun.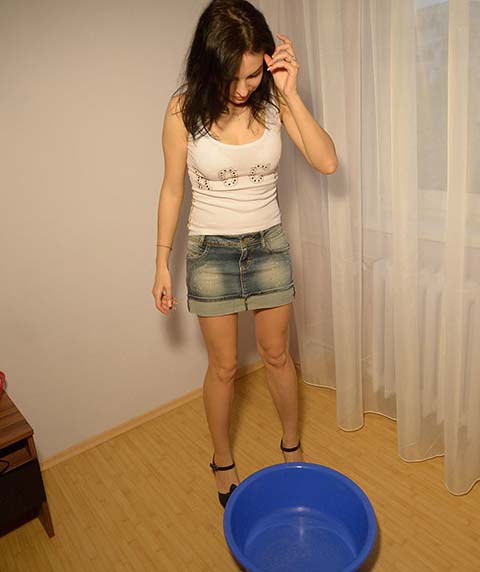 Antonia is desperate to pee at her friend's house. She finds a plastic bowl and lifts up her skirt to show her tight panties. She stands there and starts to pee into her panties. Her knickers starts to go dark and then her piss starts to gush out and splash into the plastic bowl.

Antonia is pissing in her panties over the plastic bowl, her piss stream is getting stronger and stronger and her panties are getting more and more soaked in piss. Her piss is splashing from the bowel and onto her legs, what a lovely panty pee this is. She finishes pissing in her panties and the wet fabric is clinging tightly to her crotch. She turns around and we get to see her piss soaked panties clinging tightly to her bottom. This is a great knicker wetting from Real Wetting.

See Antonia Peeing Her Panties Here


Filed under: Audrey's Wetting Site and Babes Peeing and Knicker Wetting and Panty Pee and Peeing and Pissing and Pissing In Skirt and Real Wetting
Posted on 10.07.14
Comments: 1 Comment


Tags: Antonia Real Wetting, Audrey's Wetting Site, Knicker Wetting, Panty Pee, Panty Peeing, Pissing In Skirt, Real Wetting, wetting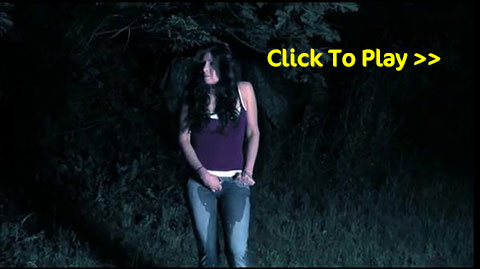 From HD Wetting we have a HD Wetting trailer and some shower pissing. HD Wetting has just released a new trailer movie and it gives a great preview of what HD Wetting has to offer. I also love that Sammy is in it, while she has moved on there are still lots and lots of movies with her at HD Wetting she and Mikki were my favorites. If you have missed the previous HD Wetting trailer that was posted you can check it out in HD Wetting Movie Preview And Jeans Wetting Watch the new HD Wetting Movie by clicking here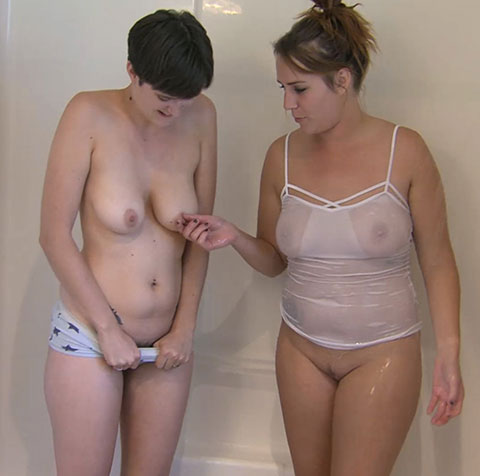 Next up we have Sosha and Alisha in the shower. It is great to see some more lesbian peeing action from HD Wetting and these two while not and hot as Sammy and Mikki still get down and dirty. The story goes "As we watch Alisha and Sosha start the shower, Sosha frantically fights to control her bladder. Alisha, on the other hand, calmly states that she needs to pee. She then stands next to Sosha and starts to piss. As soon as Alisha starts peeing Sosha can't take it anymore, a torrent of urine erupts through Sosha's panties. We get to watch as both girls pee standing next to each other, Sosha through her panties and Alisha nude. After they are done peeing they proceed to take a shower and clean up. They wash each other with soap, and of course they take some time to make out once they are all soapy and naked." See the photos here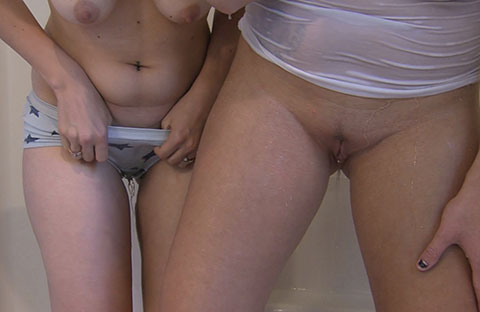 I do love seeing Alisha's top soaked and see-through I only wish that it was Sosha's piss and not water Alisha is a hottie so anytime that we get to see her lovely breasts is great. It is also lovely to see her pissing pussy there are not enough shoots where we get to see her lovely pissing pussy. I hope you enjoy the trailer and the shower pissing.

See The HD Wetting Trailer Here

See The Shower Pissing Pictures Here


Filed under: HD Wetting and Knicker Wetting and Movies and Panty Pee and Peeing and Pissing and Pissing Movies
Posted on 10.04.14
Comments: 2 Comments


Tags: Alisha HD Wetting, HD Wetting, Knicker Wetting, Panty Pee, Panty Peeing, Pissing Movie, Pissing Pussy, Sosha HD Wetting
Today we have three female desperation and wetting sets from Ineed2pee. We starts off with Miss Jasmine the story from Ineed2pee goes like this "I had the pleasure of shooting with Miss Jasmine again when she rolled into Vegas for a family trip! She's a very busty & sexy MILF who has a nice bladder capacity & who doesn't overact either. She is tied up & interrogated but she sticks to her claims that she doesn't know anything. Her bladder is getting fuller & fuller & she already needs to pee so badly! Her hands & feet are bound so she can't even grab her crotch or try to stop the flow and a huge gusher of hot pee comes out through her skintight jeggings! She's wetting herself uncontrollably in big waves now, the yellow liquid soaking the nice chair seats & all over the carpet below. She even gets some pee on her nice leather boots too! Great behind the scenes where she peels off her pissy soaked pants & shows her sexy lacy underwear." I is a great female desperation and wetting from this hottie once again. See Miss Jasmine Here.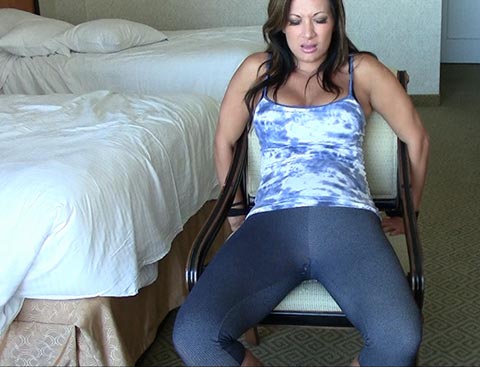 Next up we have Kenna Valentina wetting the bed. The ineed2pee story goes "It's been quite a while since a good bedwetting scene, for a number of reasons. Sometimes it's a hit & miss with the fans & the models too. Sometimes the girls have a hard time peeing in the lying down position, even if they need to pee real badly, but you don't know it until you are shooting the scene & trying. Then, when they do pee, sometimes it just pools around their butt area & doesn't really show up well as it's coming out. IE. you can't see the stream of pee shooting out, so it's only when they stand up you can see the damage. It almost seems like a wasted pee at that point. So Kenna & I decided to give it a shot today & it worked out really nicely! Lots of natural sunlight is important in a bedwetting shoot, as well as thin pants to show the pee coming out nicely. Hope you enjoy it & the lovely sexy Kenna! I wished Kenna lived closer to me but she's all the way in Tampa so I only get to connect with her once a year. Why are all the cutest models on the east coast?" See Kenna bedwetting Here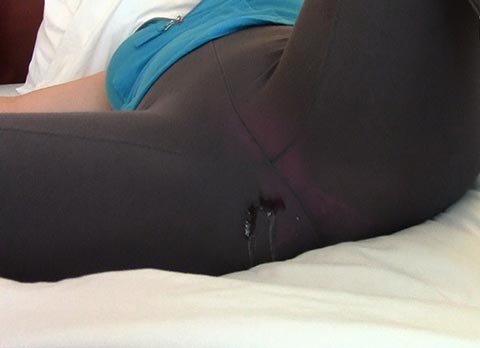 Last up we have Envii a little hottie. The story goes "Envii is totally brand new to this so you won't be seeing her on any other wetting site! She is a lovely young Mediterranean PERSIAN girl with light brown skin. She's outside enjoying the sun, wearing a very tight spandex lycra one piece swimsuit & has a very full bladder already. She's squirming & trying to hold her pee while telling you of her desperation. She's crossing her legs & doing the pee pee dance while sitting on the patio chair. She gets up & gives you a nice squirming shot of her holding herself before sitting down & wetting her swimsuit a bit onto the chair! IT's a nice sized leak! She stands up & starts wetting her swimsuit since she can't hold it any longer! It's streaming out her tight spandex crotch & down the back of her bare legs." See the photos here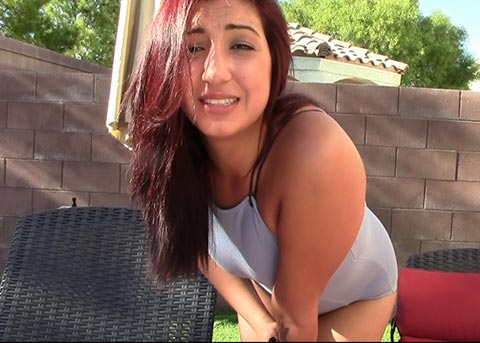 Filed under: Desperation and Female Desperation and Ineed2pee and Peeing and Pissing and Pissing In Bed and Pissing In Leggings and Pissing In Pants and Swimsuit Peeing
Posted on 10.01.14
Comments: 3 Comments


Tags: Bed Wetting, Bedwetting, Desperate To Pee, Envii Ineed2pee, Female Desperation, Ineed2pee Kenna, Jasmine Ineed2pee, Pissing In Bed, Pissing Leggings, Swimsuit Pee, Wetting The Bed