From Needapee we have the lovely Rebekah Dee and a couple of her friends. We start off today with what is called coffee Break pee. They had so much fun peeing on their last slave which you can see in Rebekah Dee Peeing Fun. Today they have upped the ante the story goes "It's time for me to introduce my latest victim, his name is Gimpy and he's a lot of fun. When recently I got together with Nikki Whiplash and Ms Nikki he had the temerity to ask for a coffee. He got a coffee alright but I suspect he didn't quite have in mind what we did because the coffee we gave him was pissed into his mouth half an hour after we drank it. Gimpy didn't seem to mind though or was he just afraid of upsetting us?" A great piss scene see them peeing on the gimp here.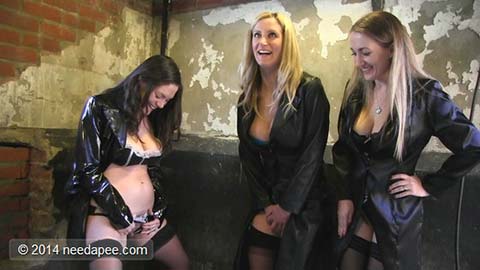 Next up we have the lovely Rebekah Dee outdoors in the dark, the story goes "There is something about the very naughty Minx Nikki that brings the wild side out in me. On a recent holiday after a few drinks at a local pub we were wandering back to our accommodation and when I suggested I have a quick pee she whipped her camera out and after daring me the fun began! I just hope those guys in that cabin didn't see me squatting and peeing just a few feet from their window!" See Rebekah peeing Here.

Last up we have a wonderful peeing movie with Rebekah Dee. We have had it before but it was a while ago and it is now in the new movie player. She is in her car with no bra on, she jumps out and as her wonderful breasts are bouncing around, she quickly pulls down her panties and then starts to pee, as she is peeing she pulls her see-through top off so she is naked as her piss sprays out onto the ground she really is one sexy woman showing us her piss gushing pussy. See the peeing movie here.





Filed under: Babes Peeing and Needapee and Outdoor Pissing and Peeing and Pissed On and Pissing and Pissing Movies and Rebekah Dee
Posted on 04.22.14
Comments: 2 Comments


Tags: Needapee, night pissing, Nude Peeing, Pissing Movie, Pissing Outdoors, Rebekah Dee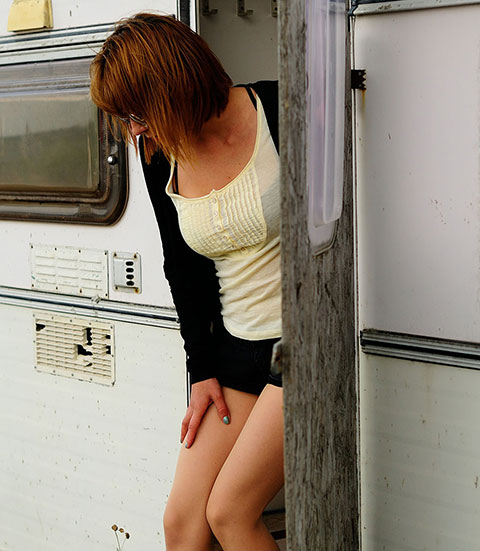 From Real Wetting we have the lovely Alice, It's been a long time since we had her staring and she has been missed she really is one sexy peeing lady. If you have missed some of her previous posts check out Female Desperation And Leather Pants Pee, Natalie And Alice Desperate and Wetting, Peeing In Her Bikini and Alice Peeing In Her Jeans Today she is out camping in a caravan she needs to pee and has her legs clamped together with her hand in her crotch she walks down the steps and standing outside she starts to pee.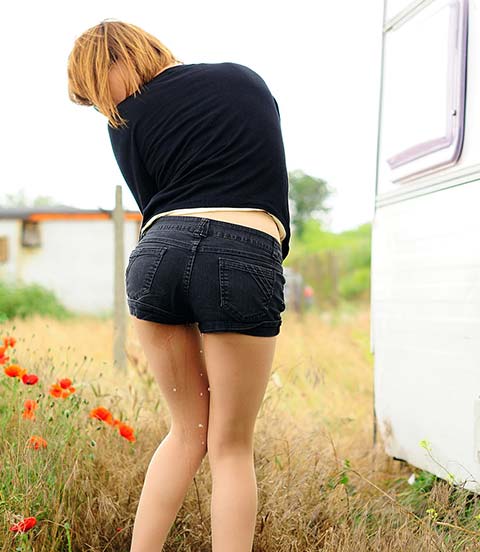 Alice is such a natural wetter and here we are outdoors with her dressed in her pantyhose and shorts and she has started to pee. Her piss flows down her legs and soaks into her dark shorts. It's a shame that her shorts are so dark and the lighting is not the best as we do not get to see the wet patch grow. She keeps peeing and her pantyhose are getting lovely piss streams such a sexy wetting lady.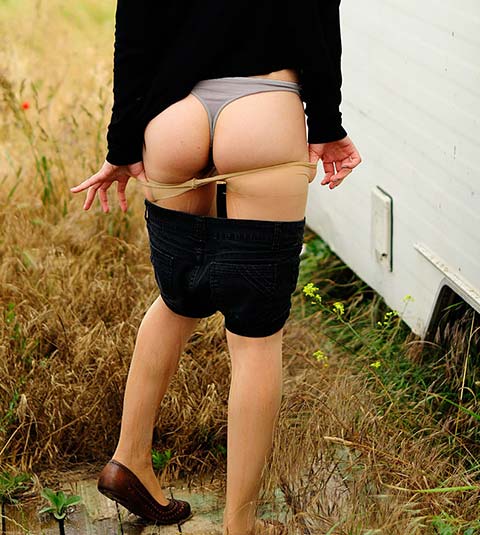 Alice is pissing in her shorts and pee is now gushing everywhere her legs encased by her pantyhose are soaked and I'm sure her shoes and feet are wet too. She finishes peeing and then pulls her piss soaked shorts and sopping pantyhose down so we get to see her piss soaked panties too. A super sexy shorts and pantyhose peeing from Real Wetting.

See Alice Peeing In Her Shorts





Filed under: Audrey's Wetting Site and Babes Peeing and Outdoor Pissing and Pantyhose Pissing and Peeing and Pissing and Pissing In Shorts and Real Wetting
Posted on 04.18.14
Comments: 6 Comments


Tags: Alice Realwetting, Audrey's Wetting Site, pantyhose peeing, Pantyhose Pissing, Pissing In Shorts, Real Wetting, shorts peeing, Shorts Pissing
From Vipissy we have some more great lesbian pee, we have had some wonderful posts from Vipissy in the past and if you have missed them check out Vipissy Lesbian Pee Movie, Sexy Lesbian Peeing From Vipissy and Lesbians Peeing In The Bathroom. Today we have the lovely Dido Angel and Noleta two very sexy ladies. Dido Angel starts off by pissing on Noleta's back while she plays dominos she is unfazed as she is getting soaked in pee and pretty soon they are making out.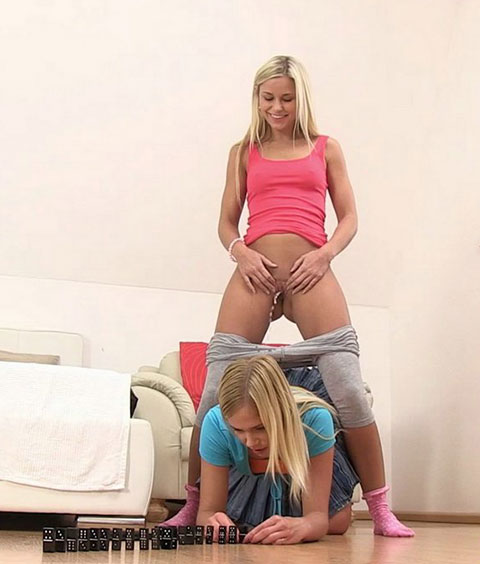 Noleta is soaked in pee and Dido Angel starts to play with her pussy she pulls her panties to the side and Noleta starts to pee. It is a wonderful pee stream and it splashes all over the floor, she must have been full as this is one big pee. The floor has a wonderful big piss puddle and then when she finishes peeing they both lie in the warm pee and make out.

Where the lesbian peeing photos finish off the Vipissy trailer continues  the story from Vipissy goes like this "Dido Angel and Noleta are having a little fun with dominoes but this is not the same game you're thinking of. This game involves getting wet! After soaking Noleta's back with her hot piss, Dido begins a new game of finger banging her hot blonde lover form behind. She sticks her fingers deep inside and moves them around and around as Noleta moans for more. It's not long till they are rolling around with each other on the piss covered floor. Their clothes are soaking wet but that does not stop them from enjoying every last drop. You can tell these two truly love the taste of the hot piss in their mouth as they continue to suck it all up and then swap it in each other's mouths. Every inch of their hot petite bodies are dripping with warm pissing sex. "A super sexy lesbian peeing movie.

See The Lesbian Peeing pictures

See The Vipissy Lesbian Pee Trailer

Visit Vipissy Click Here


Filed under: Lesbians Peeing and Peeing and Pissed On and Pissing and Pissing Movies and ViPissy
Posted on 04.15.14
Comments: 1 Comment


Tags: blonde peeing, Dido Angel, Dido Angel Vipissy, Lesbians Peeing, Noleta, Noleta Vipissy, Pissing Movie, Pissing Pussy, shaved pussy peeing, ViPissy, Vipissy Movie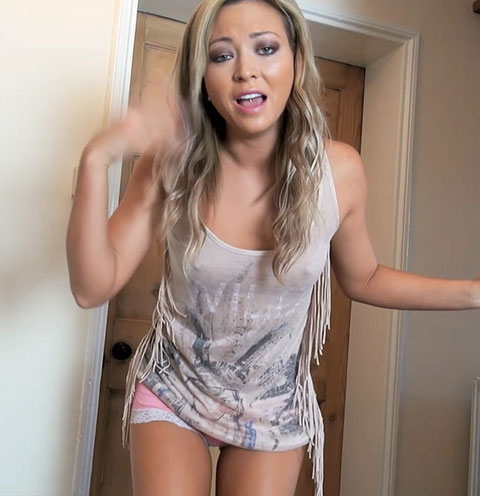 From Wetting Her Panties we have the very sexy Natalia. We have had some wonderful wettings with her in the past. If you have missed them or just want a recap check out Topless Panty Peeing With Natalia X, Peeing In Her Purple Knickers, Natalia Peeing In Her Panties Outdoors, Natalia X Peeing In Her Panties and Natalia X Pissing In Her Tight Panties Today Natalia is in pink French knickers and very desperate to pee she is fidgeting and then tells the camera how desperate she is and that she even has the female desperation sweats.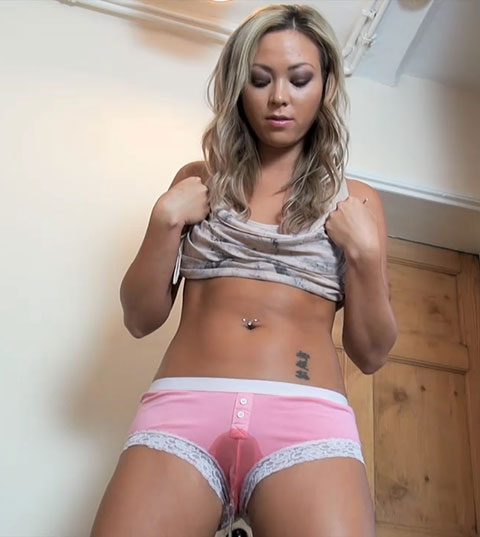 Natalia is desperate to pee she lifts her t-shirt up a little and then she starts to pee in her pink panties we get to see the first spurt of pee turn her panties dark and then the floodgates open and she is peeing so hard there is a wonderful river of pee flowing through her panties and splashing on the ground.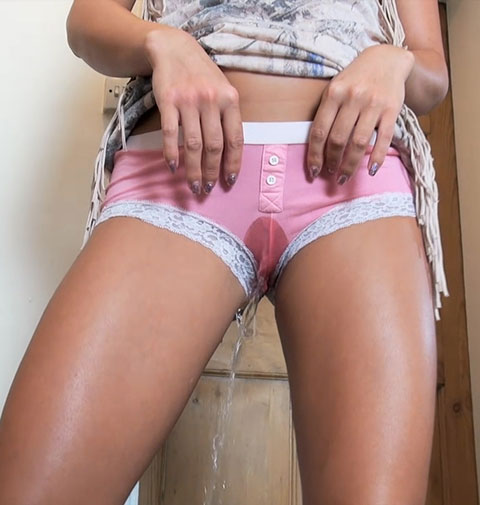 She is soaking her panties and she has wonderful pee drips on her legs too we get to look up at her as she is peeing in her panties, it is as if she is peeing through her panties and it is splashing on us, this is a wonderful panty pee from Wettingherpanties. Natalia fully empties her bladder and she stands in her piss soaked panties showing them of we then get to see her pissy pussy too. A wonderful end to a great knicker wetting.

See Natalia peeing her panties here

Visit Wetting Her Panties Click Here


Filed under: Knicker Wetting and Panty Pee and Peeing and Pissing and wettingherpanties
Posted on 04.12.14
Comments: 5 Comments


Tags: Knicker Wetting, Natalia X, Panty Pee, Panty Peeing, Pissing Panty, wetting, wettingherpanties
From Ineed2pee we have a mix for today. I have always felt that the Ineed2pee pictures really don't show the wonderful female desperation and interactions with the camera in the lead up to the wetting so today we have Ineed2poee trailer 29 as well as some wonderful wetting pictures. We starts off with Natalie Storm, she is one hot model and at Ineed2pee we have had her before in Peeing In Shiny Spandex Leggings where she fully floods her spandex leggings. Today she is in her jeans and desperate to pee, she has been holding on and on and her bladder is about to burst she stands there and starts to pee. Her pee explodes into her jeans and runs down her legs giving a great pee stain as it goes. She finishes peeing in her jeans and is standing there soaked and looking so sexy see Natalie peeing in her jeans HERE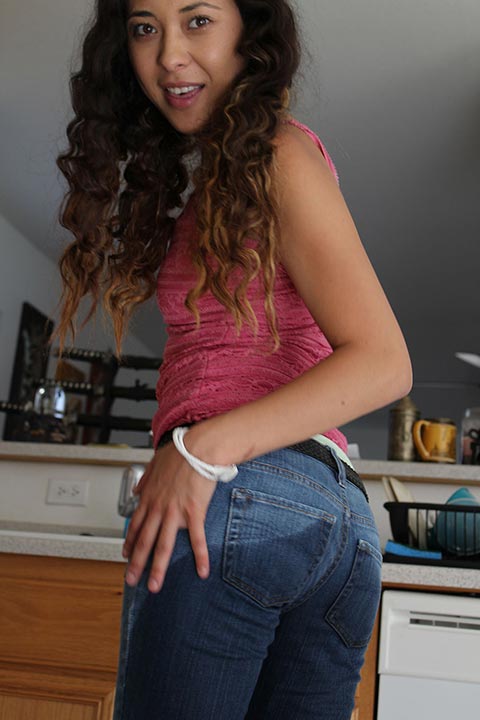 Next up we have Kenna Valentina. Kenna is dressed in her jogging pants. She has been bouncing around and the motions are making her more and more desperate to pee she stops and then tries to starts to walk again, she is just to desperate to pee and she starts to pee. There is a wonderful hiss as she loses control and then her pee flows into her jogging pants. This is one wonderful Ineed2pee jogging pants pee .I just love looking at Kenna's voluptuous ass as there is pee flowing around it. See Kenna peeing her jogging pants Here.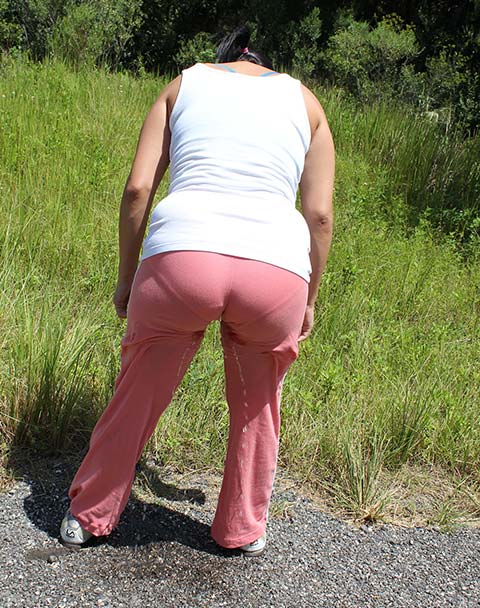 Last up we have the Ineed2pee movie trailer I know some of you hate seeing a trailer but this has wonderful female desperation, great interactions with the camera and wonderful wettings. Check it out and enjoy what Ineed2pee has to offer. See the Ineed2pee trailer Here.


Filed under: Desperation and Female Desperation and Ineed2pee and Jeans Peeing and Jeans Pissing and Movies and Outdoor Pissing and Peeing and Pissing and Pissing In Leggings
Posted on 04.09.14
Comments: 2 Comments


Tags: Desperate To Pee, Female Desperation, Ineed2pee, Ineed2pee Kenna, Jeans Pee, Knicker Wetting, Natalie Storm Ineed2pee, pants peeing, Pissing Movie, Tracksuit Pants Peeing, wetting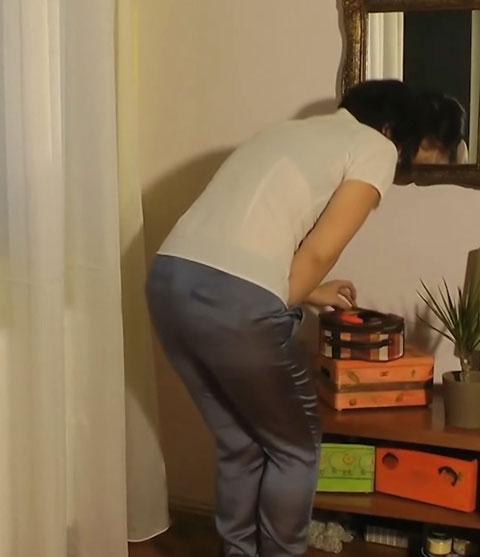 From Real Wetting we have Valerie, Real Wetting have brought us some great wettings and what I love about the website is that they fulfill members requests and we also get to see wettings in all sorts of outfits and positions just look at some of the wonderful wettings we have had from Real Wetting in the past. Bed Shorts And Pantyhose Peeing, Shorts And Pantyhose Peeing, Female Desperation And Leather Pants Pee, Natalie Peeing In Her Leotards and Natalie Peeing In Denim Overalls. Today it is time for some satin pants, Valerie is in her blue satin pants doing her makeup she needs to pee but wants to hold on till she has finishes.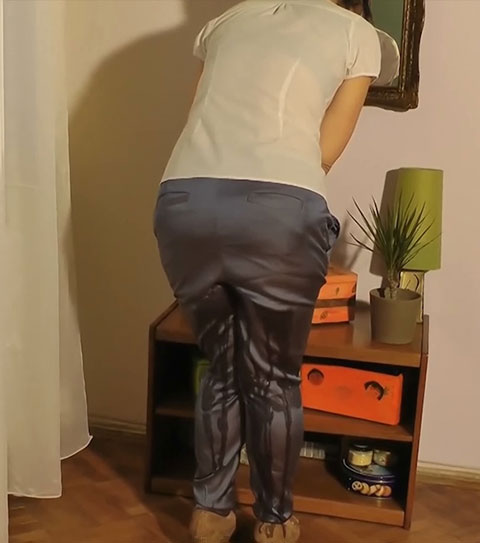 She is putting on her makeup getting more and more desperate, she really is trying to hold on. She has her hand jammed into her crotch but it is to late she is just to desperate to pee and as she is standing there she starts to pee her pee. Her pee starts to flow into her pants and the satin starts to go dark.

Valarie is peeing into her satin pants, her pee is running down her legs and her pants are getting soaked, as the fabric gets wet with piss it starts to cling to her legs. The satin pants have gone a wonderful shiny color and seeing them wet and clinging to her legs is wonderful, her feet are soaked too and i bet she has pee dripping between her toes what a wonderful pants peeing from Real Wetting.

See Valarie Peeing In Her Pants Here


Filed under: Audrey's Wetting Site and Desperation and Female Desperation and Peeing and Pissing and Pissing In Pants and Real Wetting
Posted on 04.03.14
Comments: 1 Comment


Tags: Audrey's Wetting Site, pants peeing, Peeing Pants, Real Wetting, satin pants pee, Valerie Real Wetting
It has been a long time since we had a post with Miss Hybrid it has been such a shame as she is one sexy lady. If you missed the previous ones check out Miss Hybrid Pissing and Miss Hybrid Peeing Again. In today's set she is dressed in a jumper and some tight Jodhpurs. Miss Hybrid is outdoors and looing playful she poses and then lifts her jumper up to show us her wonderful breasts she really is one lovey lady.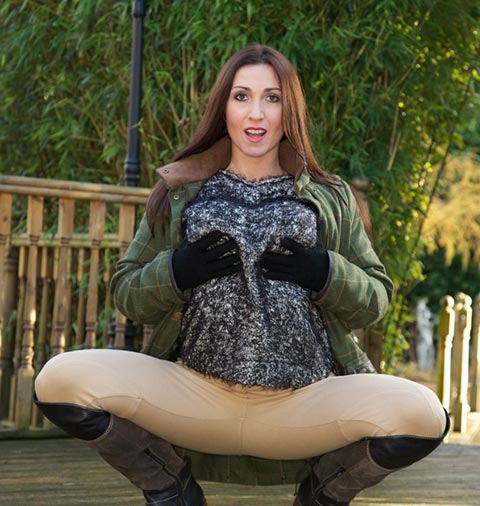 Miss Hybrid is squatting down her big breast is still on show and then she starts to pee in her pants. You can see that her bladder is bulging and her pee starts to slowly soak into the fabric. Just look at the big piss stream as she released her bladder the sound of her piss splashing on the ground would be wonderful.

She keeps pissing in her pants the fabric is getting more and more soaked and as she finishes peeing in her jodhpurs they are fully soaked and dripping. She stays squatting and shows off her dripping pants what a sight it would be to come across Miss Hybrid squatting in her piss soaked pants. She turns around and starts to piss again and then when she has fully emptied her bladder she poses in her piss soaked Jodhpurs. A wonderful pants peeing with Miss Hybrid


Filed under: Babes Peeing and Miss Hybrid and Outdoor Pissing and Peeing and Pissing and Pissing In Pants and Pissing Outdoor
Posted on 03.31.14
Comments: 2 Comments


Tags: Jodhpurs Pee, Miss Hybrid, Outdoor Pissing, pants peeing, Peeing Pants, Pissing In Pants, Riding Pants Pee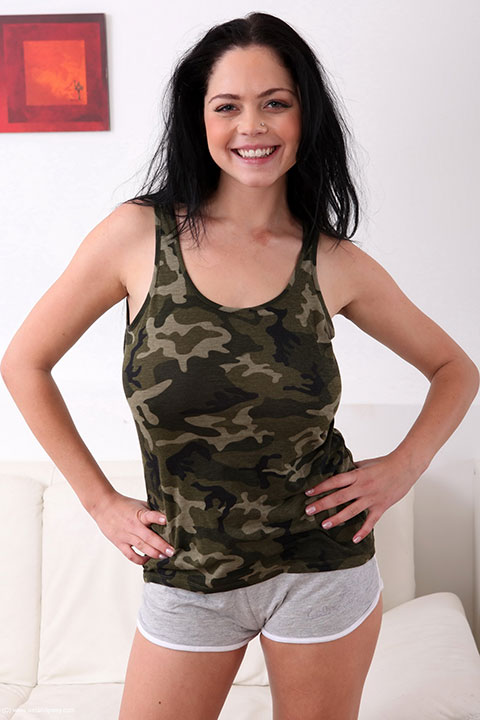 From Wet And Pissy we have the wonderful Shione. Wet and pissy have brought us some great movies and pictures in the past if you have missed some of them check out Kattie Gold Pissing From Wet and Pissy, Whitney Conroy Making A Piss Movie, Peeing In Leggings And On The Floor And Christy Charming Peeing From Wet And Pissy Today Shione starts in this wonderful 6 minute piss movie.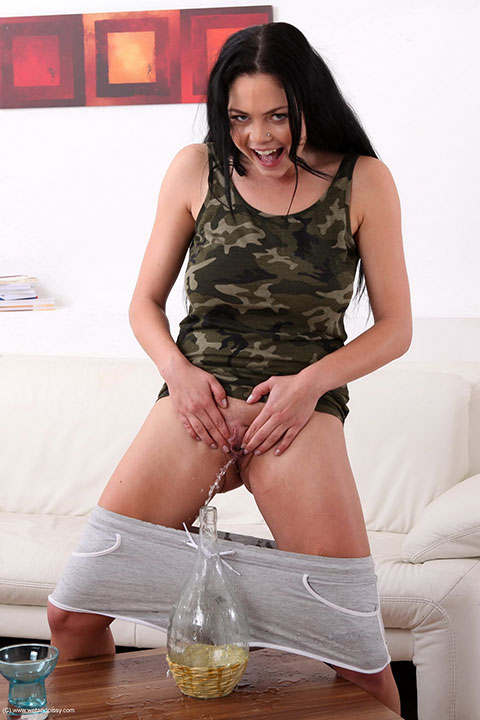 The story at Wet And Pissy goes like this "Shione wastes no time getting down to business. Immediately she begins by peeing through the gap of her loose fitting shorts. She pulls them down momentarily in order to dispense into an empty wine bottle. Pouring the bottle down her ample bosom, it almost appears as if her camo top is water proof as her pee glides off of it. Once revealed, she presses and sploshes her busty assets against the table. The next pee starts off normal enough, with a small cup beneath Shione. She finds herself having to squat down a bit as her pee travels forward in an almost perpendicular fashion. A speculum is then used for some more peeing in a couple of different positions. Ending on a highlight, Shione bends forward with the camera behind her. Her bosom hanging is not the only focal point here, as her pussy lips form a wonderful v shape as she pees between them."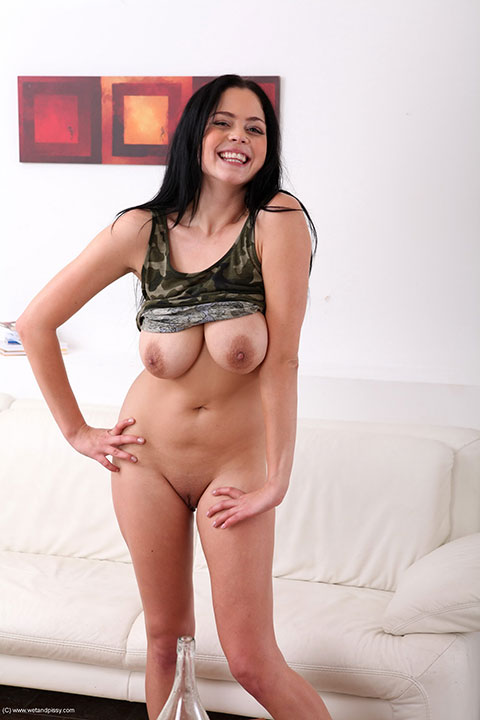 This is a super sexy peeing movie from Wet And Pissy they have some of the hottest babes peeing and there archive is growing by the week if you love to see sexy babes peeing this is the site for you.


Filed under: Babes Peeing and Movies and Peeing and Pissing and Pissing Movies and Wet And Pissy
Posted on 03.27.14
Comments: 3 Comments


Tags: Peeing Movies, Piss Drinking, Pissing Movie, Shione Wet And Pissy, Shorts Pissing, Wet And Pissy
From Vipissy we have a beautiful lesbian piss in the bathroom. Vipissy is fast becoming one of the hottest peeing websites around. We have had a few great scenes from them in the past including Lesbians Peeing from Vipissy and Sexy Lesbian Peeing From Vipissy todays lesbian peeing movie stars Jessica Rox and Anita B two hot peeing models. They are in the bathroom and Anita is taking a bath when she gets out Jessica starts to dry her off but she is not going to be dry for long. The lesbian peeing starts straight away and what a messy pissing movie it is.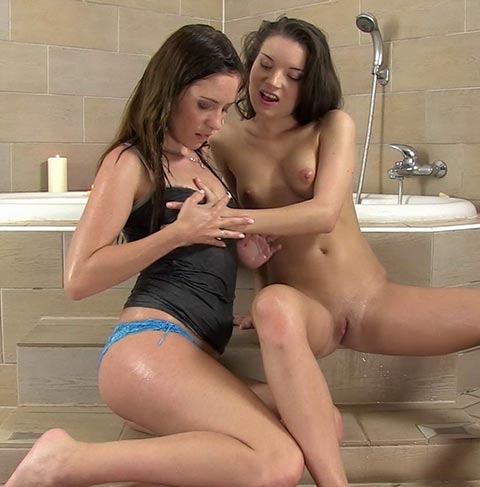 ViPissy have written this about the lesbian peeing movie. "Splish splash Anita was taking a bath. But soon her sexy lover Jessica came to dry her off. Gently she towel dry's her and helps her out of the tub, giving her that sexy come piss on me look she always gives when she is in the mood for a little piss wash. It doesn't take Anita long to get the idea of what Jessica wants. She stands over her and lets the stream flow. The girls are drenched in the warm nectar from head to toe and make sure to suck it all up from the clothes and each other's bodies. There pussy lips are swollen with thirst and nothing can stop these two from getting complete satisfaction. Watch the piss slide off their shaved pussies and into the others mouth and then swap it back and forth while erotically making out" Beautiful ladies in lovely pee action. See The Lesbian Peeing pictures here.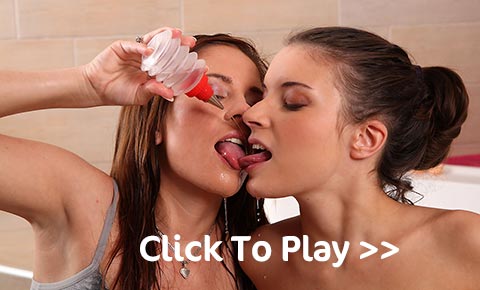 To finish off we have the movie trailer of this lesbian pee movie the pictures really don't do the hot wet mess justice so enjoy as you watch these two hot lesbians peeing. See the movie here.

See The Lesbian Pee Pictures Here

Watch The Lesbian Trailer Movie


Filed under: Babes Peeing and Drinking Piss and Lesbians Peeing and Movies and Peeing and Pissing and Pissing Movies and ViPissy
Posted on 03.20.14
Comments: 6 Comments


Tags: Anita B Vipissy, Jessica Rox Vipissy, Lesbians Peeing, Nude Peeing, Piss Drinking, Pissing Movie, Pissing Movies, Pissing Pussy, ViPissy