From Wetting Her Panties we have the wonderful Natalia. Natalia is a great star at Wetting Her Panties and in the past we have had some wonderful posts with her. If you have missed some of her previous wettings check out  Natalia Desperate And Pissing Her Knickers Topless Panty Peeing With Natalia X Peeing In Her Purple Knickers and Natalia X Peeing In Her Panties. Today Natalie is in her panties and so desperate to pee, she is holding her crotch and telling us that she is so busting she looks so sexy this desperate.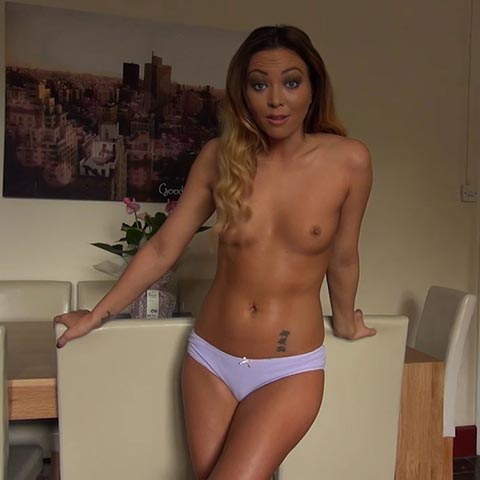 She grabs her crotch again and then as her hand is removed we can see that she is starting to pee in her panties. The crotch gets a little dark patch and then the pee patch grows till her piss is splashing through the saturated fabric and splashing onto the ground, we even get to look up at her piss dripping panties it is as if she is peeing in her panties over us.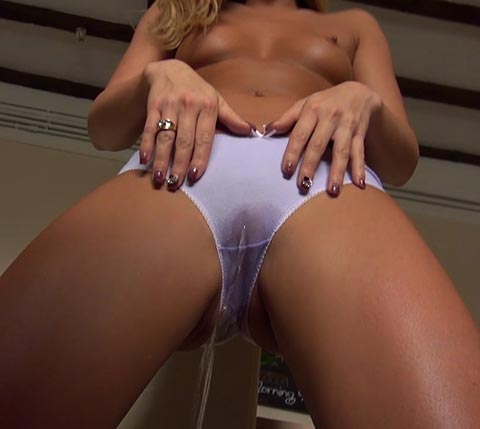 Natalia is soaking her panties in piss she turns around and we get to see her lovely little bottom with piss cascading between her legs. I love the look of her tanned legs with all the little pee rivers running down. This is a wonderful panty pissing from the knicker wetting masters Wetting Her Panties.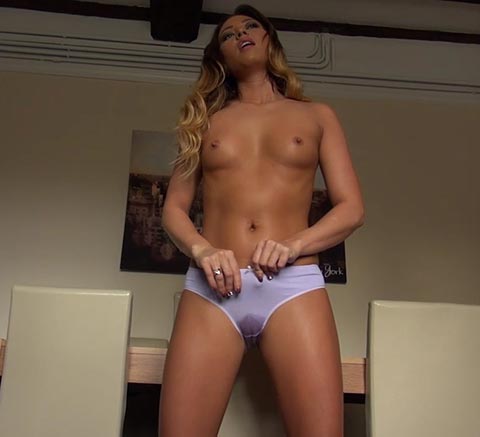 See Natalia Pissing Her Panties Here


Filed under: Babes Peeing and Desperation and Female Desperation and Knicker Wetting and Panty Pee and Peeing and Pissing and wettingherpanties
Posted on 01.30.15
Comments: 4 Comments


Tags: Desperate To Pee, Female Desperation, Knicker Wetting, Natalia X, Panty Pee, Panty Peeing, Topless Panty Pee, wetting, wettingherpanties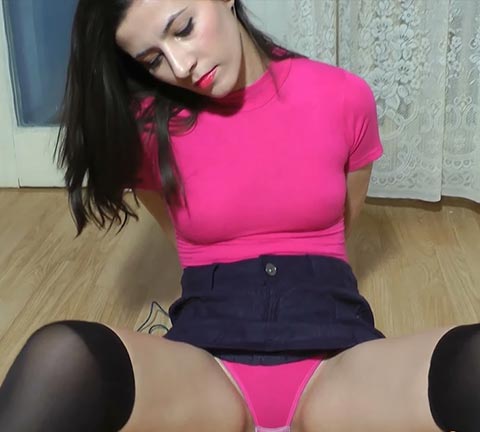 From Real Wetting we have the wonderful Debbie. We have had Debbie once before where she pees in her shorts in Debbie Pissing In Denim Shorts. Today she is in the floor and her hands are tied behind her back. She is in a short skirt and tight top with no bra she is squirming on the floor getting more and more desperate to pee. She looks so sexy as her skirt rides up to show her panties tight against her pussy.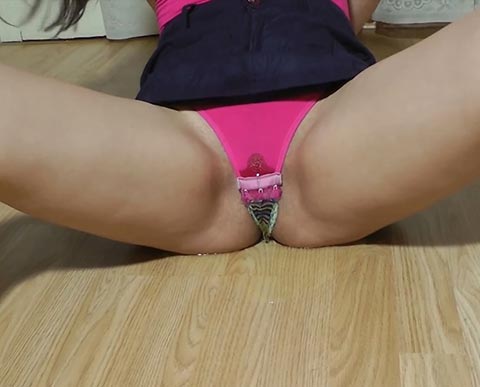 She has her skirt up and showing off her panties she is so desperate to pee and then it happens, the first spirts of pee soak into her panties. They are so tight against her pussy that her pee sprays out and starts to pool around her bottom. I do love seeing a hot chick sitting in a warm puddle of piss.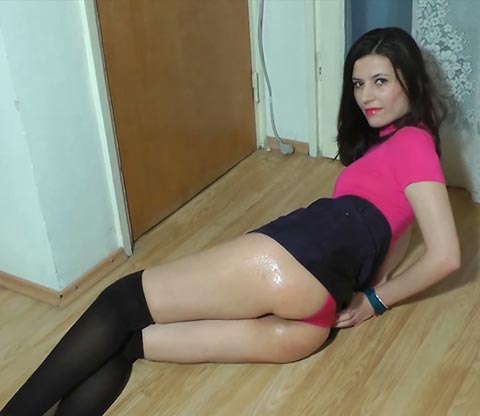 Debbie keeps on pissing in her panties and her pee puddle gets bigger and bigger, she is getting soaked. She finishes knicker wetting and her panties are just dripping she keeps trying to get out of her bounds but all this does is make sure that she gets more soaked in piss, she really is a wet and wonderful woman.

See Debbie Peeing Her Panties Here


Filed under: Babes Peeing and Knicker Wetting and Panty Pee and Peeing and Pissing and Pissing In Skirt and Real Wetting
Posted on 01.27.15
Comments: 1 Comment


Tags: Audrey's Wetting Site, bound pissing, Debbie Real Wetting, Knicker Wetting, Panty Pee, Panty Peeing, Real Wetting, Skirt Peeing
From Wet and Pissy we have three great picture sets Wet and pissy really is a great solo female wet wonderland. We starts with Nataly Wet and Pissy has written this about the scene "Nataly looks like an innocent school girl. After she pees through her skirt, she makes us believe she is a naughty school girl. Once she rests on the sofa, the real Nataly reveals herself – pulling up her skirt and lifting up her feet in the air to pee. She's not wearing any panties and her feet are fitted with a pair of high heel shoes. Nataly goes all the way, right away. She pumps out a series of squirts, wetting her face, her blouse, and her leg as she exhales excitedly. There's no limit to what she can do when it comes to peeing. She pees on the see-through chair from a standing position and then from a sitting position, directing her aim upwards against the back of the chair. She gives us more of this spontaneous behaviour, lifting her feet up into the air as she remains seated. Nataly pees two more times for us with her legs up in the air and one last time standing over a three tiered glass fountain." Super sexy and super wet see Nataly pissing Here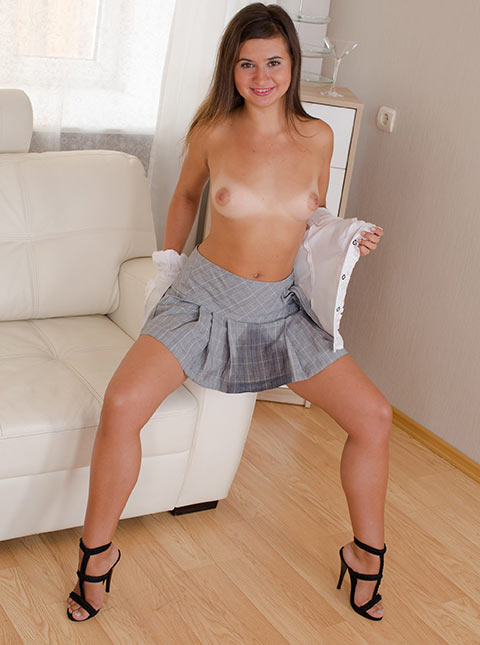 Next up we have Kira Queen. The story goes "Kira recently made her debut on Wet and Puffy and she was so popular we had to get her in for a watersports scene with Wet and Pissy. She decided to wear sexy white lingerie to contrast her jet black hair along with white sheer pantyhose. Kira pissed through her pantyhose and played with her golden juices using her feet. Soon, her sheer pantyhose became even more see through from the delicious piss. Pulling them down, she laid back and peed all over her stomach before catching her juices in a jug while releasing yet another piss. She decided to taste her yellow liquid before pouring it all over her big tits. Kira was so turned on that she had to finish herself off with a glass dildo." See Kira Queen Pissing Here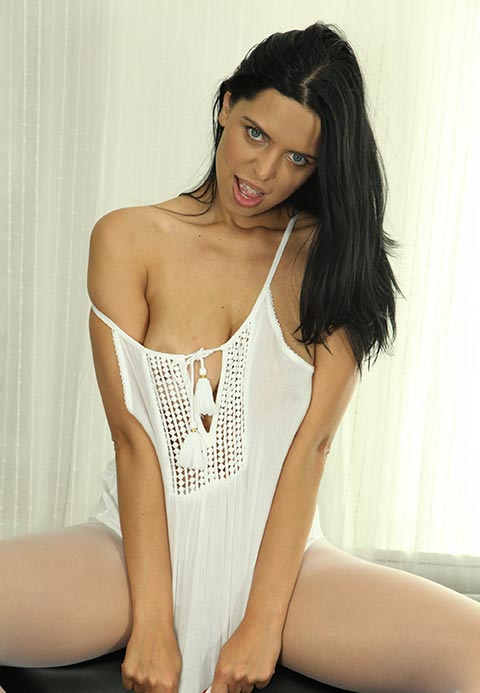 Last for today from Wet And Pissy we have Lara. "Lara is a hot babe with legs that go on for miles and she looks simply divine in denim hotpants and a little blouse. She pees through her hotpants on the sofa before taking off her skimpy outfit and catching another stream of piss in a glass bowl. She enjoys dipping her feet into her golden liquid and tastes he juices as she licks her toes. Lara even puts on socks to soak up her piss before squeezing it out over her slender body. Using a speculum, she gapes her pussy wide and pisses into a glass, tasting her goodness and finishes herself off by toying her pussy with a sex toy." See Lara pissing here.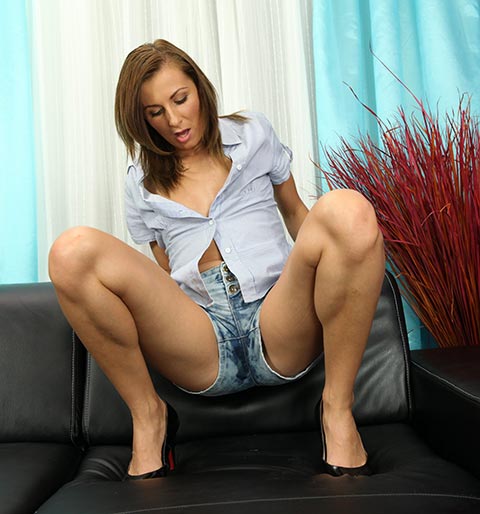 Visit Wet And Pissy Click Here


Filed under: Babes Peeing and Drinking Piss and Peeing and Pissing and Self Pissing and Wet And Pissy
Posted on 01.24.15
Comments: 2 Comments


Tags: Kira Queen Wet And Pissy, Lara Braun Wet And Pissy, Nataly Wet And Pissy, Piss Drinking, Pissing On Herself, Wet And Pissy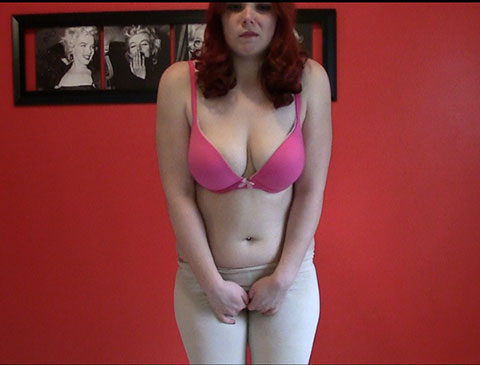 From Ineed2pee we have three great female desperation and wetting sets. We starts off with the lovely Tori Bell. The story goes "Tori Bell is your curvy hot webcam girl of choice but she doesn't know about your wetting fetish until now! You see her squirming to use the bathroom & subtly grabbing her crotch so you decide to offer her more "tip" money to NOT use the bathroom. Well she likes the tips but she's getting more & more desperate to pee as the minutes go on. You enjoy seeing her grabbing her crotch tightly & pulling up her thin spandex legging pants into her crotch area. She's wearing sexy pink panties that you can see through her leggings, visible panty line! You can't wait til she loses bladder control so you finally offer her a nice big tip for her to just let go and pee in her pants! She makes a huge pee puddle on her bare feet & the white tiles. The urine shows up really nicely on the spandex material" It is a great wetting scene. See Tori Bell peeing her spandex here.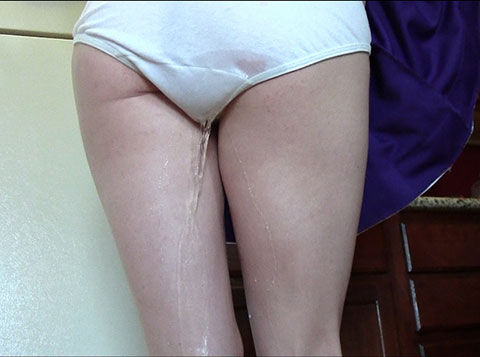 Next up we have Lauren Kiley. Lauren is desperate to pee and dressed in her cheerleader uniform. She lives next door and has locked herself out she asks to use the bathroom bit it is occupied. She stands in your kitchen squirming and grabbing her crotch till she just can't hold on and starts to pee in her panties. Her pee flows down her legs and even soaks into her shoes this is a wonderful panty pee. See Lauren Kiley Knicker Wetting Here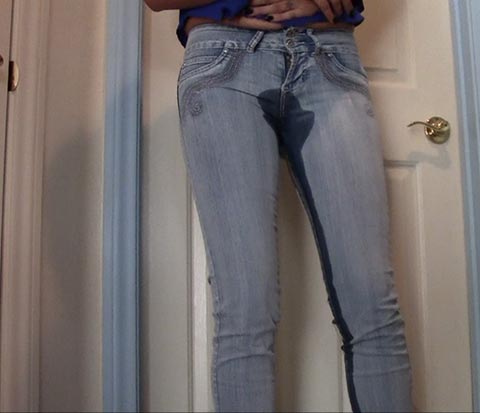 Last up we have Envii she is dam desperate to pee but is holding on as long as she can she is squirming and holding her crotch it is a wonderful sight to see her desperate in her skin tight jeans. She just can't hold on and starts to pee. Her pee stream flows down her legs and the skin tight denim shows off what a wet mess she has made of herself. See Envii Desperate and jeans peeing here.


Filed under: Desperation and Female Desperation and Ineed2pee and Jeans Peeing and Jeans Pissing and Knicker Wetting and Panty Pee and Peeing and Pissing and Pissing In Leggings and Pissing In Pants
Posted on 01.20.15
Comments: 7 Comments


Tags: Cheerleader Peeing, Desperate To Pee, Envii Ineed2pee, Female Desperation, Ineed2pee, Ineed2pee Tori, Jeans Pee, Jeans Peeing, Knicker Wetting, Lauren Kiley Ineed2pee, Panty Pee, Panty Peeing, Pissing In Leggings, Pissing Leggings, wetting
From HD Wetting we have a wonderful lesbian peeing movie starring Sosha Alisha and Carly. We have had the photos of this wonderful lesbian panty pissing in Lesbian Panty Peeing on The Bed Today we are lucky enough to get to watch the full movie. This has to be one of the best lesbian panty pissing movies that we have had here. We start off with Sosha tied on the bed and topless. All she has on is her panties.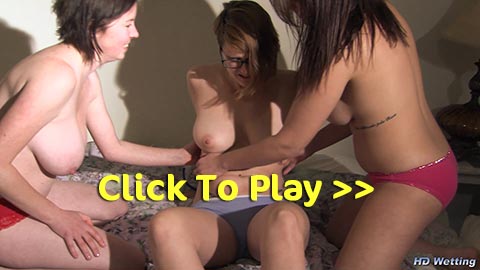 Sosha is on the bed and Alisha and Carly start to tickle her, she squirms and then squeals until she is pissing her blue panties. She keeps peeing until they are so soaked she is in a puddle of her piss. Her panties are shining and clinging to her pussy. No sooner than she has finishes pissing in her panties Alisha straddles her leg and starts to pee her panties over her leg. Sosha is now getting soaked in warm pee and the piss puddle is getting bigger and bigger.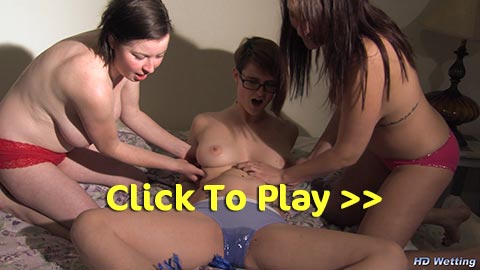 Alisha finishes pissing on Sosha and now it is Carly's turn she pisses through her panties over Sosha too. Sosha is now one pissy mess. Carly finishes pissing on Sosha and then they cut Sosha's piss soaked panties off. As soon as the panties come off we can see that Sosha's pussy is wet with piss and she is aroused Carly stars to lick and finger Sosha while Alisha licks her tits. This is wonderful threesome lesbian action. Alisha and Carly work on Sosha till she cums in her piss soaked bed. Could a lesbian panty pee get much better than this? Thank you HD Wetting.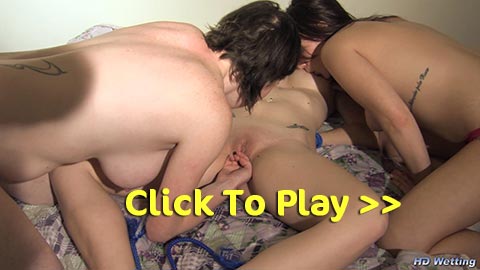 See The Lesbian Threesome Click Here


Filed under: Bed Wetting and HD Wetting and Knicker Wetting and Lesbians Peeing and Movies and Panty Pee and Peeing and Pissing and Pissing In Bed and Pissing Movies
Posted on 01.10.15
Comments: None


Tags: Alisha HD Wetting, Bedwetting, Carly HD Wetting, HD Wetting, Knicker Wetting, Lesbians Peeing, Panty Pee, Panty Peeing, Pissing In Bed, Pissing Movie, Pissing Movies, Pissing Panty, Sosha HD Wetting, Topless Panty Pee
Piss Japan brings us this wonderful pissing school girl set. We have had some great hidden camera pissing from them before in Peeing Asians Caught, Hot Japanese Pissing and Asian Pissing From Piss Japan Tv here are so many Japanese pissing movies but it is so hard to get them out of japan and if we do they are always censored Piss Japan brings us hot pissing and uncensored too.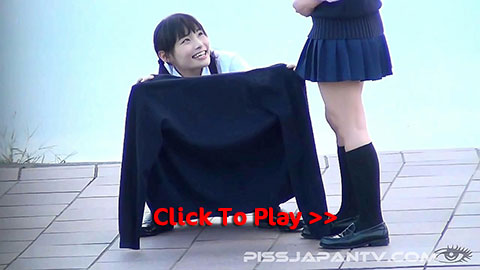 Todays Japanese is a pissing feast lovely Japanese ladies dressed as schoolgirls. They are out in the park playing. The story from Piss Japan goes "In a nearby park, there are always some school girls who are around. , I know if I follow them long enough, good things will "flow." Some girls are shy, some are playful, but what they all have in common is a need to pee. One group of girls pulls out a blindfold in order to release; whatever makes them go, works for me.

It is a great pissing set I just love the different pissing scenarios that they get themselves into. Sexy Asian ladies pissing in the park what else could we want?

See The Japanese Schoolgirls Pissing Here


Filed under: Asian Pissing and Caught Pissing and Japanese Pissing and Movies and Outdoor Pissing and Pee Asian and Peeing and PissJapanTv and Pissing and Pissing Movies and Pissing Outdoor and Public Pissing and Voyeur Peeing
Posted on 01.04.15
Comments: None


Tags: Asian Pissing, Caught Peeing, Caught Pissing, Japanese Peeing, Outdoor Pissing, Pee Asian, school girl, school girl peeing, Uniform pee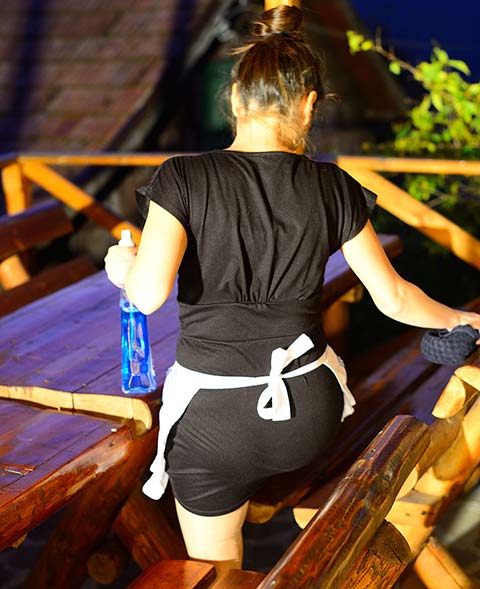 From Real Wetting aka Audrey's wetting site we have the wonderful Dee. Dee has such a sexy body and that she loves pissing herself is even better. If you have missed some of her wonderful past wettings check out Dee Female Desperation And Peeing, Purple Pantyhose Peeing From Real Wetting, Dee Peeing In Shorts And Pantyhose, Dee Female Desperation In Leggings and Dee Peeing In Lycra Pants. Today Dee is dressed as a waitress, her dress is skin tight and she has pantyhose and high heels on. She is cleaning the tables after a long night and is desperate to pee.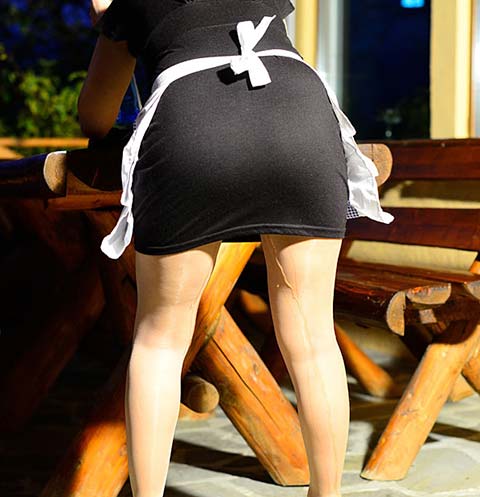 Dee is desperate to pee, she wants to finish cleaning the tables before she relieves herself but her bladder is not that strong. As she is leaning over the table she starts to pee in her pantyhose her pee is running down her legs and splashing on the ground, it is a wonderful sight to see a waitress so desperate that she pisses herself.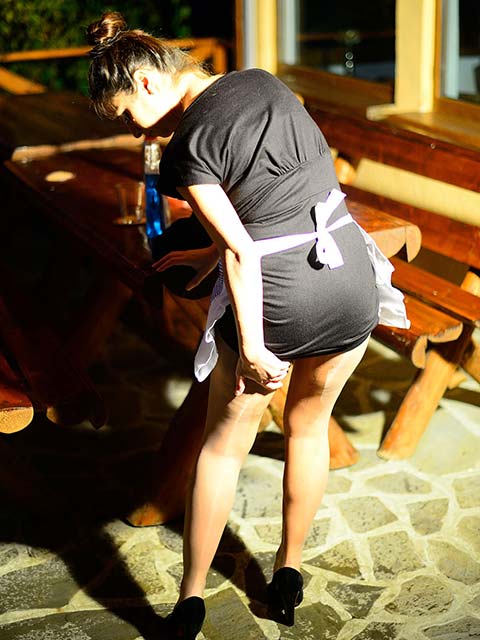 Dee keeps on peeing it is a pity we can't lift her skirt up as she is bent over and peeing so we could see the piss flowing through her panties and streaming down her legs. Her shoes are getting full of piss too. She keeps pissing herself her piss puddle is growing she really is lucky that there are no customers around to see the pissy mess she has made. She finishes peeing and then lifts up her dress to look at her dripping panties. Super sexy wetting from Real Wetting.

See Dee The Waitress Peeing Here


Filed under: Audrey's Wetting Site and Babes Peeing and Pantyhose Pissing and Peeing and Pissing and Pissing In Skirt and Pissing In Tights and Real Wetting
Posted on 01.01.15
Comments: None


Tags: Audrey's Wetting Site, Dee Real Wetting, pantyhose peeing, Pantyhose Pissing, Peeing In Dress, Pissing In Skirt, Real Wetting, Uniform pee
From Ineed2pee we have three female desperation and wetting scenes. Ineed2pee really is the best female desperation and wetting website these ladies get so full that they literally burst. First up we have Jazmyn. Jazmyn really is the girl next door as she squirms & teases you in her super skintight jeans. Some nice butt wiggling as she describes how desperate to pee she is. Just a classic jeans wetting & she tries to get it in the garbage pail but most of it sprays everywhere! Super hot denim wetting & pissy panties! See Jazmyn desperate and wetting here.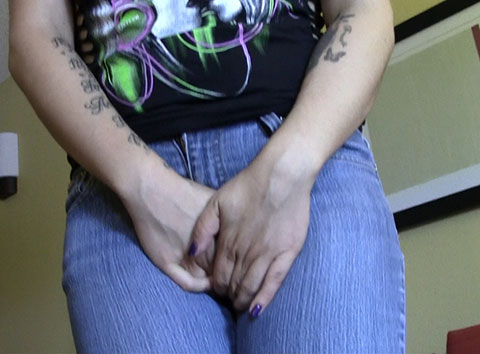 Next up we have MILF Pandora. "Pandora is locked out of the bathroom & doing the pee pee dance in the kitchen! Lots of pacing, talking & crotch grabbing action before she gasps & pisses her tight white pants fully, lots of streaks down both legs, front & back! What a huge puddle on the floor before she showing soaked panty" See Pandora Desperate and peeing here.

Last up we have a female desperation and jeans wetting movie that was posted a long time ago, it has been converted into the new player and if you have missed it, it is a great female desperation and wetting. The movie stars Bella she has been bound by Vicki and is so desperate to pee she makes it off the couch even though her hands are tied and then she hops to the bathroom. She is getting more and more desperate but no one is going to untie her so she has no choice but to pee in her jeans. A super female desperation and jeans wetting movie. See Bella Lose Control Here


Filed under: Desperation and Female Desperation and Ineed2pee and Jeans Peeing and Jeans Pissing and Movies and Peeing and Pissing and Pissing In Pants and Pissing Movies
Posted on 12.29.14
Comments: 2 Comments


Tags: Bella Ineed2pee, Desperate To Pee, Female Desperation, Ineed2pee, ineed2pee Bella, Jazmyn Ineed2pee, Jeans Pee, Jeans Peeing, Pandora Ineed2pee, Pissing In Pants, Pissing Movie