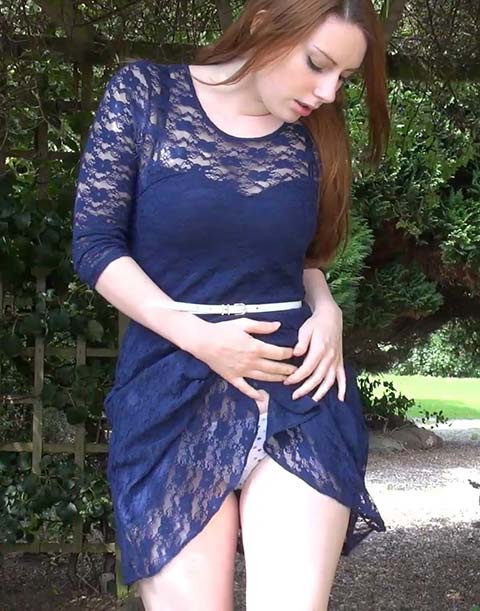 From Wetting Her Panties we have the very sexy Charlotte. We have had her peeing in her pants before in Peeing in Her Blue Jeans today she is in a blue dress and outside. She looks a little shy as she is rubbing her bulging her bladder but wow does she look sexy. She starts to grab her crotch and does a little desperation bounce and then she lifts her dress up and we get to see her panties and bulging belly.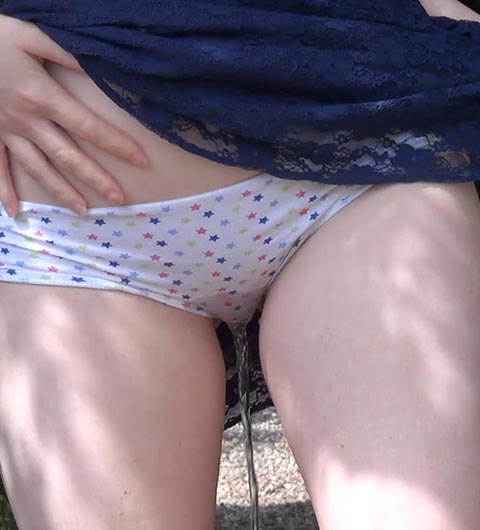 Charlotte is desperate to pee and she seems to be enjoying rubbing her bladder and her crotch, she lifts her dress up higher and we get a great shot of her crotch tightly encased in her panties and then we get a explosion of piss into her panties. Her pee instantly makes the crotch of her panties dark and her piss flows out and splashes on the ground, she was desperate to pee.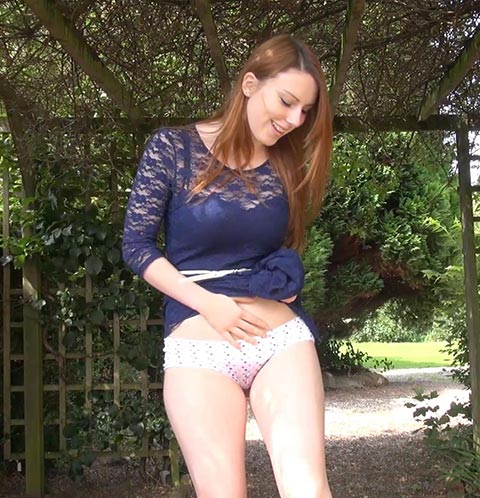 Charlotte is peeing in her panties outside, the fabric is going dark and she has pee drips running down her legs. She stops the flow of pee and then turns around to show her bottom and her piss soaked panties gripping her crotch and then she starts to pee again. It must have been so hard for her to have stopped the flow. She keeps on peeing in her panties and has pee running down her legs she really is a pissy mess. She turns back around and her piss soaked panties are gripping her pussy. She pulls her soaked knickers down and then squeezes the pee out. A wonderful Wetting Her Panties knicker wetting.

See Charlotte Peeing Her Knickers Here


Filed under: Desperation and Female Desperation and Knicker Wetting and Panty Pee and Peeing and Pissing and Pissing In Skirt and wettingherpanties
Posted on 12.09.13
Comments: 3 Comments


Tags: Charlotte Wetting Her Panties, Desperate To Pee, Female Desperation, Knicker Wetting, Panty Pee, Panty Peeing, Peeing In Dress, Pissing In Skirt, Skirt Peeing, wettingherpanties
3 Comments »
Charlotte is sexy as fuck,nothing better then a fit redhead, would love to have her featured here more often blog.

Comment by Arsenal — December 9, 2013 @ 4:53 am

Yes a beautiful redhead with a beautiful smile. Very charming and sexy

Comment by Francois — December 9, 2013 @ 10:21 pm

She's a real cutie, more please!

Comment by Sophie — December 9, 2013 @ 11:28 pm
RSS feed for comments on this post.
Leave a comment