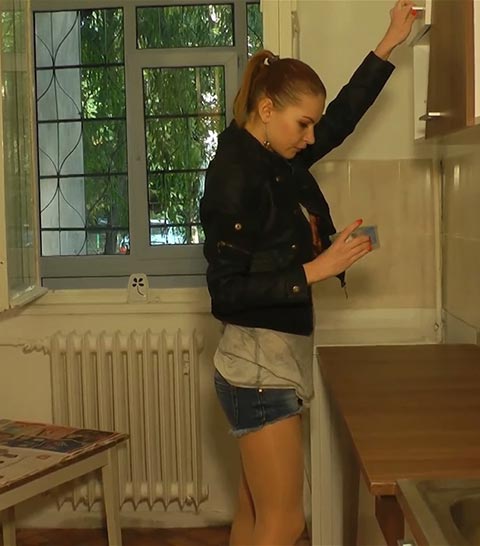 From Real Wetting We have a great shorts wetting with the sexy Dominika. She is in denim shorts with pantyhose underneath and is also wearing a leather jacket. If you have missed some of Dominika's previous wetting endeavours checkout Dominika Peeing In Denim Overalls, Dominika Peeing In Her Jeans, Peeing In Her Bikini From Real Wetting, and Dominika Peeing in her Green Jeans. Today she has a full bladder and is in the kitchen. She has a hole in her pantyhose and starts to stitch it. She is really enjoying the feeling of her full bladder, The pressure is increasing and as she is sewing she is getting turned on.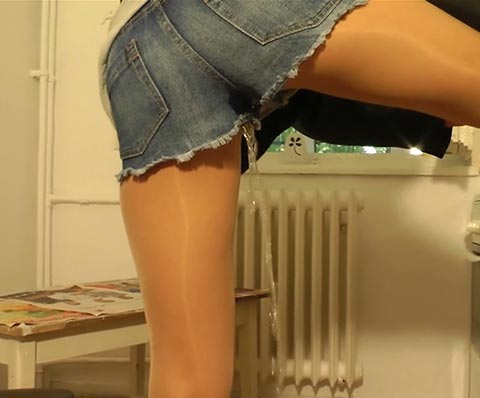 Sexy Dominika Has her legs raised and her denim shorts are cutting into her bladder. The pressure is increasing and as she is sewing. She lets out a little pee spurt just enough to wet her pantyhose and the crotch of her shorts. The warmth is wonderful and she releases another little spurt of pee. The denim is getting wetter and she is feeling more and more turned on.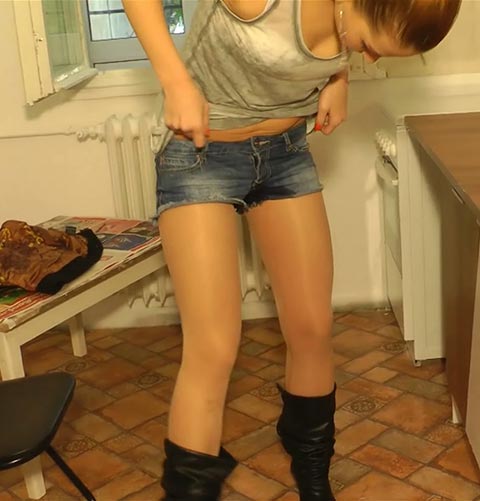 She has her legs still raised and she has started to piss in her shorts. The denim is going dark and when she releases more pee the hiss of piss in her shorts is wonderful. The denim is starting to get the wonderful shine it does when it is saturated in piss. Piss is exploding out and starts to run down her pantyhose covered legs. There are pee rivers running down the nylon fabric and her piss is even running into her boots. What a wonderfully wet shorts piss. When she finishes pissing in her shorts she is one wet pissy mess.

See sexy Dominika Pissing In Her Shorts Here


Filed under: Audreys Wetting Site and Babes Peeing and Pantyhose Pissing and Peeing and Pissing and Pissing In Shorts and Pissing In Tights and Real Wetting
Posted on 09.26.17
Comments: None


Tags: Audreys Wetting Site, Dominika Real Wetting, pantyhose peeing, Pantyhose Pissing, Real Wetting, Shorts Pissing, Stockings Pee, wetting
From Piss Japan we have three schoolgirls caught pissing outdoors. Following from the last post from Pissjapan Japanese Ladies Spreading Pussy And Pissing we are back out and in a similar spot when our hidden piss cam spots three school girls. They are in shorts skirts and tight white shirts and there are looking for a place to pee. One of them is rubbing her bladder, she needs to pee bad. They spot a place to pee and climb a fence I bet this isn't helping the pressure on their bladders and I wonder if they are already spurting pee into their panties.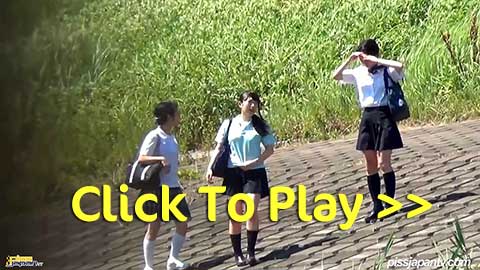 They climb the fence and find a good position to pee. They starts to pull down their panties and it is unfortunate that we don't see how wet they are already. The wind is blowing but the skirts are not blowing up and flashing their panties. They get the panties down and secure them around their legs they then squat down. We are further away from the last time that we were spying on school girls peeing so we are not getting such a great pussy shot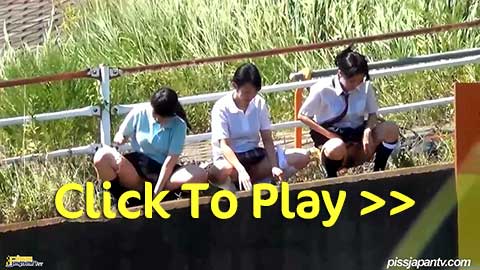 They have squatted down and spread their legs we can make out the dark patch of pussy hair and then the school girl in the middle starts to pee. The piss stream shoots out and her friend beside her starts to pee. We have to peeing pussies spraying piss. The school girl on the lefts starts to pee too and we have three pissing puissies for our enjoyment.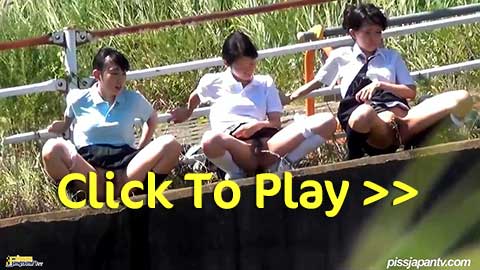 See The School Girls Pissing Here


Filed under: Asian Pissing and Caught Pissing and Hairy Pussy Pissing and Japanese Pissing and Movies and Outdoor Pissing and Pee Asian and Peeing and Pissing and Pissing Movies and Pissing Outdoor and PissJapanTv and Public Pissing and Voyeur Peeing
Posted on 09.23.17
Comments: None


Tags: Asian Peeing, Asian Pissing, Caught Peeing, Caught Pissing, Hidden Toilet Cam, Japanese Peeing, Outdoor Pissing, Pee Asian, Peeing Voyeur, Piss Japan Movie, Pissing Movie, Pissing Movies, Skirt Peeing, Voyeur Peeing, Voyeur Pissing, Wet In Public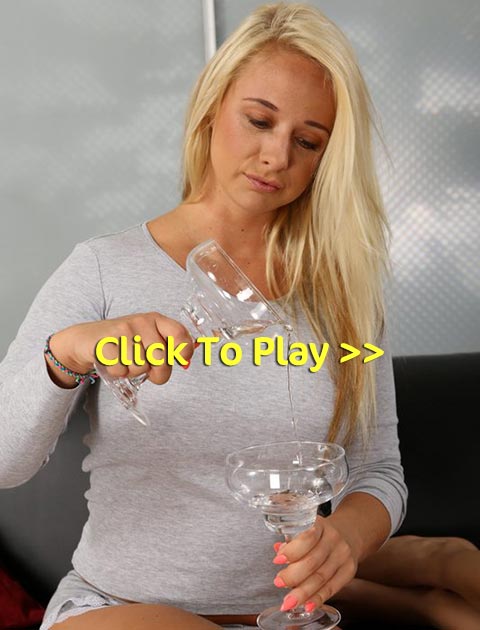 Lesbian peeing from Vipissy with a movie and pictures. Francys Belle and Lilith join us in the lesbian pissing party from Vipissy. Lilith is one sexy blond and Francys Belle is so cute. We join these two lovely lesbians in the lounge Francys Belle is sleeping and Lilith has found her. She is horny and starts to play with water by pouring it between glasses to see if she will pee in her panties. Francys Belle doesn't pee her panties but she wakes up and is busting to pee. Lilith is an obliging toilet and has Francys Belle pee through her panties and onto her face. Her blond hair is getting soaked and she is drinking some of the pee too.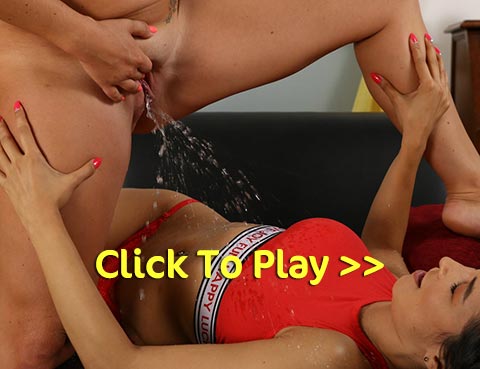 Francys Belle Finishes peeing all over Lilith and she is soaked. Her clothes are clinging to her curvy body and she now needs to pee too. She strips her pee soaked clothes off and stands above Francys Belle. She pees over her tits and body, she is really soaking her. Her nipples go hard under the wet fabric. They starts to make out and then Francys Belle pees again.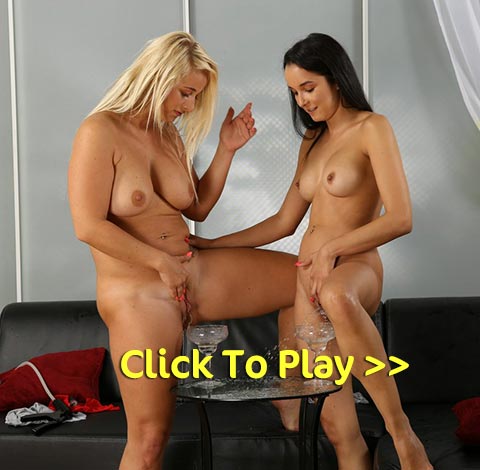 They are both soaked in piss and so horny. They grab a dildo and start to pump each other till they are cuming. They can't get enough and they need more pee. Francys Belle pees on Lilith and we then have Lilith on her back and peeing like a drinking fountain. Francys Belle takes a drink of her golden goodness and they then finish up licking pee of the table with hair dripping in piss. A great lesbian piss from Vipissy

See Francys Belle And Lility Peeing Here


Filed under: Babes Peeing and Drinking Piss and Movies and Peeing and Pissed On and Pissing and Pissing Movies and ViPissy
Posted on 09.20.17
Comments: None


Tags: blonde peeing, brunette pissing, Francys Belle Vipissy, Lesbians Peeing, Lilith Vipissy, Piss Drinking, shaved pussy peeing, ViPissy, Vipissy Movie, Vipissy Pictures
From HD Wetting we have some wonderful jeans peeing photos of Alisha desperate and wetting herself. We start off with Alisha topless in her jeans and desperate to pee. There is something so wonderful watching a desperate lady as she fidgets and giggles with her breasts bouncing around. She stands there desperate and slowly strips off her slinky top till her big breasts are bouncing around for us. She jiggles around a little and then stands there and starts to pee in her jeans. The light denim tightly encasing her pussy starts to get damp and then the pee flow increases and there is pee streaming down her legs. She really does make a mess of her jeans pissing in them. After she has finished pissing she pulls her jeans down and we get to see her wet and pissy panties too.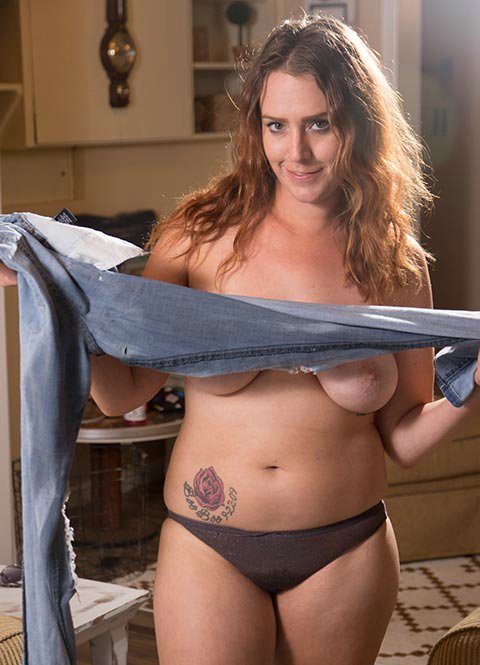 We continue with the jeans peeing as Alisha is out leaning against a rail out on the deck. She starts off so casual but then as she is standing there we know she needs to pee. As she bends forward and grabs her crotch she really needs to pee. She has her hands jammed in there and she can't hold on, she is peeing in her jeans while her hands are still clamped. The last ditch effort to hold on failed and now she has pee steaming down her tight jeans. She finishes peeing in her jeans and turns around and we can see her wet piss soaked bottom too.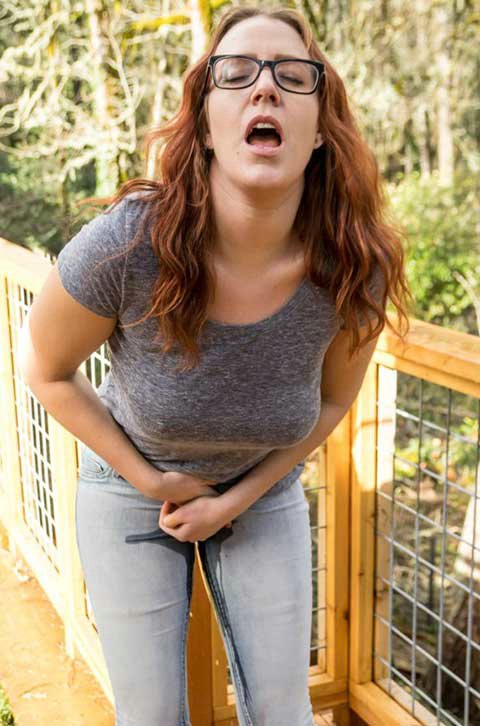 To finish we join Alisha in the bathroom as she is taking selfies of herself. She is flashing her breasts and playing around teasing us. We know that she is building up to peeing her jeans for us and she poses and flashes some more and then she moves the camera to the crotch of her jeans and starts to pee for us. Alisha is peeing her jeans for us she is making a wonderful mess of them and as she soaks them in warm wetness. She finishes peeing in her jeans he pulls them down and shows us the wonderful wet patch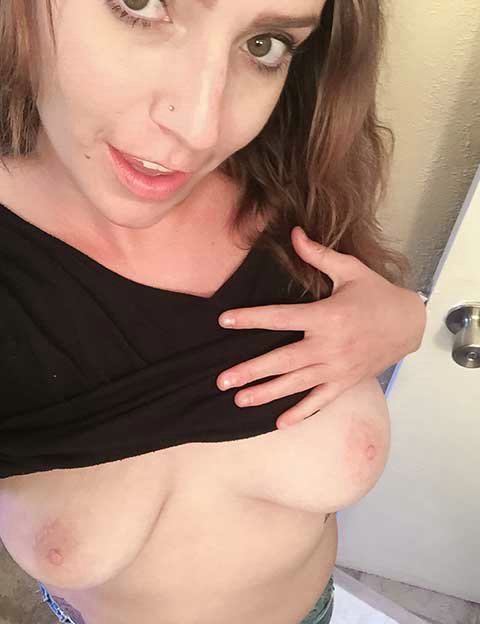 See Alisha Peeing In Her Jeans Here


Filed under: Desperation and Female Desperation and HD Wetting and Jeans Peeing and Jeans Pissing and Peeing and Pissing and Pissing In Pants
Posted on 09.17.17
Comments: 2 Comments


Tags: Alisha HD Wetting, Desperate To Pee, Female Desperation, HD Wetting, Jeans Pee, Jeans Peeing, pants peeing, Pissing In Pants, wetting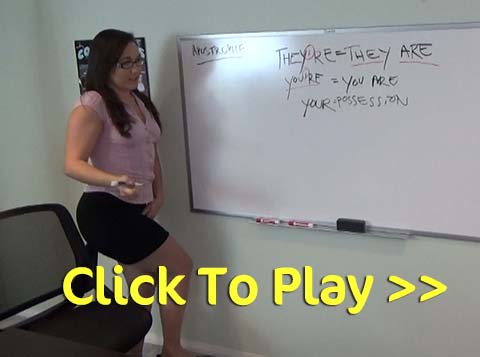 From Ineed2pee we have the wonderful and sexy Sinn Sage. We have had this hottie desperate and peeing for us many times here at Piss Blog and if you have missed them you can check out all the posts tagged Sinn Sage HERE. Today we are in for a little treat as we have a movie. Usually we only have her desperate and peeing s in photos so I hope you enjoy this desperate peeing movie with Sinn Sage we have had the pictures before but it is great to see the pee running. We start with Sinn in class desperate to pee. She is standing at the white board and is in a sexy short skirt. She has her hand jambed into her crotch and is dong the pee pee dance. She getting more desperate and the students are not helping her. She gets more and more desperate, she can't hold on and then starts to lose control in the front of the class. She is peeing in her skirt piss is running out of her pantyhose and she is soaking her shoes too. A embarrassing female desperation and wetting.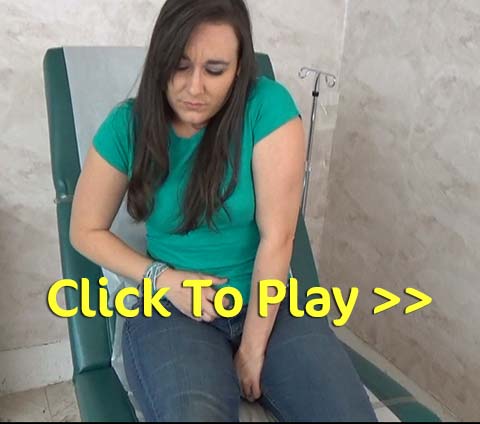 We next join her at the doctor's surgery. She is in tight jeans and waiting for the doctor. As she sits there she is getting more and more desperate .she starts to fidget her legs and is squirming around. She jambs her hands into her crotch trying to hold on. She really is struggling and then she just can't hold on and as she is sitting in her jeans she starts to pee. her pee makes the crotch of her jeans dark and the pee patch starts to spread. She stands up and piss cascades out of her jeans splashes on the floor what a wet mess she has made.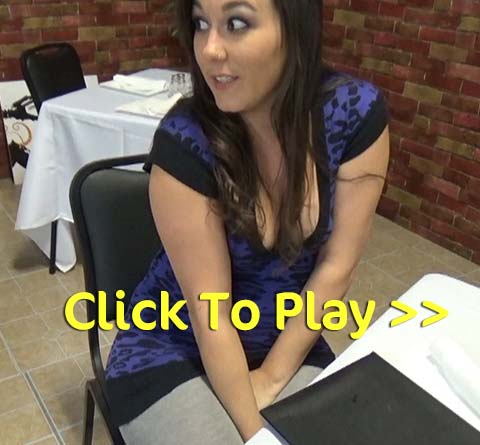 The last scene we have with Sinn Sage is with her at the restaurant. She needs to pee when she sits down and realises she should have peed earlier. She asks where the bathroom is but is told it is locked. This is not good. She has her legs clamped together she is bursting to pee she is fidgeting her legs and her face shows just how desperate she is. She keeps on holding and then she just can't hold on any longer and starts to pee in her leggings. She is peeing herself in the restaurant what a mess. Even her sandals are soaked and her feet are dripping in piss too. A super mix of desperate peeing with Sinn Sage from Ineed2pee.

See Sinn Sage Desperate And Peeing Click Here


Filed under: Desperation and Dress Peeing and Female Desperation and Ineed2pee and Jeans Peeing and Jeans Pissing and Knicker Wetting and Movies and Panty Pee and Pantyhose Pissing and Peeing and Pissing and Pissing In Leggings and Pissing In Skirt and Pissing In Tights and Pissing Movies
Posted on 09.14.17
Comments: None


Tags: Desperate To Pee, Female Desperation, Jeans Peeing, Knicker Wetting, pants peeing, Panty Pee, Panty Peeing, pantyhose peeing, Pissing In Leggings, Pissing In Pants, Pissing In Skirt, Pissing Leggings, Pissing Movie, Pissing Movies, Sinn Sage Ineed2pee, Skirt Peeing, wetting