From Real Wetting we have the lovely Debbie desperate and in vintage panties. We have had this hottie previously in Debbie Peeing In Her Panties Bound And Peeing In Panties Debbie Pissing In Denim Shorts and Debbie Pissing In Her Jeans. Today she is in white vintage panties and pantyhose and of course is desperate to pee. She is cleaning the house and trying to hold on as long as she can. She is dusting away when she has to bend down and hold her crotch. She is getting to the point of no return.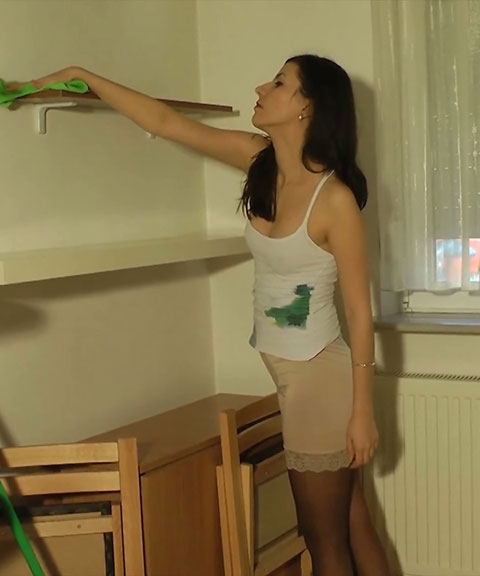 She is holding her crotch through her vintage panties and is doing a great job holding on. She starts to clean again but has to stop her bladder is bulging and it is telling her she is to desperate. She is to full and as she is standing there she starts to pee. Her piss explodes out of her panties and cascades down hr legs.

Debbie is pissing in her panties and they are getting soaked. She has piss flowing down her legs and we can see the lovely drips in her pantyhose. She keeps on peeing and I bet she is enjoying the wonderful warmth as her piss flows down her legs and pools at her feet. She finishes pissing in her panties and they are still dripping as she pulls them down to show us her piss soaked pantyhose and we can see that she is not wearing any panties. A wonderful female desperation and panty wetting from Real Wetting


See Debbie Peeing In Her Vintage Panties Here


Filed under: Audreys Wetting Site and Desperation and Female Desperation and Knicker Wetting and Panty Pee and Pantyhose Pissing and Peeing and Pissing and Real Wetting
Posted on 06.08.16
Comments: 1 Comment


Tags: Audrey's Wetting Site, Debbie Real Wetting, Desperate To Pee, Female Desperation, Knicker Wetting, Panty Peeing, pantyhose peeing, Pantyhose Pissing, Real Wetting, wetting
1 Comment »
Nice to see Debbie again! She's certainly a hottie and always has a full bladder, therefore making the whole video and photo set even sexier and more enjoyable.

Comment by Pip — June 8, 2016 @ 10:51 pm
RSS feed for comments on this post.
Leave a comment