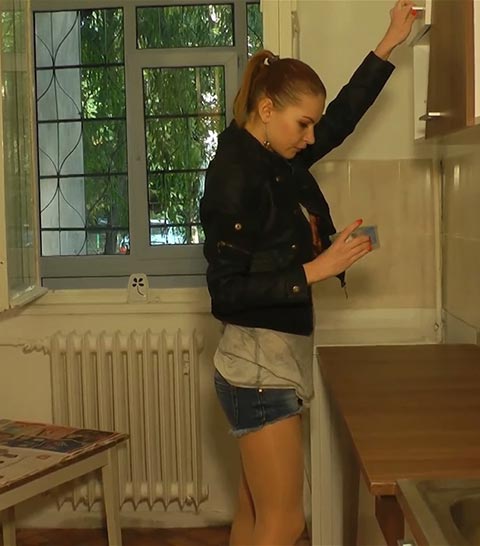 From Real Wetting We have a great shorts wetting with the sexy Dominika. She is in denim shorts with pantyhose underneath and is also wearing a leather jacket. If you have missed some of Dominika's previous wetting endeavours checkout Dominika Peeing In Denim Overalls, Dominika Peeing In Her Jeans, Peeing In Her Bikini From Real Wetting, and Dominika Peeing in her Green Jeans. Today she has a full bladder and is in the kitchen. She has a hole in her pantyhose and starts to stitch it. She is really enjoying the feeling of her full bladder, The pressure is increasing and as she is sewing she is getting turned on.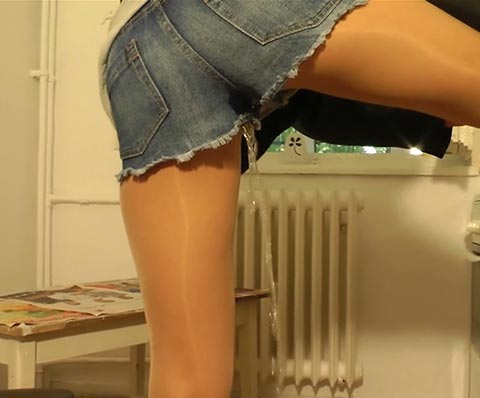 Sexy Dominika Has her legs raised and her denim shorts are cutting into her bladder. The pressure is increasing and as she is sewing. She lets out a little pee spurt just enough to wet her pantyhose and the crotch of her shorts. The warmth is wonderful and she releases another little spurt of pee. The denim is getting wetter and she is feeling more and more turned on.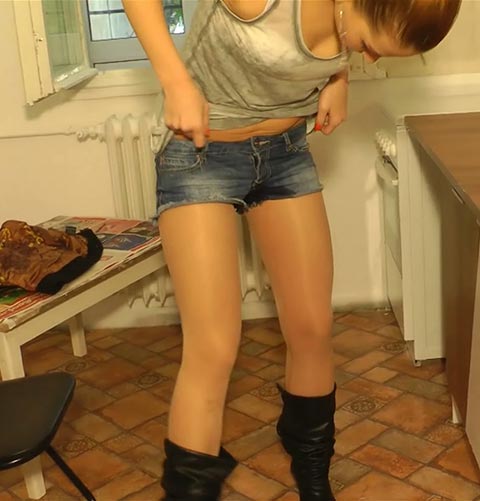 She has her legs still raised and she has started to piss in her shorts. The denim is going dark and when she releases more pee the hiss of piss in her shorts is wonderful. The denim is starting to get the wonderful shine it does when it is saturated in piss. Piss is exploding out and starts to run down her pantyhose covered legs. There are pee rivers running down the nylon fabric and her piss is even running into her boots. What a wonderfully wet shorts piss. When she finishes pissing in her shorts she is one wet pissy mess.
See sexy Dominika Pissing In Her Shorts Here