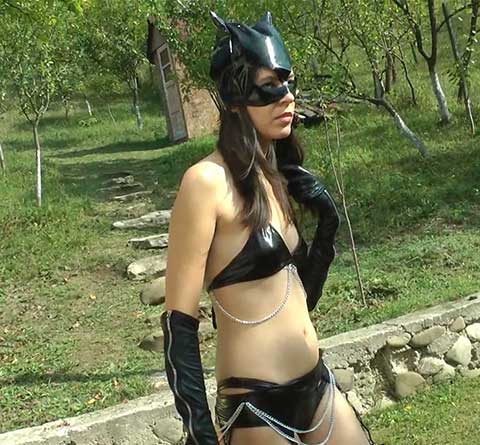 From Real Wetting we have the very sexy Debbie. We have had this hottie at Piss Blog before and If you have missed her check out Peeing In Vintage Panties Debbie Peeing In Her Panties Bound And Peeing In Panties and Debbie Pissing In Denim Shorts. Today we have her dressed as Cat Woman and looking very sexy. She has vinyl panties a vinyl bra and a mask. She is in for some domination play and is going outside to set up. She gets outside and realises that she forgot to go to the toilet. This may be a problem. She stops walking and places what she is carrying onto the grass and as she bends down she gets a wave where she nearly pees herself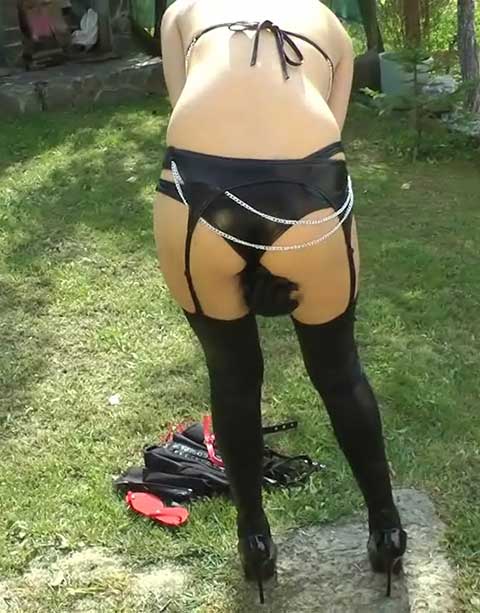 She is crouching down and jambs her hands against her crotch. She doesn't want to pee herself. She stays like this for a little, stands up but she is having bladder problems. She jambs her hand in her crotch to stop the flow again. She really should have gone to the toilet when she had the chance. She bends down again and it is to much, a little spurt of pee drips out this is it she can't hold on.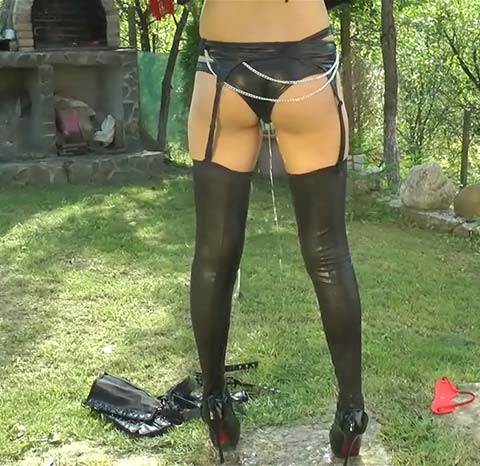 She has released a little pee and now she can't stop it. She starts to pee harder and her bladder is loving it, it relaxes more and her pee stream explodes into her vinyl panties.Iit is gushing out and is splashing in the grass around her. There are pee rivers running down her legs and her heels are even getting soaked in pee. I do love seeing a sexy lady pissing herself. When she finishes peeing herself she stands there and realises that she is lucky, her outfit has repelled the pee there was no chance that the material; would soak it up and make her a soggy mess. A super sexy outdoor wetting with Debbie.
See Debbie Desperate And Peeing Here