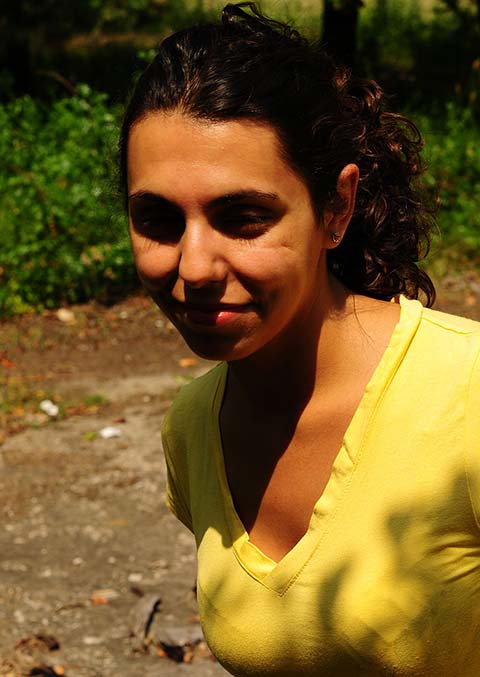 Sara from Real Wetting is dressed in yellow leggings, a yellow top she also has a G string on that can be made out through her thin leggings. In the past we have had some great posts with this hot wetter from Real Wetting if you have missed some of her spectacular wettings check out Sara Drunk And Pissing Her Pantyhose, Sara Peeing In Her Satin Pants, Peeing In Her Dark Blue Pantyhose and Sara Peeing In Her Pants Today  She is out and jogging around, she is desperate to pee but isn't ready to stop and find a bathroom. She jogs for a little and then stops, the bouncing is putting to much pressure on her bladder, she can't hold on and starts to pee.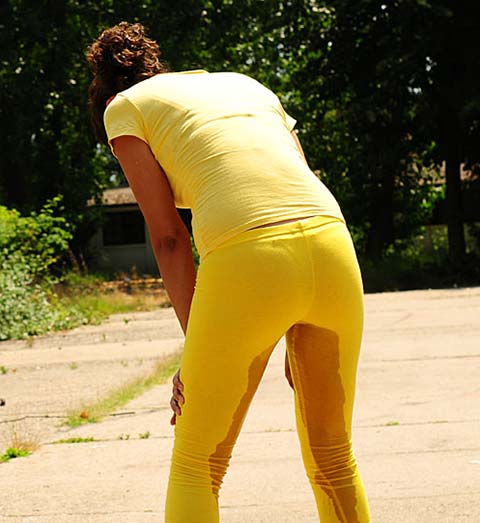 Sara is standing in her yellow leggings and starting to pee. The first warm drops are soaking into the yellow leggings and the fabric is going see through, the leggings are perfect to be peed in. She starts to pee harder and her leggings are starting to go from yellow to skin colour. They were clinging tightly to her legs before now they will be so lovely wet and tight.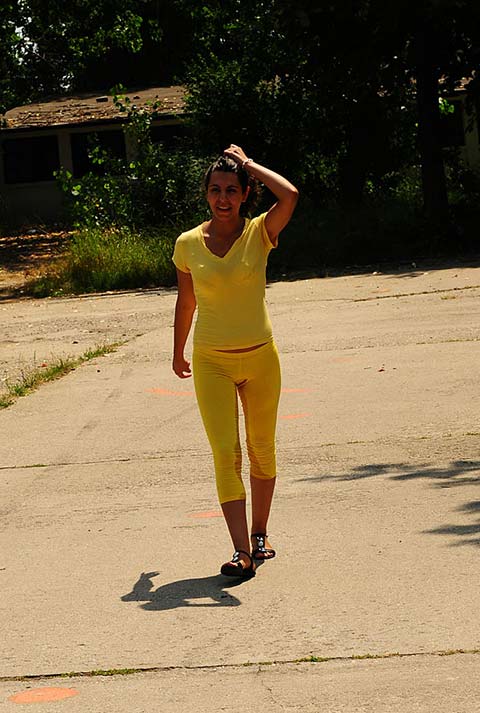 See Sara Pissing Her Leggings Here


Filed under: Audreys Wetting Site and Outdoor Pissing and Peeing and Pissing and Pissing In Leggings and Pissing Pictures and Real Wetting
Posted on 02.28.17
Comments: 2 Comments


Tags: Audreys Wetting Site, Outdoor Pissing, Pissing In Leggings, Pissing Leggings, Real Wetting, Sara Real Wetting, wetting
From Wetting Her Panties we have Italia. This is the first time that Italia has been featured here at PissBlog and I hope that you all enjoy this hottie. Over at Wetting Her Panties she has started in 6 wetting movies and 4 photo sets. Today she is in the kitchen desperate to pee and dressed in a polka dot bra and a tight blue skirt. We can see that her bladder is bulging and it is protruding out. I do love how nervous she looks standing there. Italia starts to pull her skin tight blue skirt up and she exposes her panties. She turns around a little and we get a great shot of her bottom encased in her panties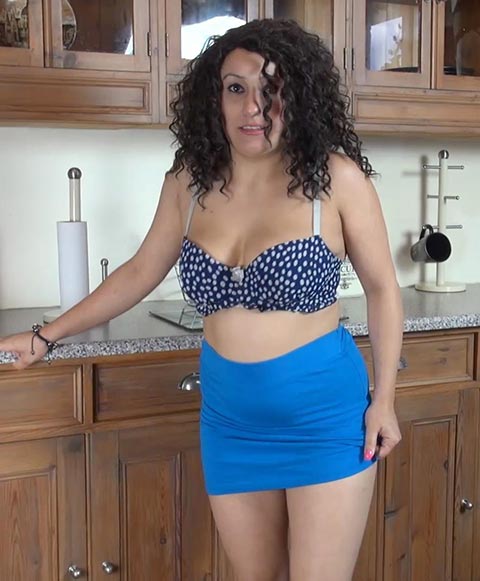 Italia Is standing in the kitchen, her knickers are on show and then she can't hold on any longer and she starts to pee. As she starts to pee there are a few drips of piss soaking into her panties. Her panties are starting to get the damp soppy look and then she starts to pee more. Her knickers start to overflow in piss and she has warm pee streams running down her legs. Her piss soaked legs glisten in the light and her panties are getting more and more soaked as she keeps on peeing.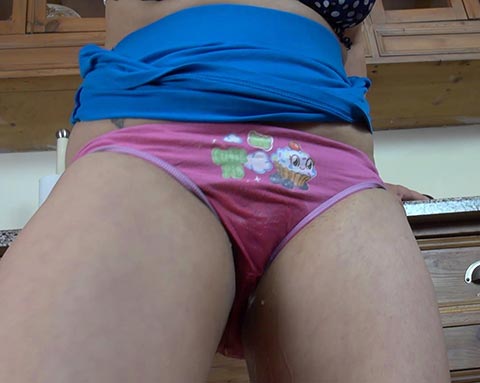 She stopes pissing her knickers and turns around so she is facing us, her panties are sopping wet. I do love seeing panties holding this much piss, standing facing us she pees a little again. Her panties overflow again and she has more pee running down her legs. Imagine the wonderful feeling to place your hand on the piss soaked panties, the warm pee would flow over your hand and her pissy pussy would be hot and waiting. She finishes pissing in her panties and standing there we get to see that she is standing in a piss puddle too. A super panties soaking from Wetting Her Panties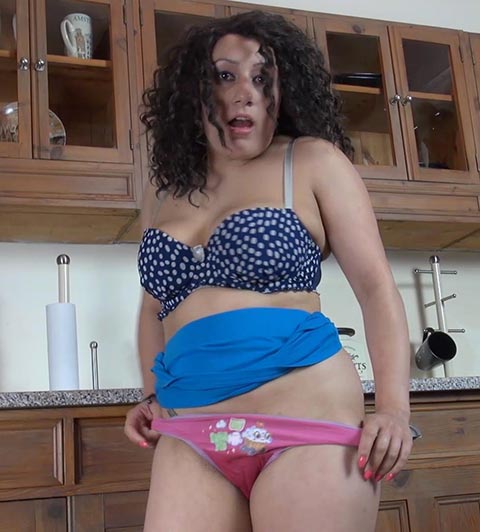 See Italia Pissing Her Panties Here


Filed under: Knicker Wetting and Panty Pee and Peeing and Pissing and Pissing Pictures and wettingherpanties
Posted on 02.25.17
Comments: 3 Comments


Tags: Italia Wetting Her Panties, Knicker Wetting, Panty Pee, Panty Peeing, Pissing Panty, Skirt Peeing, wetting, wettingherpanties
This story was sent in by Kyara Luna. It has some great female desperation in it. I hope you all enjoy

Lilith's Challenge

Lilith had many dirty secrets, and being alone in the house let her explore her desires. Today is one of those rare days, living together with her parents made her crave these scarce hobbies. She also loves the thrill of them returning at any time, the chance of getting caught excited her even more. Of course, she would be totally embarrassed if she was caught, but that's her lewd fantasy. Lilith began her plans before they even left, she needed time for her bladder to fill. This is one of many fetishes she has, the feeling of fullness of her bladder turned her on, not only that she enjoyed the sensation of helplessness as she loses control of herself.

The pressure slowly increased inside her as she waits until the right moment. Leading onto her second habit of layering clothes, these inconvenient outfits complements and challenges herself during her bladder's critical breaking point. She quickly prepares which layers she'll wear as she feels a storm brewing down below. She quickly stripes out of her casual clothes and put on a pair of bikini panties, boyshorts, pantyhose and a leotard in the respective order. This is what she called the 'base layer', designed to prevent pulling the one piece to the side, the only way is to completely remove it.

She then similarly repeats the base layer with another pair of boyshorts, spandex, back zipped bodysuit and finally a sports bra. Once again, another pair of panties and a full body one-piece bodysuit, totally hiding everything secretly underneath. The incentive of this many layers is the challenge of removal, and the repercussion of failing to take off the layers is complete soakage of one's clothes. However, she was not done with her layering, there was more to come. She takes more clothes out her closest and drawers, piling them on top of her bed. She then puts on a pair of denim hot pants, high waisted jeans, skinny jeans, back zipped dungarees and a tight button up denim jumpsuit to compress and camouflage those layers.
Now entombed in the layers, she waits for the perfect moment to test her will power and strength. Lilith has practiced this many times both succeeding and failing, however, she learnt a few tips such as not to wear them too early. She started to feel quite desperate which she has been anticipating, but also it was starting to get pretty warm. That is to be expected and the reason she layers mostly in Winter. Not long after, a feeling which she knows very well overtakes her body; the urge to pee. Her legs dancing up and down by themselves, thighs clamped tightly together though that had little effect through the many layers.

Her hold slowly becoming unbearable as her bladder continues to quickly fill up, and her muscles getting fatigued from the mountain of strain. However, she fights the urge and battles on holding and holding. Pleasure and pain repeated endlessly in her head. The layers weren't helping as it restricted her bladders expansion. Her legs soon became tired from all the fidgeting. She feels her strength disappearing as her bladder eats away all her energy.

"Five more minutes" she moaned softly under her breath. "Five more."

Five minutes of hell which she's both enjoying and despising. Staring at the timer which didn't even seemed to tick, she decides to challenge herself even more. She slowly stood up, legs sandwiched together like they were super glued. She then kneed down on the floor, laid down directly on her swollen bladder. The immense pressure surged through her body, an awkward smile emerges from the lewd act. Suddenly her body freezes and tenses up, time's running out and she needs to remove the layers before it it's too late. She quickly pushes herself up, but unable to muster the strength. Her body collapses back onto her bloated bladder. She moans in pain.

"Still dry, I can make it," she encourages herself. "just a little longer."

Gathering the strength, she pushes herself off the floor and up onto her two feet. She gradually made progress to the bathroom, hunched over like an old grandma. Entering the toilet sent shivers down her spine.

"Almost there," she mumbles. "just have to remove these layers."

Her hands shaking uncontrollably like Parkinson's disease as she tried to unbutton the jumpsuit.

"No no no," she cried. "please, I can make it."

She began undoing her buttons one by one, from top to bottom. As she reached her waistline, they became increasingly harder. The only way to undo them were to press into your bladder and slide the stupid button out. First layer off and it only gets harder. As she reaches her back for the zipper, her hands suddenly jump to her crotch.

"I-It's just a squirt," Lilith said. "I-I can do it."

Once again she brings her hands behind and grab ahold of the zipper, quickly pulling it down. She then slides the straps off her shoulders and pulls the overalls off. Next is the skinny jeans which she quickly unbuttoned along with the high waisted pair, pulling them down simultaneously. Quickly taking a short breather, she looks at the mirror. Staring at herself like she's 5 months pregnant. Suddenly another wave of desperation hits her, like someone punched her in the stomach. A giant shot glass of hot liquid shoots into her slightly wet panties. She tries to counter the spurt by tensing her legs together, successfully stops it for now. She quickly undoes the short shorts and shoves them into a pile of the removed layers.

Feeling like she was going to make it, she deviously put her high waisted jeans back on, leaving the few buttons undone. She starts to stroke herself though the many undergarments. Even though there's so many layers, the pleasure was still immense. Thinking it's a bad idea to continue, she starts taking off the layers again. First went the jeans, full bodysuit then her underwear. Massaging herself to the edge as she removed each layer. Next she had to remove her sports bra before attempting the back zipped bodysuit. This is one of the hardest layers to remove in her opinion as getting this sports apparel up and over is quite the challenge.

She slowly struggles with both her bladder and bra, however she conjured enough strength, pulled it off her shoulders and off. She then swiftly undid the zipper and pulled the suit down along with her tights and boyshorts. She sighed in relief as there is only the base layer left. Once again she began touching and rubbing, however this time it was much stronger without those layers. She couldn't stop herself sliding her fingers on the smooth bodysuit, which was soaked from the accidental squirt. Her hand moved faster and faster as she couldn't control herself. Climaxing into her two panties and through the bodysuit. Still rubbing her muscles slowly succumb, releasing jets of urine. The sound of hissing slowly fills the bathroom as the long awaited relief arrived. Lilith slumps back on the toilet, totally out of energy and free from her bladder.

"At least I didn't fail like last time," she joked to herself.


Filed under: Piss Stories and Pissing Pictures
Posted on 02.19.17
Comments: None


Tags: pee story, pissing story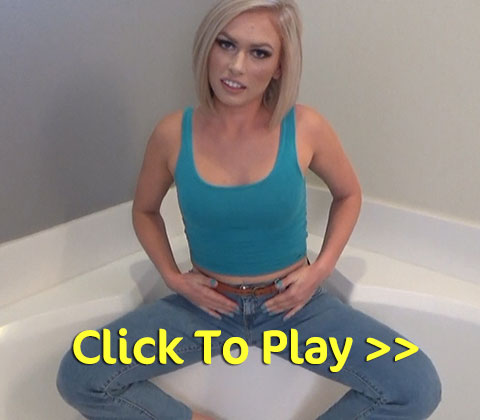 Today from Ineed2pee we have the wonderful Honey & Shavelle Love. We have had pictures from some of these scenes before but now we get the real wet desperation and pissing from them. We start off with Honey in the bath tub in jeans and desperate to pee. She is teasing us showing her big bladder and tight jeans. She holds on as long as she can and then pisses in her jeans soaking herself. We even get to see her playing with her piss soaked panties. Next up she is in her leggings and desperate to pee. The pictures from this desperation and wetting movie are in Honey Harper Peeing In Her Leggings She holds on as long as she can and then pisses herself, she soaks her leggings the ground and her feet as well.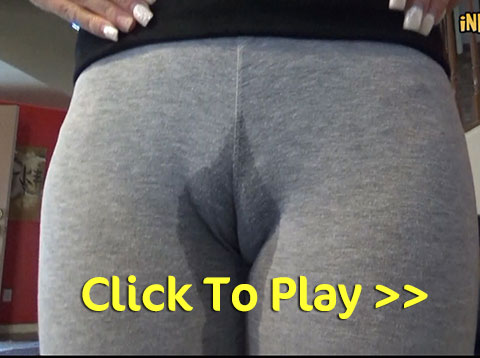 Moving on from Honey and we have Shavelle Love. Shavelle Love is in jeans a loose top and is desperate to pee and bouncing around she looks so sexy as her breasts jiggle. She grabs her crotch, she is so busting to pee, standing there she starts to piss herself and has rivers of piss running down her tight jeans, the denim is shining and Shavelle Love is making a great big piss mess on the floor.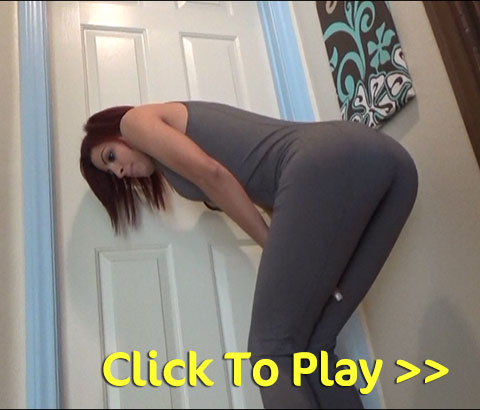 After the jeans pissing Shavelle Love is in a one piece outfit im guessing that it is the same one that Kenna has peed in in Kenna Desperate In Her Full Bodysuit and desperate to pee at the bathroom door. Shavelle is grabbing her crotch so hard and bouncing around, we don't get to see when she loses control and pisses herself but we get to see her in her piss soaked bodysuit mopping her piss up. Next we move to the lounge, she is in leggings and is really desperate to piss. The pictures from this desperate leggings wetting are here in Shavelle Love Peeing Herself I love how she is sitting on the couch and jiggling. We can see her bulging bladder and that she can't hold on any longer. Shavelle starts to piss in her grey leggings, the fabric shows her wonderful piss stream and she even has a pissy camel to. A super sexy female desperation and wetting movie from ineed2pee.

See The Desperate Peeing Movie Here


Filed under: Babes Peeing and Desperation and Female Desperation and Ineed2pee and Jeans Peeing and Jeans Pissing and Movies and Peeing and Pissing and Pissing in Bodysuit and Pissing In Leggings and Pissing In Pants and Pissing Movies and Pissing Videos
Posted on 02.16.17
Comments: None


Tags: Desperate To Pee, Female Desperation, Honey Harper Ineed2pee, Ineed2pee, Ineed2pee Movie, Jeans Pee, Jeans Peeing, pants peeing, Pissing In Leggings, Pissing In Pants, Pissing Leggings, Pissing Movie, Shavelle Love Ineed2pee