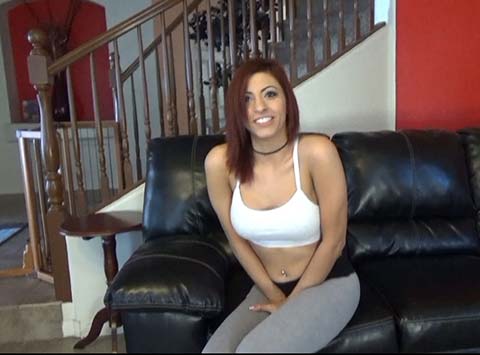 From Ineed2pee we have a new hottie Shavelle Love. This is her first ever wetting on camera so we are in for a real treat. She is in her leggings and real desperate to pee. The waist band of the leggings are pressing into her bladder and she is finding it hard to hold on she presses her hands between her legs trying to and then she presses her bladder before she turns around and starts to leak a little pee into her tight grey leggings. There is the start of a wonderful dark pee patch.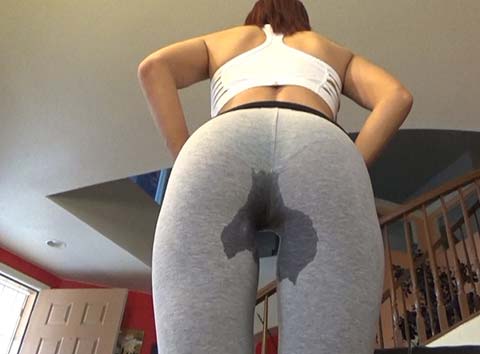 The story from Ineed2pee about this female desperation and wetting update goes like this "I got to shoot with Shavelle Love, a newbie pornstar & this is her first ever wetting! She really held a lot but got a little pee shy at the end, even though her bladder was bursting to the brink, so she was wetting in large spurts! It looks super good from the back… her pent up pee on the cotton yoga pants. She has the best pissy cameltoe ever! Even though her first wetting was a little spotty, stop & go, her NEXT wettings that I'll be uploading to the site are EPIC with lots of flowing piss into her panties & pants… like seriously hot!! So this is the very beginning of a soon to be famous wetter! Stay tuned…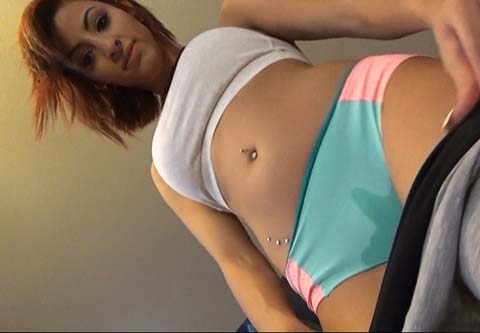 She has started to pee in her leggings and she lets out a big spurt of piss it explodes into her leggings and soaks into the tight fabric. The piss patch is growing and her leggings are now shining with piss. She lets out another spurt and has pee running down her legs soaking her feet. The piss is glistening in the light and when she turns around she has a dripping wet pissy camel toe. She then pulls her piss soaked leggings down and we can just make out her pissy pussy through the soaked fabric of her piss soaked panties. A great wetting and it will be wonderful to see more of her in the future

See Shavelle Love Peeing Herself Here


Filed under: Babes Peeing and Desperation and Female Desperation and Ineed2pee and Peeing and Pissing and Pissing In Leggings and Pissing In Tights
Posted on 09.22.16
Comments: 3 Comments


Tags: Desperate To Pee, Female Desperation, Ineed2pee, Piss Camel Toe, Pissing In Leggings, Pissing Leggings, Shavelle Love Ineed2pee, wetting
3 Comments »
Nice pussy!

Comment by Pip — September 22, 2016 @ 2:49 am

I would love to rub my hand under her legs

Comment by IP freely — September 22, 2016 @ 4:56 am

can you make more videos

Comment by Crasher — March 4, 2017 @ 7:58 pm
RSS feed for comments on this post.
Leave a comment