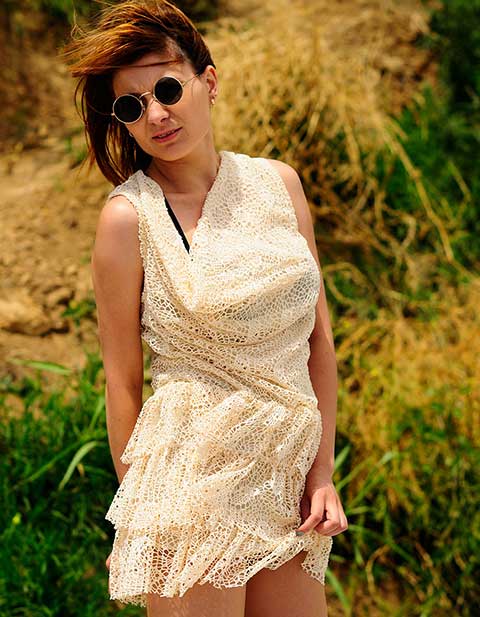 From Real Wetting we have the lovely Alice. We have had some great wetting sets with her in the past and if you have missed them check out Alice Pissing In Shorts And Pantyhose, Female Desperation And Leather Pants Pee, Natalie And Alice Desperate and Wetting, Peeing In Her Bikini and a great jeans peeing with Alice Peeing In Her Jeans. Today Alice is at the beach having a walk. The breeze is blowing and she feels so sexy. She can feel that she needs to pee. She walks a little further away from everyone and as she starts to feel more and more desperate she is getting aroused.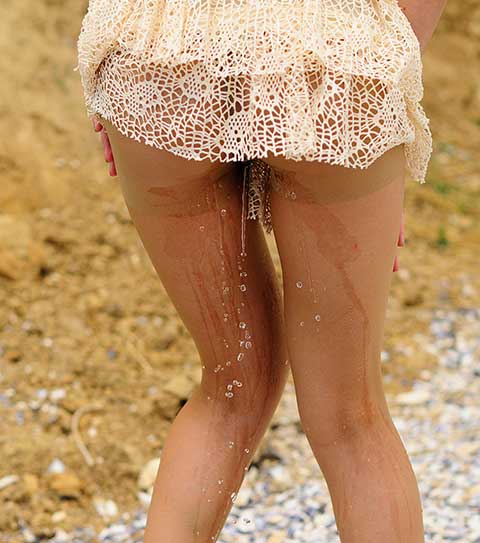 She is on the beach in her stockings and summer dress and now desperate to pee, she grabs her crotch holding on for that little longer and then when she is ready she lets out a little squirt of pee. Her pee soaks into her pantyhose and we can see that there is a little trickle down her nylon encased legs. She is loving the feeling and then she starts to pee properly.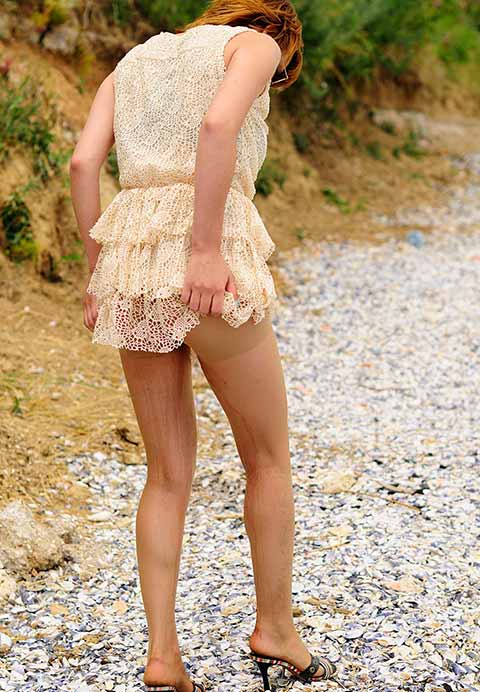 Alice starts to pee, her piss explodes through her panties and soaks into her stockings, there are rivers of pee running down her legs and her pantyhose are going shiny. There is a wonderful dark patch in her crotch and even her feet are wet with piss. She finishes peeing in her pantyhose, drops her dress and walks on, now soaked in her own piss how sexy.

See Alice Peeing Her Pantyhose Here


Filed under: Audreys Wetting Site and Babes Peeing and Desperation and Dress Peeing and Female Desperation and Outdoor Pissing and Pantyhose Pissing and Peeing and Pissing and Pissing In Skirt and Real Wetting
Posted on 09.29.15
Comments: 1 Comment


Tags: Audrey's Wetting Site, Desperate To Pee, Female Desperation, Outdoor Pissing, pantyhose peeing, Pantyhose Pissing, Peeing In Dress, Real Wetting, Skirt Peeing
HD Wetting brings us the lovely Alisha and Nikko. These two are great fun to watch together. We starts off with Nikko the story goes " She has a problem, she is unable to become sexually aroused, she visits the doctor in the hope of finding a solution after explaing her predicament to the nurse, Alisha, who comes up with an idea. Alisha takes her clothes off, stripping down to just her panties, and starts making out with Nikko. While making out Alisha pees through her white panties and all over Nikko's lap. This has the desired effect, Nikko is getting extremely turned on. Now that she has succeeded in making Nikko very horny, Alisha pulls off Nikko's wet pants and goes down on her. It isn't long before Nikko has a loud orgasm. See Nikko pleasured and pissed on here.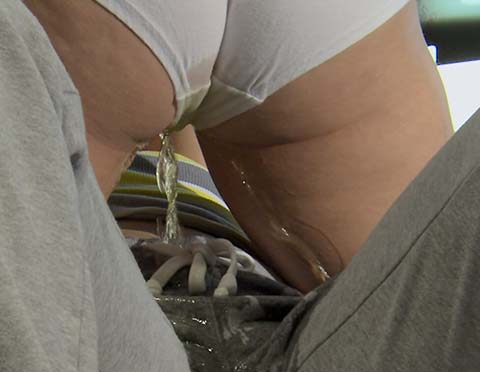 Next up it is time for Nikko's once a year appointment with the gynaecologist, something she truly despises. Already uncomfortable at the aspect of having her girly bits poked and prodded, she grows even more concerned when the nurse states that this is the first time she has ever done this. Nikko changes her mind about the exam, but the nurse, Alisha, isn't backing down. With a full bladder, and a nurse making a bee-line straight towards her nether regions, Nikko does the first think she can think of to repel the approaching intrusion. She releases a powerful stream of piss all over, making a mess out of the exam room. See Nikko Pissing Here.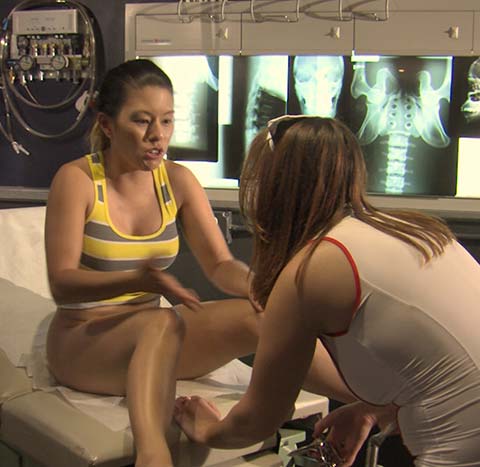 Last up Nikko is tied up and naked with Alisha giving her head from behind. Nikko is getting closer and closer to cumming but she needs to pee. She lets Alisha know that she needs to stop so she can have a pee but Alisha doesn't stop and Nikko starts to piss she luckily misses Alisha but soaks the chair and floor. See Nikko Peeing Here.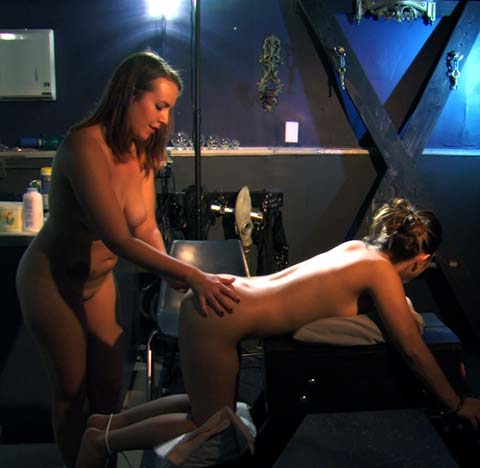 Filed under: HD Wetting and Knicker Wetting and Lesbians Peeing and Panty Pee and Peeing and Pissed On and Pissing
Posted on 09.26.15
Comments: None


Tags: Alisha HD Wetting, HD Wetting, Knicker Wetting, Lesbians Peeing, Nikko HD Wetting, Panty Pee, Panty Peeing, Uniform pee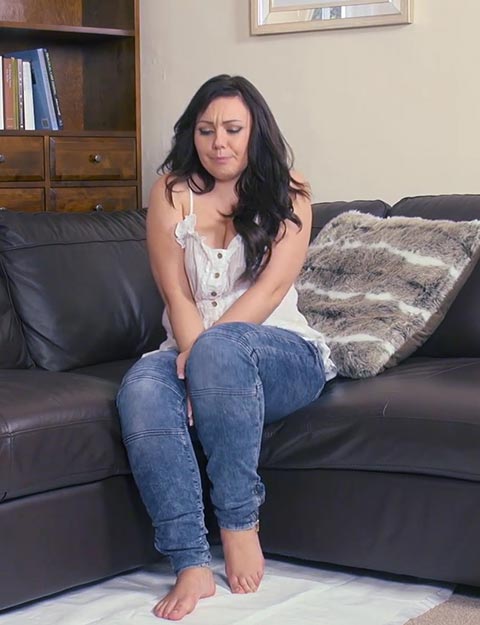 From Wetting Her Panties we have the sexy Kacie. It's been a while since we had a Wetting Her Panties post here so it is nice to have Kacie for us. We have had this wonderful wetter previously in Pissing In Her Denim Shorts Knicker Wetting With Kacie Kacie From Wetting Her Panties Knicker Wetting and Pissing In Blue Panties Today she is in her jeans and of course very desperate to pee. She starts off sitting with her hands between her crotch holding on but the waist of her jeans is cutting into her bulging bladder making her even more desperate. She stands up and starts to do the pee pee dance.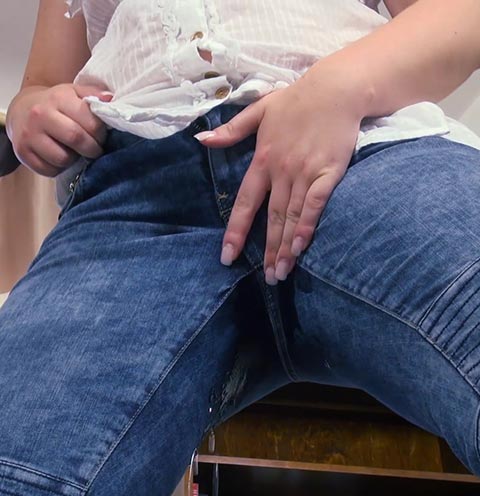 Kacie is so desperate to pee, she looks so sexy with her hands grabbing her crotch desperately trying to hold on. She grabs her crotch again but her bladder is not going to play and she starts to pee in her jeans. Her denim jeans get the first spot of dampness and then they explode in warm piss.

She is pissing in her jeans, her crotch is starting to shin and then the warm pee starts to flow down her denim encased legs the denim is looking so good it is shining and her pee is splashing on the floor. She is fully soaking herself. As she pees in her jeans she keeps her hand there, I bet she is loving the warmth of her nectar. She finishes peeing in her jeans, they are soaked, she pulls them down to show us her piss soaked panties too. They are so soaked in pee that they are nearly see through. This really is a great jeans wetting


Filed under: Desperation and Female Desperation and Jeans Peeing and Jeans Pissing and Peeing and Pissing and Pissing In Pants and wettingherpanties
Posted on 09.23.15
Comments: 2 Comments


Tags: Desperate To Pee, Female Desperation, Jeans Pee, Jeans Peeing, Kacie Wettingherpanties, Pissing In Pants, wetting, wettingherpanties
From the wonderful Vipissy we have three great lesbian peeing scenes. We start off with Jessica Malone and Lindsey Olsen. The story goes "Jessica and Lindsey are starting to get intimate when Lindsey declares that she needs to pee. Jessica is all for it and positions Lindsey's leg for a clear shot into a glass. Lindsey, a true enthusiast, showers Jessica with yeses from the start. Down on her knees, she gets pissed on her back by Jessica, taking another piss after Jessica rubs and licks her sweet spot. She pauses several times, allowing Jessica to capture some in her hands. Lindsey's enthusiasm builds more intensely after she fetches a rubber dildo for Jessica to bestow upon her. She gives the toy a break to pee again, laughing happily as she fires a stream straight at Jessica's mouth. Jessica is caught off guard, but Lindsey reels her back in with her playful and nurturing manners. Later the girls take take part in peeing simultaneously, with Lindsey standing and Jessica laying on a square seat. The girls are both greatly amused as they proceed to licking up the seat. They wrap things up with a dual-tip toy and Jessica taking an 'in and out' and 'stop and go' rhythm with Lindsey as amused as ever." wonderful and wet lesbian pissing these two hotties really do know how to get each other off. See them pissing here.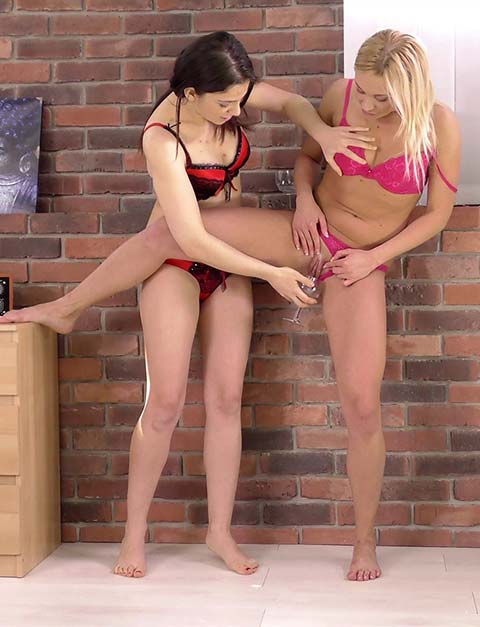 Next up from Vipissy we have Jasmine Webb and Bailey. The story goes "Miss Webb's class is in session, and sex education has never been…Well, so sexy. Her curriculum emphasizes on using props to get her students the best hands on experience they can get. With not enough time in her class day, she denies Bailey an opportunity to leave her class to pee. Her desire to teach is pushed to new heights when her sexy student takes a piss – quite appropriately for her – as she demonstrates to Bailey where her pee hole is. Watching Bailey clean up her piss from the floor, Miss Webb is enchanted by Bailey's good looks. Soon the class jumps into the advanced course, teaching Bailey new words and proper procedures. Bailey is a godsend of a student, and she enjoys her teacher's energetic personality. She can't help but smile at Miss Webb's straightforward approach to teaching. Her encouraging words make it much easier for Bailey to excel at everything that she is asked to do and more. Miss Webb congratulates Bailey with an A+ for her understanding of her material and innate ability to pee." This is one class that we would all want to be part of. See the wonderful lesbian peeing here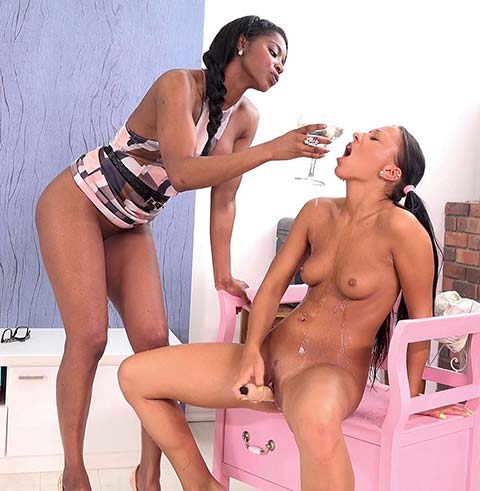 Last up we have Antonia Sainz and Oprah the story from Vipissy goes like this "The peeing action opens up with Oprah pissing through her panties with Antonia licking at them. With her panties partially pulled down, Antonia brings them back up to pee through them too. Both girls pee into a large wine glass and pour it on themselves, over their bodies, and onto their tongues. In the next segment , Oprah stands over Antonia with one foot on the sofa, flaunting her beautiful body, dousing her with a refined stream. Before Oprah fills up the glass one last time, we get a great shot of Antonia on her knees peeing straight back into the glass. Oprah holds the glass below Antonia expecting her to pee downwards and adjusts accordingly." Some lovely panty passing and lot of warm pee. See this lesbian pee scene click here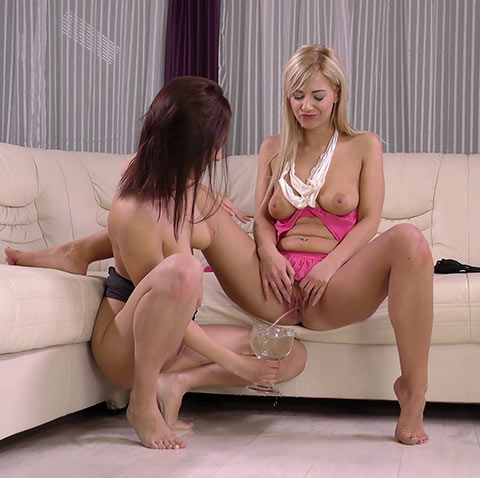 Filed under: Babes Peeing and Drinking Piss and Lesbians Peeing and Movies and Peeing and Pissed On and Pissing and Pissing In Vagina and Pissing Movies and Pissing Videos and ViPissy
Posted on 09.20.15
Comments: 1 Comment


Tags: Antonia Sainz Vipissy, Bailey Vipissy, Black Chick Pissing, Jasmine Webb Vipissy, Jessica Malone Vipissy, Knicker Wetting, Lesbian Pissing Video, Lindsey Olsen Vipissy, Nude Peeing, Oprah Vipissy, Panty Pee, Piss Drinking, Pissing Movie, Skirt Peeing, ViPissy, Vipissy Movie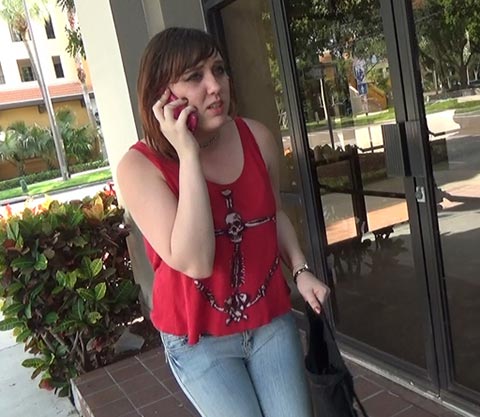 From Ineed2pee we have three great female desperation and wetting sets. Ineed2pee is the master of female desperation the girls are always busting before they lose control. If you have missed some of the previous posts check out the Ineed2pee category. Today we start off with Mystick we have had her previously in Mystick From Ineed2pee. Today she is in jeans and very desperate to pee the story from Ineed2pee goes like this "Hippie chick Mystick Moons is always a blast to work with since she's not afraid to pee outside in public. In this scene, we took so long to get ready for everything that she really couldn't wait for my cue to start wetting, lol. Technically, she's partially to blame as well since I tell the girls to let me know when you're gonna have to pee in about 15 minutes & give me some leeway but by the time she drove over, found parking & all that jazz… she was BURSTING already. She could feel it coming out so she squatted and peed while people were walking by & driving by! She made up for the short scene by walking through a very busy & crowded hotel in her soaking wet jeans though!". It is a great public jeans pee and she has a wonderful piss patch in her jeans. See Mystick desperate and peeing Here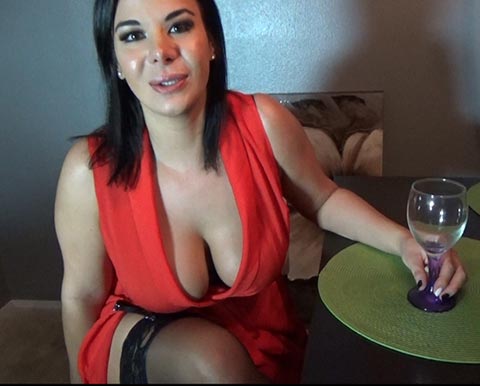 Next up we have Kenna, Kenna has been desperate at Ineed2pee for quite a while and we have had some wonderful desperate wetting posts with Kenna. Check out all her previous posts here. The story for todays desperation antics goes like this "Let's pretend that you're on a nice date with the sexy busty Kenna V. They've seated you at a secluded corner of the restaurant & it's quite apparent now that Kenna needs to use the bathroom facilities but she isn't going! She confesses to you that she's been holding it for a while now & judging from your squirming, you need to pee just as badly as she does. Maybe you two can play a holding game together! She looks super sexy in her low cut dress & Victoria's Secret striped panties with sexy garter belt and stockings. She's getting so excited with how full her bladder is but she's gonna lose control real quick here! It's streaming out of her & she can't stop it…. I hope no one notices." A great role play of female desperation and a lovely panty pee to finish. See Kenna desperate to pee here.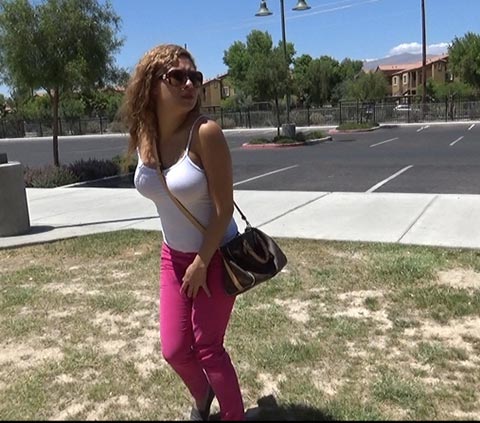 Last up we have Natalie Storm. If you have missed her previous wettings you can see them here. Today we are on a date with her we are in the park but she didn't go to the bathroom earlier so now she is desperate to pee. She is trying to hold on as not to embarrass herself. She is so desperate to pee she is grabbing her crotch and doing the pee pee dance till she just can't hold on. She sits on a park bench and pisses her pants this is a great outdoor wetting and her pants end up soaked we even get to see her piss panties. See Natalie desperate and peeing here.


Filed under: Desperation and Dress Peeing and Female Desperation and Ineed2pee and Jeans Peeing and Jeans Pissing and Knicker Wetting and Outdoor Pissing and Panty Pee and Peeing and Pissing and Pissing In Pants and Wet In Public
Posted on 09.17.15
Comments: 2 Comments


Tags: Desperate To Pee, Female Desperation, Ineed2pee, Ineed2pee Kenna, Jeans Pee, Jeans Peeing, Knicker Wetting, Mystick Ineed2pee, Natalie Storm Ineed2pee, Outdoor Pissing, pants peeing, Panty Pee, Panty Peeing, Peeing In Dress, wetting
From Piss Japan TV we follow on with some more, sexy panty pissing. The last Japanese panty pee we had was Japanese Panty Peeing a cutie pissing her white panties while playing and now we continue with two more. We start with a cutie in her skirt and jumper she is walking the street on the phone, she sits down and we get to see her white panties but she keeps on moving till she finds a quiet place. She has her skirt hitched up and starts to rub her pussy through her panties.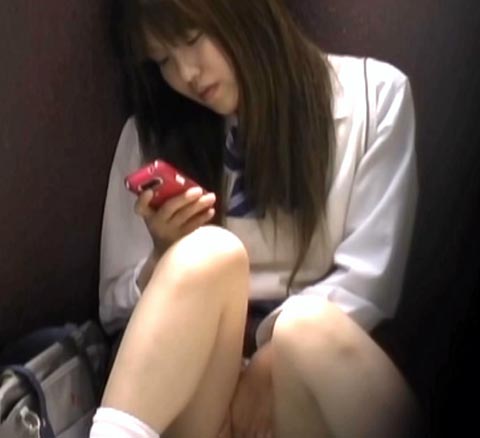 She is rubbing herself through her satin panties and getting close to cuming. She sticks her hand into her panties and keeps on going and then she starts to pee. She is peeing in her panties and is still playing with her pussy, she stands up and she has piss splashing on the ground the crotch of her panties has hone dark and her legs are dripping in pee. See the Japanese Schoolgirl peeing her panties here

Next we have another schoolgirl in her uniform with her panties on show. She is masturbating and feeling her breasts she lifts her skirt up and starts to rub harder as she gets close to cuming. She then starts to piss. Her panties go a little see through as she is peeing and she keeps on playing till she has a empty bladder and piss soaked panties. See the panty peeing here.


Filed under: Asian Pissing and Knicker Wetting and Panty Pee and Pee Asian and Peeing and Pissing and Pissing In Skirt and Pissing Outdoor and PissJapanTv and Voyeur Peeing
Posted on 09.13.15
Comments: 1 Comment


Tags: Asian Peeing, Asian Pissing, Japanese Peeing, Knicker Wetting, Panty Pee, Panty Peeing, Pee Asian, Pissing Movie, school girl panty peeing, school girl peeing, Skirt Peeing, Voyeur Peeing