It has been a long time since we had a post with Miss Hybrid it has been such a shame as she is one sexy lady. If you missed the previous ones check out Miss Hybrid Pissing and Miss Hybrid Peeing Again. In today's set she is dressed in a jumper and some tight Jodhpurs. Miss Hybrid is outdoors and looing playful she poses and then lifts her jumper up to show us her wonderful breasts she really is one lovey lady.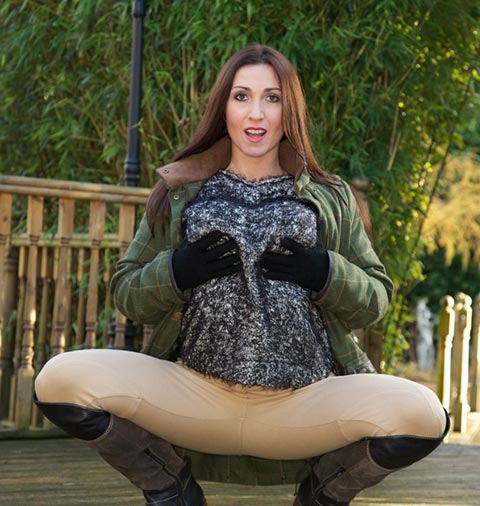 Miss Hybrid is squatting down her big breast is still on show and then she starts to pee in her pants. You can see that her bladder is bulging and her pee starts to slowly soak into the fabric. Just look at the big piss stream as she released her bladder the sound of her piss splashing on the ground would be wonderful.

She keeps pissing in her pants the fabric is getting more and more soaked and as she finishes peeing in her jodhpurs they are fully soaked and dripping. She stays squatting and shows off her dripping pants what a sight it would be to come across Miss Hybrid squatting in her piss soaked pants. She turns around and starts to piss again and then when she has fully emptied her bladder she poses in her piss soaked Jodhpurs. A wonderful pants peeing with Miss Hybrid


Filed under: Babes Peeing and Miss Hybrid and Outdoor Pissing and Peeing and Pissing and Pissing In Pants and Pissing Outdoor
Posted on 03.31.14
Comments: 4 Comments


Tags: Jodhpurs Pee, Miss Hybrid, Outdoor Pissing, pants peeing, Peeing Pants, Pissing In Pants, Riding Pants Pee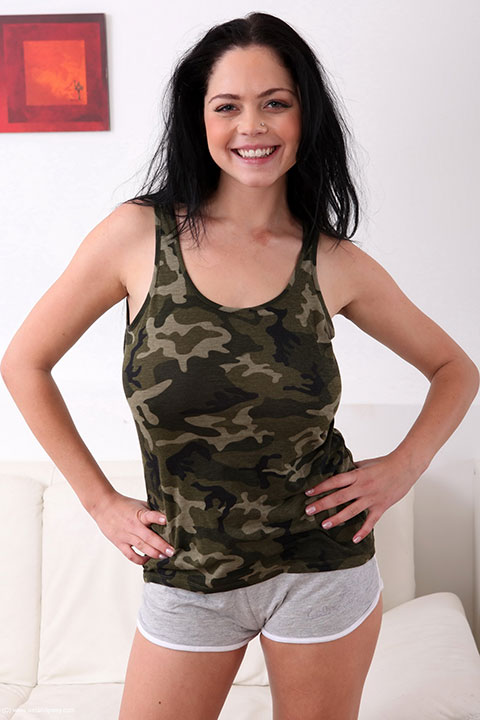 From Wet And Pissy we have the wonderful Shione. Wet and pissy have brought us some great movies and pictures in the past if you have missed some of them check out Kattie Gold Pissing From Wet and Pissy, Whitney Conroy Making A Piss Movie, Peeing In Leggings And On The Floor And Christy Charming Peeing From Wet And Pissy Today Shione starts in this wonderful 6 minute piss movie.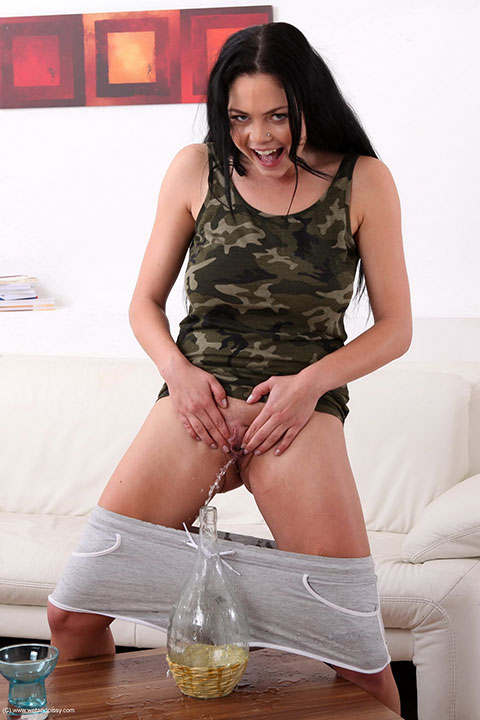 The story at Wet And Pissy goes like this "Shione wastes no time getting down to business. Immediately she begins by peeing through the gap of her loose fitting shorts. She pulls them down momentarily in order to dispense into an empty wine bottle. Pouring the bottle down her ample bosom, it almost appears as if her camo top is water proof as her pee glides off of it. Once revealed, she presses and sploshes her busty assets against the table. The next pee starts off normal enough, with a small cup beneath Shione. She finds herself having to squat down a bit as her pee travels forward in an almost perpendicular fashion. A speculum is then used for some more peeing in a couple of different positions. Ending on a highlight, Shione bends forward with the camera behind her. Her bosom hanging is not the only focal point here, as her pussy lips form a wonderful v shape as she pees between them."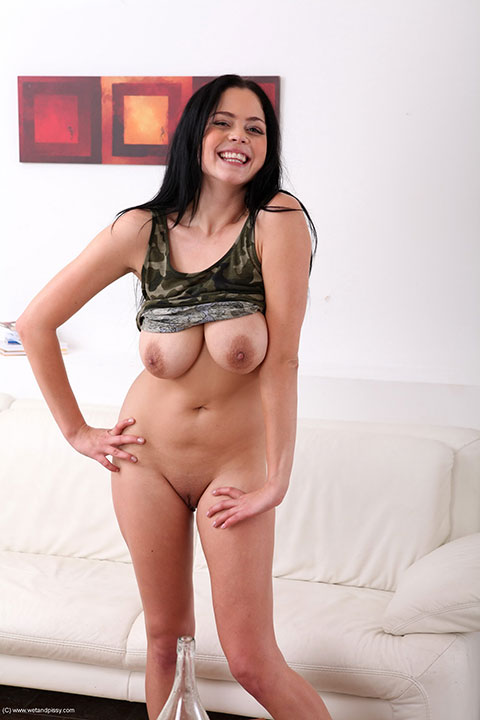 This is a super sexy peeing movie from Wet And Pissy they have some of the hottest babes peeing and there archive is growing by the week if you love to see sexy babes peeing this is the site for you.


Filed under: Babes Peeing and Movies and Peeing and Pissing and Pissing Movies and Pissing Videos and Wet And Pissy
Posted on 03.27.14
Comments: 3 Comments


Tags: Peeing Movies, Piss Drinking, Pissing Movie, Shione Wet And Pissy, Shorts Pissing, Wet And Pissy
From Vipissy we have a beautiful lesbian piss in the bathroom. Vipissy is fast becoming one of the hottest peeing websites around. We have had a few great scenes from them in the past including Lesbians Peeing from Vipissy and Sexy Lesbian Peeing From Vipissy todays lesbian peeing movie stars Jessica Rox and Anita B two hot peeing models. They are in the bathroom and Anita is taking a bath when she gets out Jessica starts to dry her off but she is not going to be dry for long. The lesbian peeing starts straight away and what a messy pissing movie it is.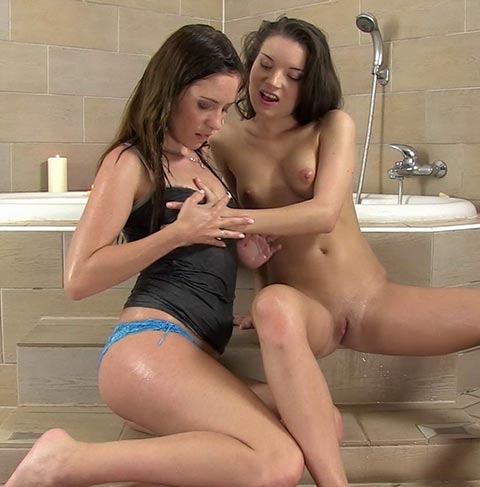 ViPissy have written this about the lesbian peeing movie. "Splish splash Anita was taking a bath. But soon her sexy lover Jessica came to dry her off. Gently she towel dry's her and helps her out of the tub, giving her that sexy come piss on me look she always gives when she is in the mood for a little piss wash. It doesn't take Anita long to get the idea of what Jessica wants. She stands over her and lets the stream flow. The girls are drenched in the warm nectar from head to toe and make sure to suck it all up from the clothes and each other's bodies. There pussy lips are swollen with thirst and nothing can stop these two from getting complete satisfaction. Watch the piss slide off their shaved pussies and into the others mouth and then swap it back and forth while erotically making out" Beautiful ladies in lovely pee action. See The Lesbian Peeing pictures here.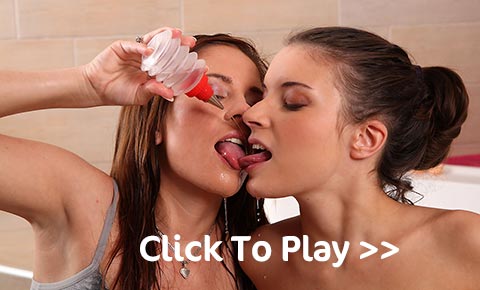 To finish off we have the movie trailer of this lesbian pee movie the pictures really don't do the hot wet mess justice so enjoy as you watch these two hot lesbians peeing. See the movie here.

See The Lesbian Pee Pictures Here

Watch The Lesbian Trailer Movie


Filed under: Babes Peeing and Drinking Piss and Lesbians Peeing and Movies and Peeing and Pissing and Pissing Movies and Pissing Videos and ViPissy
Posted on 03.20.14
Comments: 6 Comments


Tags: Anita B Vipissy, Jessica Rox Vipissy, Lesbians Peeing, Nude Peeing, Piss Drinking, Pissing Movie, Pissing Movies, Pissing Pussy, ViPissy
From Wetting Her Panties we have the wonderful Charlotte. Charlotte is one of my favorite wetting models at Wetting Her Panties she is just so beautiful when she is peeing. We have had some great posts with her in the past check out Peeing in Her Blue Jeans Charlotte Peeing In Her Panties Outdoor Knicker Wetting With Charlotte and Peeing In Leggings With Charlotte. Today she is in her tight denim jeans and is desperate to pee we can see that her bladder is bulging and she grabs her crotch to hold it.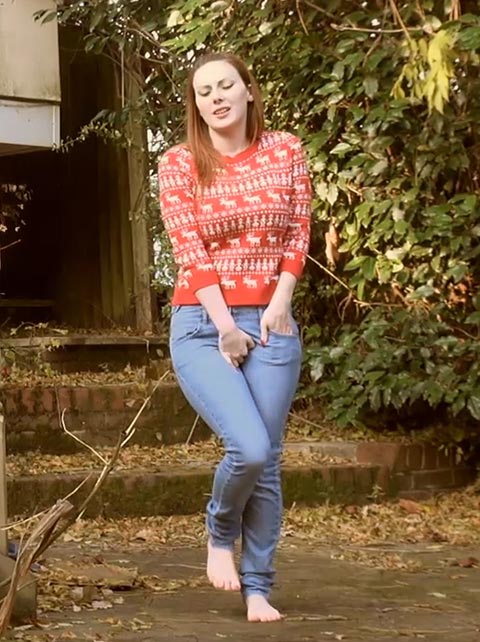 Charlotte is desperate to pee, she is in her tight jeans and has such a sexy look as she grabs her crotch and rubs her bladder she is about to burst. She has her hand in her crotch and starts to pee the crotch of her jeans goes dark and then she takes her hand away and starts to pee more, she turns around and we can see that her jeans are getting nice and wet.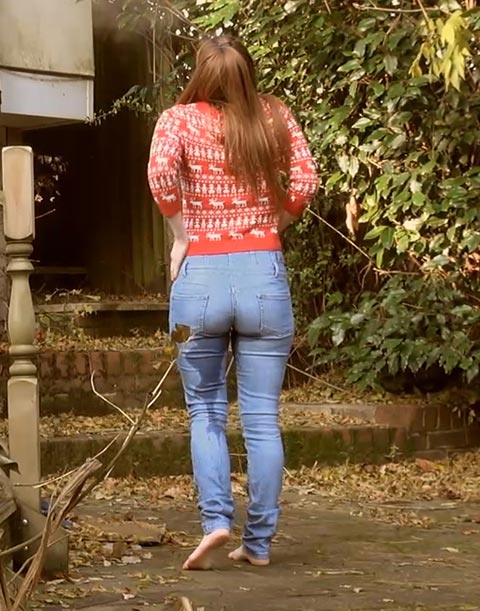 Charlotte is peeing in her jeans, her jeans are going dark blue and when she turns around she pees more and the denim gets the wonderful wet shimmer. She keeps on peeing and her bare feet are getting wet with her pee too. She finishes peeing in her jeans and then pulls her piss soaked jeans down to show us her wet knickers. I do love seeing Charlotte desperate and peeing she is such a naughty girl.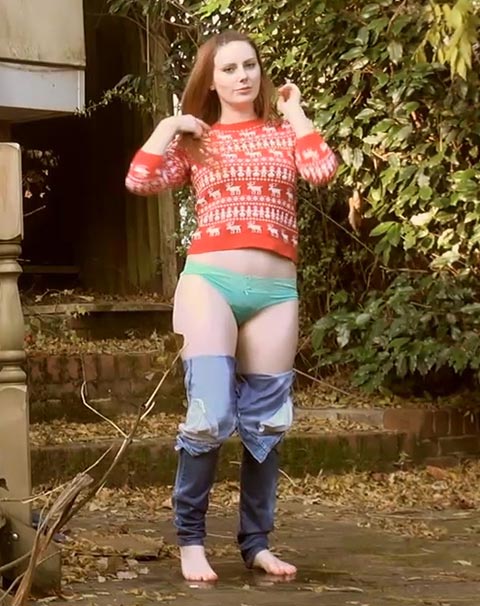 See Charlotte Peeing In Her Jeans Here


Filed under: Babes Peeing and Desperation and Female Desperation and Jeans Peeing and Jeans Pissing and Peeing and Pissing and Pissing In Pants and wettingherpanties
Posted on 03.17.14
Comments: 3 Comments


Tags: Charlotte Wetting Her Panties, Desperate To Pee, Female Desperation, Jeans Pee, Jeans Peeing, Outdoor Pissing, Pissing In Pants, wettingherpanties