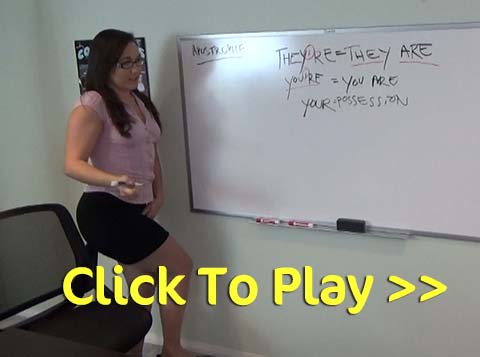 From Ineed2pee we have the wonderful and sexy Sinn Sage. We have had this hottie desperate and peeing for us many times here at Piss Blog and if you have missed them you can check out all the posts tagged Sinn Sage HERE. Today we are in for a little treat as we have a movie. Usually we only have her desperate and peeing s in photos so I hope you enjoy this desperate peeing movie with Sinn Sage we have had the pictures before but it is great to see the pee running. We start with Sinn in class desperate to pee. She is standing at the white board and is in a sexy short skirt. She has her hand jambed into her crotch and is dong the pee pee dance. She getting more desperate and the students are not helping her. She gets more and more desperate, she can't hold on and then starts to lose control in the front of the class. She is peeing in her skirt piss is running out of her pantyhose and she is soaking her shoes too. A embarrassing female desperation and wetting.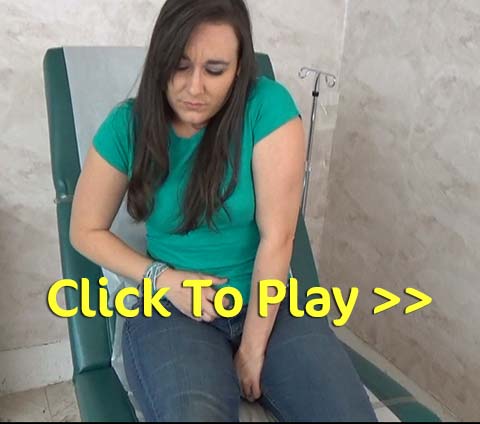 We next join her at the doctor's surgery. She is in tight jeans and waiting for the doctor. As she sits there she is getting more and more desperate .she starts to fidget her legs and is squirming around. She jambs her hands into her crotch trying to hold on. She really is struggling and then she just can't hold on and as she is sitting in her jeans she starts to pee. her pee makes the crotch of her jeans dark and the pee patch starts to spread. She stands up and piss cascades out of her jeans splashes on the floor what a wet mess she has made.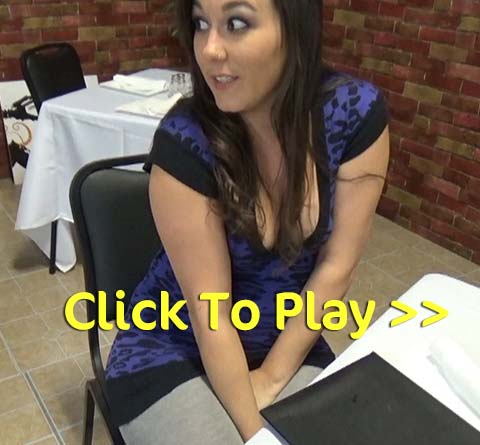 The last scene we have with Sinn Sage is with her at the restaurant. She needs to pee when she sits down and realises she should have peed earlier. She asks where the bathroom is but is told it is locked. This is not good. She has her legs clamped together she is bursting to pee she is fidgeting her legs and her face shows just how desperate she is. She keeps on holding and then she just can't hold on any longer and starts to pee in her leggings. She is peeing herself in the restaurant what a mess. Even her sandals are soaked and her feet are dripping in piss too. A super mix of desperate peeing with Sinn Sage from Ineed2pee.

See Sinn Sage Desperate And Peeing Click Here


Filed under: Desperation and Dress Peeing and Female Desperation and Ineed2pee and Jeans Peeing and Jeans Pissing and Knicker Wetting and Movies and Panty Pee and Pantyhose Pissing and Peeing and Pissing and Pissing In Leggings and Pissing In Skirt and Pissing In Tights and Pissing Movies
Posted on 09.14.17
Comments: None


Tags: Desperate To Pee, Female Desperation, Jeans Peeing, Knicker Wetting, pants peeing, Panty Pee, Panty Peeing, pantyhose peeing, Pissing In Leggings, Pissing In Pants, Pissing In Skirt, Pissing Leggings, Pissing Movie, Pissing Movies, Sinn Sage Ineed2pee, Skirt Peeing, wetting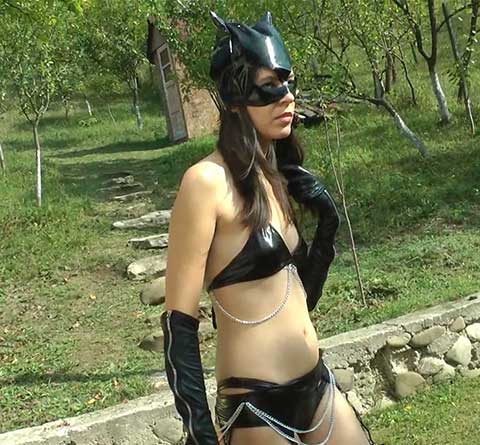 From Real Wetting we have the very sexy Debbie. We have had this hottie at Piss Blog before and If you have missed her check out Peeing In Vintage Panties Debbie Peeing In Her Panties Bound And Peeing In Panties and Debbie Pissing In Denim Shorts. Today we have her dressed as Cat Woman and looking very sexy. She has vinyl panties a vinyl bra and a mask. She is in for some domination play and is going outside to set up. She gets outside and realises that she forgot to go to the toilet. This may be a problem. She stops walking and places what she is carrying onto the grass and as she bends down she gets a wave where she nearly pees herself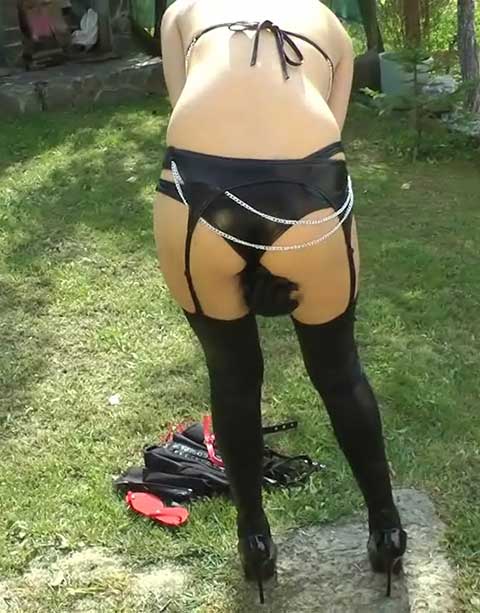 She is crouching down and jambs her hands against her crotch. She doesn't want to pee herself. She stays like this for a little, stands up but she is having bladder problems. She jambs her hand in her crotch to stop the flow again. She really should have gone to the toilet when she had the chance. She bends down again and it is to much, a little spurt of pee drips out this is it she can't hold on.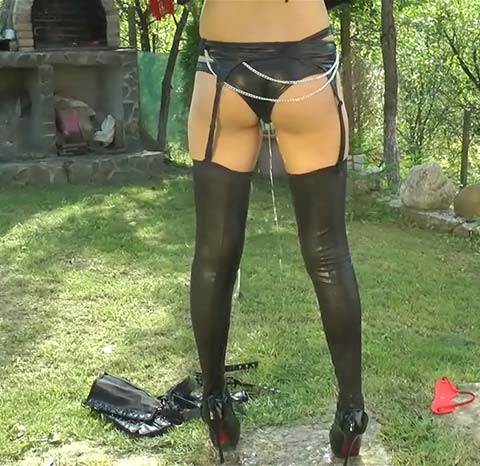 She has released a little pee and now she can't stop it. She starts to pee harder and her bladder is loving it, it relaxes more and her pee stream explodes into her vinyl panties.Iit is gushing out and is splashing in the grass around her. There are pee rivers running down her legs and her heels are even getting soaked in pee. I do love seeing a sexy lady pissing herself. When she finishes peeing herself she stands there and realises that she is lucky, her outfit has repelled the pee there was no chance that the material; would soak it up and make her a soggy mess. A super sexy outdoor wetting with Debbie.

See Debbie Desperate And Peeing Here


Filed under: Audreys Wetting Site and Desperation and Female Desperation and Knicker Wetting and Panty Pee and Peeing and Pissing and Real Wetting
Posted on 09.08.17
Comments: 1 Comment


Tags: Audreys Wetting Site, Cosplay Pissing, Debbie Real Wetting, Desperate To Pee, Female Desperation, Knicker Wetting, Panty Pee, Panty Peeing, Real Wetting, wetting
From HD Wetting we have Alisha bound to the bed in her panties. She is desperate to pee and has a very full bladder. Alisha is beside her and she starts to tickle Sosha she is going hard and as we all know Sosha is very ticklish. The tickling continues and Sosha squirms and laughs and it gets to much for her and she can't stop her bladder sending out a squirt of piss. The piss shoots out and soaks into her knickers creating a nice dark patch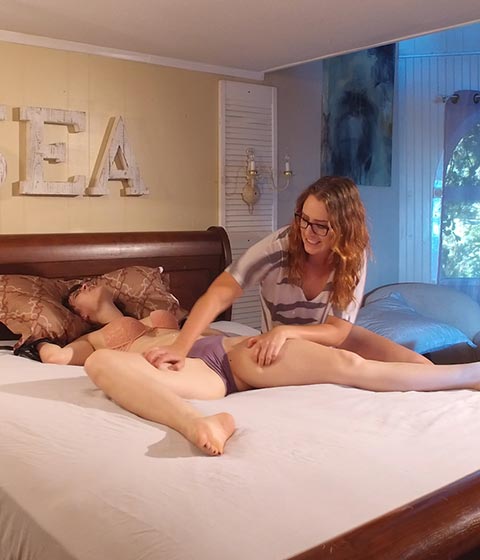 Sosha has let out the first squirt of piss but this hasn't stopes Alisha tickling. She keeps it up and then Sosha starts to pee. Her piss is gushing into her panties and soaking into the bed underneath. Sosha moves from tickling her and places her hand over Soshass panties and she starts to feel the warm pee. She is pressing harder and her hands are getting soaked as Sosha wets her panties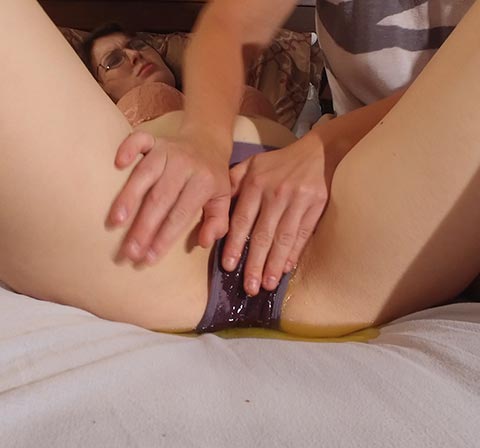 Sosha is pissing herself in bed and Alisha is loving the warm pee on her hand. Sosha finishes pissing in her panties and she is in a puddle of piss in the bed and very turned on. Alisha plays with the wet panties and then pulls them down exposing Sosha's wet and pissy vagina. She starts to licks Sosha's pissy pussy untill Sosha is cumming what a beautiful lesbian bed panty Pee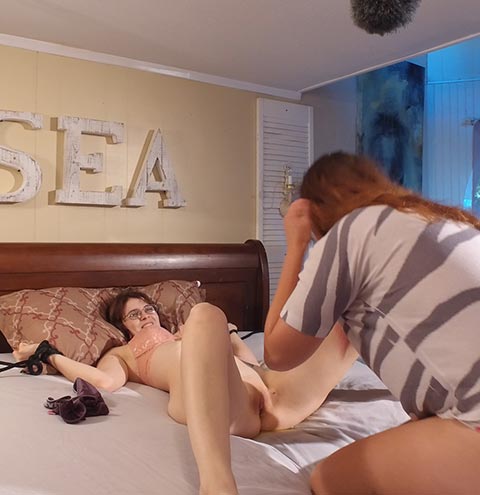 See Sosha Pissing her Panties In Bed Here


Filed under: Bed Wetting and HD Wetting and Knicker Wetting and Lesbians Peeing and Panty Pee and Peeing and Pissing and Pissing In Bed
Posted on 08.30.17
Comments: 2 Comments


Tags: Alisha HD Wetting, bound pissing, HD Wetting, Knicker Wetting, Lesbians Peeing, Panty Pee, Panty Peeing, Sosha HD Wetting, Tickle Pee, wetting
From Wetting Her Panties we have the very sexy Bonnie. This is the first time that we have had this hottie but I don't think it will be that last time we see her peeing her panties. She is in her bedroom and standing by the bed she has lifted her dress up and is showing us her red panties. She really looks sexy teasing us as she sways desperate to pee with her panties on show. Looking at her she looks like she has a little bulging bladder too. She stands there a little longer and then she starts to pee in her panties.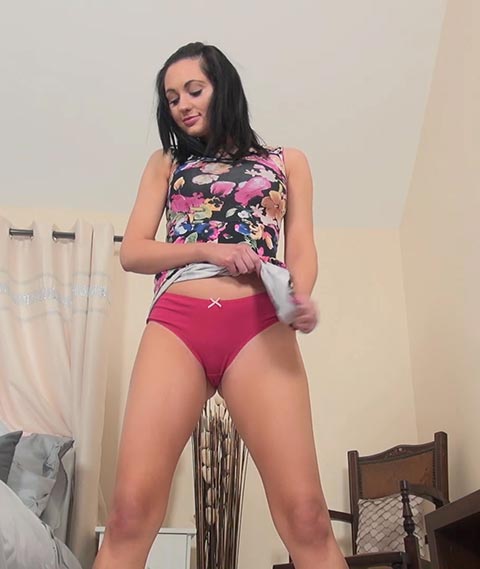 Bonnie is standing in her bedroom and has just started to pee in her panties. The red colour of the cotton starts to shine a little as the first drips of pee flow through and then the little dribble of pee starts to get stronger and her crotch is getting damp. We can see the dark pee patch clearly now and the stream off pee is flowing through the fabric. What a wonderful sight this is as she pees in her panties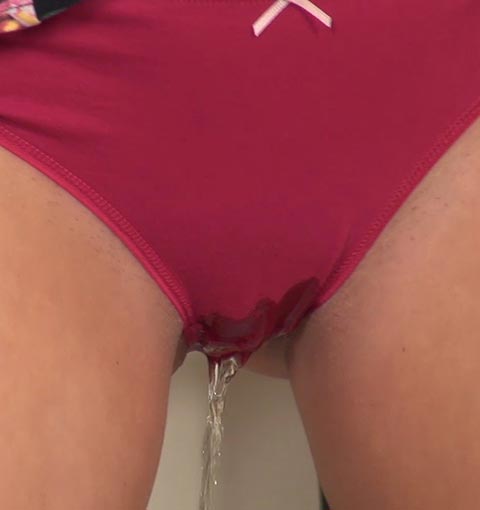 She keeps on pissing and her stream of piss increases this is a really good panty piss and when she finishes and the pee drips slow down there is no mistaking that she has had a panty pee. She starts to take the wet panties off and we can just make out the top of her pissy pussy. She is really teasing us today. She then pulls the wet knickers down and holds them out. We now get a fleeting glance up her skirt of her pissy pussy a super sexy panty pee with Bonnie from Wetting Her Panties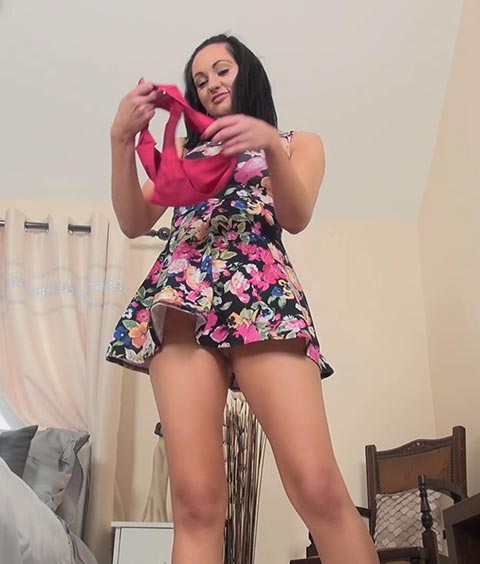 See Bonnie Peeing Her Pantries Click Here

Visit Wetting Her Panties Click Here


Filed under: Babes Peeing and Dress Peeing and Knicker Wetting and Panty Pee and Peeing and Pissing and wettingherpanties
Posted on 08.24.17
Comments: 3 Comments


Tags: Bonnie Wetting Her Panties, Knicker Wetting, Panty Pee, Panty Peeing, Panty pissing, Pissing In Skirt, Skirt Peeing, wetting, wettingherpanties
From HD Wetting we have the lovely Alisha and Sosha. These two really do love playing with each other and if you have missed some of their lesbian antics check out Lesbian Cheerleaders Peeing in Bed, Lesbian Panty Pissing Threesome, Sosha Pissing on Alisha and Alisha And Sosha In Wet Pee Play today we have Alisha bound to the bed in her panties with Sosha in her underwear teasing the busting Alisha. She starts to tickle Alisha and she starts to squirm. She is getting very close to losing control. Sosha doesn't let up and keeps tickling Alisha till she starts to pee in her panties.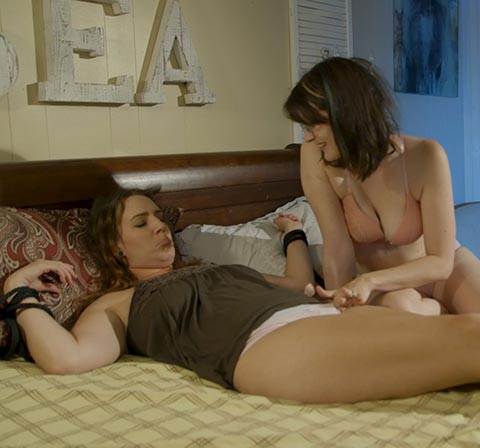 Alisha is bound in her panties tied in bed and has started to pee in her panties. She has pee flowing out and soaking under her into the bed and she is now in her soaked panties and lying in her own puddle of pee in the bed. Watching this is making Sosha horny and also wanting a pee so she straddles Sosha still in her panties and then starts to pee on her. Sosha is pissing her panties and her pee is splashing all over the piss soaked Sosha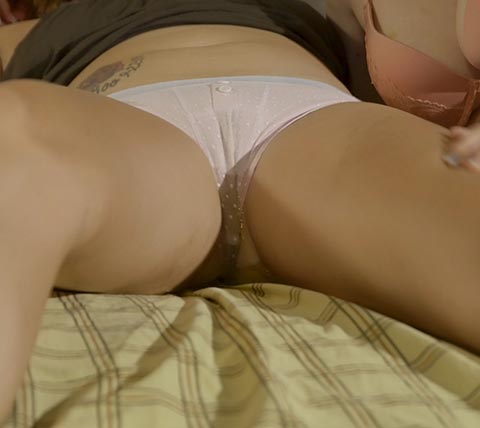 The pee is pooling on Alisha's belly and then joining the rest of piss under her in the piss puddle. Sosha panties are dripping wet when she finishes panty pissing and she is so horny she pulls Alisha's panties down and starts to lick her wet pissy pussy till she is cumming. Alisha is soaked in piss and satisfied a wonderful double pantie peeing lesbian scene from HD Wetting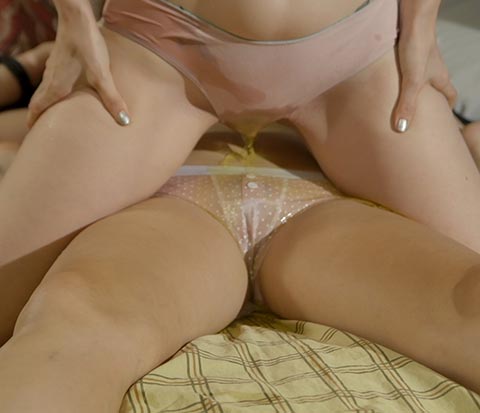 See The Lesbian Double Panty Pee Here


Filed under: Bed Wetting and HD Wetting and Knicker Wetting and Lesbians Peeing and Panty Pee and Peeing and Pissing and Pissing In Bed
Posted on 08.12.17
Comments: 2 Comments


Tags: Alisha HD Wetting, HD Wetting, Knicker Wetting, Lesbians Peeing, Panty Pee, Panty Peeing, Pissing Panty, Sosha HD Wetting, wetting