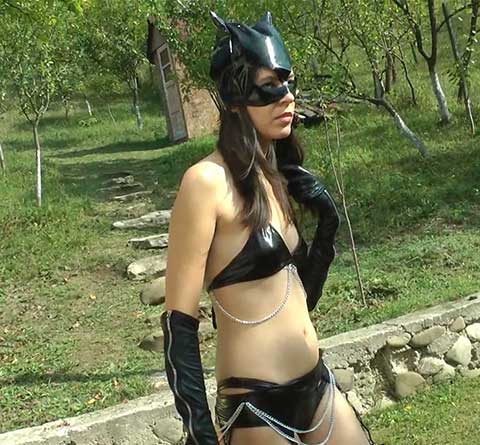 From Real Wetting we have the very sexy Debbie. We have had this hottie at Piss Blog before and If you have missed her check out Peeing In Vintage Panties Debbie Peeing In Her Panties Bound And Peeing In Panties and Debbie Pissing In Denim Shorts. Today we have her dressed as Cat Woman and looking very sexy. She has vinyl panties a vinyl bra and a mask. She is in for some domination play and is going outside to set up. She gets outside and realises that she forgot to go to the toilet. This may be a problem. She stops walking and places what she is carrying onto the grass and as she bends down she gets a wave where she nearly pees herself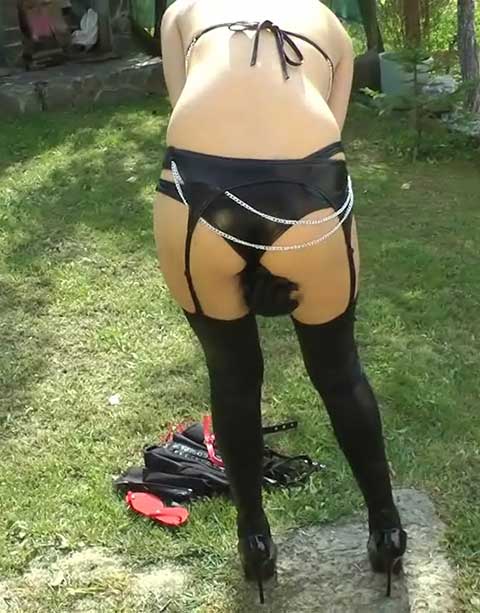 She is crouching down and jambs her hands against her crotch. She doesn't want to pee herself. She stays like this for a little, stands up but she is having bladder problems. She jambs her hand in her crotch to stop the flow again. She really should have gone to the toilet when she had the chance. She bends down again and it is to much, a little spurt of pee drips out this is it she can't hold on.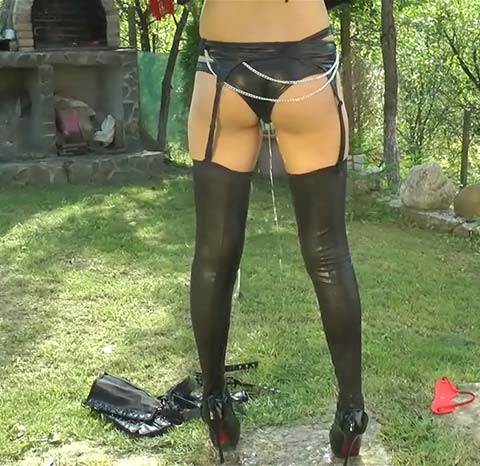 She has released a little pee and now she can't stop it. She starts to pee harder and her bladder is loving it, it relaxes more and her pee stream explodes into her vinyl panties.Iit is gushing out and is splashing in the grass around her. There are pee rivers running down her legs and her heels are even getting soaked in pee. I do love seeing a sexy lady pissing herself. When she finishes peeing herself she stands there and realises that she is lucky, her outfit has repelled the pee there was no chance that the material; would soak it up and make her a soggy mess. A super sexy outdoor wetting with Debbie.

See Debbie Desperate And Peeing Here


Filed under: Audreys Wetting Site and Desperation and Female Desperation and Knicker Wetting and Panty Pee and Peeing and Pissing and Pissing Pictures and Real Wetting
Posted on 09.08.17
Comments: 1 Comment


Tags: Audreys Wetting Site, Cosplay Pissing, Debbie Real Wetting, Desperate To Pee, Female Desperation, Knicker Wetting, Panty Pee, Panty Peeing, Real Wetting, wetting
From Vipissy We have three wonderful lesbian peeing sets. Vipissy really is the best pissing site for hot lesbian peeing action. We have had some dripping wet posts before with Dido Angel & Alexa Tomas Lesbian Pissing Antonia Sainz & Morgan Lesbian Pee Vipissy Blond Lesbian Pissing Vipissy and Very Wet Lesbian Pissing. Today we start off with the lovely Sweet Cat and Violette. These two blonds are dressed in sexy lingerie and they start to kiss and play with some wiped cream and then the pissing starts. Violette starts to pee on Sweet Cat's body and the cream is mixing with the warm pee making a wonderful mess. She then licks her pussy and all the pee from it. It is now time for Sweet Cat to pee on Violette and she soaks her while she is still wearing her lingerie, it is dripping wet when the piss flow stops. we then get to watch as they lick each other to orgasm and then Sweet Cat drinks piss from Violette's pussy. A super wet lesbian scene. See Sweet Cat and Violette Pissing Here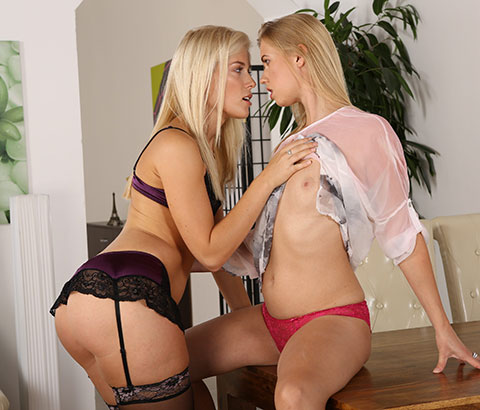 Next up we have Dafne & Oprah. They are playing chees and then Dafne exposes her pussy and pisses on the board oprah licks up the piss like a good girl and the wonderful lesbian piss fun starts. Oprah then pisses all over Dafne they then have some hot pissy pussy licking till it is time for some more piss drinking. This really is a wonderful wet lesbian scene. See Dafne & Oprah peeing here.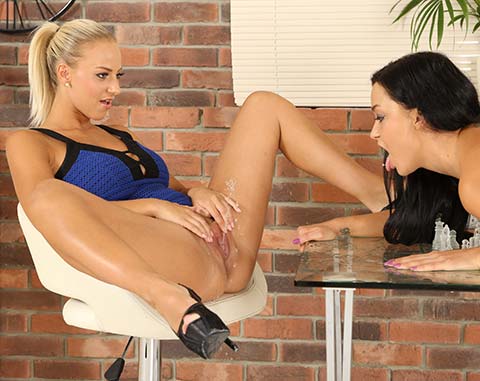 Last up we have Foxie T and Morgan in cosplay outfits  Mogan is dressed as a swat officer and has cat woman Foxie T arrested. Instead of taking her to jail she has been taken to the bedroom where she is pissed on. She is soaked in piss and her catwoman costume is soaked Morgan now horny drinks Foxies piss and they lick and play till they are both soaked in the warm nectar. This really is a fun Lesbian Cosplay pissing. See Foxie T and Morgan Pissing Here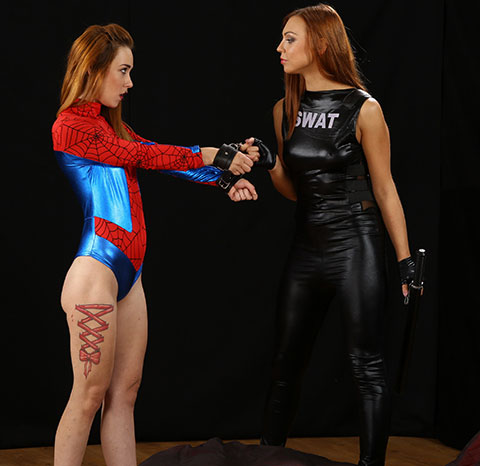 Filed under: Drinking Piss and Lesbians Peeing and Peeing and Pissed On and Pissing and Pissing Pictures and ViPissy
Posted on 10.16.16
Comments: 1 Comment


Tags: Cosplay Pissing, Dafne Vipissy, Foxie T Vipissy, Lesbians Peeing, Morgan Vipissy, Oprah Vipissy, Piss Drinking, Pissing Pussy, Sweet Cat Vipissy, Violette Vipissy, ViPissy, Vipissy Pictures