From Real Wetting we have the lovely Antonia. We have had some great posts with Antonia in the past, check out Antonia pissing Her Jeans From Real Wetting, Panty Peeing With Antonia From Real Wetting and Shorts Peeing Photos from Real Wetting. Today Antonia is in an office outfit, tight skirt and a white top. She is at her desk but is very desperate to pee.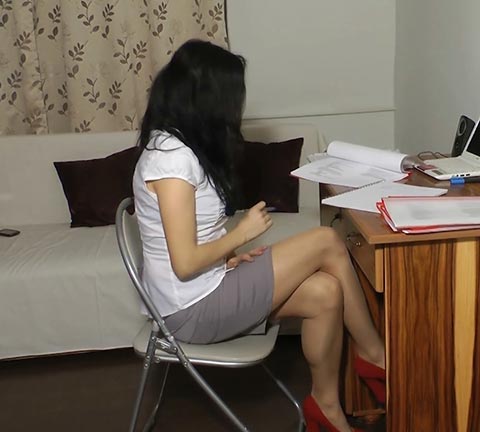 Antonia is sitting at her desk, she is desperate to pee and has her legs crossed tightly trying to hold on. She wants to finish what she is doing but she is getting more and more desperate to pee. She has to stand up the pressure on her bladder is just to much. Standing up she is still trying to hold on her skirt. It is so tight and is pressing firmly into her bladder. She is just to desperate to pee she can't hold on and she starts to piss herself.
Antonia has started to pee herself, she is standing there and there are the first drips of pee running down her legs. She then starts to pee more, her skirt is getting a big dark pee patch and her piss is cascading down and splashing on the floor, even her pantyhose are shining from the pee streams running down them. The more she is peeing in her skirt the more she is even soaking her red suede shoes. What a mess she is in, there is no time to change her piss soaked clothing though, still dripping in piss she sits down and goes back to work. Super sexy wetting from Real Wetting.