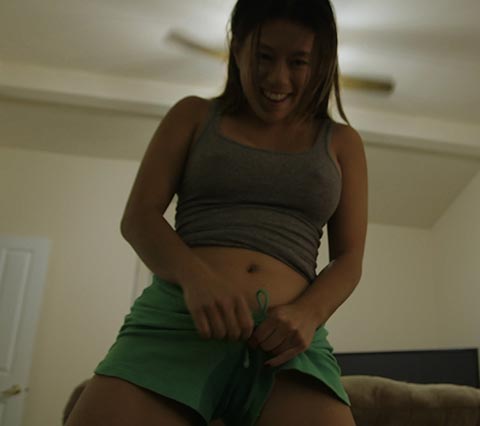 From HD Wetting we have the wonderful Nikko. We have had this lovely lady peeing for us before and some of my favourite posts are Alisha And Nikko Bondage Pee Movie, HD Wetting Peeing Pictures, Pants Peeing By The River and HD Wetting Lesbian Panty Pee. Today we start off with her in bed in the morning. The story from HD Wetting goes "Imagine waking up next to the lovely Nikko she needs to be, but when she starts to get up to go to the bathroom you ask her to stay and pee on you. She agrees, straddles you, and starts to pee into her shorts her piss explodes through the fabric and splashes all over your stomach. She finishes peeing on you through her shorts and she relishes in the wet, warm sensation. She rubs herself, then, still in her wet shorts, lays back down next to you. You lay together in bed, enjoying the morning together." A super-hot shorts pee. See Nikko Peeing In Her Shorts Here.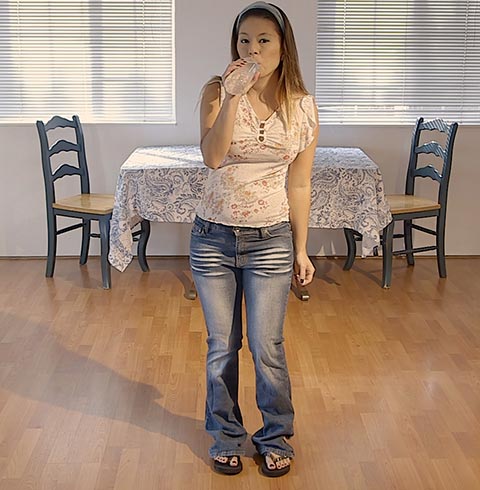 Next up Nikko is in her jeans and desperate to pee. The story goes "Nikko is hanging out, drinking water, and getting desperate to pee. She grows more and more desperate as she continues to drink her water. She is so desperate no that there is nothing she can do she relaxes and lets the contents of her bladder flow freely into her jeans. We can see the wet stain grow across her pants at an explosive rate, her pee running down her legs and soaking her clothes. She finishes peeing in her jeans and then pulls them down and stands there with her pissy wet pussy on show. See Nikko Desperate and peeing here.
Last up we have Nikko in her jeans and making a sandwich. The story goes "Nikko crosses her legs and struggles not to have an accident as she makes her sandwich. Despite crossing her legs, dancing around, and holding herself, she eventually can't hold it any longer. We get a close up view of her ass as she lets it flow, soaking her jeans. The wetness on her pants glistens as it flows down her legs and makes a puddle on the floor. The camera moves around to her front so we can see the damage from a new angle. Her pants are soaked! In some places the wet stain wraps all the way around her legs. She pulls her piss soaked jeans down and shows her shaved pissy pussy. See Nikko Pissing In Her Jeans Here.