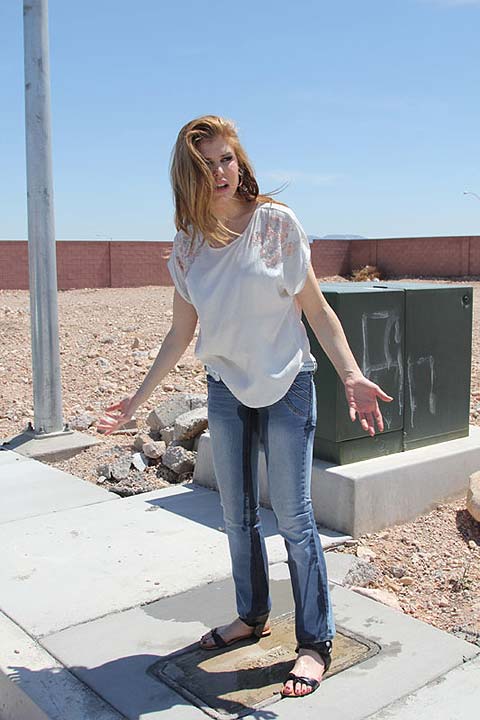 Today from Ineed2pee we have some great female desperation and jeans wetting picture sets. The first set stars Candle Box. She is driving and is desperate to pee, the story goes that her roommate has laced her coffee with diuretics. As she is driving she is getting more and more desperate to pee there are no toilets around and no bushes too hide behind either. This situation reminds me of a couple of movies that we have had her in the past there was Kenna Female Desperation From Ineed2pee Kenna is so desperate when driving home that she just can't hold on long enough to make it to the bathroom and then there was Female Desperation Movie With Crash this is a great movie crash is so desperate to pee its great. Candle Box just can't hold on she stops the car and gets out and as she does, her bladder gives in. She starts to pee in her jeans and she really is soaking them. Standing in the street as she is peeing in her jeans you can see the lovely shine on the piss soaked denim. In this set we even get to see her pissed in panties and they look so great hugging her crotch. See Candle Box desperate here.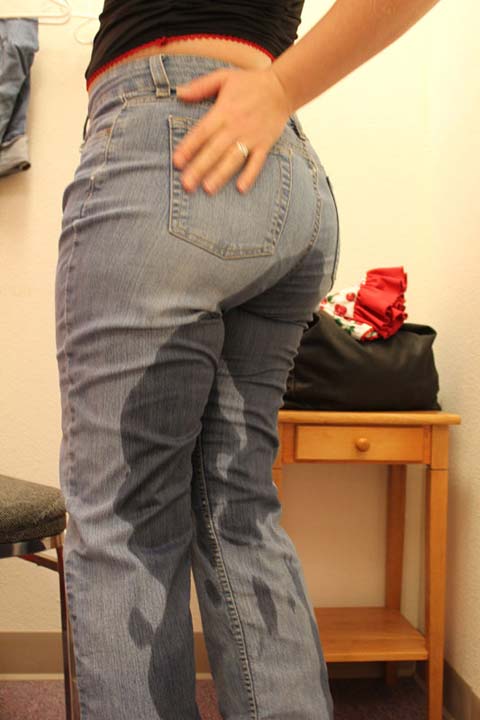 The next female desperation and jeans wetting picture set stars Caroline. She is in the fitting room of a store trying on jeans. She is desperate to pee she thought it was a good idea to get the shopping done before using the bathroom. She puts on a pair of jeans and wow is she desperate to pee she is fidgeting and you know she can hardly hold on. She struggles to get the zipper up and the pressure is just to great, she is just to desperate to pee. Caroline has tried to hold on but now she has started to pee in her jeans in the changing room. She soaks her jeans till they are dripping, she is lucky that the floor is not carpet. Caroline undoes her pissed in jeans and takes them off, we get to see her white pissed in panties they nearly have gone see through. I don't think she will be buying these jeans today. See Caroline jeans peeing here.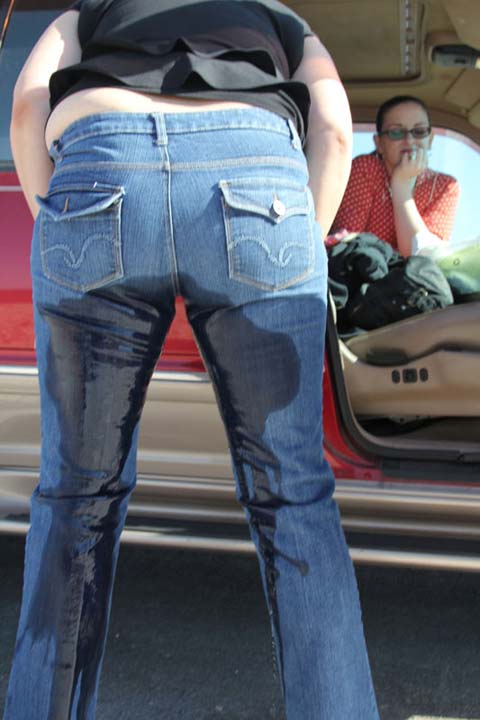 Not to be outdone with the first female desperation while driving set we have a new ineed2pee model Kimberly. She has been driving around with Caroline and they have gotten lost. Caroline tries to find where they are but Kimberly is just to desperate to pee. She is in the car grabbing her crotch madly this is great she really is desperate and is not going to make it. She hold on trying to stop the flow but she is just to desperate, she has the car stop jumps out and starts to look for a place to pee. Kimberly is just to desperate and loses control and starts to pee in her jeans. How embarrassing for Kimberly from Ineed2pee she is in the street peeing in her jeans, just look at the wet denim as she is peeing, it has that wonderful look and imagine touching the warm wet fabric it would be wonderful. I love the look of Caroline in the car, she looks very amused that her friend has peed herself. I wonder if Kimberly will be getting her revenge in a future ineed2pee movie? Kimberly finishes peeing in her jeans and then pulls them down to show her pissed in panties. Ineed2pee frankly are the female desperation masters, the desperation is so real I just love it. See Kimberly desperate here.
Visit Ineed2pee To See The Movies
Click Here

Filed under: Desperation and Female Desperation and Ineed2pee and Jeans Peeing and Jeans Pissing and Knicker Wetting and Outdoor Pissing and Panty Pee and Peeing and Pissing and Pissing In Pants
Posted on 06.07.12
Comments: 2 Comments


Tags: Candle Box Ineed2pee, Desperate To Pee, Desperation, Female Desperation, Ineed2pee, ineed2pee Caroline Pierce, Ineed2pee Kimberly, Jeans Pee, Jeans Peeing, Knicker Wetting, Outdoor Pissing, pants peeing, Panty Peeing