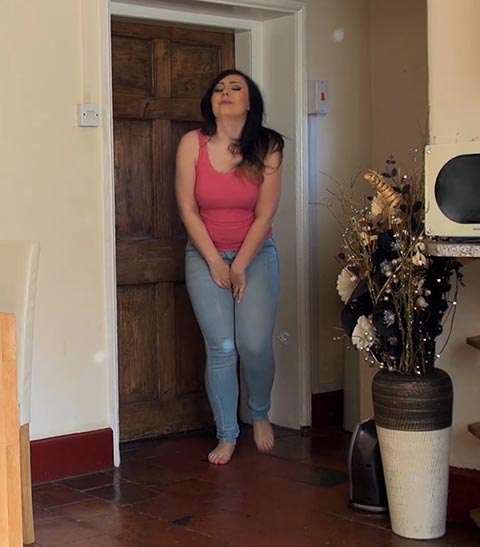 From Wetting Her Panties we have the lovely Kacie. We have had this great wetter in the past in Kacie Peeing In Her Jeans, Pissing In Blue Panties, Kacie From Wetting Her Panties Knicker Wetting and Pissing In Her Denim Shorts. Today she is in tight blue jeans and desperate to pee. She is grabbing her crotch and starts to do the pee pee dance. She bends over and then she losses control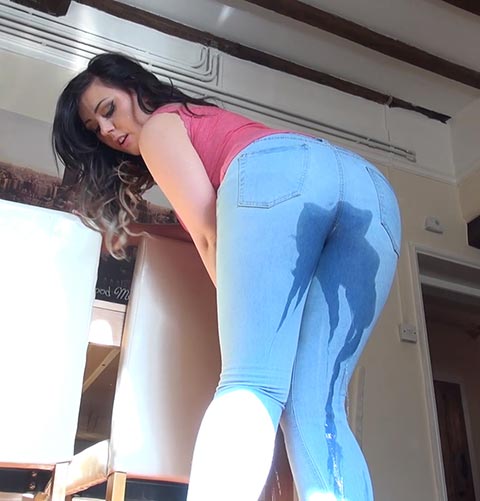 Kacie has lost control she starts to pee in her jeans. The light denim starts to get a dark pee patch which grows and then pee stats to pour out and splashes over the floor. She has rivers of pee running down her legs and her feet are soaked in the warm wetness too.
She has fully pissed in her jeans and they have the wonderful pissed in denim look with piss streaks down both sides. She turns around and looking so sexy in her piss soaked jeans pulls them down so we can see her pissed in granny panties. Her piss soaked panties have a wonderful wet patch. It is a pity that she never pulls her pissy panties down so we can see her pissy pussy. A great female desperation and jeans wetting from Ined2pee.
See Kacie Peeing In Jeans Here