From Ineed2pee we have three female desperation and wetting scenes. Ineed2pee really is the best female desperation and wetting website these ladies get so full that they literally burst. First up we have Jazmyn. Jazmyn really is the girl next door as she squirms & teases you in her super skintight jeans. Some nice butt wiggling as she describes how desperate to pee she is. Just a classic jeans wetting & she tries to get it in the garbage pail but most of it sprays everywhere! Super hot denim wetting & pissy panties! See Jazmyn desperate and wetting here.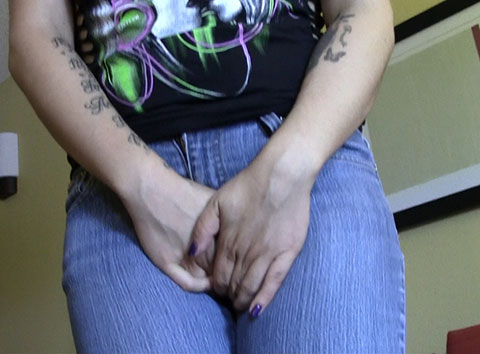 Next up we have MILF Pandora. "Pandora is locked out of the bathroom & doing the pee pee dance in the kitchen! Lots of pacing, talking & crotch grabbing action before she gasps & pisses her tight white pants fully, lots of streaks down both legs, front & back! What a huge puddle on the floor before she showing soaked panty" See Pandora Desperate and peeing here.

Last up we have a female desperation and jeans wetting movie that was posted a long time ago, it has been converted into the new player and if you have missed it, it is a great female desperation and wetting. The movie stars Bella she has been bound by Vicki and is so desperate to pee she makes it off the couch even though her hands are tied and then she hops to the bathroom. She is getting more and more desperate but no one is going to untie her so she has no choice but to pee in her jeans. A super female desperation and jeans wetting movie. See Bella Lose Control Here


Filed under: Desperation and Female Desperation and Ineed2pee and Jeans Peeing and Jeans Pissing and Movies and Peeing and Pissing and Pissing In Pants and Pissing Movies and Pissing Videos
Posted on 12.29.14
Comments: 2 Comments


Tags: Bella Ineed2pee, Desperate To Pee, Female Desperation, Ineed2pee, ineed2pee Bella, Jazmyn Ineed2pee, Jeans Pee, Jeans Peeing, Pandora Ineed2pee, Pissing In Pants, Pissing Movie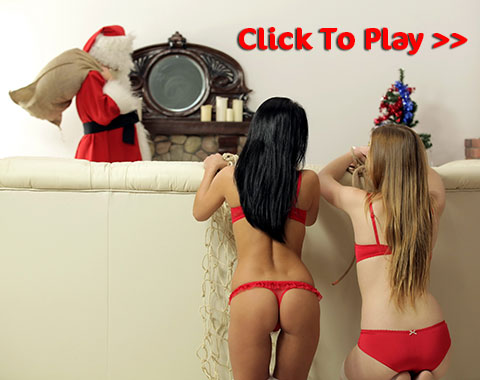 Merry Christmas to all. Today we have a great Christmas present from Vipissy. Vipissy has brought us some great pissing scenes over the last year and If you have missed some of them check out Lesbian Pissing Threesome Vipissy Antonia Sainz From Vipissy Threesome Pissing Play From Vipissy and Sexy Vipissy Lesbians Teens Peeing Today Vipissy brings us a Christmas special, we have Santa and two hot ladies Alexis Crystal and Lexi Dona. Alexis Crystal and Lexi Dona are dressed in their lingerie and waiting for Santa to arrive as soon as he does they get a net capture him and the pissing fun begins.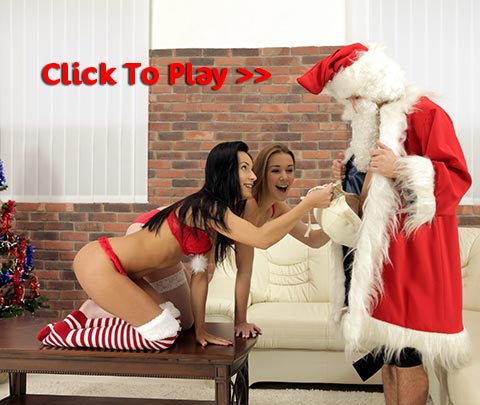 The story from Vipissy goes "Suspicions are on the rise as people begin to realize that Santa never showed up for Christmas. What could possibly have happened that would keep him away on his very favourite day all year? Lexi and Alexis – that's what happened. These young lovers have concocted a scheme to get Santa all to themselves this year and they have big plans for him. After snaring him in a net, the devious girls begin to devour his excited cock with their mouths, passing it back and forth like a lollipop. Santa soon finds himself stripped from his fuzzy red apparel and on the receiving end of fresh showers of golden piss. But he's not complaining! No… he wants his turn! After fucking both naughty babes from behind, St. Nick releases a river of piss so big that it looks like he's been holding it in all year. Alexis and Lexi are drenched in golden holiday cheer and loving every second of it. Christmas Eve comes and goes and still the jolly saint is so wrapped up in the dripping wet threesome that he's completely forgotten about all of the gifts waiting to be delivered. He's too busy making sure every hole gets filled with hard cock and hot pee. Oh well… there's always next year, right?"

Who wouldn't want to be Santa enjoying this hot threesome with Alexis Crystal and Lexi Dona? Vipissy have done it again with a wonderful threesome pissing scene there is something great seeing everyone enjoying getting themselves soaked in warm piss and I do love the lesbian pissing action. Merry Christmas to all.

See Santa Getting Soaked In Piss Here


Filed under: Babes Peeing and Drinking Piss and Movies and Peeing and Pissed On and Pissing and Pissing Movies and Pissing Videos and ViPissy
Posted on 12.25.14
Comments: 1 Comment


Tags: Alexis Crystal Vipissy, Lesbians Peeing, Lexi Dona Vipissy, Peeing Movies, Piss Drinking, Piss Movie, Pissing Movie, Threesome Piss, Vipissy Movie
A story of a couple dressing up and roleplaying that I came across. "Lucy looked at the bed, the outfit laid out on it. Could she do this? Was it crossing a line? It was her turn but she still wasn't sure. Finally she shook herself out of her reverie and picked up the skirt, getting dressed at last.

Dan waited downstairs, nervously awaiting her decision. He'd done what she asked, sleeping with her in the office, the whole time he'd spent on edge wondering if they'd get caught. It was exciting and it meant when she asked what he wanted in return he had a chance to suggest this. Would she think it was too weird? The door to the lounge opened and Lucy was standing there, wearing exactly what he'd asked.

"Wow!" he said, staring hungrily at her.

"I think you mean get to class!" she replied, with a nervous giggle.

Lucy had pulled on her old college uniform, grey skirt, white shirt, blue blazer, white socks. She stood looking at herself in the mirror for a moment before picking up the pint of water he'd left for her. She drank it quickly, wondering once more if this was a good idea. She could hear him downstairs, flicking through the TV channels and walked slowly down the stairs.

In the doorway, Lucy pressed her knees together, wiggling her legs slightly. "I need the toilet first sir. Can I go?"

Dan stood up, a smile forming on his face just as he felt his cock stiffening in his trousers. "No time for that. Take a seat Lucy."

"Yes sir."

Lucy sat down at the computer desk in the corner, swivelling the chair round to face her husband. "I really need to go sir. Please, I'll only be a minute." As she spoke she let her legs open and close, flashing her white panties for just a second each time.

"Get on with your work Lucy."

Lucy turned back to face the desk. Despite her desire to pee she felt herself getting more and more turned on. Without glancing behind her to see what Dan was doing, she slowly moved her hand up her skirt, gently stroking her clit through her panties.

"Are you cheating?" Dan snapped, making her jump as he had quietly come to stand behind her. "Turn and face me now!"

His heart was racing as he was finally getting to live out the fantasy he'd dreamt about for such a long time. "What are you doing?"

"I was touching myself sir."

"Well don't let me stop you."

Lucy pretended to look shocked. "But sir, surely that's not allowed."

Dan smiled. "Just do it."

Lucy lifted her bottom off the seat and peeled down her panties, trying to ignore the ever growing desperation. With one hand she pulled the lips of her pussy apart as with the other one she began to gently stroke up and down, gathering up wetness and rubbing it into her clit. Dan stared at her as she leaned back in the chair, closing her eyes as she concentrated on the sensations spreading round her body.

Dan began to undress. "That's very good Lucy," he said as he lowered his zipper and pulled out his now rigid cock. He held it in his hand as he moved forward, stroking it gently as he watched her. With some effort he pointed it down towards her, whispering to himself. "Come on, come on."

With a sigh he began to pee, it splashed over Lucy's white shirt, making it stick to her skin. She opened her eyes in shock, not expecting this.

"What the hell?" she snapped.

Dan couldn't stop now, he had to finish. After a few more seconds, the urine stopped flowed and he stood proudly looking at her.

"Sir, what did you just do?"

"Enough," he replied. "I've got to have you."

He grabbed her and pulled her down on top of him. The two kissed as Lucy pushed Dan's arms down to his sides, holding them in place.

"We shouldn't be doing this sir," she whispered as she allowed his cock to rub between the cheeks of her bottom. She lifted herself slightly and guided it up her pussy, sinking onto it and moaning loudly. Dan pressed against her stomach with his hands, feeling the wetness of her shirt as she rode him gently.

"I'm going to pee," she said. "Are you ready sir?"

There was a pause as she stared still, raised up so just the tip of his cock was inside her and then she let go of her bladder. A gush of piss splashed out, running over his cock, soaking his balls, his thighs, his stomach.

As she peed she began to slowly ride him again, letting his cock move in and out of her even as his hand began to toy with her clit, hot pee trickling over his fingers. It was all too much for Lucy and with a quiet gasp, she came. Her orgasm made her pussy tense up and she stared into Dan's eyes as the contractions gripped his cock inside her. She froze for a few moments before beginning to lift her hips again, faster now, wanting his cum inside her.

Dan began thrusting his hips, knowing he was close. He grabbed Lucy's bottom with both hands and gently toyed with her anus, brushing his finger round her hole as he rammed himself up her one last time. With a cry of satisfaction he came, spunk shooting up and filling her pussy.

Lucy jumped off him then, moving to suck the last of the cum from the end of his cock, licking his shaft and tasting her own wetness and her pee along its length. She stood up then and looked down at him.

"That was very naughty sir," she said, pulling on her panties.

Dan looked up at her. "I can't believe you peed on me. I love you so much. Thank you."

Lucy lowered herself onto his chest and leaned down to kiss him. "Quite all right sir, but I may need some more lessons in learning to control my bladder if you'd like to teach me.""


Filed under: Piss Stories
Posted on 12.22.14
Comments: None


Tags: pee story, pissing story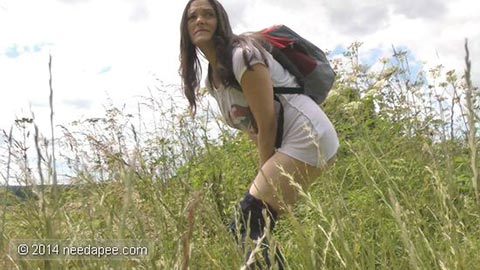 From Needapee we have three sets of photos, unfortunately they are small in size but anything from Rebekah Dee is great and if you have missed out on all her past pissing antics check out the Needapee category here. First up we have her peeing in a field. Rebekah Dee has written this about the set "it's a lovely summer's day and I'm out to do a little exploring, although not necessarily geographical exploration. I'm in the mood to explore my pee fetish today, I feel like taking a chance with a risk of being caught as I drop my panties in an open field with the long summer grass brushing against my legs as I take a satisfying pee. Lots of low reverse angle action in this scene for you to enjoy." See the field piss here.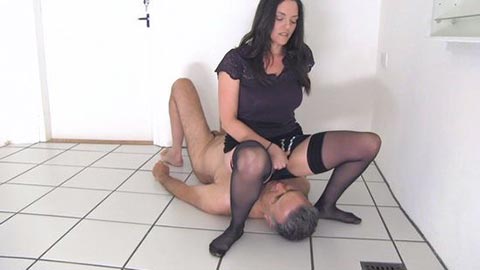 Next up we have her and her slave there is something very sexy seeing her dominate and here we have her squatting down and peeing in the mouth of her slave I bet some would love to be drinking her golden liquid. See her peeing on a slave here.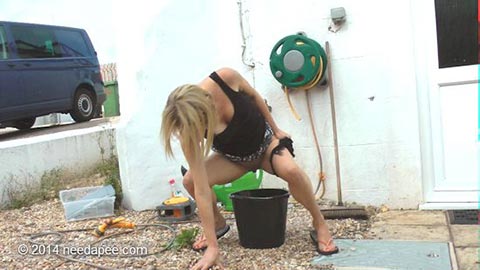 last up we have Sophia desperate and peeing. The story goes "Who is that tall leggy blonde busting to pee, it's debut girl Goddess Sophia! This is her first time peeing on camera and as you'll see she isn't shy. I caught up with Sophia on a video shoot recently and after chatting to her I soon persuaded her that you guys would love to see her looking vulnerable and awkward as she pees. So I kept her waiting and longer than planned so that she was really desperate and it worked because once Sophia starts she gushes a torrent!" See Sophia peeing here.


Filed under: Drinking Piss and Needapee and Outdoor Pissing and Peeing and Pissing and Pissing Outdoor
Posted on 12.19.14
Comments: 1 Comment


Tags: bucket pee, Needapee, Outdoor Pissing, Piss Drinking, Pissing Outdoors, Rebekah Dee
From Piss Japan TV we have some more great movies and pictures of lovely Japanese ladies desperate and peeing in the car. First up we starts off with two desperate ladies in dresses they are squirming and gabbing their crotches till there is no choice they pull down their panties and piss in plastic bag they are lucky that they are not overflowing onto the seat and in the second one  how embarrassing to fill a bag with your piss while with your friend is looking out the window. These Japanese chicks from Piss Japan TV are so kinky. See the plastic bag peeing here.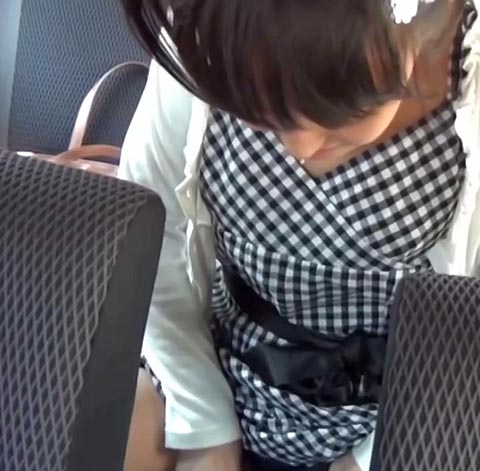 The second Piss japan set has a very desperate Japanese lady, she is rubbing her belly and when she can't hold on any longer she takes her panties off and then starts to piss into a container her hairy pussy catches lots of pee drips. Then we have another lady who is so desperate that she fills a container with piss and then empty's it on the side of the footpath. See the Japanese pissing here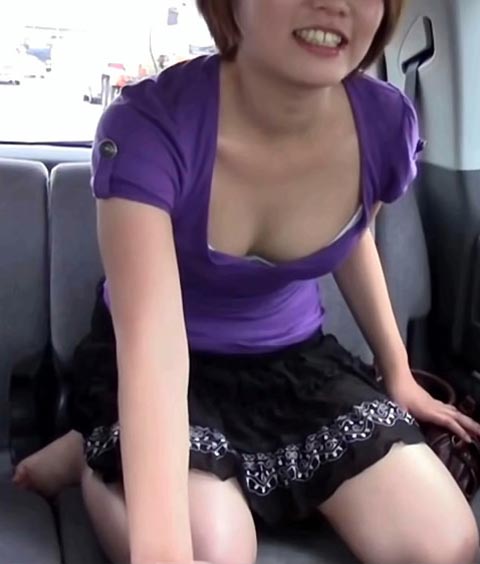 Last up from Piss Japan Tv we have another Japanese hottie desperate to pee, she is trying so hard to hold on but she can't. She takes her panties off in the car and then pisses into a plastic bag. Her pussy is a lovely hairy dripping mess. It is great that we are getting Japanese pissing, as for a long time it was very rare and the movies were all censored. See the third set here.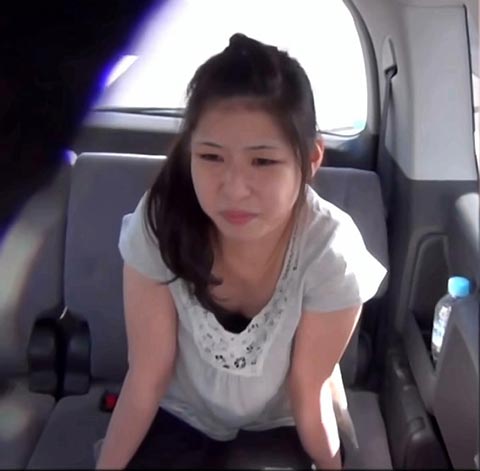 Filed under: Asian Pissing and Japanese Pissing and Movies and Pee Asian and Peeing and Pissing and Pissing In Skirt and Pissing Movies and Pissing Videos and PissJapanTv and Strange
Posted on 12.16.14
Comments: 2 Comments


Tags: Asian Pissing, Japanese Peeing, Pee Asian, Piss In Car, Pissing In Skirt, Pissing Movie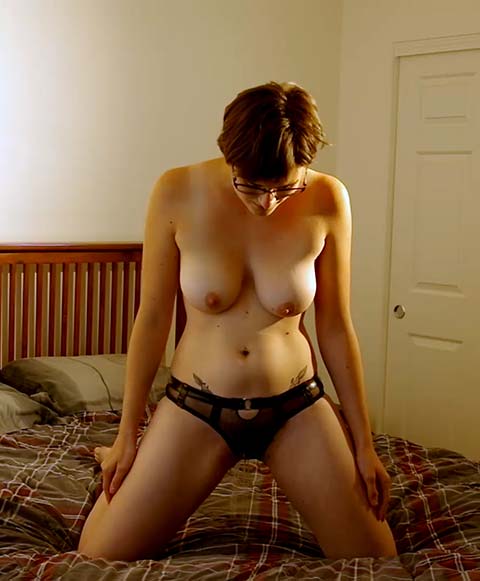 From HD wetting we have three sets with Sosha and Alisha. These two HD wetting models have done some great lesbian peeing scenes together but today they are on their own and bursting full for our pleasure. We start off with the lovely Sosha on the bed topless, she is in sexy knickers and looking good. I love how full her breasts are and a topless knicker wetting is always fun. She kneels on the bed looking lovely and then starts to pee in her panties. It is a pity her panties are not white as we would have had a better view as the piss flowed through the fabric and soaked into the quilt. She keeps peeing her knickers on the bed and is having a great time. She finishes panty peeing and then gets on her knees top show us her piss soaked bottom. A nice topless panty peeing with Sosha. See Sosha pissing Her Panties Here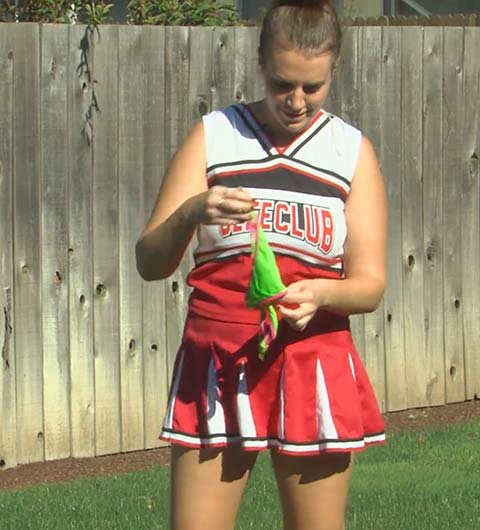 Next up we have Alisha, she is outdoors in her cheerleader uniform and is desperate to pee. She lifts up her cheerleading uniform to reveal her green panties tightly encasing her pussy and then squats down and starts to pee in the grass. She is pissing in her green panties and the damp pee patch is standing out wonderfully. She keeps pissing till her bladder is empty and then stands up and pulls off her pissed in knickers. It is a shame we don't get a shot of her pissy pussy but maybe we will be lucky next time. See Alisha Peeing in her green panties here.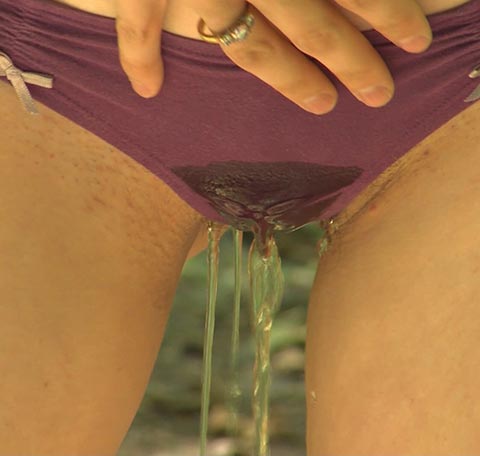 Last up we have Sosha again, this time she is outdoors in the woods in mauve panties. She has a bulging bladder and rubs her crotch a couple of times before starting to pee in her panties. Her crotch instantly goes dark and then piss starts to splash on the ground. As she is peeing in her panties she is rubbing her crotch, she has golden pee all over her hands, she keeps on peeing getting  turned on and as she stops panty pissing she starts to masturbate through her wet panties till she cums. A great outdoor panty pee. See Sosha pissing in her panties Click Here


Filed under: HD Wetting and Knicker Wetting and Outdoor Pissing and Panty Pee and Peeing and Pissing and Pissing In Bed and Pissing In Skirt
Posted on 12.10.14
Comments: None


Tags: Alisha HD Wetting, Cheerleader Peeing, HD Wetting, Knicker Wetting, Panty Pee, Panty Peeing, Panty pissing, Pissing In Skirt, Sosha HD Wetting, Uniform pee