From Ineed2pee we have three female desperation and wetting scenes. Ineed2pee really is the best female desperation and wetting website these ladies get so full that they literally burst. First up we have Jazmyn. Jazmyn really is the girl next door as she squirms & teases you in her super skintight jeans. Some nice butt wiggling as she describes how desperate to pee she is. Just a classic jeans wetting & she tries to get it in the garbage pail but most of it sprays everywhere! Super hot denim wetting & pissy panties! See Jazmyn desperate and wetting here.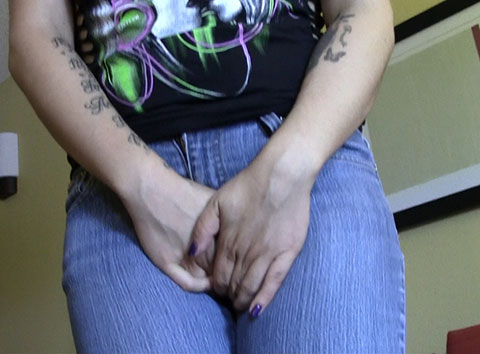 Next up we have MILF Pandora. "Pandora is locked out of the bathroom & doing the pee pee dance in the kitchen! Lots of pacing, talking & crotch grabbing action before she gasps & pisses her tight white pants fully, lots of streaks down both legs, front & back! What a huge puddle on the floor before she showing soaked panty" See Pandora Desperate and peeing here.

Last up we have a female desperation and jeans wetting movie that was posted a long time ago, it has been converted into the new player and if you have missed it, it is a great female desperation and wetting. The movie stars Bella she has been bound by Vicki and is so desperate to pee she makes it off the couch even though her hands are tied and then she hops to the bathroom. She is getting more and more desperate but no one is going to untie her so she has no choice but to pee in her jeans. A super female desperation and jeans wetting movie. See Bella Lose Control Here


Filed under: Desperation and Female Desperation and Ineed2pee and Jeans Peeing and Jeans Pissing and Movies and Peeing and Pissing and Pissing In Pants and Pissing Movies and Pissing Videos
Posted on 12.29.14
Comments: 2 Comments


Tags: Bella Ineed2pee, Desperate To Pee, Female Desperation, Ineed2pee, ineed2pee Bella, Jazmyn Ineed2pee, Jeans Pee, Jeans Peeing, Pandora Ineed2pee, Pissing In Pants, Pissing Movie
2 Comments »
I hate desperation movies where they hardly pee at all.
"Ohh I need to pee so bad!" Clearly you don't…

Comment by Sophie — December 29, 2014 @ 4:42 am

I like the second set, at least she's somewhat fresh.

Comment by arsenal — December 29, 2014 @ 6:48 am
RSS feed for comments on this post.
Leave a comment