From Real Wetting we have the very sexy Antonia. Antonia is a natural wetter and she always looks so sexy as she is soaking herself. If you have missed some of her previous wettings check out Antonia From Real Wetting Peeing In Her Panties, Real Wetting Antonia Shorts And Pantyhose Peeing, Antonia Peeing In Her Denim Shorts, Desperate White Pants Peeing and Antonia Peeing Her Panties In The Tree. Today she is in tight jeans and desperate to pee, she is loading the washing machine with clothes. She takes off her top and she is standing in her jeans and black bra and has her legs clamped together she is so desperate to pee.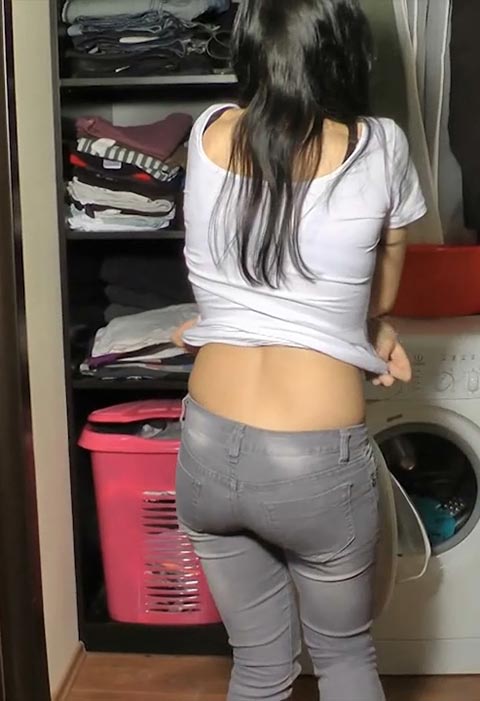 Antonia really needs to pee, she squats down an a little and loses control and starts to pee in her jeans. Her piss gushes through the denim giving a lovely dark wet patch and as she pees more her piss cascades out and splashes on the ground.
Antonia is fully soaking her jeans now, the denim is saturated and shining. It would be so lovely to rub your hand up her piss soaked denim jeans till you got to her wet crotch. Her bladder really was full and she is still peeing. This is wonderful, she has even soaked her feet in piss. Her flow stops her jeans are dripping and she looks so cute. Antonia undoes her piss soaked jeans and pulls them down to show her piss soaked red panties too. What a wonderful jeans wetting from Real Wetting.
See Antonia Pissing In Her Jeans Here