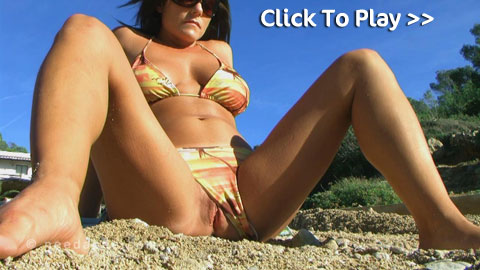 From Needapee we have three Needapee peeing movies. We have had these before but not for a long time and also this time they are with the new player. We start off with Rebekah Dee on the beach in her bikini. This is a great peeing movie as the camera angle is wonderful we are looking directly at her crotch. She moves her bikini bottoms to the side and we get to see her pink pussy. With no messing around she sits with her legs wide open and starts to pee her wonderful pee stream flows out and hits the sand. What a wonderful pink pissing pussy she has. She keeps on peeing and then when she finishes leaves her pissy pussy exposed, lies back and lets it dry for a second before returning her bikini bottoms to cover it. Such a great peeing movie and Rebekah Dee is so good at the sneaky peeing. See her peeing on the beach here.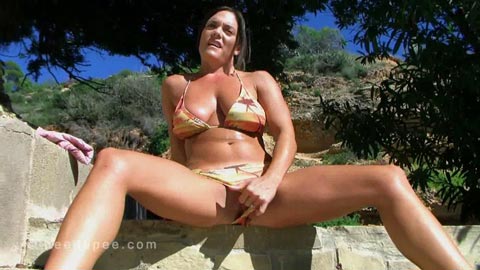 Next up from Rebekah Dee we have her desperate to pee at the top of the beach stairs. She is in the same bikini as the last beach peeing movie and looking just as sexy. She sits at the top of the stairs and pulls her bikini to the side to expose her pink pussy, she then starts to piss her piss shoots out and splashes onto the steps. We can even see some little pee drips running down to her bum crack it is a super sexy pee. See Rebekah Dee peeing on the stairs here.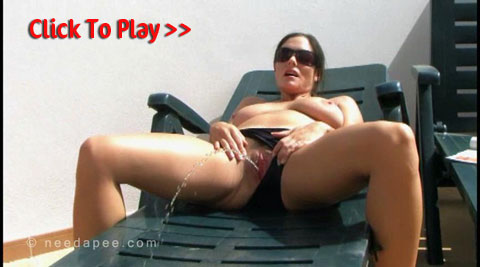 Last up from Needapee and Rebekah Dee we have her on a sun lounger sunbathing topless and desperate to pee. She has her hand in her crotch and what a wonderful sight her full breasts are. She lies back and pulls her bikini bottoms to the side spreading her pussy lips and starts to piss. This is a great powerful piss stream it is shooting out of her pink pussy and splashing on the recliner she really must have had a full bladder. She finishes peeing and we get a wonderful shot of her wet piss soaked pussy. Rebekah Dee really is one wonderful peeing lady. See Rebekah Dee peeing on the lounger here..