From Ineed2pee we have a super sexy wetting trailer movie starring the absolutely gorgeous Chloe Carter. We have had a couple of the scenes as picture posts and you can see them in Peeing In Skin Tight Jeans and Ineed2pee Female Desperation & Pants Peeing. The last scene which I think is the sexiest in today's peeing movie is totally new. We start off with her sitting in her super tight jeans telling us how much water she has drunk and how desperate she is. As she sits there she tells us she loves holding her pee in and that her bladder is being press by her tight, belt she is so sexy this desperate to pee. She can't hold on and pees in her skin tight jeans she has piss running down her legs and soaking her shoes. When she finishes peeing she pulls her jeans down but they are so wet with piss and tight that they get caught around her ankles. A super sexy skin tight jeans pee.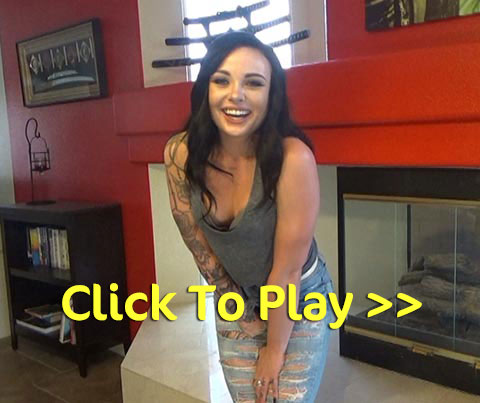 In the next scene Chloe has just arrived home she is in orange pants and is desperate to pee. She makes it to the bathroom door and finds her partner is in there. Chloe tells them that she has to pee so bad and as she does she crosses her legs and seems to sink a little, her bladder is about to pop. She is standing there pleading to be let in and then she presses her legs together tightly and bends down again. She is not going to be able to hold on. As she is standing there she grabs her crotch again and then she starts to pee in her pants.  As she pees she gets a wonderful pee patch around her bottom and is not impressed that she is covered in piss.

The last scene and my favourite has her in the backyard doing yoga in a unitard. She has no bra on and we can see her hard little nipples poking through the white fabric as she does her yoga poses. She needs to pee and grabs her crotch but she wants to finish the routine and gets down on the mat. This may not have been the best idea, she is now pressing her bladder and feeling more desperate to pee. She grabs her crotch again and then it happens she starts to pee in her yoga outfit. She has pee streaming out and her mat is soaked to. Now she has pissed herself the warmth is turning her on and as she sits in her pee puddle she masturbates till she comes. A super sexy wetting scene

See Chloe Carter Peeing Movie Here


Filed under: Babes Peeing and Desperation and Female Desperation and Ineed2pee and Jeans Peeing and Jeans Pissing and Movies and Peeing and Pissing and Pissing In Pants and Pissing Movies and Pissing Videos
Posted on 11.17.16
Comments: 2 Comments


Tags: Chloe Ineed2pee, Desperate To Pee, Female Desperation, Ineed2pee, Jeans Pee, Jeans Peeing, Pissing Movie, wetting
2 Comments »
when can you get the 3rd video put into photos

Comment by bobbie hose — November 20, 2017 @ 3:57 pm

I will post in a couple of weeks it is a hot scene

Comment by admin — November 22, 2017 @ 12:24 am
RSS feed for comments on this post.
Leave a comment