From FTV Girls we have the lovely Roxanna. This is the first time that we have had a peeing lady from FTV Girls and today we start off with a great big pee. We join Roxanna just off the street and she has been playing around she lifts up her top to show her small breasts and then she squats down. Look how lovely she looks. She lifts up her dress and exposes her pussy. She squats and smiles before starting to pee.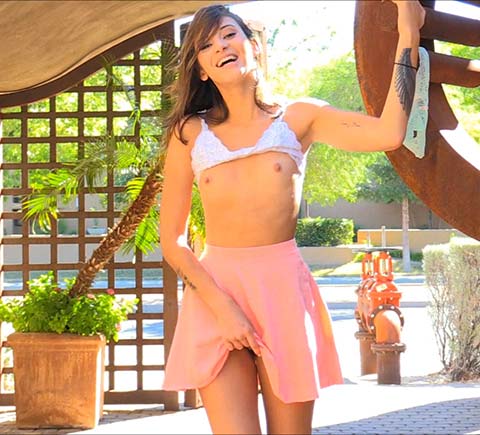 She starts to piss and the first drops flow out and then it turns into a big stream her pussy is exploding piss and it is splashing on the ground and creating a wonderful piss puddle.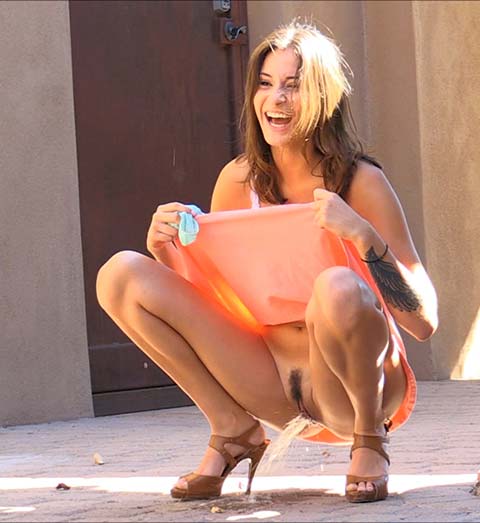 She keeps on pissing and it realty is a gusher. Just think how fast she would soaked jeans and panties with a stream this big. She keeps peeing and the hair on her pussy is catching her piss drips. The stream slows and then stops and she shakes herself a little. There are some drips of piss running down one bum cheek and her shoes have a few pee splashes too. Just look how happy she is now she has had a big piss.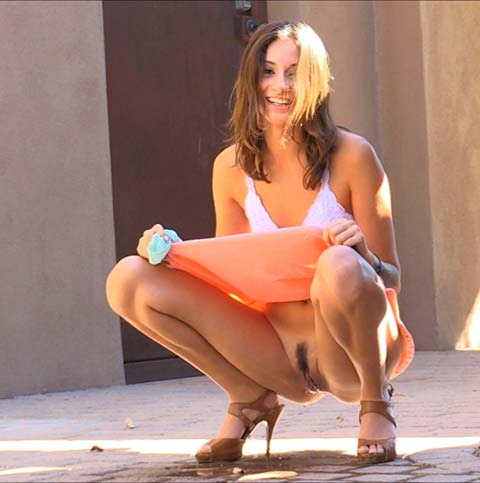 Filed under: Babes Peeing and FTV Girls and Hairy Pussy Pissing and Outdoor Pissing and Peeing and Pissing and Pissing Outdoor and Pissing Pictures and Public Pissing
Posted on 12.22.16
Comments: None


Tags: FTV Girls, Outdoor Pissing, Peeing, Pissing Outdoor, Pissing Pussy, Roxanna FTV Girls
It's been ages since we have had the wonderful Rebekah Dee from Needapee. She really is one of my all-time favourite pissing ladies and if you have missed some of her peeing antics check out Needapee Pissing Movies, Outdoor Peeing With Rebekah Dee, Rebekah Dee Peeing From Needapee, and Peeing With Rebekah Dee from Needapee Today she is in the street and desperate to pee. We know that she loves a sneaky pee and today is no different. She is dressed a single and a short skirt so we know that we are going to be in for a pissing treat. She is desperate to pee and holding her crotch as she veers off the street and finds a little alleyway.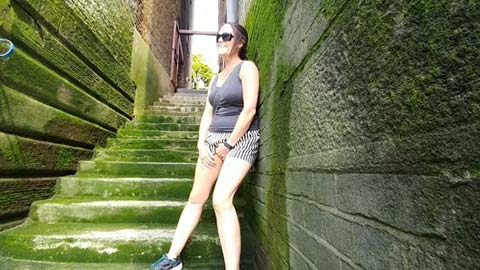 We are following her as she is desperately walking down the alleyway, there is no one around and she keeps walking till she finds some secluded stairs that are leading down to the river. She holds her crotch again we can see that she is loving the full bladder feeling and then she lifts her skirt up and pulls her panties to the side.

She is exposed out here, if there was a boat going by they would see her exposed pussy. Standing there with her panties pulled to the side she starts to pee. Her piss explodes from her pussy and it starts to splash on the ground, how wonderful is this she is out in public having a sneaky pee by the river. As the piss splashes on the ground her shoes will be getting little piss drips on them. When she finishes pissing she lets her panties move back across and her skirt comes down. I bet her panties have a little damp pee patch too. Once again another wonderful public piss from Rebekah Dee of Needapee.

See Rebekah Dee Pissing By The River


Filed under: Babes Peeing and Desperation and Dress Peeing and Female Desperation and Needapee and Outdoor Pissing and Peeing and Pissing and Pissing In Skirt and Pissing Outdoor and Pissing Pictures and Public Pissing and Rebekah Dee
Posted on 10.22.16
Comments: 3 Comments


Tags: Female Desperation, Needapee, Outdoor Pissing, Peeing By River, Pissing Outdoor, Pissing Outdoors, Rebekah Dee, Skirt Peeing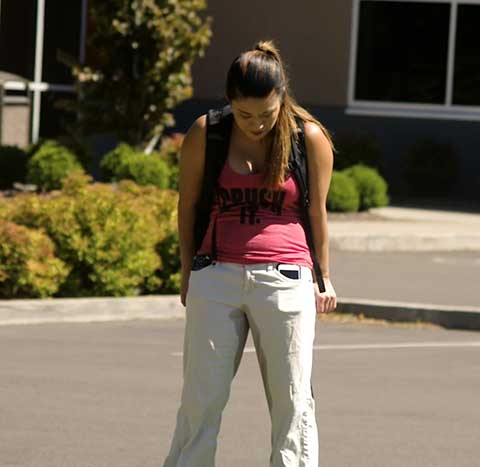 From HD Wetting we are back with the lovely Nikko and Sosha. We start off with Nikko outside a school and desperate to pee. She has been waiting ages for her lift and is so busting to pee she clamps her legs together and then bends over trying to hold on. She is so desperate and her bladder is so sore. As she is standing there she starts to pee and her light pants start to get the wonderful pee rivers. This is a great outfit to be peeing yourself in as there is no hiding the piss stain. Anyone driving past her will see that she has pissed herself how embarrassing. See Nikko Desperate And Peeing Herself Outdoors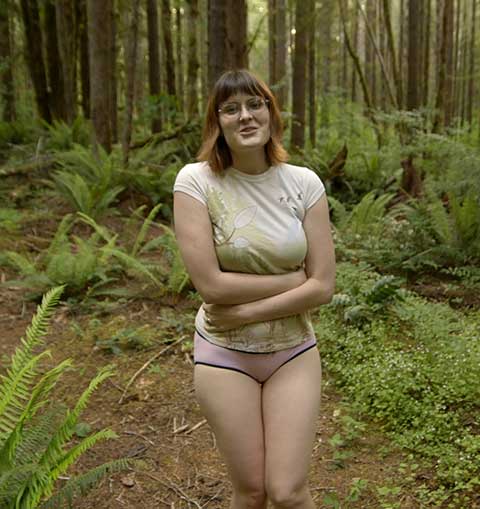 Next up we have Sosha in the forest in a t-shirt and her panties. She stands there and then grabs her crotch before starting to piss into her panties. As she is peeing in her panties she has pee running down her legs and it is also splashing on the forest floor. How wonderful would it be to be walking around and come across this panty pisser. She finishes peeing and then rubs herself through her pissy knickers till she cums. See Sosha Panty Pissing Here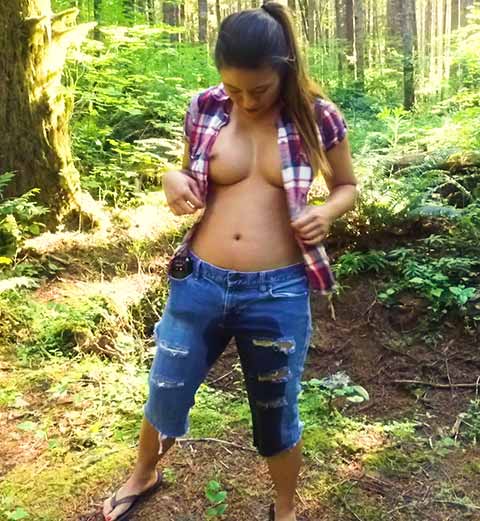 Last up we have Nikko in her jeans in the forest. We can see her wonderful breasts when she flashes them and standing there she starts to pee in her jeans. The crotch of her jeans goes dark with the first drips of piss and then there are rivers of golden liquid running down her legs and soaking into her shoes. When she finishes peeing in her jeans she looks so sexy standing there dripping. See Nikko Piss In Her Jeans Here


Filed under: Desperation and Female Desperation and HD Wetting and Jeans Peeing and Jeans Pissing and Knicker Wetting and Outdoor Pissing and Panty Pee and Peeing and Pissing and Pissing In Pants and Pissing Outdoor and Public Pissing
Posted on 07.14.16
Comments: 1 Comment


Tags: Desperate To Pee, Female Desperation, HD Wetting, Jeans Pee, Jeans Peeing, Knicker Wetting, Nikko HD Wetting, Outdoor Pissing, pants peeing, Panty Pee, Panty Peeing, Sosha HD Wetting
From Got2Pee we have three outdoor peeing movies staring Alex Black. Alex Black is a lovely busty model and she really can piss. We start off with her in tight jeans and desperate to pee she feels her bladder looks around and then pulls her jeans and panties down and starts to piss. What a lovely sight. She has presented her pissing pussy for us and it is spraying beautifully. She has piss dribbles running down her bottom and this then turns into another piss stream. She finishes pissing and i bet when she has pulled her panties up they are soaking in piss. See Alex black Pissing Outdoors here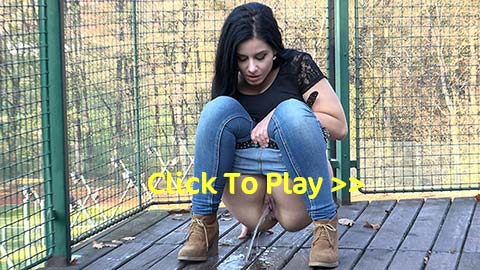 Next up she is out in the sun wearing a loose top and short skirt. I really do wish she was braless it would have been wonderful seeing her desperate to pee with her breasts bouncing around. She pulls up her skirt and squats down and starts to piss. Her piss explodes out of her pussy and her piss puddle gets bigger and bigger she really has a big bladder capacity. She finishes pissing and what a big piss puddle. See Alex pissing Here

Lastly we have her walking down the road, she is in a tight blue top and short skirt she really needs to pee. She feels her bulging belly and then squats down and starts to piss her pee stream is strong and shoots out of her pussy splashing all over the ground. Her piss even splashes her suede shoes. This is a great close up of her pissing pussy. See Alex Black Pissing On The Road Here


Filed under: Babes Peeing and Got2Pee and Movies and Outdoor Pissing and Peeing and Pissing and Pissing Movies and Pissing Outdoor and Pissing Videos and Public Pissing
Posted on 03.22.16
Comments: 1 Comment


Tags: Alex Black Got2Pee, Got2pee Movie, Outdoor Pissing, Peeing Movies, Pissing In Public, Pissing Movie, Pissing Outdoors, Public Pissing