From Needapee we have the lovely Rebekah Dee and a couple of her friends. We start off today with what is called coffee Break pee. They had so much fun peeing on their last slave which you can see in Rebekah Dee Peeing Fun. Today they have upped the ante the story goes "It's time for me to introduce my latest victim, his name is Gimpy and he's a lot of fun. When recently I got together with Nikki Whiplash and Ms Nikki he had the temerity to ask for a coffee. He got a coffee alright but I suspect he didn't quite have in mind what we did because the coffee we gave him was pissed into his mouth half an hour after we drank it. Gimpy didn't seem to mind though or was he just afraid of upsetting us?" A great piss scene see them peeing on the gimp here.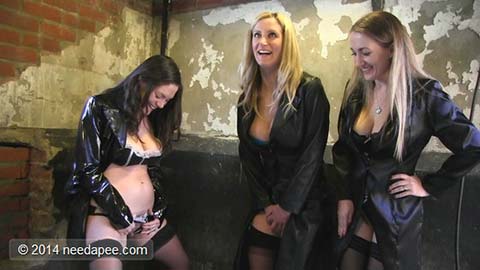 Next up we have the lovely Rebekah Dee outdoors in the dark, the story goes "There is something about the very naughty Minx Nikki that brings the wild side out in me. On a recent holiday after a few drinks at a local pub we were wandering back to our accommodation and when I suggested I have a quick pee she whipped her camera out and after daring me the fun began! I just hope those guys in that cabin didn't see me squatting and peeing just a few feet from their window!" See Rebekah peeing Here.
Last up we have a wonderful peeing movie with Rebekah Dee. We have had it before but it was a while ago and it is now in the new movie player. She is in her car with no bra on, she jumps out and as her wonderful breasts are bouncing around, she quickly pulls down her panties and then starts to pee, as she is peeing she pulls her see-through top off so she is naked as her piss sprays out onto the ground she really is one sexy woman showing us her piss gushing pussy. See the peeing movie here.