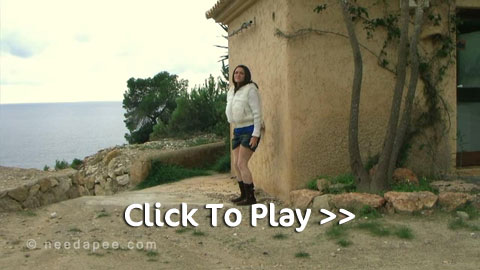 From Needapee we have the wonderful Rebekah Dee. We have had some great peeing movies with her in the past check out Rebekah Dee Peeing In The Sun she lies back in the sun longer and sprays a great arc of pee then there is Rebekah Dee Peeing On A Mountain she is exposed and pees on the mountain splashing pee all over the rocks, Rebekah Dee From Needapee Pissing Outdoors out on the jetty and peeing. One of my favorites has to be Sneaky Beach Peeing With Rebekah Dee It is so hot watching her sneaky peeing on the sand. Today she is outdoors by a checkpoint and so desperate to pee.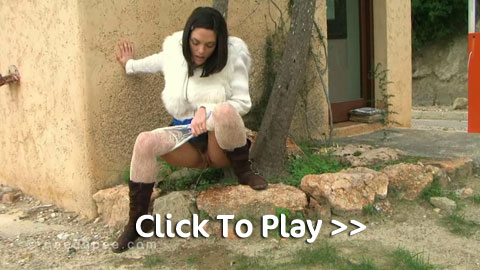 Rebekah Dee is desperate to pee she walks down the road and she already has her hand jammed into her crotch holding in her pee in. I always have enjoyed how she gets herself so desperate to pee I bet she enjoys the feeling of a bulging bladder and the potential that she will just loose control and soak herself. She keeps walking and you can see that she really needs to pee she looks around and there is no one watching her she hurries to the door and there is no one there.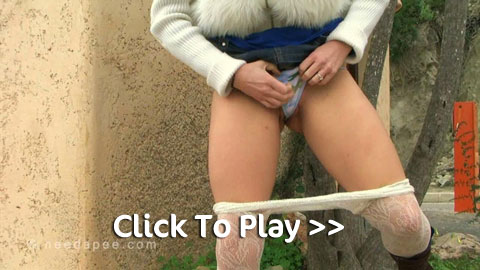 Rebekah Dee is desperate to pee she has her hand in her crotch and is looking desperate ally for a place to go. She stops crouches down trying to hold on, she is to desperate she has to pee now. She lifts up her mini skirt and pulls her white pantyhose and panties down. She squats and starts to pee you can see that she starts off slowly her bladder was so full that it must hurt, she then releases her great big pee, it is splashing in the dirt and her pussy lips are glistening. Looking at her face she looks so relieved. Rebekah Dee pulls up her panties and they get to soak up the last drops her pantyhose come up next and off she walks. This is a great outdoor peeing movie from Needapee.