From Needapee we have three picture sets. It's been a long time since we have had some pissing from the very sexy Needapee. The first set has her peeing on the street. Written about this pee movie at Needapee "my season of summer outdoor pee fun continues with this scene shot only last week. Taking a stroll along river side walk on a fine Sunday afternoon I slipped off into a back street for a little pee fun. A few cars and cyclists were passing but I found an opportune moment to hitch up my skirt and let me pee flow when the coast appeared to be clear. I had the forethought to not wear any panties to make things easier, naturally!" See Rebekah Dee peeing on the street here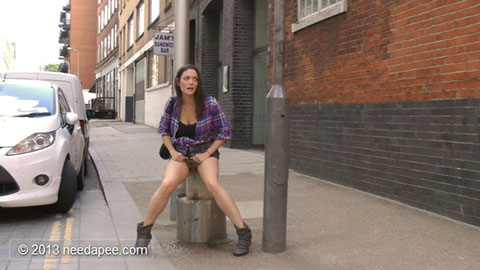 Next up we have her doing a sneaky pee by the pool. This is what was written about it "Only a few weeks ago the sun was shining and I was getting up to mischief whilst on holiday? One morning whilst strolling after breakfast I discovered the pool area, which was relatively quiet with only a few people catching some rays poolside. The temptation was too much and I had to take full advantage of the situation. Hanging off a sun lounger I pulled my panties to one side and let the pleasure sensation go!" See the sneaky pool pee here
Last up we have her sitting in a chair and pissing. At Needapee this is what was written about it "Call me old fashioned if you like but I still enjoying catching up with the latest news over a cup of tea and a newspaper each morning. When on holiday recently I was minding my own business on my balcony as I leafed through my paper. So was relaxed was I feeling that I thought it would be enjoyable to take a pee where I sat. It was a good idea until I realised that the balcony had no drainage and I was left in a pool of pee" See Rebekah Dee peeing here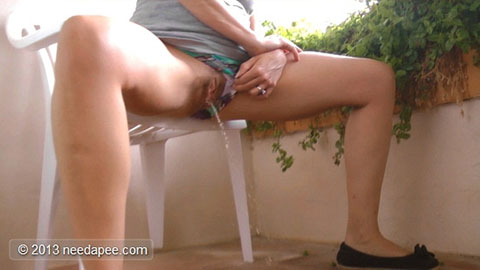 Related posts:

Filed under: Babes Peeing and Needapee and Outdoor Pissing and Peeing and Pissing and Pissing Outdoor and Public Pissing and Rebekah Dee and Street Piss
Posted on 01.26.14
Comments: 3 Comments


Tags: Needapee, Outdoor Pissing, Pissing Outdoor, Pissing Pussy, Rebekah Dee, Sneaky Pee, Street Pee
3 Comments »
Nice photos, but a bit on the small side!

Comment by Sophie — January 26, 2014 @ 4:37 am

Yes, that's through Sophie. On the first 2 picture sets we can barely see something. The 3rd picture set is ok, but the girl is hot.

Comment by Francois — January 26, 2014 @ 10:14 pm

Can u pls post a video of that?

Comment by Anonymous — January 27, 2014 @ 8:06 pm
RSS feed for comments on this post.
Leave a comment