From Wetting Her Panties we have the lovely Pippa Piddleton. I know when we have had her in the past she has not been everyone's favourite but she is one great dirty wetter in my mind. If you have missed her previous posts check out Outdoor Panty Peeing With Pippa and Panty Pissing with Pippa Piddleton. Today she is in the bathroom and is desperate to pee. She has a see through white dress no bra and blue knickers. I love that we can see her breasts as she is bouncing around desperate to pee. Just look at her bulging bladder she really is one sexy lady. She grabs her crotch holding on as long as she can she really is teasing us.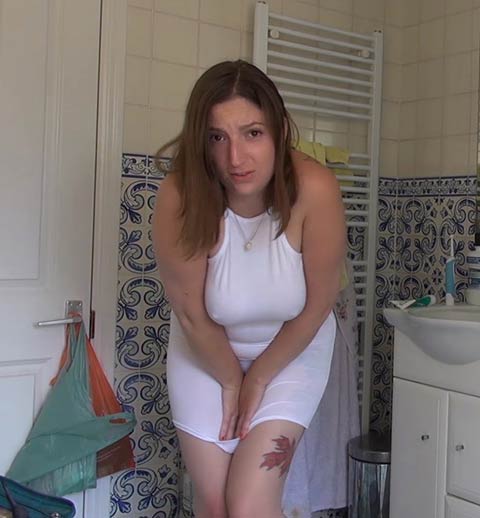 She is really desperate to pee now, she looks at us grabbing her crotch and I think her nipples are getting harder at the thought she is about to pee in her panties. Standing there with her hands still holding her crotch she starts to pee, the first drips appear and then a slow stream of pee starts to run over her hands. She doesn't move her hands, they are getting wet with piss she is enjoying the wonderful warm feeling.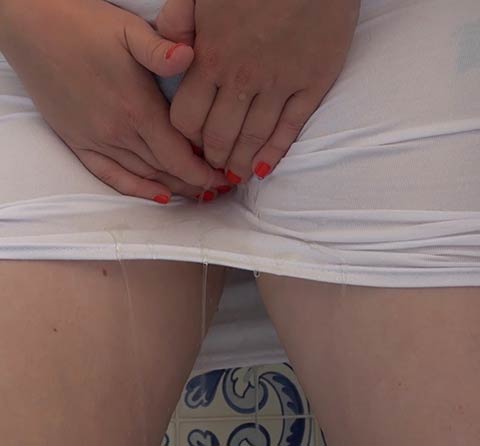 She keeps on pissing and she is really soaking her panties now the crotch is super dark and as she moves her hands away we get to see the lovely pee drips around her inner thigh. She stops peeing and pulls her piss soaked panties tight against her crotch. We get to make out a little of her hairy pussy as she poses for us in her piss soaked panties. To finish she turns around to show us her piss soaked bottom. A wonderful pantry pissing with Pippa Piddleton
See Pippa Peeing Her Panties Click Here


Filed under: Desperation and Female Desperation and Knicker Wetting and Panty Pee and Peeing and Pissing and Pissing Pictures and wettingherpanties
Posted on 11.25.16
Comments: 3 Comments


Tags: Desperate To Pee, Female Desperation, Knicker Wetting, Panty Pee, Panty Peeing, Pippa Piddleton Wetting Her Panties, wetting, wettingherpanties
3 Comments »
I'm going to be honest: I'm not the world's biggest fan of Pippa Piddleton. I've never been. But she's quite daring with what she does: she clearly loves her job as a panty-wetting model, which is what a few WHP models don't seem to. What's more, a shaved pussy goes a long way, though her pussy doesn't appear to be entirely shaved. And I can't say I would mind meeting her in public. She's actually quite beautiful come to think of it.

Comment by Pip — November 25, 2016 @ 3:48 am

Perfect comment Pip. I know some girls on WHP can be more attractive than Pippa but there's not many out there who show a real love for wetting like she does. Probably one of the most talented wetters out there and clearly loves what she does! Keep up the great work Pippa!

Comment by Dave — November 27, 2016 @ 7:25 pm

I love watching you wet your pants wish you would do a bed wetting one

Comment by bert l — January 17, 2017 @ 11:29 pm
RSS feed for comments on this post.
Leave a comment