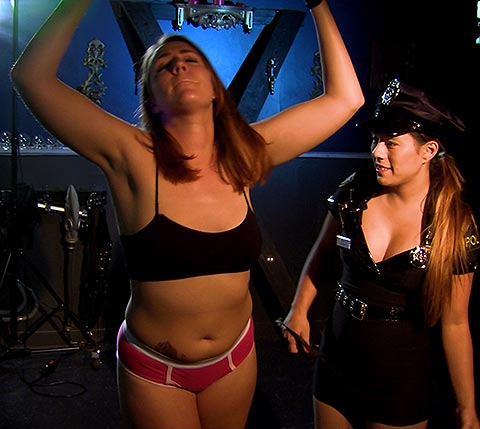 From HD Wetting we have three sets of screen grabs with Nikko and Alisha. It's great that Nikko has joined HD Wetting she brings some fun to the scenes with Alisha. If you have missed some of their previous desperation and wetting antics check out Pants Peeing By The River Alisha And Nikko Bondage Pee Movie and HD Wetting Lesbian Panty Pee Today we start with Alisha as a prisoner with Nikko as the Officer. Alisha is chained by her hands and in panties and a bra. She is desperate to pee but she is trapped and officer Nikko is taking great delight in seeing that Alisha is desperate to pee. Alisha is getting more and more desperate she is squirming and really trying to hold on and then she loses control and starts to pee in her panties. She has piss running down her legs soaking her feet and she ends up standing in a big puddle of pee. Great lesbian panty peeing. See Alisha pissing her panties Here.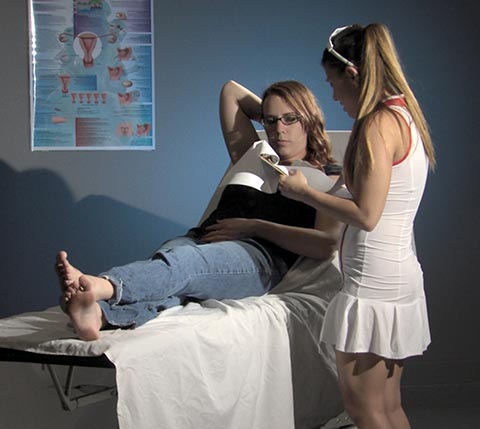 Next up we have Alisha at the doctors. The story from HD Wetting goes "Alisha is visiting the clinic for an embarrassing problem. She has been unable to pee for days. Sexy nurse Nikko has the perfect remedy though, a pill should induce an uncontrollable urge to piss. Alisha takes the pill and almost immediately she is overcome with sever desperation. Alisha can barely stand up before she unleashes a flood of piss into her jeans." See Alisha pissing in her jeans Here.
Last up we have Alisha topless desperate to pee. She is bound to the bed and we can see that her bladder is bulging. Nikko then starts to tickle Alisha, this is not good she is desperate to pee and the tickling sensation is making her more and more desperate. She squirms and then she starts to piss in her panties. Her pee is soaking into the bed and forming a puddle under her bum. Once Alisha finishes peeing in her panties Nikko puts her hand in the piss soaked panties and fingers her wet pussy till Alisha cums. See Alisha pissing her panties in bed Here.