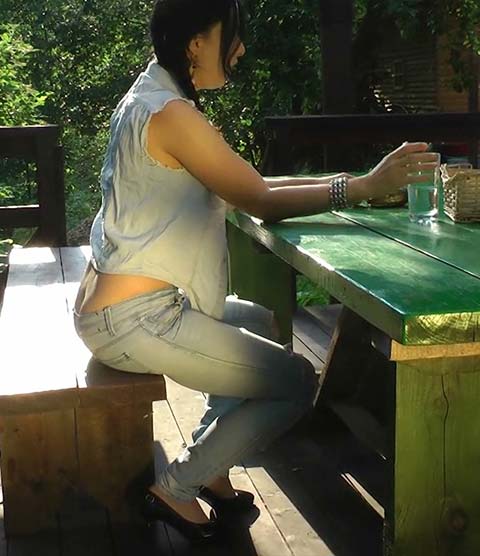 From Real Wetting we have new model Monica this is the first time that she has wet her jeans on camera, she is shy so we don't see her face. We join her as she is drinking and having a great time. She is getting more and more drunk and desperate to pee. For the lovers of smoking in the Real Wetting movie she smokes a cigarette as she is drinking her booze. The more she drinks the more desperate she becomes and of course the more drunk. She starts to stagger around and then it seems that she is so drunk that she starts to lose control of herself and pees.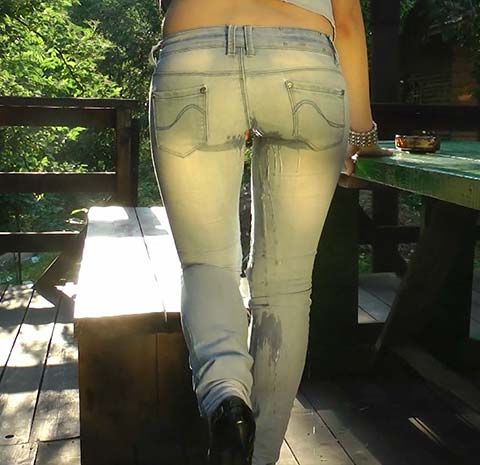 She is standing in her tight jeans and then starts to pee. She has pee drips appearing in the light blue denim and then the piss river starts. The pee is exploding through the fabric and gushing out, she is staggering as piss flows down her legs and it is soaking her feet, as she is still pissing herself she leans forward and collapses on the seat.

She is in her piss soaked jeans and the denim is shining with pee. Seeing her lying on the seat how much fun would it be to give her a light spanking and then pull her piss soaked jeans down? She has finished peeing and then she manages to stand up and we can see her wonderful piss stain around her crotch. The light jeans have the perfect piss jeans stain. She pulls her wet jeans down and we ger to see her piss soaked panties too they are so wet and clingy. A wonderful drunk wetting from Real Wetting

See Monica Pissing Herself Here


Filed under: Desperation and Female Desperation and Jeans Peeing and Jeans Pissing and Peeing and Pissing and Pissing In Shorts and Pissing Pictures and Real Wetting
Posted on 05.09.17
Comments: 3 Comments


Tags: Desperate To Pee, drunk pee, Female Desperation, Jeans Pee, Jeans Peeing, Monica Real Wetting, pants peeing, Real Wetting, wetting
3 Comments »
I'd be lying if I said something similar hasn't happened to me before.

Pee shyness plus a full bladder doesn't go well!

Comment by Sophie — May 9, 2017 @ 3:15 am

This is a really sexy upload!

Comment by Pip — May 10, 2017 @ 3:02 am

YUMMYYYYYYYYYYYYYYYYYY

Comment by GOLDY — June 14, 2017 @ 1:09 pm
RSS feed for comments on this post.
Leave a comment