From Ineed2pee we have the wonderful Cheyenne Jewel. We have had this lovely wetter in the past in Tipsy And Desperate To Pee from Ineed2pee, Female Desperation And Wetting From Ineed2pee, Bound And Desperate To Pee and Female Desperation And Panty Peeing. Today she is in tight jeans and at the farm, she is so desperate and the waist band is cutting into her bladder making it that much worse. She starts to do the pee pee dance and then clamps her legs tightly together she really is full and desperate. She stops and standing there she starts to pee.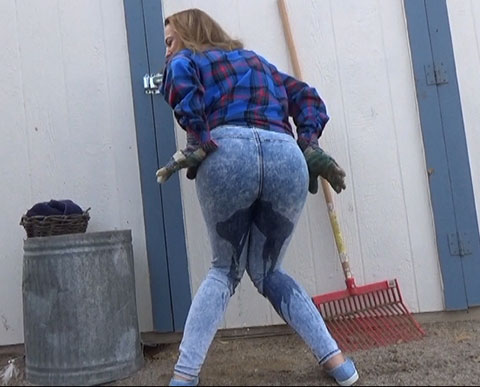 The story from Ineed2pee goes like this "Cheyenne Jewel in a very sexy outdoor skintight jeans wetting video! She's training a new person to work at the farm, showing her the different types of shovels & forks when she realizes she's waited way too long to use the bathroom, being so focussed on the training. She looks great in skintight denim and denim sneakers, trying to keep those jeans dry while shovelling it super hard!! She realizes she's locked out of the barn & is trying to keep her composure but she's doing a subtle pee pee dance while trying to maintain professionalism. You can see how far out her bladder is sticking out in those skintight denim. The look of horror crosses her face when she realizes her hot pee is pouring out into her panties and there's nothing she can do to stop it, the pressure is too great & she's wetting her tight jeans in front of you!! It's a HUGE yellow flood all into her jeans and info her denim shoes too!!!  It's splashing all over & Cheyenne is so mortified and embarrassed. She has to empty out her shoes, apologise profusely at her wetting accident and trudge away. Great BTS behind the scenes where she shows off her wet jeans, peeling them off, showing her pee soaked bare feet…. yummy!!!"

She has started to pee in her skin tight jeans and she has piss exploding everywhere her piss is spurting all over her jeans and the soaking into her denim. As she is peeing in her jeans the light fabric colour of the denim is getting darker and darker and we are getting wonderful dark rivers of piss. She finishes pissing herself, she is soaked. She takes off her shoes and pours the pee out. What a mess. She gets inside and then pulls her wet jeans down to show us her pussy panties.

See  Cheyenne Jewel Piss Her Jeans Here


Filed under: Desperation and Female Desperation and Ineed2pee and Jeans Peeing and Jeans Pissing and Outdoor Pissing and Peeing and Pissing and Pissing In Pants and Pissing Pictures
Posted on 02.01.17
Comments: 1 Comment


Tags: Desperate To Pee, Female Desperation, Ineed2pee, Ineed2pee Cheyenne Jewel, Jeans Pee, Jeans Peeing, pants peeing, Pissing In Pants
1 Comment »
Now that is what I'm talking about! Cheyenne Jewel is delicious to behold. I love the squirming, dancing and whatnot. I also love the jeans she is wearing; they make a nice, dark sloppy wet patch. I also want that top in a men's and those shoes in men's. Good mark for ineed2pee.

Comment by Pip — February 1, 2017 @ 4:39 am
RSS feed for comments on this post.
Leave a comment