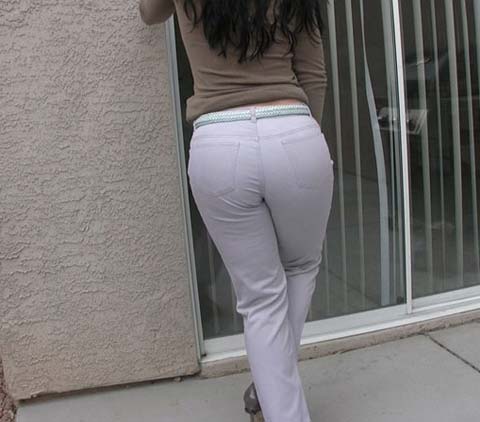 From Ineed2pee we have these three sets of female desperation and wetting pictures. The first Set stars Cheyenne Jewel she is in her pants and so desperate to pee Ineed2pee have written this about the female desperation and pants peeing shoot "Cheyenne is bursting to go in this classic tale of being lockedout of the house in her tight grey slacks. Her breathing quickens as she's doing the pee pee dance desperately trying to keep her urine off her panties & pants. When she gasps & loses control U can hear her pent up piss hissing out loudly & making a big puddle! Yes, the loud hissing sound is actually natural and not doctored in any way at all. As you can tell she really held it for the entire morning & had a LOT in there that she really pushed out hard. It was echoing as well which made it even louder… so enjoy!" Her soaked pants look great and when we get to see her pissed in panties they look so soggy.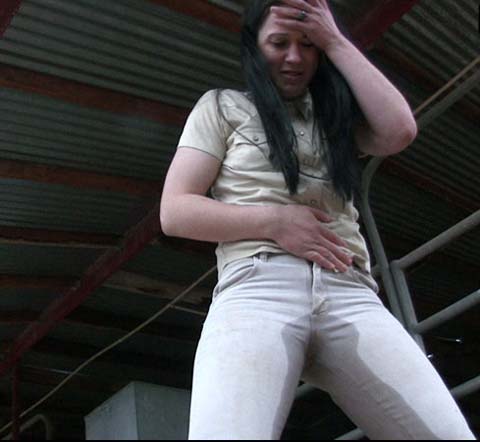 The next set stars Cheyenne Jewel again this time she is in her riding pants and desperate to pee it is a greet set and ineed2pee have written this about it "Cheyenne's jeans are so tight she had to lie down to zip them up! She's prepping the horses for an important show & she's running late. She's trying her very best to contain her bursting bladder but she starts pissing her skintight jeans outside. There's so much pee that you can clearly hear it hissing as it soaks her legs & boots. As you can tell by the loud hissing as she's peeing her jeans that she had a LOT in her to let out at the time!! I hope you liked her jeans; they are her actual favorite riding jeans that she wears during horse competitions but she had gained a few pounds over the holidays so she literally had to lie on the floor, suck in & pull the zipper up really hard to get them on!! They're the old school non stretch type jeans so they look really nice as they crease under her butt. "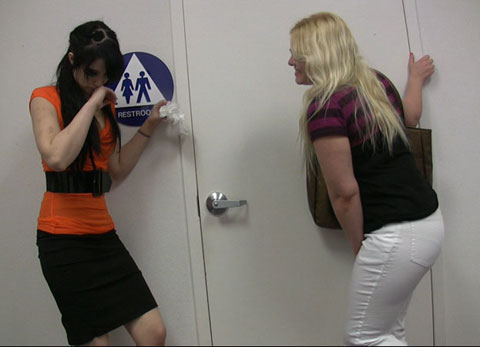 The last ineed2pee set stars Brookelynne Briar and Daisy they are both desperate to pee and what we get is great Ineed2pee have written this about it "Double wetting with sexy Brookelynne Briar who just can't hold it & wets her panties & pantyhose & Daisy trying not to wet her tight white jeans. Brookelynne tries her best & is so embarrassed when loses bladder control. Daisy barely makes it to the toilets before she gushes loudly into it, just making it before a wetting accident. It's been a long while since I gave you a "just made it" type scenario & Daisy does just that as she hisses super loudly into the toilets. It's nice and loud too, echoing in the stall as she sighs a big relief from holding all that pent up pee for so long… What a relief! Brookelynne of course couldn't hold it outside the bathroom & wets herself in shame… "some great sets from the female desperation masters at Ineed2pee

Filed under: Desperation and Female Desperation and Ineed2pee and Jeans Peeing and Jeans Pissing and Knicker Wetting and Panty Pee and Pantyhose Pissing and Peeing and Pissing and Pissing In Pants and Pissing In Skirt and Pissing In Tights
Posted on 04.08.12
Comments: 1 Comment


Tags: Desperate To Pee, Female Desperation, Ineed2pee, Ineed2pee Brookelynne Briar, Ineed2pee Cheyenne Jewel, Ineed2pee Daisy, Jeans Peeing, Knicker Wetting, pants peeing, Panty Pee, Panty Peeing, pantyhose peeing, Pissing In Pants, Pissing In Skirt, Pissing In Tights
1 Comment »
First 2 are fucking hot, makes me wank out sperm.
look at the pee. On the 2nd one you can see her bum crack, yum. 3rd one is shit.

Comment by Pip — April 10, 2012 @ 2:18 pm
RSS feed for comments on this post.
Leave a comment