From Needapee comes these great peeing sets. As you know I love seeing Rebekah Dee peeing and looking at some of her latest movies I think her lovely breasts are getting bigger. The first Set we have is Peeing by the roadside. Rebekah Dee as written this about it" I love the spring months because with the sun shining I can go out in short skirts and dresses – which make sneaky opportunist public pee adventures possible. Like this one for example – on a fine and warm afternoon I'm taking in the views of the sea on a seawall. With passing traffic below I appear to squat and tie my shoe lace, you know me better than that because I'm in fact having a naughty horny piss!" It really is one hot sneaky public pee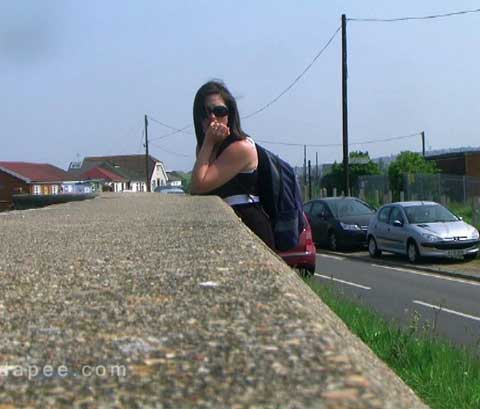 The next set of peeing pictures is Costal Path Pee. I do love how Rebekah Dee is such a sneaky peeing lady. She has peed all over and now this and a great view too. She has written this about it. "As the fine weather in the UK continues I took the opportunity to explore some of the wonderful delights the British coastal path system has to offer. The good weather brings people out in their droves so I had to choose an opportune moment to be at one with nature. I duck into an alley way for some sweet relief. Featuring a reverse angle pee, this will please those who like to see piss running down the back of my legs!" such a hot angle watching her from behind peeing on the path.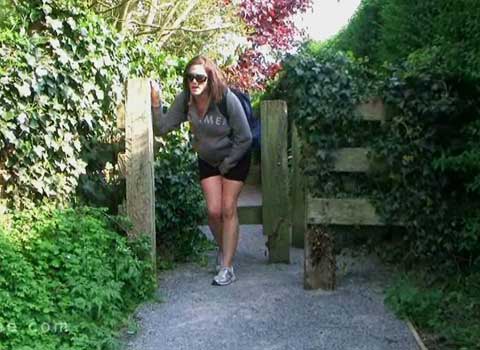 The last peeing set is Naked Trekking. How I wish is could have been there to see her walking around naked and the peeing. Rebekah Dee wrote this about this wonderful peeing set"he 'Naturist Walk' video few years ago went down a real storm, so during the recent spell of fine weather I couldn't resist stripping off (aside from my rucksack) to explore a local nature reserve. The feeling off freedom is indescribable with the warm spring air caressing my boobs and my bush and filling my mind with naughty pee thoughts. So when I happened upon a Bird Hide… guess what? I don't think it was occupied!" All these sete are screen captures and the full movies can be downloaded at Needapee.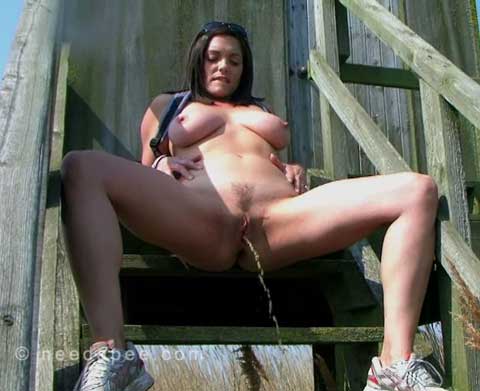 Filed under: Babes Peeing and Desperation and Needapee and Outdoor Pissing and Peeing and Pissing and Pissing Outdoor and Public Pissing and Rebekah Dee
Posted on 06.16.11
Comments: 3 Comments


Tags: Desperation, Needapee, Outdoor Pissing, Public Peeing, Rebekah Dee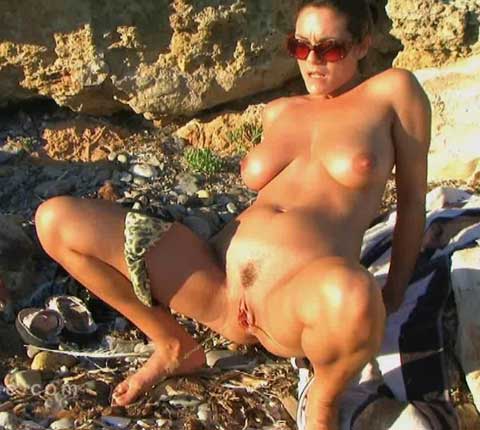 Here we have Rebekah Dee from Needapee, three screen shot sets from her sexy pissing movies. The first one we have is her at the beach. We have had a couple of other sets of Rebekah Dee at the beach peeing. Sneaky Beach Peeing With Rebekah Dee and  Pissing At The Beach From Needapee This time she is laying on her town enjoying the sun she needs to pee but doesn't want to move to much she pulls down her bikini and lets loose with her bulging bladder. At Needapee Rebekah Dee has written this about the movie "I'm an avid reader, I love a good book and what's more – when a book is good I find it hard to put it down. Besides, I'm hardly likely to let something as trivial as the call of nature disrupt a good reading session. Even more so when I'm relaxing in the on a beach bathed in the glow of the autumn sun. I squirm and wriggle, I bounce my crossed legs until I can wait no more. Oh my! I think someone is watching me, is that you? "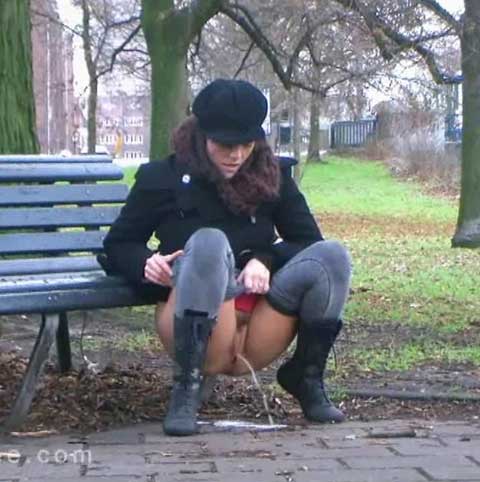 The next set we have is from her Amsterdam peeing movie. She really is one great sneaky peeing model. By the canal in Amsterdam she is sitting in the seat and when there is a lull of people she pulls down her pants and squats a great sneaky public peeing. Rebekah Dee wrote this about here sneaky pee "You really enjoyed my daring canal pee adventure in Amsterdam a few weeks ago so here is another. The canals of Amsterdam can be so deceiving, you may think you're alone a clear to pee when all of a sudden a bicycle will speed past and you're mid-pee. This of course makes matters very exciting, especially when it is cold and you're wearing lots of layers. but I know you like to see me in tricky situations so sit back and enjoy!"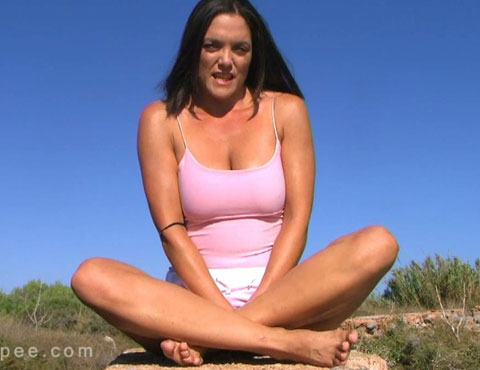 The last set we have is great Rebekah Dee is desperate to pee by the swamp she is sitting on a wall and is jamming her hand to stop herself peeing this really is one great movie and the pictures don't do it justice. She pulls down her panties and then holds her crotch in desperation before she starts peeing. Rebekah wrote this about it "On a hot sweltering day I can't resist the sight of a mosquito infected swamp! It's located within eye-shot of an apartment block though and I can hear some people on the near-by beach. I squirm and wriggle for a few minutes because I know you like to see a girl in distress. The height from where I pee means I produce a delicious yellow arc of pee into the swamp, let's just hope I also take of few of those pesky mosquitoes out!"

See The Photos Set 1, Set 2, And Set3


Filed under: Babes Peeing and Needapee and Outdoor Pissing and Peeing and Pissing and Pissing Outdoor and Public Pissing and Rebekah Dee
Posted on 05.23.11
Comments: 5 Comments


Tags: Needapee, Outdoor Pissing, Pissing In Public, Pissing Pussy, Rebekah Dee
From UK Flashers we have these great flashing and peeing pictures. It's not often that we get Indian peeing pictures so this is a great set from UK Flashers. She starts off showing her bum and then pulls down her pants to show her hairy pussy. I haven't seen the movie of this but I would assume that this location is not private. UK flashers love doing risky public flashing movies. Zarina from UK Flashers is playing around and then she squats down and starts peeing on the ground you can see her hairy pissing pussy so well and the hairs are grabbing lots of drops public pissing with and Indian who has braces and a hairy pussy just great. See Zarina Peeing Here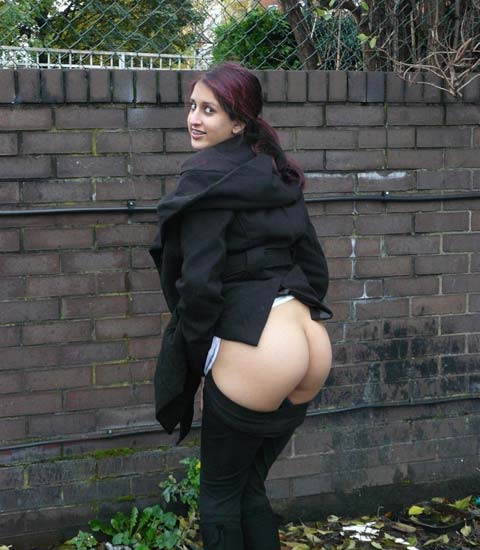 The next public pisser from UK Flashers we have is Emma Louise she is starring in two different locations. She is naked in the woods by the road. It's getting dark and she must have been getting a little cold she is squatting and then starts to pee you can see the flash is going off so I'm guessing that the cars going past behind her are getting alerted of the pissing in the woods going off. The nest location is by a road we don't see her face in these ones just her lovely slender body. She is flashing by the road and releasing her hot piss as cars go by she really does have a lovely piss spray. You can see her pissing pictures Here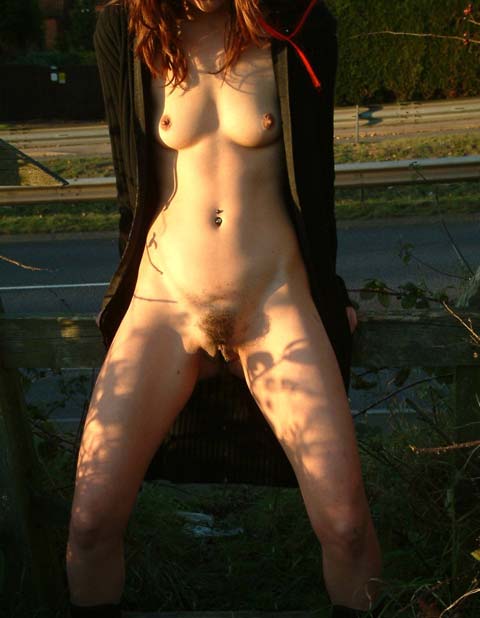 The last UK flashers public pissing we have is Jesse she really does look lovely, she is flashing outdoors and looks a little shy. She lifts up her dress to show her pussy and the she squats down she really does look a little nervous doing this maybe she is embarrassed as she knows people are watching her. Her piss stream starts off slowly and then increases in power till it is gushing out. I bet the sound it is making splashing on the ground is just great. Such a sexy pissed from UK Flashers. You can see her Pissing Photos Here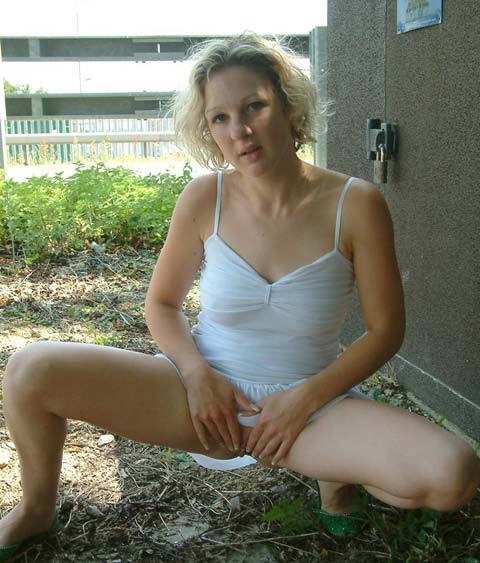 See The Photos Zarina, Emma, Jesse


Filed under: Hairy Pussy Pissing and Outdoor Pissing and Peeing and Pissing and Pissing Outdoor and Public Pissing and UK Flashers
Posted on 05.08.11
Comments: 4 Comments


Tags: Outdoor Pissing, Pissing In Public, Public Peeing, UK Flashers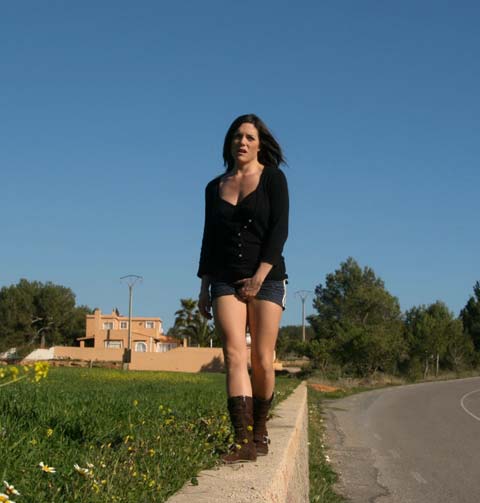 From Needapee we have these outdoor pissing pictures with Rebekah Dee. I do love it when Rebekah Dee is out in public and peeing we have had a few great sets here at Piss Blog not to mention the great sneaky peeing movies. If you have missed any you can always check out the Needapee category that has movies and pictures with Rebekah Dee and her friends. In these outdoor peeing pictures Rebekah Dee is on the wall desperate to pee she sits down and gets her shorts off and then opens her legs and lets flow with her lovely golden stream.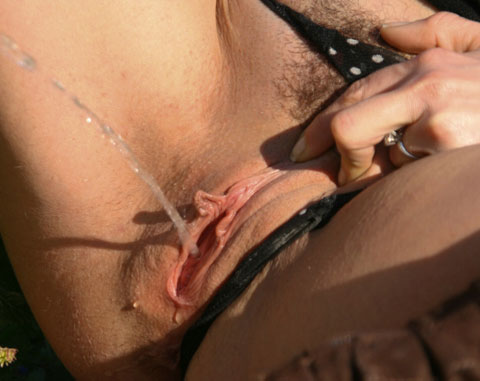 Rebekah Dee has written this about the pictures at Needapee "Spring has finally sprung and we are well on our way to summertime – yay! No more winter wear and much more flesh flashing opportunities are on their way! Whilst I was away last week making arrangements for my summer stint in Ibiza, I took full advantage of the beautiful spring day on my way to the airport and took these naughty shots of me sneaking a pee on the roadside. I had to keep stopping because of all the cars and just as I finished a few pedestrians wandered past! I pulled my jumper down so they couldn't see I was naked from the waist down and waited for them to pass before cheekily pulling my shorts back up and continuing on my merry way. It certainly put a spring in my step to think that they very nearly caught me with my pants down! Check out the beautiful colours in these shots, the green grass no doubt helped by my little 'sprinkling'!"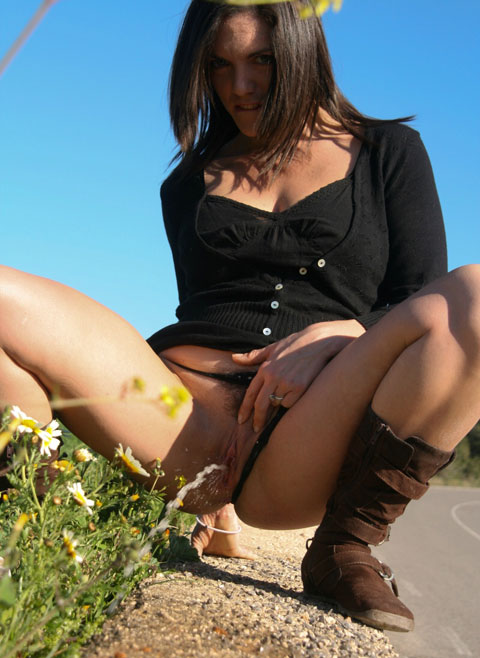 Rebekah Dee really is a great pisser and she is just so sexy I love these close up shots of her pissing the piss stream looks so sexy and you can even see her piss hole. I do wish the site would have more photo,. don't get me wrong I love the Needapee movies but there is something great about pissing pictures too. Yet another wonderful piss from Rebekah Dee.
See The Outdoor Peeing Pictures Here

Filed under: Babes Peeing and Needapee and Outdoor Pissing and Peeing and Pissing and Pissing Outdoor and Rebekah Dee
Posted on 04.23.11
Comments: 2 Comments


Tags: Needapee, Outdoor Pissing, Pissing Pussy, Rebekah Dee
From Wet In Public We have this great park bench shorts peeing. She is sitting on the park bench in her white shorts she really is lovely and her shorts are so tight against the pussy. She has opened her legs and we get to see the first wonderful drops of pee as it explodes into her shorts. I do love Wet In Public there is always something so sexy watching a hot lady peeing in public., with Wet In Public we get the added bonus that they are peeing in public in their clothes.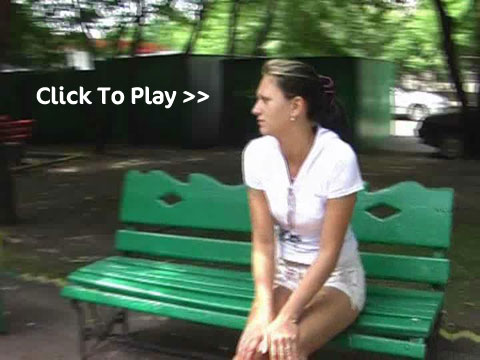 This Wet In Public hottie is peeing in her shorts on the park bench and with every second her shorts are getting more and more soaked. She keeps peeing the fabric grabs her pussy tighter and tighter. She can't be wearing panties under her shorts and that is a small shame. She keeps on peeing and the sound of her piss splashing on the ground must be wonderful, just look at her piss soaked crotch that really does look so inviting. Just imagine the wonderful warm feeling she must be having and if you got to touch it, it would be so wet and soft. Another wonderful Wet In Public peeing movie.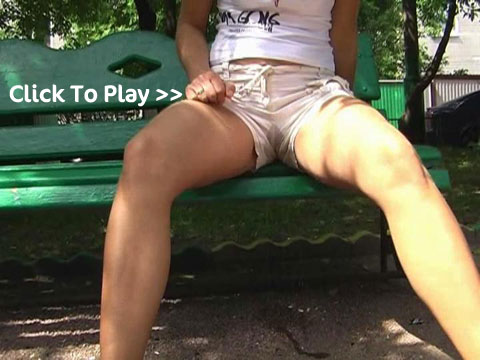 Watch The Shorts Peeing Movie Here


Filed under: Movies and Outdoor Pissing and Peeing and Pissing and Pissing In Shorts and Pissing Movies and Pissing Outdoor and Public Pissing and Wet In Public
Posted on 04.14.11
Comments: 2 Comments


Tags: Pissing Movie, Public Pissing, Shorts Pissing, Wet In Public, wetting
We have haven't had a post of Rebekah Dee from Needapee for a while so here we have some great photos of her at the beach and peeing. She really is one sexy model and I do love how she seems to love peeing everywhere. If you missed her beach peeing movie you must see it in the Sneaky Beach Peeing With Rebekah Dee post. In these peeing pictures from Rebekah Dee she is walking down the stairs to the beach she looks so desperate and sexy just look at her holding her bikini covered crotch. She keeps walking down the stairs and then sits down and pulls her bikini across exposing her lovely pussy.
Rebekah Dee from Needapee has written this about these peeing at the beach pictures" Oh I do like to pee beside the seaside public pee and living and working in Spain during the summer I get plenty of opportunity!  Many of the beaches and coves in Ibiza are pretty quiet and don't have toilet facilities anyway so it's the perfect excuse for me to indulge in some naughty al fresco peeing (like I need an excuse!)  I was actually shooting photographs by the sea on this day and the sea was a little rough and crashing up and over the little jetty I was sitting on. Whether it was the sound of the water or the fact that I was sitting on a wet jetty I don't know but I felt the sudden urge to relieve my bladder and told the cameraman to keep shooting whilst I carried on with my business.  There wasn't anyone around at least not within walking distance although a few nudist sunbathers on the opposite side of the cove may have wondered what was going on if they happened to be looking in my direction and squinting very hard!  So with no one to offend and the sea was on hand to wash away any evidence…..this is what happened:" Im not sure the relevance but it added it anyway.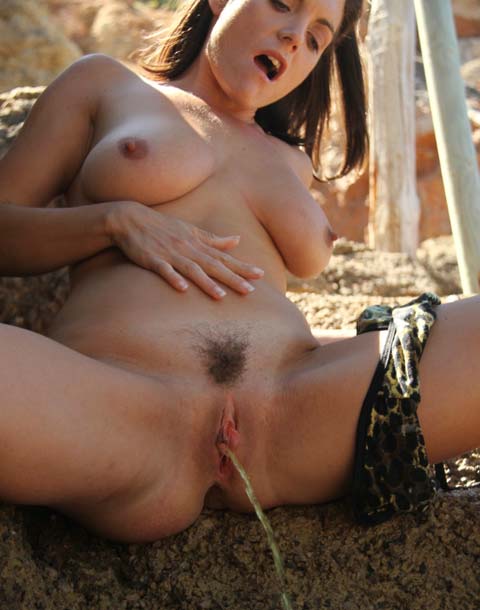 Rebekah Dee pulls off one leg of her bikini leans back and starts to pee and what a lovely stream it is it has a wonderful yellow color to it and as she is peeing she then takes her bikini to off so we can get the spectacular view of her peeing while fully naked. Rebekah Dee must be enjoying this even her nipples are hard. Just imagine ho great it would have been to be walking down these steps right at this moment she is pissing and naked. She finishes of peeing and then walks back up the path naked. A wonderful set of peeing pictures from Rebekah Dee of Needapee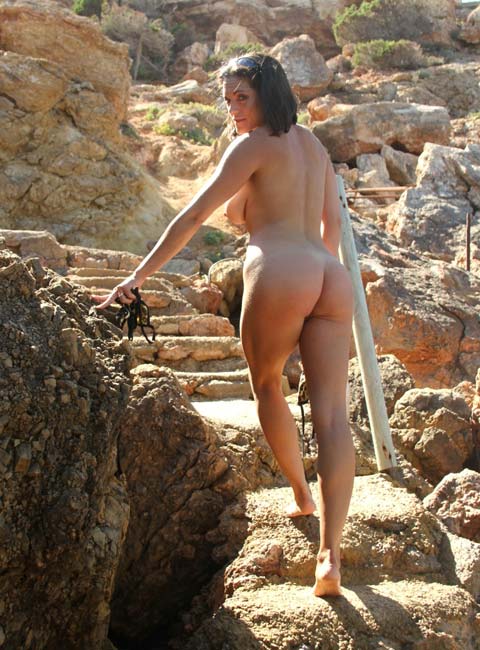 See The Beach Peeing Photos Here


Filed under: Babes Peeing and Hairy Pussy Pissing and Needapee and Outdoor Pissing and Peeing and Pissing and Pissing Outdoor and Rebekah Dee
Posted on 04.02.11
Comments: 5 Comments


Tags: Bikini Peeing, Hairy Pussy Pissing, Needapee, Outdoor Pissing, Pissing In Public, Rebekah Dee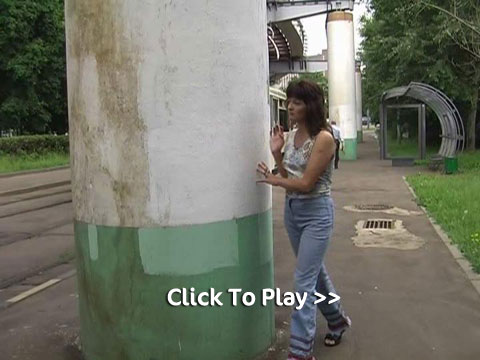 From Wet In Public we have this jeans pissing movie. This is one great jeans peeing movie it reminds me of the extreme public piss movies. We are near a tam stop and Elena walks into shot in her jeans. She stops and leans against a post with her legs crossed she needs to pee but is waiting and then it is obvious why. There was a guy walking she can't have wanted to show him her pissing in her jeans.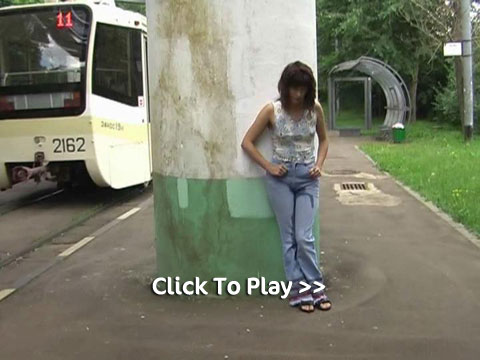 Elena is ready and as the next tram is going by she starts to pee in her jeans and what starts as a small flow turns into a jeans soaking mess. The tram stops and she is still soaking her jeans and then as the tram leaves a lady walks by while she is in full flow. If you saw a chick pissing in her jeans in public I bet you would stop but not this chick she just keeps going.  While the chick is still the pissing in her jeans you can see the chick that has busted the jeans peeing looking back and wondering what is happening.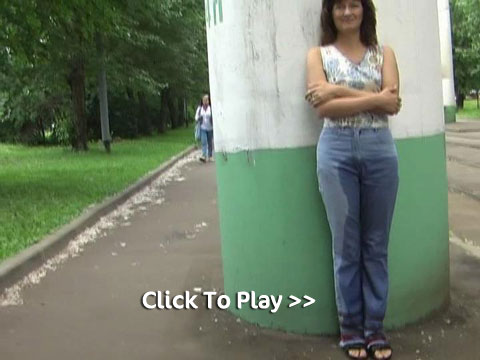 The jeans are well soaked now and there is no mistaking that she has pissed in her jeans. I would have to say that this is the best or second best jeans wetting movie from Wet In Public we have had. The other one has to be Public Jeans Pissing From Wet In Pubic I just can't decide, She finishes peeing in her jeans and starts to walk she doesn't get far though and as another tram goes past she quickly makes it to another post this is not going well for her, everyone is seeing that she has peed in her jeans in public. As we leave the public jeans movie another person walks by.

Watch This Public Jeans Pissing Here

Visit Wet In Public Click Here





Filed under: Jeans Peeing and Jeans Pissing and Movies and Outdoor Pissing and Peeing and Pissing and Pissing Movies and Pissing Outdoor and Public Pissing and Wet In Public
Posted on 03.11.11
Comments: None


Tags: Jeans Peeing, Outdoor Pissing, Pissing Movie, Public Pissing, Wet In Public, wetting
From Pisshunters comes this great voyeur peeing movie. A blond staggers into the camera shot she must be a little drunk and she needs to pee. When she hitches her skirt up and is about to pull her pantyhose and panties down I did think that she was going to fall back in the bushes but no she recovers. She pulls down her panties and pantyhose and she does need to pee badly before she has even squatted properly she is pissing in the dirt this is one powerful piss too.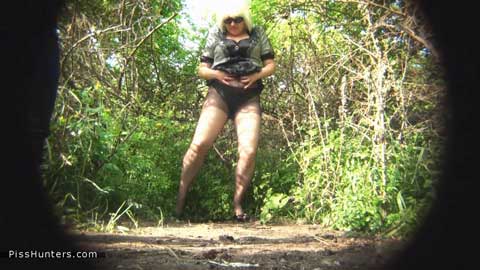 She is squatting and pissing and it is one big piss. We have a great view from the Piss Hunter's cameras. I do love this voyeur pissing there is something so naughty seeing hicks pissing in public. She keeps pissing and her strong pee stream keeps splashing in the dirt. This really is one powerful piss she must have been so full it's a pity she didn't start to pee in her panties and pantyhose. She is still pissing, this is one long Pisshunters voyeur peeing movie and if you are watching her pee stream it is now splashing over her shoes she is totally unaware as she is soaking her shoe and pantyhose covered foot. What a warm mess she is making.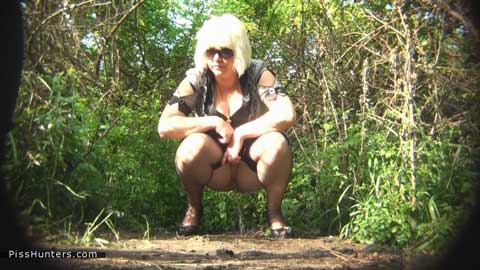 The piss stream starts to dwindle and then it starts up again. For a minute it looks like she is going to pull her panties and pantyhose up while she is still pissing but no, her stream turns into little drips. She pulls her panties up and then her pantyhose, she has a pad in her panties so I'm betting that will be soaking up lots of her pee. Another great voyeur peeing movie from Pisshunters.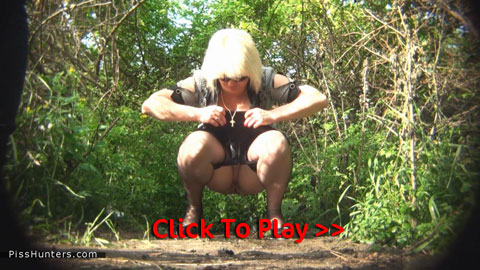 Watch The Blonde Caught Pissing Here


Filed under: Caught Pissing and Movies and Outdoor Pissing and Peeing and PissHunters and Pissing and Pissing Movies and Pissing Outdoor and Public Pissing and Voyeur Peeing
Posted on 02.15.11
Comments: 9 Comments


Tags: Caught Peeing, PissHunters, Pissing, Pissing In Public, Pissing Movie, Voyeur Peeing, Voyeur Pissing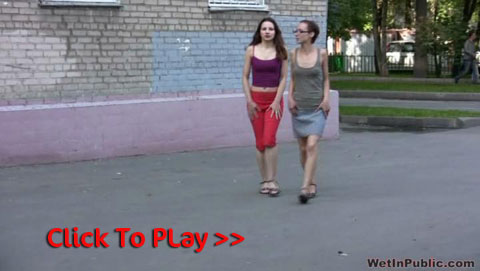 From Wet In Public we have this great public wetting movie. Two chicks that we have seen before in Friends Shorts Pissing In The Park are in desperate need to pee as we now know they love peeing in public too. They look in quite a hurry especially the one with glasses and as soon as she is against the wall she squats down and starts peeing in her skirt she really must have been busting as she is peeing so quickly. She has a lovely river flowing through her skirt and splashing on the ground.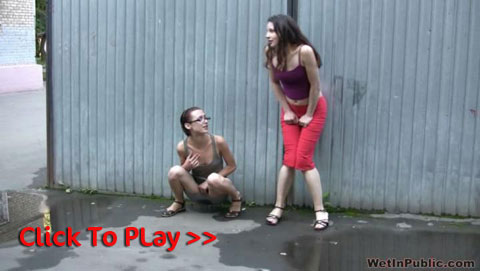 While the chick with glassed is peeing in her skirt her friend is waiting her turn, this brunette is so sexy the look on her face when she is squatting is just wonderful. She seems to be more of a shy public pisser. In a previous Wet In Public post Peeing Her Pants In Public you can see how shy she is especially when she is peeing in her pants by herself at least here she has a friend to pee in her tights with.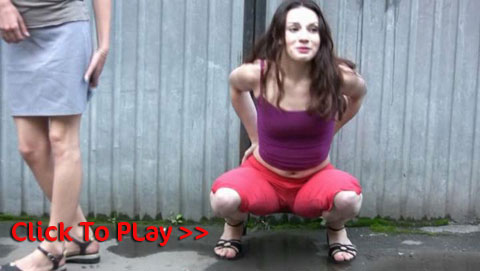 She has squatted down and started to pee in her tights and what a great sight it is, the skirt peeing was ok but this is great you can really see her dark pee patch. She is fully soaking herself and even when she has finished peeing in her tights she keeps on dripping it's just wonderful. What a great sight it would be if you just happened to walk around the corner to see this tights and skirt peeing it would be just wonderful especially seeing the brunette in her piss soaked tights. Another great movie from Wet In Public

Watch the Skirt And Tights Pissing Movie Here


Filed under: Movies and Outdoor Pissing and Peeing and Pissing and Pissing In Leggings and Pissing In Skirt and Pissing In Tights and Pissing Movies and Pissing Outdoor and Public Pissing and Wet In Public
Posted on 01.15.11
Comments: 2 Comments


Tags: Outdoor Pissing, Pissing Movie, Public Peeing, Skirt Peeing, Tights Peeing, Wet In Public