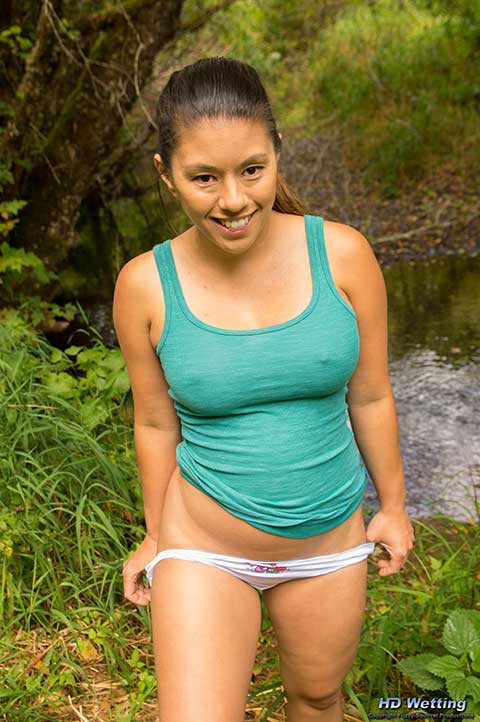 From HD Wetting we have the wonderful Nikko. We have had this hottie in the past with Peeing Fun From HD Wetting,  HD Wetting Jeans Peeing With Nikko,  Nikko Jeans And Shorts Peeing and Lesbian Peeing from HD Wetting Today we have some great photos with her. The first HD Wetting photos have her by a river, she needs to pee but is feeling a little playful so she teases and shows us her wonderful breasts. Then standing there in her hello kitty panties she starts to piss. She is pissing in her white panties and her pee is nice and yellow. It is flowing into her panties and then running down her legs. When she finishes peeing she pulls her piss soaked hello kitty panties forward and we get to see the soaking crotch of them and her pissy pussy.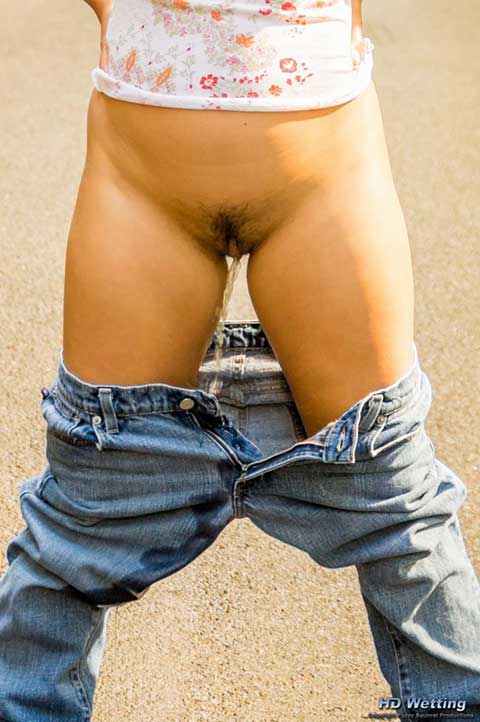 Next up Nikko is on a road in her jeans and she needs to pee. She could go to into the bushes and relieve herself but where would be the fun in that. She undoes her jeans and then pulls them down half way to expose her hairy pussy. Standing on the road she starts to piss, her piss explodes out of her vagina and hits her half pulled down jeans. The denim is starting to get soaked and then when she finishes pissing she pulls them back up and stands there in her piss soaked jeans showing us what a dirty girl she is.
Last up we have Nikki in her panties on the bed. She is topless and her bladder is bulging. She kneels down and in her panties and starts to pee. Her pee is soaking into her purple panties giving the crotch a wonderful dark look. Her pee is flowing through her panties onto her bed, what a mess she is making. When she finishes peeing into her panties she lies down in her piss puddle on the bed showing her wet pissy bottom.