From Pisshunters comes this Voyeur pissing movie. We have voyeur peeing movies from this location before with Two Chicks Caught Pissing From Pisshunters and Voyeur Peeing With Pisshunters In this movie the first lady walks into the Pisshunters shot and looks directly at the camera. When I say this I honestly thought she was going to walk up to the hidden cam and have a closer look but I was wrong. Her friend joins her in the shot and they starts looking for a good place to  pee. They find one and turn around and start to take down their pants.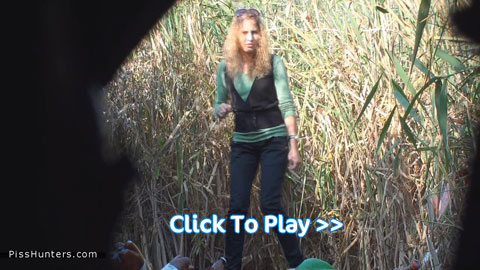 One more lady joins them, this really is great, not one but three chicks caught on the Pisshunters hidden camera. They really seem to be finding peeing together fun. They all squat down ready to pee facing the Pisshunters hidden camera with smiles on their faces. Then the piss streams start. The poor chick in the middle seems to have a branch touching her bum and doesn't look that happy about it but she is still peeing away. The first chick that entered finishes peeing and pulls up her panties and pants we didn't get to see her pee stream or pussy at all, a shame as she looked the prettiest in my opinion.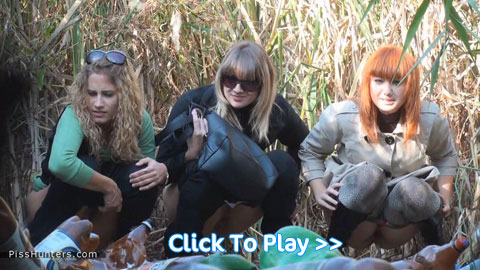 The Redhead chicks finishes too and up go her leggings, she didn't even shake so I'm betting she will be making a nice damp patch in her leggings. The chick in the middle is still going she must have been busting to pee. She may of course like the feeling of the stick on her arse lol. Her pee stream turns into a trickle and she finishes too and up come her panties and pants it looks like she has a pad in her panties so she won't be staining her panties with pee. Another great voyeur peeing movie from Pisshunters.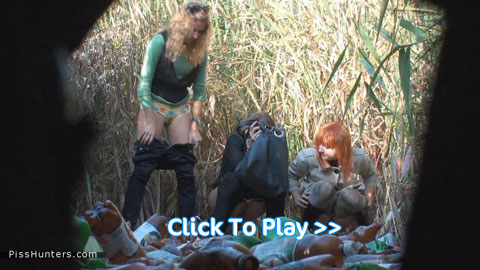 See The Three Ladies Caught Peeing Here

Read A Pisshunters Website Review





Filed under: Caught Pissing and Movies and Outdoor Pissing and Peeing and PissHunters and Pissing and Pissing Movies and Voyeur Peeing
Posted on 03.27.11
Comments: 3 Comments


Tags: Caught Peeing, PissHunters, Pissing Movie, Voyeur Peeing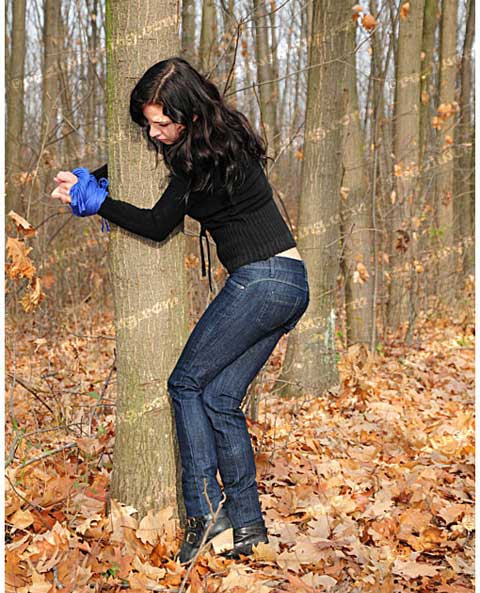 From Real Wetting we have Antonia. Antonia is in her tight jeans and tied to a tree. She looks desperate to pee and I bet her tight jeans are digging into her bladder. She really is in a predicament this time and she looks like she is getting more and more desperate to pee you can even see her bulging bladder. Those jeans are not doing her any favors and she is probably wishing she had chosen something else to wear. Female desperation while bound where is there to go? You just have to hold on until some one releases you. Will Antonia be able to hold on to her desperate bladder long enough?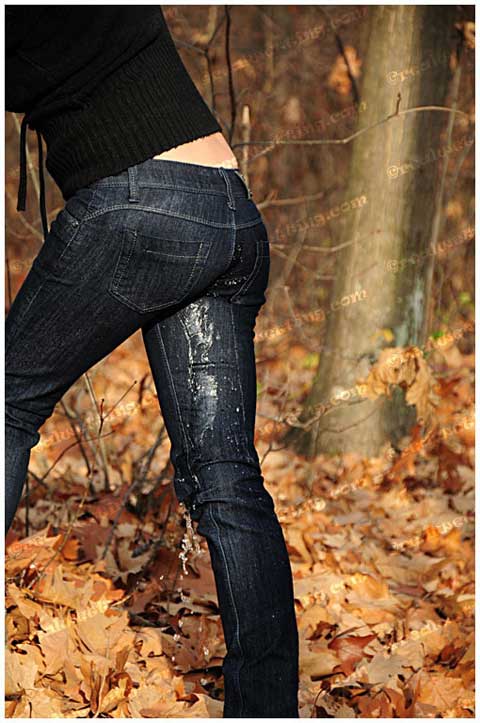 Poor Antonia tied to a tree and desperate to pee what is a girl to do? Well that's right pee in her jeans. She just couldn't hold on any longer, she was just to desperate and now we get to see the first drops of pee escaping from her desperate bladder. What starts out as a small trickle gets bigger and bigger till she is peeing in her jeans so hard that there is a lovely river of pee running down her legs. It's a shame these are only pictures the sound as she is peeing her jeans would have been great especially the sound as the pee splashes in the leaves.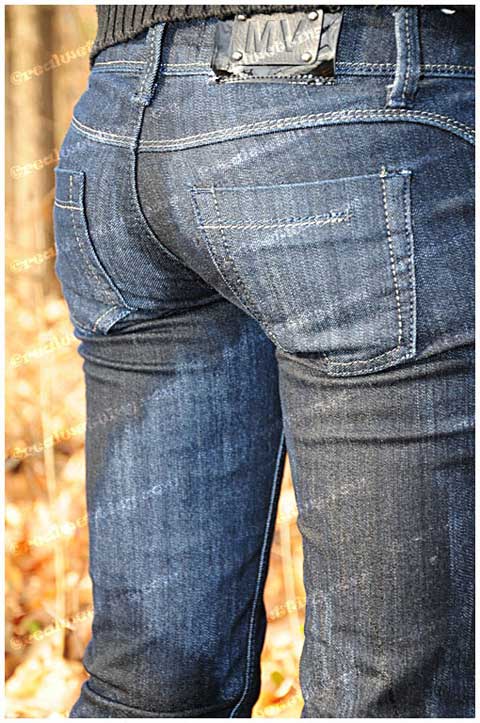 She is still peeing her jeans and making such a mess, just look at how the pee stain glistens and you can still see the little drips of pee flowing down as she finally empties her bladder. Her jeans really are soaked with her pee. It really is unfortunate for her that she was so desperate to pee but we have been treated to a great jeans pee. I just love how the pee makes the denim glisten and to feel that warm damp denim would be greet. Another wonderful Real Wetting jeans pee.

See Antonia Desperate And Peeing In Jeans


Filed under: Audrey's Wetting Site and Desperation and Female Desperation and Jeans Peeing and Jeans Pissing and Peeing and Pissing and Pissing In Pants and Real Wetting
Posted on 03.24.11
Comments: 3 Comments


Tags: Antonia Real Wetting, Audrey's Wetting Site, Desperate To Pee, Female Desperation, Jeans Peeing, Real Wetting
Here we have the very sexy Danielle Maye from Wetting Her Panties. She is in the bathroom desperate to pee but she is enjoying holding on just to much to starts peeing straight away. Danielle Maye really is one fun wetting her panties model we have had her before in Danielle Maye Peeing In Her Jeans and Panty Peeing With Danielle Maye. This time in her denim skirt she really does look lovely at the expressions on her face as she is desperately holding on is great she really needs to pee and we all know where she is going to go now that she is nice and desperate.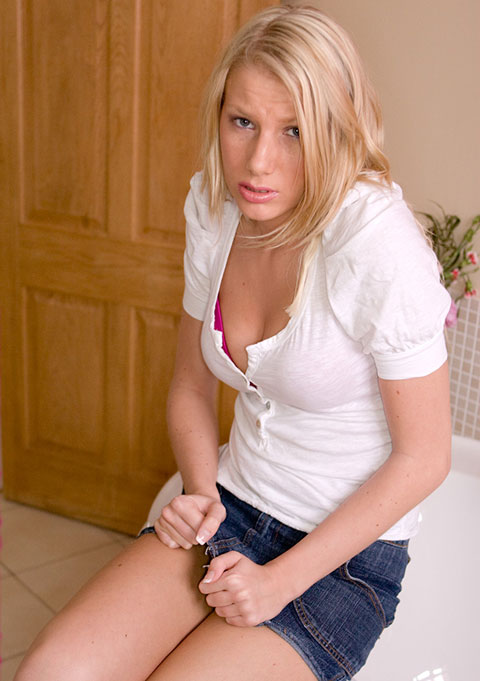 She stands up and starts to pee in her panties, she has sexy satin knickers on and she is soaking them, they really do show off the piss patches. You can she is peeing on her skirt, panty peeing and skirt wetting is such a great sight for a lovely lady to be engaged in. She is peeing in her panties and her piss is running down her legs too she really is making one pissy mess of herself and she just keeps on peeing she must have been holding on for ages before she started to pee in her skirt and knickers.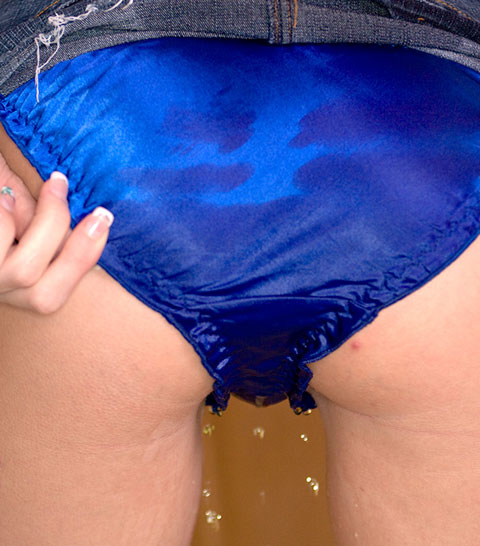 Danielle Maye finally finishes peeing. She looks wonderful lifting her pissed in skirt up to show off her soaked blue satin panties, they really are full of pee and think how lovely and warm they would be if you could put your hand over her piss dripping crotch it would be so wonderful. Skirt and panty peeing from wetting her panties just wonderful.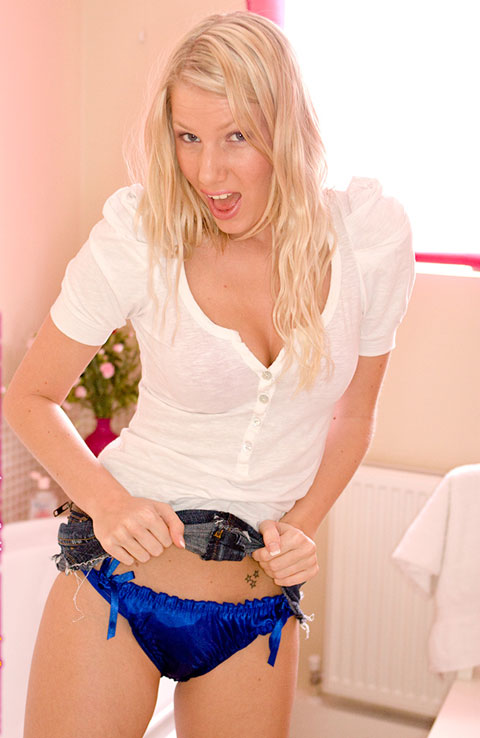 See Danielle Maye Peeing In Panties

Visit Wettingherpanties Click Here


Filed under: Babes Peeing and Knicker Wetting and Panty Pee and Peeing and Pissing and Pissing In Skirt and wettingherpanties
Posted on 03.21.11
Comments: 1 Comment


Tags: Danielle Maye WettingHerPanties, Knicker Wetting, Panty Peeing, Skirt Peeing, wettingherpanties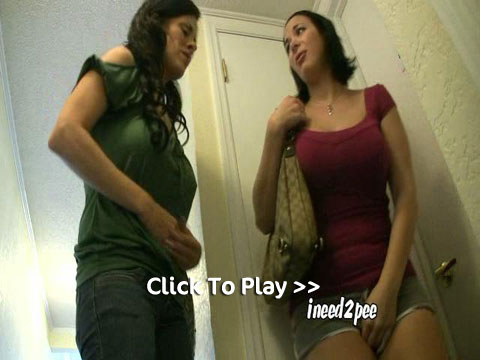 From Ineed2pee we have this great shorts peeing movie Starring Kenna. She is with Arianna and they are  waiting to use the bathroom and both are so desperate to pee. They have been waiting and waiting and getting more and more desperate to pee. Ineed2pee does female desperation so well and while we don't see Kenna's female desperation dilemmas in this movie, trust me, in the full ineed2pee movie of this scene there is desperate crotch grabbing fidgeting and lots of leg crossing. Kenna is such a great ineed2pee star we have had a photo set of her before in Female Desperation And Leggings Pee.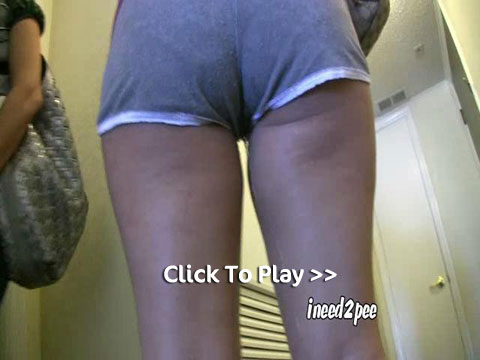 We have joined the action and Kenna is desperate to pee she is so desperate that her bladder is hurting, She doesn't look happy at all. She looks so sexy so desperate especially as she has such big boobs I wish they were bouncing free like Arianna's are. Female desperation and bouncing breasts is so great you just have to watch Female Desperation With Tabitha to see that. Kenna is just to desperate to hold on any longer and the first squirts of pee start to flow out. When pee starts slow like this you know it is going to be good. Her bladder manages to clamp shut again. She has made just a little damp patch in her shorts no one will notice that she has peed in her shorts.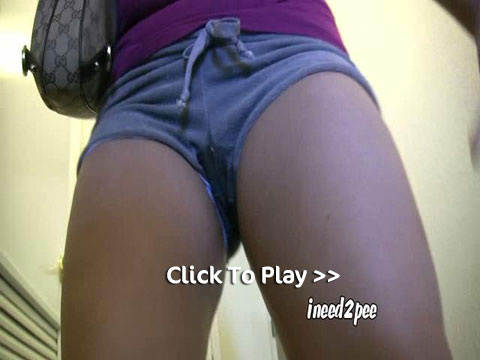 Kenna has managed to clamp her bladder shut but I bet its not to happy it still must be bursting. How right we were, she loses control again and this time she is flooding her shorts in warm pee, its going everywhere. There are rivers of her pee flowing down her legs and it is splashing on the carpet. Her shorts are a great fabric too they are thick so they are soaking up her warm pee and giving her a great big damp patch. There is no mistaking now that she has peed in her shorts. Just check out her lovely full bottom with the shorts pulled tightly and her wonderful piss patch. Shorts peeing like this is great and Ineed2pee really does have some wonderful peeing in shorts movie. Kenna may not be desperate to pee anymore and she has peed in her shorts but poor Arianna she is still desperate to pee…..

Watch This Shorts Peeing From Desperation Movie


Filed under: Desperation and Female Desperation and Ineed2pee and Movies and Peeing and Pissing and Pissing In Shorts and Pissing Movies
Posted on 03.17.11
Comments: 1 Comment


Tags: Desperate To Pee, Female Desperation, Ineed2pee, ineed2pee Arianna, Ineed2pee Kenna, Pissing Movie, Shorts Pissing
From HD Wetting we have Mikki and Sammy kissing after a date. Sammy needs to pee badly and tells Mikki this . Mikki really doesn't care and keeps kissing Sammy. We know where this is going to end up and after some more kissing Sammy starts to pee in her panties. Panty peeing while in a kiss this really is sexy and as muck of HD Wetting movie there really is something different. Sammy keeps peeing and Mikki places her hand on her panties and legs to feel the warm pee and she is still kissing she has made Sammy get into this panty peeing predicament and is now fully enjoying.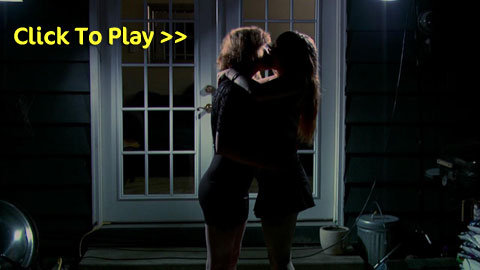 Sammy keeps peeing her panties and Mikki really is enjoying the warm piss and it is splashing on her hand. These two really are dirty the last movie that we had with them was Panty Peeing Movies From HD Wetting (Panty Peeing Movies From HD Wetting) the second movie in that  is just great, if you missed it you must check it out. Sammy finishes her panty peeing and Mikki starts to go down her body kissing her, she lifts up her top and kisses her belly till she makes it to her skirt. She lifts it up and starts to lick Sammy's pee drips up.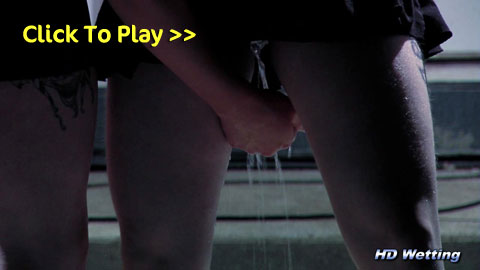 This really is one hot lesbian panty peeing movie Mikki is still licking Sammy's pee drips up and then down come Sammy's piss soaked panties and  how much is Sammy enjoying this? What a great movie. It looks like Mikki is now licking Sammy's pissy wet vagina dry. This really is just so hot. I do love HD Wetting movies and love watching these two getting up to all their peeing antics. Enjoy this lesbian panty peeing movie from HD Wetting.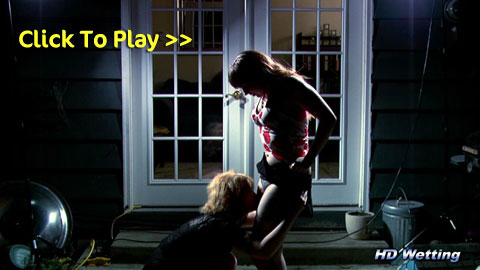 Watch The Lesbian Panty Peeing Movie Here


Filed under: HD Wetting and Knicker Wetting and Lesbians Peeing and Movies and Outdoor Pissing and Panty Pee and Peeing and Pissing and Pissing In Skirt and Pissing Movies
Posted on 03.14.11
Comments: 5 Comments


Tags: HD Wetting, Knicker Wetting, Lesbians Peeing, Mikki HD Wetting, Outdoor Pissing, Panty Peeing, Pissing Movie, Skirt Peeing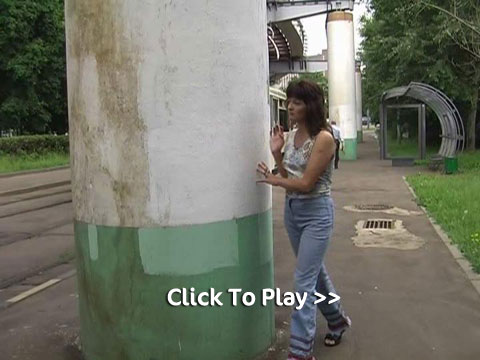 From Wet In Public we have this jeans pissing movie. This is one great jeans peeing movie it reminds me of the extreme public piss movies. We are near a tam stop and Elena walks into shot in her jeans. She stops and leans against a post with her legs crossed she needs to pee but is waiting and then it is obvious why. There was a guy walking she can't have wanted to show him her pissing in her jeans.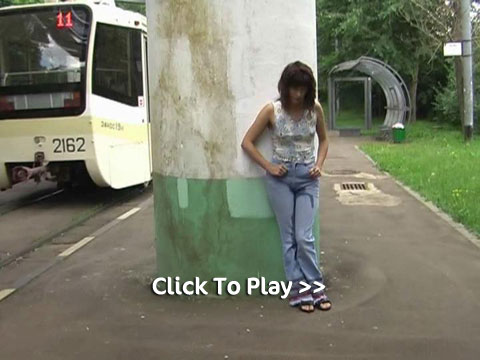 Elena is ready and as the next tram is going by she starts to pee in her jeans and what starts as a small flow turns into a jeans soaking mess. The tram stops and she is still soaking her jeans and then as the tram leaves a lady walks by while she is in full flow. If you saw a chick pissing in her jeans in public I bet you would stop but not this chick she just keeps going.  While the chick is still the pissing in her jeans you can see the chick that has busted the jeans peeing looking back and wondering what is happening.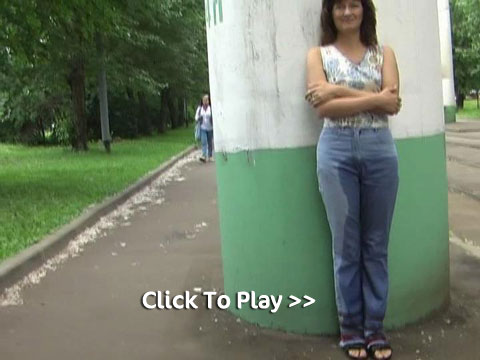 The jeans are well soaked now and there is no mistaking that she has pissed in her jeans. I would have to say that this is the best or second best jeans wetting movie from Wet In Public we have had. The other one has to be Public Jeans Pissing From Wet In Pubic I just can't decide, She finishes peeing in her jeans and starts to walk she doesn't get far though and as another tram goes past she quickly makes it to another post this is not going well for her, everyone is seeing that she has peed in her jeans in public. As we leave the public jeans movie another person walks by.

Watch This Public Jeans Pissing Here

Visit Wet In Public Click Here





Filed under: Jeans Peeing and Jeans Pissing and Movies and Outdoor Pissing and Peeing and Pissing and Pissing Movies and Pissing Outdoor and Public Pissing and Wet In Public
Posted on 03.11.11
Comments: None


Tags: Jeans Peeing, Outdoor Pissing, Pissing Movie, Public Pissing, Wet In Public, wetting
From Real Wetting comes this female desperation and wetting movie starring the lovely Alice. We have had the pictures from this real wetting movie posted before in the Real Wetting Alice Desperate & Peeing Her Tights post. The pictures were great but the movie is even better. We start off with Alice sitting on her bed desperate to pee she is jamming her hand into her crotch trying to hold on just that little longer. We know that Alice from Real Wetting loves female desperation and I do think she is the hottest model that Real Wetting has. If you missed Bed Wetting Movie With Alice you will see what I mean it has to be one of the best movies with her. Back to today's female desperation movie Alice is sitting on the couch hand in her crotch desperately holding on she has her legs crossed so tightly and looks so sexy.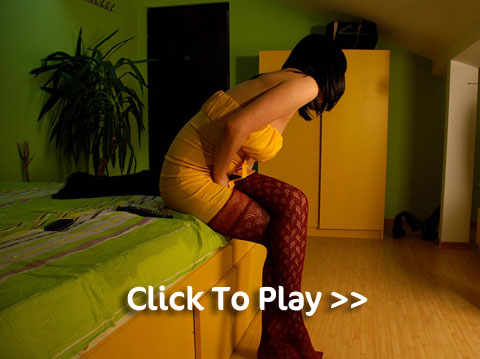 Alice really is desperate to pee she is bouncing, crotch grabbing and crossing her legs as tight as she can. She then stands up I wonder if her bulging bladder was getting crouched sitting down or has she already let a little spurt of pee in her panties. She is now standing and her desperation doesn't look like it has been relived if anything she now looks more desperate, she has her hand jammed in her crotch and is starting to look a little distressed. She keeps holding on and how sexy is she? Female desperation in a short tight dress and wonderful tights it really is something and she keeps squirming. I don't think she can hold on much longer she now has her hand firmly between her legs she is going to lose control and then it happens, the first spurts of pee gushes out, her bladder has lost control.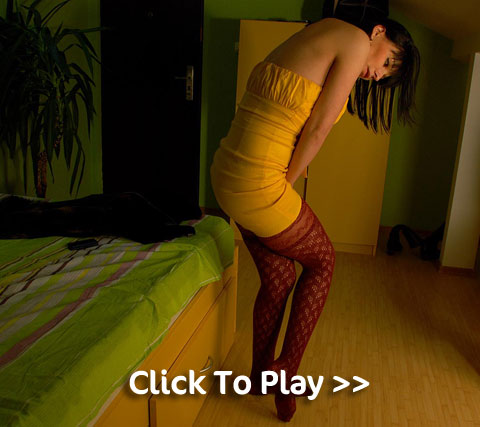 Alice tried so hard to hold on but now she is peeing in her dress, she really must have been full.  This is not one slow start she gushing pee and soaking herself. Her pee then starts  to run down her tights they are getting soaked too, she really is making a mess and I bet the splashing sounds as her piss is hitting the floor is just wonderful. She keeps peeing and her dress is soaked and she has a big puddle of pee that she is standing in too. Her feet must be so nice and warm. She lifts her dress up a little and we get to see her piss soaked panties. What a great real wetting movie with Alice this is. I so love her female desperation and wetting movies there is something so special seeing her get so desperate to pee that she loses control.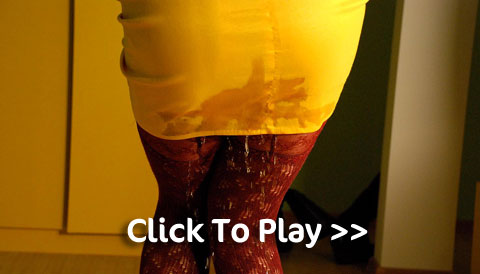 See The Female Desperation And Wetting Movie Here

Filed under: Audrey's Wetting Site and Babes Peeing and Desperation and Female Desperation and Knicker Wetting and Movies and Panty Pee and Pantyhose Pissing and Peeing and Pissing and Pissing In Skirt and Pissing Movies and Real Wetting
Posted on 03.05.11
Comments: 6 Comments


Tags: Alice Realwetting, Audrey's Wetting Site, Desperate To Pee, Female Desperation, Knicker Wetting, Panty Peeing, Peeing In Dress, Pissing Movie, Real Wetting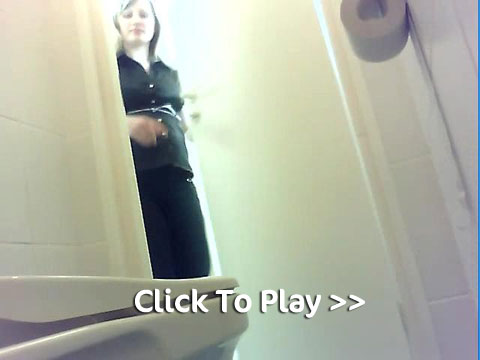 Today we have a hidden cam movie from Pisshunters staring a pregnant lady. I know the last post from Pisshunters Blonde Caught Pissing On Camera was not appreciated by some but others did enjoy it. I am guessing this voyeur peeing movie is going to go the same way. A pregnant chick walks into the toilet. I do love how Pisshunters gets this great hidden cam footage and I think this is the first pregnant chick we have had. She walks in and pulls down her pants there is no missing she is pregnant she checks the crotch of her panties is she leaking a little pee or is it just a stain?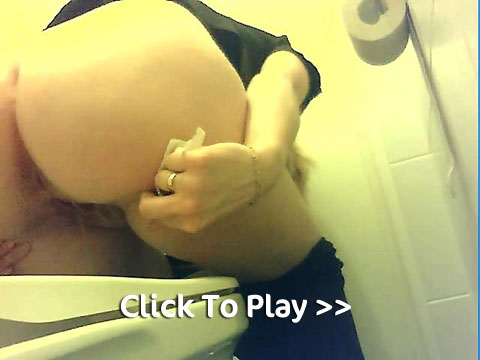 She grabs some toilet paper and folds it up all the time giving us a view of her pregnant belly. She then turns around and squats over the toilet. I guess in this hidden cam movie she is not desperate to pee it takes a while for her to start peeing and when she does it starts as a very slow stream. She must be dribbling pee a little to much as she reaches back and opens her pussy up and starts peeing again when her piss stream gets some power she stops spreading her pussy and we lose the view of her open pissing pussy. I do love these hidden cam movies from Pisshunters we get to see some strange stuff while chicks are pissing in the toilets.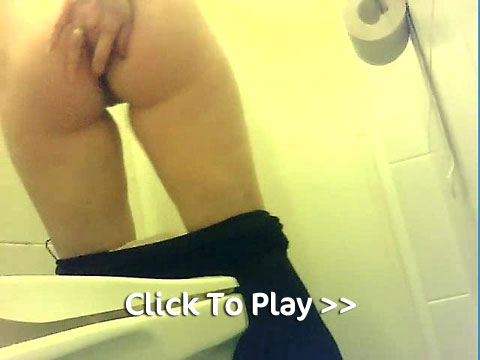 She keeps pissing, it's a pity there is no sound of piss splashing in the toilet I guess her piss stream is just not powerful enough. She finishes peeing in the toilet and really does give herself a good wipe she hasn't pissed that much but she is really trying to dry herself, I guess she could be enjoying the feeling of the toilet paper scratching her pussy. Then up come her panties and her pregnancy pants and she is off. A great Pisshunters hidden cam movie once again and this time it was a pregnant chick pissing just wonderful.

Watch The Pregnant And Caught Pissing Movie Here


Filed under: Caught Pissing and Hidden Toilet Cam and Movies and Peeing and PissHunters and Pissing and Pissing Movies and Voyeur Peeing
Posted on 03.02.11
Comments: None


Tags: Hidden Toilet Cam, PissHunters, Pissing Movie, Pregnant Pee, Voyeur Peeing
Something a little different today here at Piss Blog we have Idoia from Magic Erotica. We have two hot picture sets to enjoy. The first set of pissing pictures has her dressed as a nurse she starts off pissing in a bowl and it really is a nice piss. She has great piss flaps and this pee is nice and yellow. Idoia is one dirty girl too when she has finished pissing in the bowel she then gets out her shaving cream lathers herself up and shaves her hairy pussy. This must have turned her on as she then gets a dildo and starts doing herself a great set of peeing and playing photos.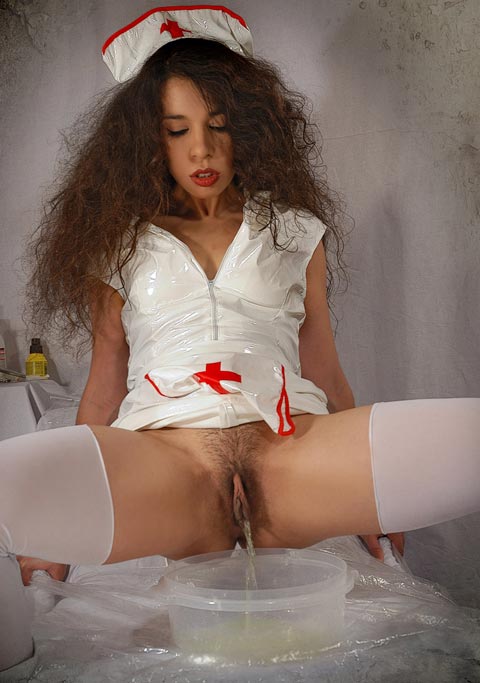 The next set we have is with her dressed as a school girl and a sexy school girl she is. She has no panties on and her shaved pussy is on show she squats down and starts to piss. Her pussy lips really are big and in this set of pissing pictures she has opened them so that we get a great view. When she starts to piss she has such a lovely strong stream and wouldn't you love to feel her hot piss as it is gushing out of her pussy I know I would.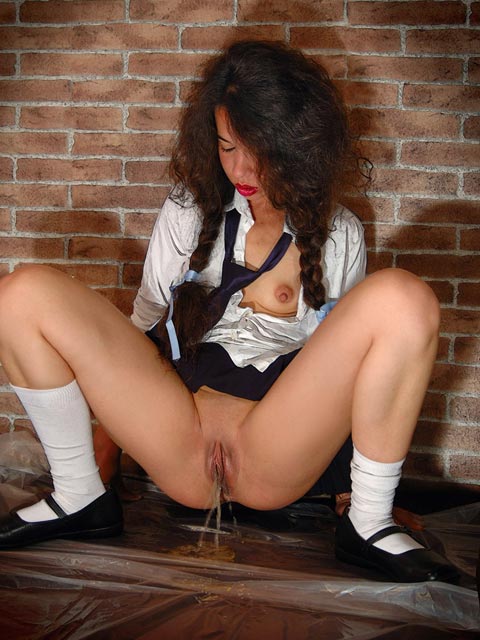 Visit Magic Erotica Click Here





Filed under: Babes Peeing and Hairy Pussy Pissing and Peeing and Pissing
Posted on 02.27.11
Comments: 5 Comments


Tags: Hairy Pussy Pissing, Idoia Magic Erotica, Pissing, Pissing Pussy, Uniform pee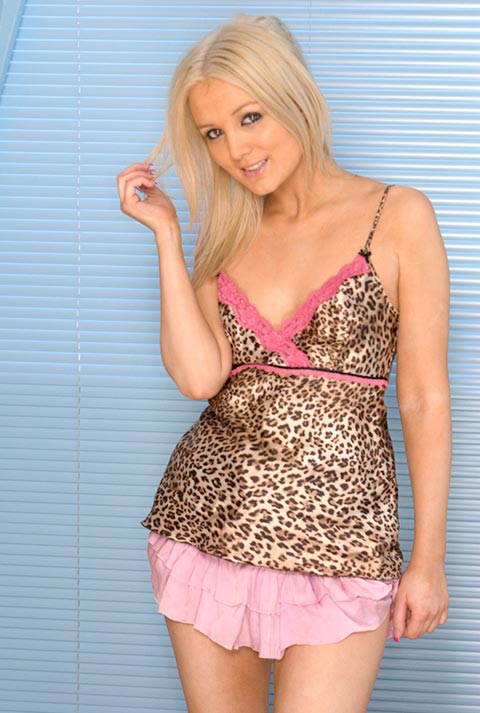 From Wetting Her Panties we have Fay X. The last post we had with Fay x she was in her pantyhose you can see it here Pantyhose And Panty Peeing With Fay X. This time there are no pantyhose just a cute pair of knickers under her short skirt. She really is one of the hottest panty peeing models Wetting Her Panties has and I so love watching her soaking her knickers at any opportunity. She lifts up her skit and we get to see her lacy panties that give us a lovely little view of her shaved vagina too.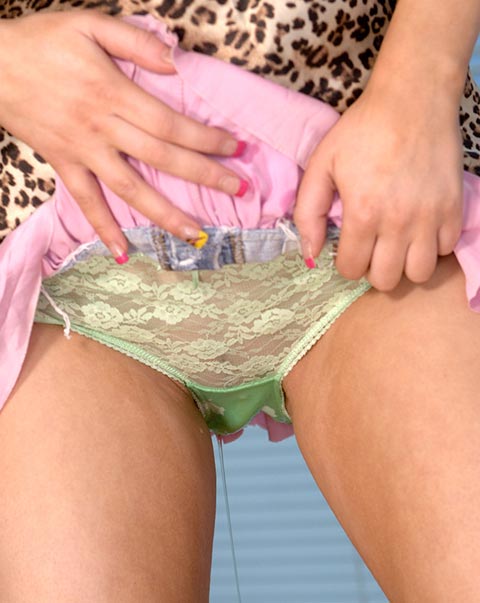 Fay X is showing us her lacy panties and then she starts to pee in them. It's been a long time that I have seen sexy knickers like this being pissed in and I don't think we have ever had a post here with them. She is peeing into her panties and you can see the crotch of the panties turning dark and starting to drip she then grabs her crotch while she is peeing. I bet she is enjoying the lovely warmth encasing her pussy and wants it to last that much longer.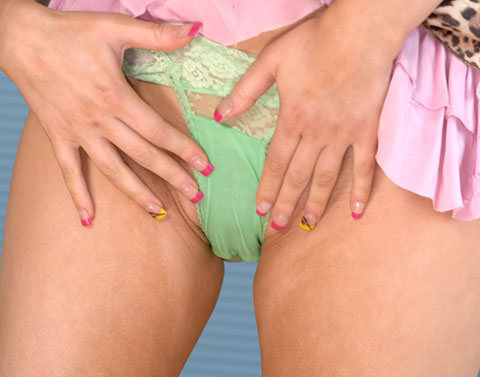 She then turns around and we get to see her cute little bum and her dark pee patch, these knickers are great they really are soaking up her pee and giving us a lovely show. She then grabs her crotch from behind she must still be loving the soaked fabric of her panties encasing her crotch to do it again. What a lovely panty pee. I could watch Fay X peeing in her knickers for hours and then to see the last photo where she is pulling her panties tightly over her crotch giving us a lovley pissy camel toe well what more is there to say.

See Fay X Peeing In Her Panties Here


Filed under: Babes Peeing and Knicker Wetting and Panty Pee and Peeing and Pissing and Pissing In Skirt and wettingherpanties
Posted on 02.24.11
Comments: 8 Comments


Tags: Fay X, Knicker Wetting, Panty Pee, Panty Peeing, Skirt Peeing, wettingherpanties