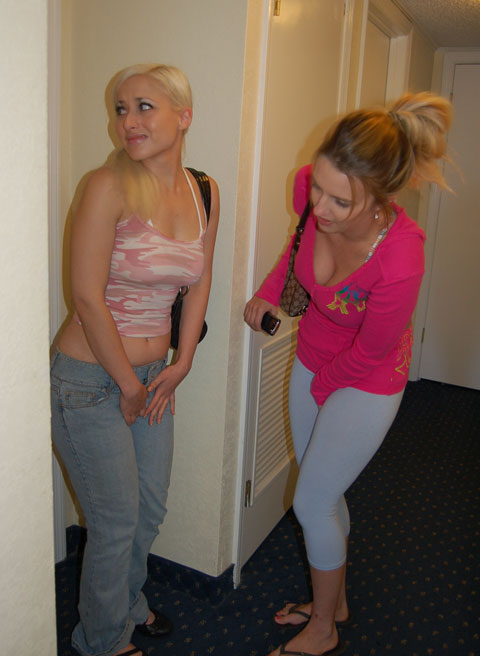 From Ineed2pee we have these great female desperation and wetting photos. Selena and Galas are desperate to pee they have queued up to use the bathrooms as they are in use. You can see the desperation of both of them. I just love it when you see the hand pressed tightly into the crotch trying to stop the pee from trickling out. The ineed2pee movie that goes with these photos is great. I just love female desperation and when you see the crotch grabbing and bouncing on the spot you know that they can't last long.
This is the story about the female desperation and wetting from Ineed2pee "Seriously, this is my all time favorite type of scenario, especially with jeans & long pants. Yes it would be my dream to be able to witness an amazing bathroom lineup like this where multiple girls are wetting themselves. Unfortunately, all the concerts I've been to lately are in paces that are too well equipped with bathroom facilities & way too many of them!! So in my dream world these ladies would have no shame in grabbing themselves & of course announcing to those around just how badly their need to pee is! Selena & Galas (the super blond one) does an amazing job of expressing their "needs" while not having to suspend my disbelief too much! Enjoy their pissy pants & pee pee dances…"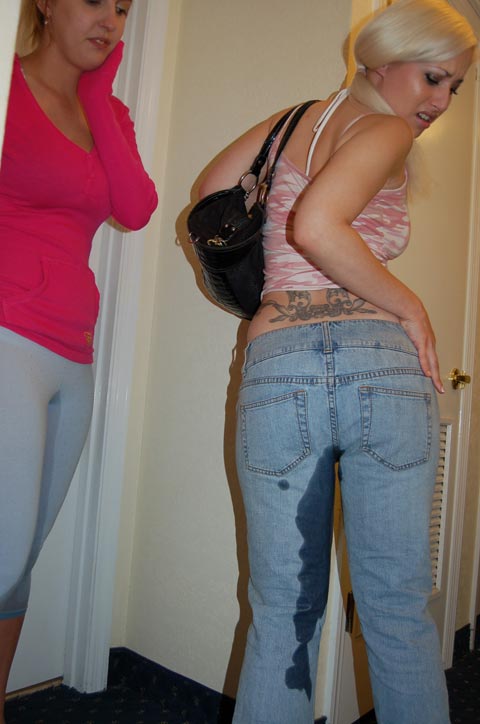 Selena and Galas were to desperate to pee Selena loses control first and she starts to pee in her leggings. I have always loved watching light colored leggings being peed in. You never know if they will go see-through and you will get to see the piss soaked panties underneath. This leggings pee you can see the wet panties but being the same color the impact isn't there. Galas is still holding on in desperation but by now after watching her friend pee in her leggings she is losing the battle and starts to pee in her jeans. What a sexy sight pissed in jeans and peed in leggings and then we even get to see some wet panties. A great set of female desperation and wetting pictures from ineed2pee.

See the Female Desperation And Wetting Pictures Here

Visit Ineed2pee To See More Here


Filed under: Desperation and Female Desperation and Ineed2pee and Jeans Peeing and Jeans Pissing and Peeing and Pissing and Pissing In Leggings
Posted on 10.24.10
Comments: 2 Comments


Tags: Desperate To Pee, Female Desperation, Ineed2pee, Ineed2pee Galas, ineed2pee Selene, Jeans Peeing, Pissing In Leggings
From Pee Asian we have these great photos. This Asian cutie is just so sexy and seeing her playing on the bed well what you can say. She slowly strips of and plays with her dildo. She really is a cute Pee Asian Model. She finishes playing on the bed and goes to the bathroom squatting over the toilet she is ready to pee. Imagine walking into the bathroom to find this lovely Asian about to piss.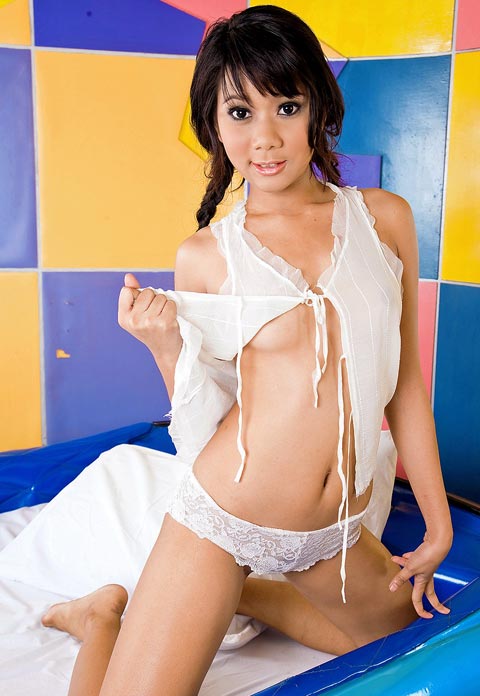 She opens her legs wider and we can see her hairy pussy she then starts to pee, this really is one great Pee Asian set she is peeing and her piss is running everywhere she has such nice big pussy lips she can't pee without making a mess. Her hairy pussy is sopping wet with pee too. We even get a great close up of her pissing pussy. I do love Asians peeing and Pee Asian is the place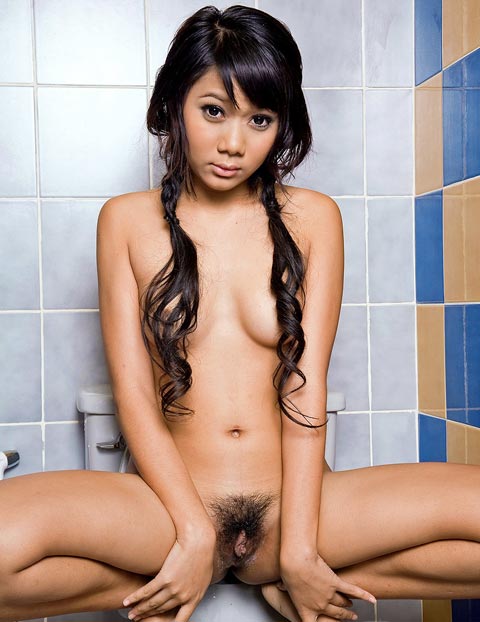 Filed under: Asian Pissing and Pee Asian and Peeing and Pissing
Posted on 10.21.10
Comments: 7 Comments


Tags: Asian Peeing, Asian Pissing, Hairy Pussy Pissing, Pee Asian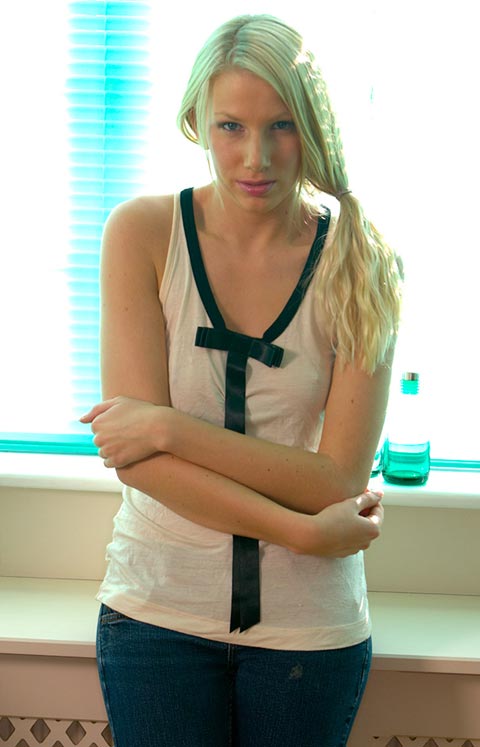 From Wetting Her Panties we have Danielle Maye. In these pictures she is peeing in her jeans. Who would have thought such an lovely lass would be into jeans peeing. We start off and she is looking at her smoking best she then holds her crotch and starts to pee in her jeans, just look at the damp pee patch as she is starting to pee. She must have been holding on a while before starting as she starts off slowly and then she really is peeing in her jeans with force look at the dark pee patch as it gets bigger and bigger.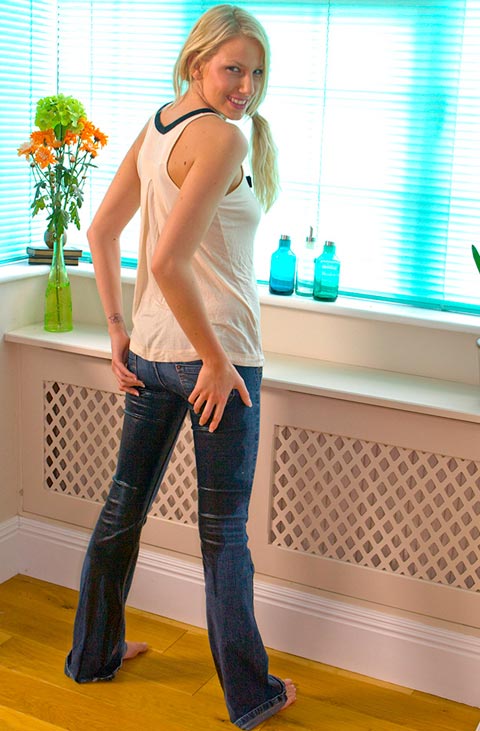 Seeing a very hot lady like Danielle Maye peeing in her jeans is just wonderful look at her with the perfect pee patch between her legs imagine how wet and warm her crotch would be. I love how she is holding her piss soaked crotch she really must be enjoying peeing in her jeans. She then turns around and we get to see her ass covered in soaked denim. Just look how her pee glistens on the soaked denim this really is a wonderful Wetting Her Panties set.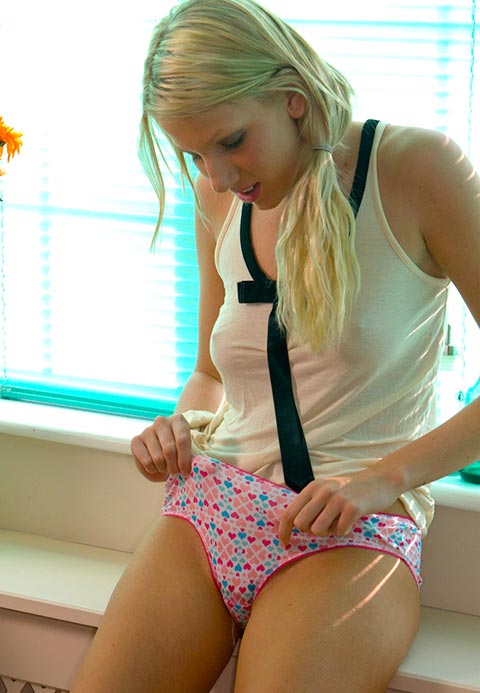 Here jeans really are soaked in her piss and she really is enjoying herself. I would love to give her piss soaked ass a little smack to feel the wetness and warmth. She then starts to take her jeans off. She is turned on you can see her nipple and it looks hard I bet she is going to give herself a good time soon. She undoes the fly and we get to see her piss soaked knickers. What a great jeans wetting this is I only wish we has her standing there her piss soaked jeans around her ankles and her wet panties on show while she was peeing again. I can't complain this has to be one of the best jeans pees I have seen from Wetting Her Panties for a while
Watch Danielle Maye Peeing In Her Jeans Here
Visit Wetting Her Panties Click Here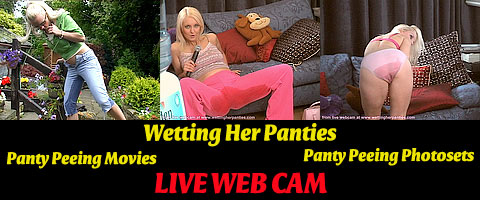 Filed under: Babes Peeing and Jeans Pissing and Knicker Wetting and Panty Pee and Peeing and Pissing and wettingherpanties
Posted on 10.18.10
Comments: 3 Comments


Tags: Danielle Maye WettingHerPanties, Jeans Peeing, Panty Pee, wettingherpanties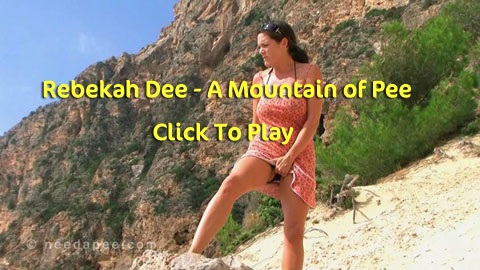 Here we have Rebekah Dee from Needapee Peeing outdoors. I find Rebekah Dee so sexy and when she is peeing, she is just gorgeous. In this Needapee movie she is on a hill and desperate to pee she climbs out onto a rock pulls down her panties. With her legs open wide she starts to pee on the sand below. When Rebekah Dee pees it always looks so sexy and I just love how she shows her big pee arch in so many of her movies.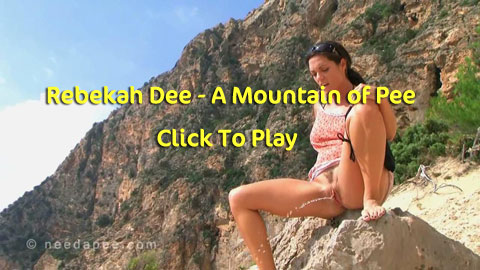 Rebekah Dee wrote this at Needapee about this peeing movie "Remember how it was as a kid when you were having so much fun that you almost pee your pants? Such as when you're running down a big hill so steep that you only just stop yourself! The dune that I am having fun on must be the biggest and steepest this side of the Sahara desert. A huge boulder saves the day though where I slip my panties around my ankles so I can pee sweet relief into the warm summer air!"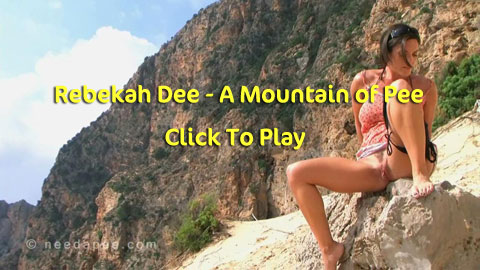 The angle she is peeing on is wonderful imagine standing there and watching as her pee is squirting out of her pussy it looks good enough to touch. How great would it be to put your hand against her peeing pussy and feel the warmth of her pee against your hand? She finishes peeing and lets the sun dry her pissy pussy a little and then removes herself from her rocky perch.  Such a great peeing movie from Needapee once again.

See Rebekah Dee Peeing On A Mountain





Filed under: Babes Peeing and Movies and Needapee and Outdoor Pissing and Peeing and Pissing and Pissing Movies and Pissing Outdoor and Rebekah Dee
Posted on 10.15.10
Comments: 4 Comments


Tags: Needapee, Outdoor Pissing, Pissing Movie, Rebekah Dee
Here we have the very lovely Alice from Real wetting. She has been featured here in many movies and photos and is one of my favorite wetting models. Today we have her in her jeans lying on the floor. Real wetting usually goes in for female desperation and wetting but this is just a great purposeful jeans wetting. Lying on the floor she has her legs open and her jeans are tight. She puts her hand on her crotch and starts to pee. You can see how full her bladder is she has been saving this for a while and it is going to be a great jeans wetting.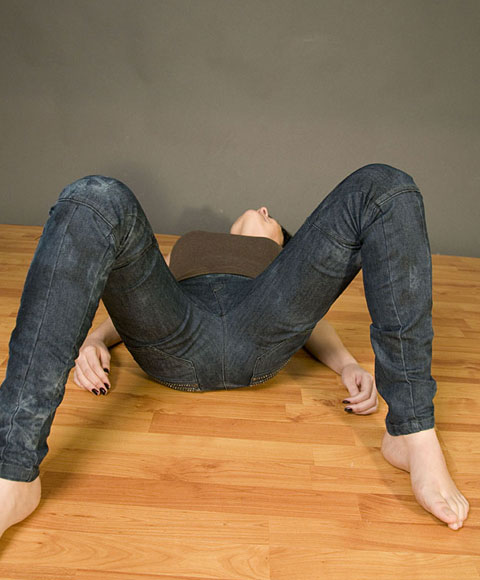 Lying on the floor Real Wetting Alice keeps peeing in her jeans. Lying as she is she is getting soaked all over not just her jeans are wet and you can see her pee puddle as it is spreading out she rubs her crotch and more pee flows. She really is looking hot pissing with her legs open like this and she now has her feet in her pee puddle so sexy.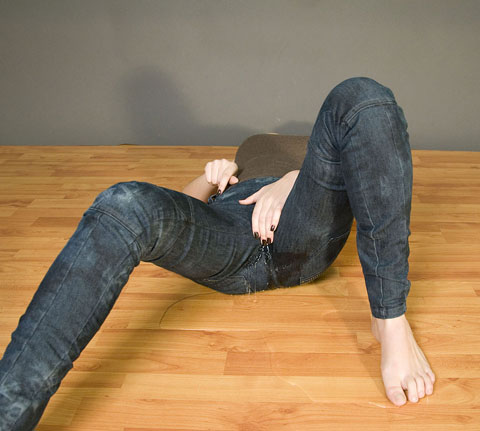 Alice keeps peeing in her jeans and then she is finished. She has soaked jeans and is lying in her big piss puddle. I just love how she has her legs open showing her pissed in jeans and soaked crotch. What a wonderful  jeans wetting from Alice. It reminded me of the Pants And Knicker Wetting From Realwetting post where we had Dee lying on the floor and peeing in her tights and then soaking her knickers. I really do love Real wetting such a good wetting site.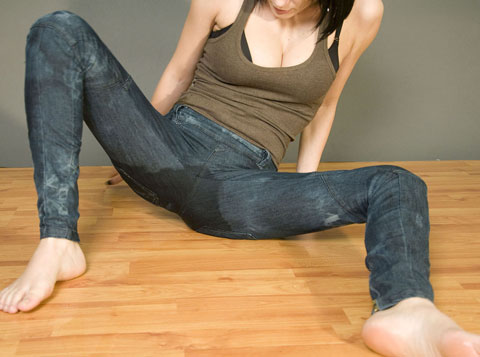 See Alice Peeing In Her Jeans Click Here


Filed under: Audrey's Wetting Site and Jeans Peeing and Jeans Pissing and Peeing and Pissing and Pissing In Pants and Real Wetting
Posted on 10.12.10
Comments: 4 Comments


Tags: Alice Realwetting, Jeans Peeing, Outdoor Pissing, Pissing In Pants, Real Wetting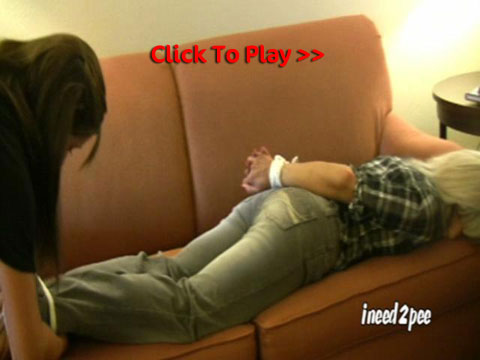 Here we have the lovely Bella from Ineed2pee. She has been bound by Vicki while she was asleep on the couch. It seems that Bella has been kissing Vicki's boy friend and this is here revenge. Bella wakes up and finds herself bound. She needs to pee and is not happy at this predicament. Vicki sounds so happy and you can see the first signs of Bella's desperation, she really needs to pee. Bella really is a great ineed2pee model she looks so sexy in her tight jeans and watching her squirming from desperation is wonderful.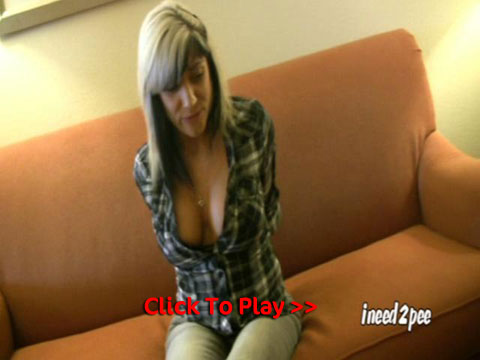 She manages to get off the couch and start to hop to the bathroom. Female desperation like this is what makes ineed2pee so great and watching Bella hop to the toilet bounds one has to wonder, is she is dripping from the added pressure as she is hopping? She finally gets to the bathroom but her hands are still tied what's a poor desperate girl what will she do.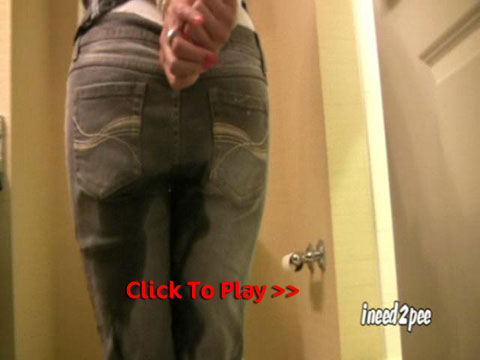 She really is not happy now you can see her desperation on her face she struggles to get her jeans down with her hand still tied. They just won't budge. Female desperation tight jeans and being bound the outcome is going to be wonderful. Bella just can't hold her bursting bladder any longer. She starts to pee in her jeans and then you see her piss patch she really is pissing her jeans till they are soaked. Vicki's revenge has worked Bella is peeing in her jeans.

Watch Bella Bound And Desperate To Pee


Filed under: Desperation and Female Desperation and Ineed2pee and Jeans Peeing and Jeans Pissing and Movies and Peeing and Pissing and Pissing In Pants and Pissing Movies
Posted on 10.09.10
Comments: 2 Comments


Tags: Bella Ineed2pee, Desperate To Pee, Female Desperation, Ineed2pee, Jeans Peeing, Pissing Movie, wetting
These great panty peeing movies comes from HD Wetting. We haven't had a post from them before and I have to admit I have only just found the website but am I glad I did. HD Wetting is one hot peeing website and if like me you haven't seen it before you should. They have over 200 movies in the member's area so you will be busy.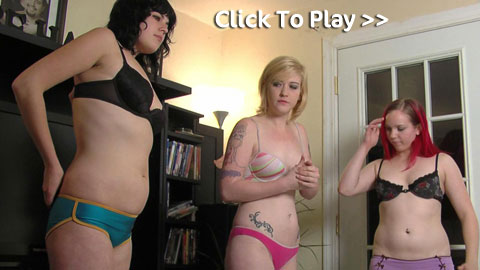 The first knicker wetting movie has three of the HD Wetting ladies they are in their bras and panties and playing twister. These HD Wetting girls are really sexy and as they get instructions to move their legs and arms onto different colors the movie just gets sexier this is a great situation to be viewing, three chicks in their underwear playing Twister.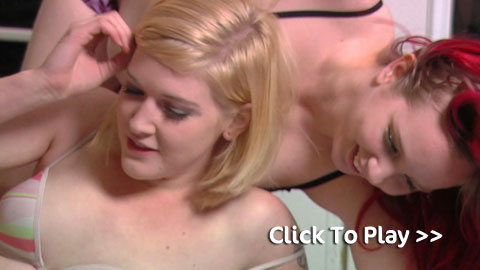 They are all twisted and struggling and then the need to pee comes the first panties are pissed in and what a great angle I just love it when you see knicker and I have to say I don't think there is a better angle for a panty pee. The second panty pee in this HD Wetting movie is just as good if not better.  It has Sammy peeing in her purple panties over Mikki this is great, Mikki is getting soaked with Sammy's pee her bra is dripping and pee is running all over her body. This really is one hot panty peeing movie.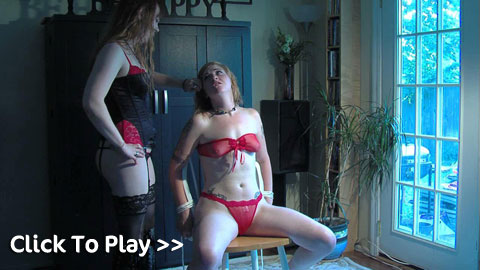 The next HD Wetting movie I have stars Sammy and Mikki. Sammy has Mikki tied up in a chair, she is in her see through bra and panties and looks so hot. Sammy looks pretty sexy dressed up too. Sammy starts to tickle Mikki till she is cant hold on any longer and she starts peeing in her panties, what a lovely panty pee it is you can see the force as it squirts out of her aching bladder and onto the seat. She is then forced to sit in her piss puddle and wet knickers while Sammy sits on her and pees in her panties and on to her. Can you get any sexier than this HD Wetting movie?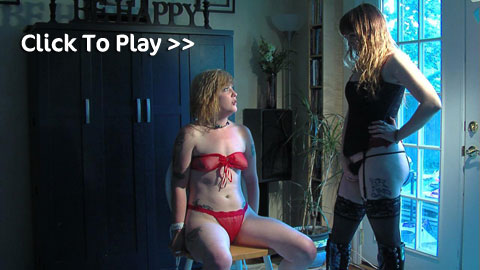 Watch The Panty Peeing Playing Twister Movie Here

Watch The Bound Panty Pee Movie Here


Filed under: Babes Peeing and HD Wetting and Knicker Wetting and Movies and Panty Pee and Peeing and Pissed On and Pissing and Pissing Movies
Posted on 10.06.10
Comments: None


Tags: Ginger HD Wetting, HD Wetting, Knicker Wetting, Mikki HD Wetting, Panty Pee, Panty Peeing, Pissing Movie, Sammy HD Wetting
From Pisshunters comes what i think is one of the best Pisshunters pissing movies so far. We have a redhead chick in her jeans she walks in and quickly drops her pants. I love this Pisshunters location the camera angle is great and the full sized movie at Pisshunters is 1280×720 in size. She really must need to go but is still looking to her right I wonder if someone is watching her pee too.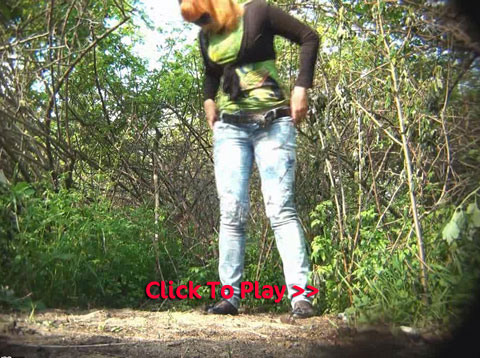 She lets out her stream and it splashes down. After the last Pisshunters post Pisshunters Caught Pissing Outdoors Movie there was a comment asking for a movie with a pee stream I hope this is a piss stream that you enjoy. She is letting it flow and then she looks to her right again I do believe that someone is there and it looks like they have got closer she is in mid stream and then stops her piss and stands up. She is quick to pull her pants up too.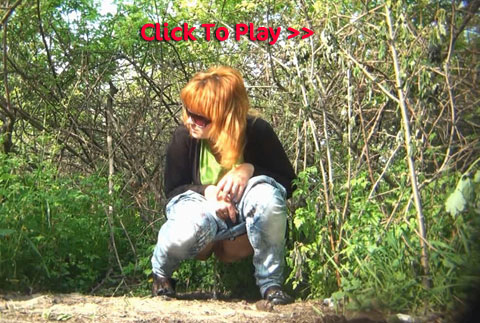 If you notice when she is pulling her pants up she still wants to pee. She starts to pull her panties on and we get a great pussy shot but if you look closely you can see pee dribbling out and it splashes straight into her panties. Her panties get an instant dark piss patch and as she pulls them up more they get darker and darker. Not only has she been caught pissing outdoors she has also peed in her panties. She then pulls her jeans on and I bet she will get a dark pee patch in them too. This really is a great Pisshunters voyeur peeing movie. I have to say again Pisshunters is great not only do we get to see chicks pissing we get to see all there quirks as the pee. Look through the Pisshunters category and you will see what I mean.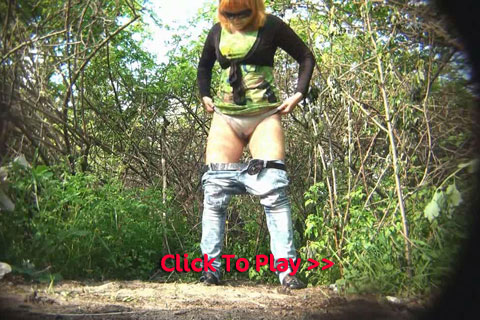 See This Great Pisshunters Voyeur Peeing Movie


Filed under: Caught Pissing and Movies and Outdoor Pissing and Peeing and PissHunters and Pissing and Pissing Movies and Pissing Outdoor and Public Pissing and Vintage Pissing
Posted on 10.03.10
Comments: 2 Comments


Tags: Caught Peeing, Caught Pissing, Piss Hunters, PissHunters, Pissing Movie, Voyeur Peeing, Voyeur Pissing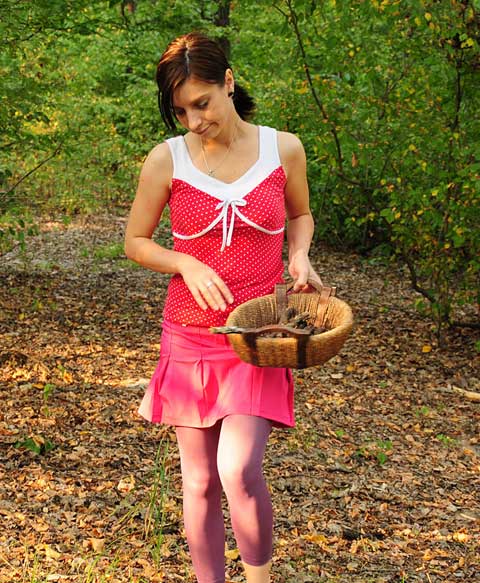 Here we have Dee from Real Wetting in her purple pantyhose. She is out in the forest collecting wood for a fire. She needs to pee but is enjoying the summer afternoon to much to bother about stopping to go to the toilet. She keeps on collecting wood for the fire and then she feels that she really needs to pee. She starts to build the fire and then alone in the forest she decides that it will be fun to pee in her purple pantyhose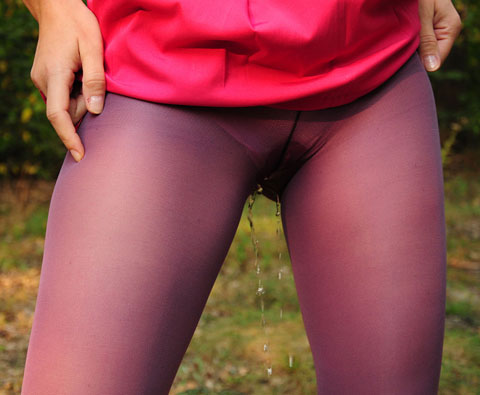 Dee lifts her skirt and starts to pee in her pantyhose, What a great sight it is too not is she just peeing in her pantyhose she is also peeing in her G String. Her pantyhose are so sheer as she pees in them they go more see-through we can see her piss soaked panties underneath. Pantyhose peeing is always so great and this pantyhose peeing with Dee from Real Wetting is just wonderful.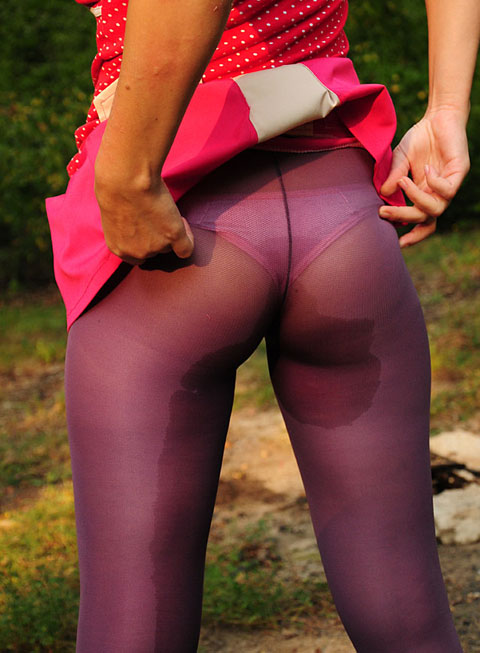 She finishes peeing in her pantyhose and she is soaked she has a great pee patch and when we see her bum and we get the lovely sight of her piss soaked G String too. This is a great wetting movie as Dee seems so happy about this deliberate pantyhose peeing she has finished peeing but is still in her wet pantyhose. What a great wetter she is she is in her soaked pantyhose and just having a great time. I do love seeing Dee wetting herself

See Dee Peeing In Her Pantyhose Here

Read a Real Wetting Website Review Here


Filed under: Audrey's Wetting Site and Knicker Wetting and Outdoor Pissing and Panty Pee and Pantyhose Pissing and Peeing and Pissing and Real Wetting
Posted on 09.29.10
Comments: 2 Comments


Tags: Audrey's Wetting Site, Dee Real Wetting, Knicker Wetting, Outdoor Pissing, Panty Peeing, pantyhose peeing, Real Wetting