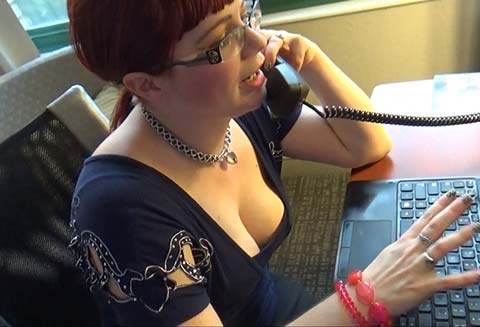 From Ineed2pee we have the sexy curvy Ami. We have had her in two previous updates in Desperation And Wetting From Ineed2pee and Desperation And Wetting Ineed2pee. Today she is dressed as a business woman and is at her desk and is desperate to pee. She has to hold on as she must finish her assignment but every second she does she is getting more and more desperate. She finally finishes and starts to hobble to the bathroom.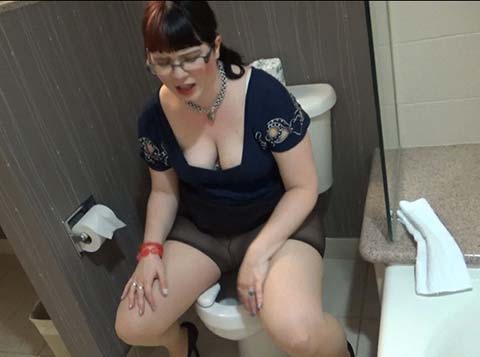 Ami is so desperate now, she makes it to the bathroom but has no time to pull her pantyhose and panties down, instead she sits on the toilet and starts to piss. She is flooding her white panties and black pantyhose in her warm pee and the look of relief on her face as she is releasing is wonderful. She finishes pissing herself and gets up and tries to dry herself off. I do love we get to see her white pissed in panties too.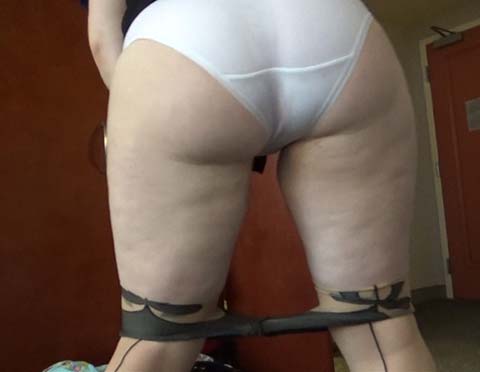 The story from Ineed2pee about this female desperation and peeing scene goes like this "Ami barely makes it, hobbling over to the toilet & plopping down before letting out a nice looooong & loud stream into the water below. She didn't even have time to take off her super tight pantyhose, they're the fetish-y type with a black seam going down the middle back & a cute bow on the back. She pees into it for a very long time but now she needs to wear her pissy soaked panties & pantyhose back to work. She tries drying them off as best she can but she still smells like pee… hopefully no one will notice."
See Ami Desperate And Pissing Here

Filed under: Desperation and Dress Peeing and Female Desperation and Ineed2pee and Peeing and Pissing and Pissing In Skirt
Posted on 05.13.16
Comments: 1 Comment


Tags: Ami Ineed2pee, Desperate To Pee, Female Desperation, Ineed2pee, Skirt Peeing, wetting
Wetting Her Panties brings us the wonderful Charlotte we have had some great wettings with this hottie and I am hoping that we will be seeing her with some new movies at WettingHerPanties soon. If you have missed some of her previous wettings check out Charlotte Rewetting Her Panties, Panty Peeing With Charlotte and Outdoor Knicker Wetting With Charlotte. Today she is in the garden in jeans and desperate to pee. She grabs her crotch and the lets out a little pee before she grabs her denim encased crotch again.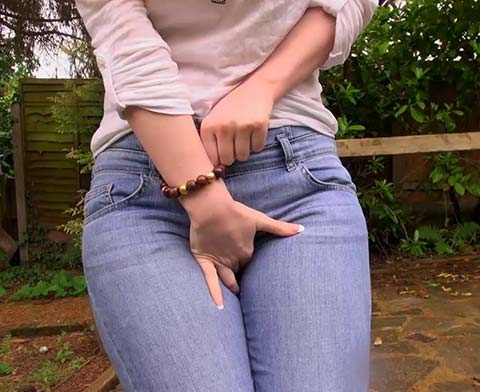 Charlotte is to desperate to pee and she has already lost control and wet her jeans. She pulls her jeans down and exposed her damp white panties. She can't hold on and starts to pee again, her panties are getting drenched in pee and her piss is splashing at her feet. She is doing a great job keeping her jeans dry even if she is soaking her panties.

Her white panties are soaked as she finishes peeing and she the grabs the crotch of her panties to see how wet they are. She looks so wonderful holding her piss soaked crotch and panties. She looks around and no one has seen her accident so she pulls up her jeans and with some piss stains in the denim walks away. Once again we have a wonderful wetting with Charlotte and she looks like she is having so much fun as she pees herself

See Charlotte Peeing In Jeans & Panties Here


Filed under: Desperation and Female Desperation and Jeans Peeing and Jeans Pissing and Knicker Wetting and Peeing and Pissing and Pissing In Pants and wettingherpanties
Posted on 05.10.16
Comments: 1 Comment


Tags: Charlotte Wetting Her Panties, Desperate To Pee, Female Desperation, Jeans Pee, Jeans Peeing, Knicker Wetting, Panty Pee, Panty Peeing, Pissing In Pants, wetting, wettingherpanties
From Real Wetting we have another great post with the lovely Antonia. If you have missed some of her previous female desperation and wetting updates check out all the posts with her Here. Today she is dressed in tight pants and a white top. She is waiting in the hall for a job interview but she is already desperate and regretting not taking the chance to go to the bathroom.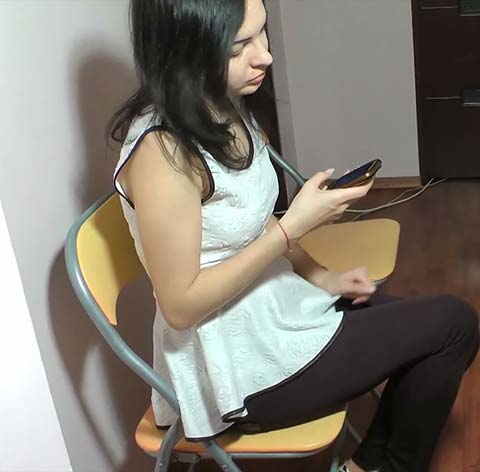 She keeps holding on but her bladder is not co-operating. She grabs her crotch and then has to stand up. She is so desperate, she tries to hold on a little longer but her bladder has other ideas and as she is standing in the hall she starts to pee. She is peeing in her tight pants and we get to see the first drips soak through the fabric till there is a stream flowing thorough.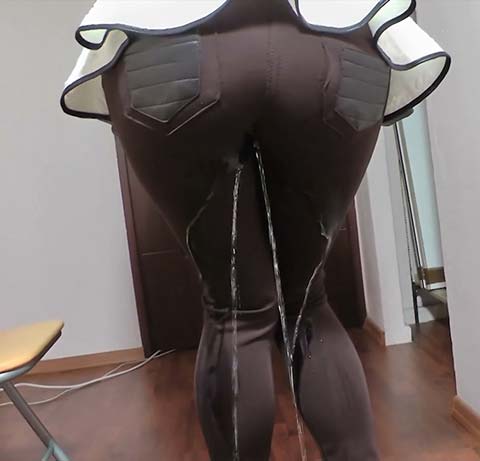 Antonia is soaking her pants there are multiple piss rivers exploding through the fabric and splashing on the ground and has piss running down her legs. She finishes peeing in her pants and we can see a great big piss patch in her pants. She undoes the buttons of her piss soaked pants and the pulls them down to show her piss soaked panties and she even has a pissy camel toe. A wonderful female desperation and pants pee.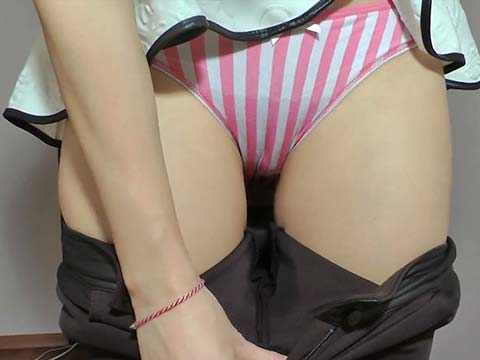 See Antonia Peeing In Her Pants Here


Filed under: Audrey's Wetting Site and Desperation and Female Desperation and Peeing and Pissing and Pissing In Pants and Real Wetting
Posted on 05.03.16
Comments: 2 Comments


Tags: Antonia Real Wetting, Audrey's Wetting Site, Desperate To Pee, Female Desperation, pants peeing, Peeing Pants, Pissing In Pants, Real Wetting, wetting
From Ineed2pee we have a great new model Chloe. I do love how Ineed2pee keeps finding new ladies that are happy to show how desperate they can get before peeing themselves. Chloe has arrived home and is desperate to pee. She tries to get into the bathroom but the door is locked, she is so desperate to pee she has her legs crossed tightly. She really is trying her best hard to hold on.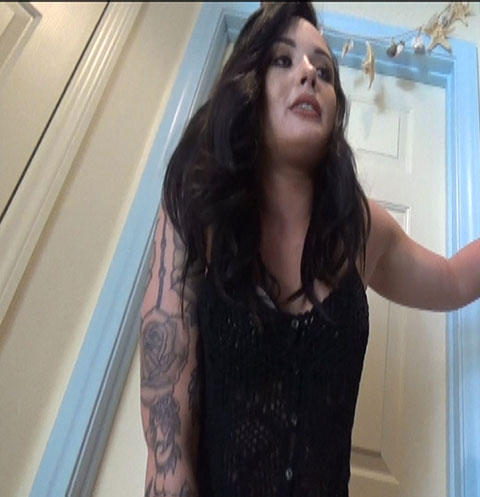 The story from Ineed2pee goes like this " I was happy to bump into brand new model from the East Coast named Chloe & this was literally her first shoot ever AND the first time wetting her pants! She's only 19 years old and such a cutie! She was a little shy on camera but had plenty to say & had a cute little pee pee dance. Once she started peeing it was a HUGE puddle that flowed under the door, which was hard to capture. Oh well. There's more to come with the lovely & shy Chloe soon!"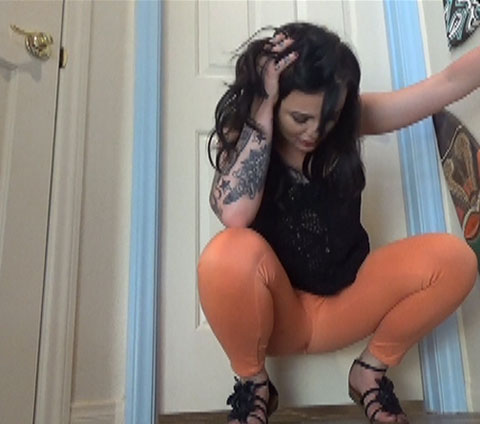 Chloe is just to desperate to hold on she squats down and starts to pee in her pants. Her piss is soaking into the fabric and pooling at her feet. She looks so sexy peeing herself with her tattoos on show. She finishes peeing and her pants are soaked she has a great big pee patch on her bum and then she pulls her pants down to show her white piss soaked panties. A great first wetting from this shy hottie.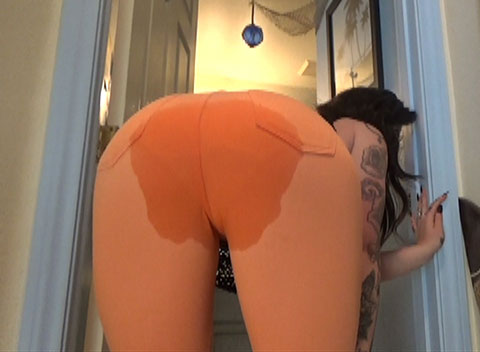 Filed under: Desperation and Female Desperation and Ineed2pee and Peeing and Pissing and Pissing In Pants
Posted on 04.18.16
Comments: 1 Comment


Tags: Chloe Ineed2pee, Desperate To Pee, Female Desperation, Ineed2pee, pants peeing, Peeing Pants, Pissing In Pants